Overview
CFR Academic provides a forum for the educational community to interact with CFR experts and join the debate on foreign policy. Activities include the Academic Webinar series for students; Higher Education Webinar series; College and University Educators Workshops; briefings for students; exhibitions and events at conferences across the country; livestreaming of CFR meetings; and sharing the vast array of CFR resources and products for teaching and learning about international relations and the role of the United States in the world.
Academic Webinars for Students
Reserved for college and university educators and students, the CFR Academic Webinar series via Zoom provides the opportunity to participate in an interactive conversation with CFR fellows, Foreign Affairs authors, or other experts. Webinars take place every other week during the fall and spring semesters, and are dedicated to a wide range of international affairs and U.S. foreign policy topics. Suggested background readings are distributed prior to each webinar, and video recordings and transcripts are posted to CFR.org after the fact.

View the Winter/Spring 2023 Academic Webinar schedule. To sign up or ask questions about the series, please email [email protected]. You may also subscribe to the CFR Academic podcast via iTunes.
Past Academic Webinars
Carolyn Kissane, academic director and clinical professor at the Center for Global Affairs at New York University, leads the conversation on the geopolitics of oil. FASKIANOS: Thank you. Welcome to the final session of the Winter/Spring 2023 CFR Academic Webinar Series. I'm Irina Faskianos, vice president of the National Program and Outreach here at CFR. Today's discussion is on the record. And the video and transcript will be available on our website, CFR.org/Academic, if you would like to share these materials with your colleagues or classmates. As always, CFR takes no institutional positions on matters of policy. We are delighted to have Carolyn Kissane with us to discuss the geopolitics of oil. Dr. Kissane is the academic director of both the graduate program in global affairs and the graduate program in global security conflict and cybercrime at NYU's Center for Global Affairs, where she is also a clinical professor. She also serves as director of the energy, climate justice, and sustainability lab in the School of Professional Studies at NYU. She was named in 2013 by Breaking Energy as one of the top ten New York women in energy, and top ten energy communicator. She's a member of the Council on Foreign Relations and the National Committee on U.S.-China Relations, and serves on several boards. So, Carolyn, thanks very much for doing this. We really appreciate it. I thought we could begin by talking about how has the geopolitics of oil changed, especially vis-à-vis Russia's war in Ukraine and OPEC's recent announcement to cut oil production? KISSANE: Well, first of all, I'd just like to say, thank you so very much for having me. I'm really delighted. I am a big fan of CFR's Academic Webinars. So, to have the opportunity to participate in this—in this way is very meaningful to me. So, thank you. So, wow. There is so much happening in this space, the geopolitics of oil. This has been a tremendous fourteen months. Russia's reinvasion of Ukraine very much upended the geopolitics of oil because Russia is a significant producer, one of the top three in the world. And it's—you know, it's caused a kind of a reshaping, a kind of a remapping of the—of oil geopolitics. And we've seen some, you know, shifts in how countries think about oil security, in light of larger questions about broader energy security questions. And also, on top of that, is the ongoing energy transition, coupled with, you know, climate change, and the need to decarbonize. So, there's just—it's been quite a—you know, a year and a half, that has really sort of put energy security, and oil security, very much at the forefront of people's minds. FASKIANOS: Fantastic. I thought maybe you had some really interesting data to show us. And if you could walk us through those—the trends you are seeing and really bring it to life, that would be fantastic. KISSANE: Sure. So, before I do—I have a couple of slides. And before I share my slides, I think it's really important that, sort of, we understand how interconnected, sort of, the global energy system is, and how interconnected we are, when it comes to the flows of oil. You know, some countries are very well resourced-endowed, so they have oil. And other countries do not, so they need to import oil. There's really no country in the world that doesn't need oil for larger national security issues. And I think one of things that many people sort of are not necessarily aware of or think about, is the amount of oil that gets produced every day. So, every day, the world consumes over 100 million barrels a day. And every day, that 100 million barrels has to be—has to be moved. It has to be—you know, as part of getting it into the system, getting it to its respective destinations. And what we're not seeing—which, maybe some people may have thought that we would see at this point—is we're not seeing a reduction in demand, but we're seeing an expansion in demand. And much of that global demand is coming out of Asia. And we're also, of course, seeing the—with the reopening of China, lots of really interesting questions as to what oil demand will be in China for the 2023-2024 years, whether or not they will—they will, sort of, put extra pressure on global demand. And you know, Irina, just also, you know, it's—I'm going to share this in my slides. But you know, last week's decision from OPEC+ to reduce production, of course, had an impact on the price of oil. So when the decision was announced on Sunday, by Monday morning, we saw an uptick in the price. It's stabilized, but we are sort of looking at $80-plus-a-barrel oil. And again, lots of uncertainty as to what that's going to mean across economies that are in recessions, experiencing sort of the beginnings of a recession, and sort of what does it mean for the global economy, where we may see sort of more energy inflation. So, one of the things that I really like to do when I teach the geopolitics of oil is sort of show some visuals. Because I think, again, sort of, really reinforcing the interconnected nature of our global energy system, but also sort of seeing where in the world is oil produced, and where in the world are the—are the importers. And also, just a couple of sort of fun pieces on what we have seen, just this—you know, in the last week, of course, some of this—you'll be familiar with, those in the audience—but this decision on the part of OPEC to reduce production by 1.2 million barrels a day—again, happening at a time, not when we have an excess supply, but when we're seeing a tight supply across the oil market. So, it came as a bit of a surprise to—you know—to even the most, you know, longstanding analysts and OPEC observers. And again, part of this is directed probably toward self-interests on the part of Saudi Arabia and the oil producers that are really going to make the cuts. But of course, it also has an impact here for those of you that are sitting in the United States. What does it mean then for prices that Americans pay at the gas pump? So, the Biden administration sort of came out after this decision was made in sort of being disappointed, surprised that OPEC would make this decision. Now, it's also important to sort of recognize that this is not just a singular OPEC decision. This is part of, now, a larger OPEC+. And OPEC+ does also include Russia, as well as other countries like Kazakhstan and Mexico. So, the OPEC that we have historically known is now different, because you have other countries that are not official members but nonetheless are part of what we now refer to as OPEC+. And these are the countries that are part of OPEC, and really the country that's considered to be sort of in the driver's seat of OPEC is that of Saudi Arabia, because Saudi Arabia is the largest producer within the OPEC organization, producing anywhere from 10 to 11 million barrels a day. Venezuela has the largest reserves, but it is far from being at capacity, in terms of what it can—what it can produce. So, just to kind of put that into perspective, these are OPEC countries and their respective reserves. And then non-OPEC—the United States being a non-OPEC country, but again, this sort of—this chart to the right shows, you know, again, the world is consuming a little over 100 million barrels a day, expected to increase over 2023 and into 2024, question marks as to when we may see peak oil demand. But again, to sort of link this to energy security—energy security, especially when it's in the context of oil security—is making sure that we have adequate supply at affordable prices. So, when we see a reduction in supply at a time of tight markets, that suggests that we're also going to see higher prices that's going to directly hit vulnerable economies. And so, again, just to sort of point out sort of where in the world sort of are the top three oil producers: the United States, Saudi Arabia, and Russia. Russia remains in the top three. Canada as well, our, you know, neighbor to the north. And China is also a producer of oil. The United States figure here also includes gas liquefied, so liquid petroleum, which the United States is endowed with a lot of both oil and natural gas. And then the top oil consuming countries, you have U.S., China, and India. Now, the United States is not the largest importer. That position is now held by China. But as far as consumption goes, we consume over 20 million barrels a day. Again, big question mark about China, in terms of whether or not we will see higher demand coming out of China over the next year, two years, with China's reopening and what is being, you know, discussed as revenge tourism. And more Chinese who have accumulated a lot of savings, 2.1 trillion, how are they going to use that savings and whether or not, after three years of being under lockdown restrictions, whether or not we'll see impacts to demand. And I think Russia is—there's lots of questions about Russia. And this is now—we're fourteen months into, you know, Russia's reinvasion of Ukraine—and I emphasize reinvasion, because oftentimes, we forget that, you know, Russia invaded Ukraine in 2014. But Russia is still moving its oil. And up until, you know, a few months ago, its overall production and exports were as high—at some points, even higher—than pre-invasion. Now, you have new countries that are takers of Russian oil, and they're buying it at discounted prices. We see Turkey, Singapore, China has been a big buyer, as well as India, that they have been buying discounted Russian oil. Lots of interesting questions that we could discuss about the oil price cap and seaborne embargo to Europe. But I think the takeaway from this slide is that Russia continues to produce oil, continues to sell it, selling at a discounted price, but there are still many countries in the world that are eager to take Russian oil. And again, I'm not going to go into this, but I just love this slide, to just emphasize the—you know, the world's pipelines. These are the pipelines that help sort of the transit of oil. Something also that's really unique and interesting to look at is just tanker traffic, so, the tankers that carry oil around the world. But again, you know, there are a lot of pipelines, so twenty-three—two thousand, three hundred, and eighty-one operational oil and gas pipelines. Again, these are—it's moving a lot of the oil that is consumed every day. And then finally, is this—is—you know, one of the things that we oftentimes—we think about the hundred million barrels a day that the world is consuming, over 75 percent of the world's oil is controlled, managed by state-owned oil companies. So, Saudi Aramco being one, PDVSA of Venezuela being another. But it's really important to sort of recognize the position that state-owned companies have. The rest is controlled or managed by international oil companies—ExxonMobil, Chevron, ENI, Total, and a host of other—host of other companies. But again, I think the—you know, to understand that NOCs, as they're referred to, are very, very important for understanding their role in the larger context of the geopolitics of oil. And again, what we saw last week coming out of OPEC, this decision, this is also being driven by state budget concerns. This is—again, it's about the production of oil, but it's also about, you know, governments and their budgets. And oftentimes, you know, there is a desire to add more, rather than—you know, more revenues rather than less. So, those are the slides that I have. And I hope that they sort of provide some sort of context, and a little bit of, you know, that we can discuss in the questions that I really look forward to answering from the audience. FASKIANOS: Thank you, Carolyn. That was great. So now, we're going to go to all of you for your questions and comments. (Gives queuing instructions.) All right, so I'm going to go to the first raised hand in the thing. Amadine Hom, go to you first, and please accept the—unmute yourself. (Pause.) You are still muted. (Pause.) OK, I don't know—are you there? Oh, I think—OK. Let's go to Morton Holbrook. Q: Yes, good afternoon. Dr. Kissane, what a shocking presentation—(laughs)—a hundred million barrels a day and it's going up, notwithstanding the Paris Climate Agreement of 2015. Is that agreement simply a dead letter, or is it having any effect on oil—on fossil fuel production, particularly oil production? Or what's the best scenario, in terms of reducing dependence on fossil fuels, considering the oil market? Thank you. KISSANE: Well—hi, Morton, thank you so much for that excellent question. Yeah, that's kind of why I emphasize that number, is because a lot of people sort of just aren't aware of how much oil we continue to consume, and again, what the demand expectations are moving forward. And these demand expectations are, you know, coming out of forecasts from the International Energy Agency. So, I think there's a big question as to when we see peak demand. And, you know, if you look at BP scenarios, they expect peak demand to happen, you know, before 2030, where, as, you know, others kind of contest that they—that they think that peak demand won't happen until after 2030. I mean, again, a lot depends on, you know, what we are now experiencing in the energy transition, and how, sort of quickly are we—can we transition away from oil. I think what's really critical, when we're looking at oil, is oftentimes we think only about the transportation sector. So we're thinking about cars, we're thinking about planes, you know, we're thinking about trucks, and tankers, and all these things. But it's petrochemicals, you know? There's just a lot of oil that also goes into fertilizer. So, it really is across our economy, and across economies, across the global system. One of the things that I always tell my students is even during COVID, where you had many countries, right, much of the world was experiencing some level of lockdown, we did have a reduction in oil demand, but it wasn't—it wasn't like 20 million barrels. It was under ten. So, the fact that now it's 2023, the world has reopened, it's really hard to sort of see, or to know with certainty, is when we're going to see that—see that reduction in demand. Now, I think with the Paris Agreement, what's also important is—to note is, you know, if you're—if you're in the oil and gas space—and I was just at a conference earlier this morning where this was a point of conversation—was, you know, what are the companies doing to reduce the emissions from production? So, how are they integrating carbon capture, sequestration, you know, how are they managing the emissions that come from the production of fossil energy—in this case that we're talking about, oil. And I think one of the things that—I think if you sort of follow oil markets, or a country like Saudi Arabia, they are marketing low-emission oil. Now, we could—you know, we could sort of challenge, well, what does that—you know, what does that really mean? But you are having, you know, countries that are now sort of competing to state that they have lower emitting carbon in the production—in the production of oil. And that's a whole other interesting sort of thing to look at, in the context of the geopolitics of oil, is to kind of understand the variation across emissions, across different countries, in the production of oil. So, we are—you know, again, we are going to be going into COP-28 this fall. Again, we are not seeing—you know, and we haven't seen a, you know, reduction in fossil energy demand. Again, lots of people are sort of, you know, hoping that we'll start to see it sooner rather than later. But for the time being—and again, you know, to Irina's first question, that, you know, the last fourteen months, and with, you know, with Russia's invasion of Ukraine, it has both shown us that, you know, Europe is sort of seeking to hasten the energy transition, by building out more renewable energy, and creating more opportunities to buy electric vehicles. But there's still big swaths of the world that, you know, are still, and have yet to move towards, you know, really reducing—and that are actually going to see higher demand moving forward, as their economies grow. FASKIANOS: Thank you. I'm going to take the next question from Jovana Vujanic, who is a graduate student at Lewis University: How big of an—of an impact will the decision of the Saudi energy minister to cut oil production have on the relationship between the United States and Saudi Arabia? KISSANE: Love the question, thank you so much. Yeah, no, it's a great one. So, my take is that, of course, this decision came as a bit of a surprise, and it wasn't something that the United States, you know, wanted. But I would say that the U.S.-Saudi relationship has been very tense for the last ten years. And as part of that—there are lots of different reasons for that, but this is yet—kind of another thing that Saudi has done. And again, I think it's also—Saudi has taken a non-alignment policy with relation to its position on Russia and Ukraine. So, it continues to—you know, it continues to have a relationship with Russia. It also has the relationship with Ukraine. As we saw, you know, China just brokered a very significant deal between Saudi Arabia and Iran. You know, again, Saudi Arabia and Iran are two—are two important producers for China. So, China is a large importer of oil. So, if you go back to World War—the end of World War II, that's when the United States established the oil-for-security relationship with Saudi Arabia. And as we have grown, sort of, more—I wouldn't say independent, but our—as our own oil production has increased, especially through the shale revolution, our dependence on the Middle East and Saudi Arabia, more specifically, has shifted. So, I think we're seeing a very different Saudi Arabia today, which I think is going to be a challenge for the United States. I think it's going to be very interesting to see what the summer holds. Last summer, the Biden administration did tap into the U.S. strategic petroleum reserves, the largest—the largest take in the history of the reserves, which started in 1975, you know, taking 180 million barrels out, you know, not because there was massive supply disruptions. But because, you know, as the administration said, it was—you know, it was—it was—it was a war—it was a war-specific decision, because the—you know, Russia's invasion of Ukraine was causing energy prices to skyrocket. And to cushion the American consumer, and to better cushion the, sort of, the global economy, the United States withdrew from the SPR. So I think the summer is going to be very interesting. But I think we're going to see, definitely, much more attention in the years to come, between the United States and Saudi Arabia. It's not the relationship of the past. This is a kind of a very new relationship. That's a great question. FASKIANOS: Thank you. Thank you, let's go Curran Flynn, who has a raised hand.
Q: Hello? FASKIANOS: We can hear you, but we're getting feedback. So you might have two devices open. Q: Can you hear me now? FASKIANOS: Yes. Q: That's better. OK. FASKIANOS: That's better. Thank you. Thank you so much. Q: So, I'm here at King Fahd University in Saudi Arabia, right next to Aramco, here with my class from international relations. And one of my students has a question, Nasser al-Nasir (ph). Here he is. Q: So, thank you, Mrs. Carolyn. My question is: How could Russia's use of alternative transportation methods, such as the East Siberian Pipeline to China, impact the U.S. market, the domestic market, and the role of the SPR, given potential insurance workarounds from Russia's side such as ensuring Russian tankers through their RDIF fund? And thank you to Mrs. Irina. KISSANE: Thank you. And, Dr. Flynn, thank you so much for having your students join this webinar. So, I'm a little—so, the question is about the East Siberian Pipeline? Just could you—would you mind repeating it? I just want to make sure I have it—I'm clear on the question. Q: So, how could Russia's use of alternative transportation methods, such as the East Siberian Pipeline to China, impact the U.S. energy markets, I mean domestically, and the SPR, given potential insurance workarounds from Russia's side such as ensuring Russian tankers to the RDIF fund? KISSANE: Yeah, and that's a great question. You know, I think that, you know, begs a lot of things that we could be looking at, right, in terms of, you know, Russia's kind of ability or capacity to sort of work around, or find workarounds, to the sanctions that were imposed. And I think we've seen sort of new markets—so, this kind of reshaping of the energy map with oil, we see that as—kind of in technicolor, right, whereas, you know, a lot of Russian oil would go west, is now going east, you know, China, India, being takers, and of course, you know, other countries as well. You know, what will be its impact on the—on the U.S. market? I think that's—you know, again, I do think the sanctions were sort of carefully put into place, so that there wouldn't be massive disruptions, so we—again, you know, Russia produces over 10 million barrels a day, and about 7 million of those barrels are exported. So, you know, if we lost all of that, that would be a—you know, that would cause some very significant economic disruption globally. We already saw, you know, impacts to sort of grains, grain exports, and food security in many different parts of the world. So, you know, Russia is finding different ways. You have shadow tankers that Russia is using to move—to move its oil—as you pointed out, the East Siberian pipeline. You know, I think there's only so much the United States can do, or—and European countries that are part of the sanctions regime, can do to curtail Russian exports of oil. But I think that—you know, I think Russia, again, has a—has a desire, and also, you know, revenue needs—they're funding a very expensive war—that they're finding ways to get their—to get their oil out. I think an interesting question is, you know, what does this mean in the years ahead, the lack of investment, for example, that's going into Russian energy infrastructure, a lack of, sort of, any kind of Western investment that is—that is going in, and what that is going to mean. But again, you know, I think, to your question, I think we will see some—you know, we are seeing some impacts, right? There's a big question as to what—you know, what the next six months to a year will look like, with regards to the reduction from OPEC, and if we were to see a deeper curtailment on Russian oil. And you know, would the United States then tap more into the SPR? We're now at—you know, we're down to seven hundred thousand barrels, which, of course, is not insignificant. But we also sort of have to be, you know, judicious about how we use the SPR. But thank you for the question. FASKIANOS: Thank you. I'm going to take the next question from Michael—let's see— Trevett, a Ph.D. candidate at the University of Southern Mississippi: China and other countries claim there are petroleum reserves under the South China Sea. What are your estimates of the potential amount there, and has China begun to extract any of this oil? KISSANE: Michael, thank you so much. That's a great question. So, China already is an oil producing country, so you do have oil production in China. In the South China Sea, I can't—I can't say exactly. I know that there have been geological tests that have shown the reserves. Again, you do have—you know, you do have territorial concerns about sort of where—is this—you know, can China—can China tap those—or seek to explore and tap those reserves, again, if there are—if there is contention over the territory in which these reserves are located? So you know, China, again—one of the things that's very interesting about China is that China is an oil producer, but China has seen, over the last, you know, the last decade, they have seen that they have experienced peak demand. So—I mean, sorry. Peak supply. So, they are not producing as much as they used to. And so you're seeing a year-on-year reduction in the producing capacity. You know, if you go back maybe five or six years ago, there was lots of questions about if China could kind of replicate what happened in the United States around the shale oil revolution. I think one of the big challenges for China is that, of the—you know, where the shale reserves are located, it's not near water, lots of questions as to—and some of it—basically, some of the tests have shown that it's—it definitely is proving harder that, you know, they cannot sort of model the same level of development that we have seen in the United States. So, yeah, no, I think in the South China Sea, again, I think we—it's potentially possible that we might see it. I wouldn't—I wouldn't—I wouldn't say it's soon. FASKIANOS: Thank you. I'm taking the next question from Rob Warren at the Anglo-American University of Prague. This question also got an upvote: How do you foresee Venezuela's role in the global oil market changing moving forward? And can it be reintegrated into the global economy? KISSANE: Oh, these are all fantastic questions. Thank you all so much. Yeah, Venezuela is—again, you know, Venezuela has—they have the largest reserves in the world. As part of this webinar, right, you—CFR had a—kind of a primer on Venezuelan, and kind of—you know, you look at sort of where Venezuela is. And one of the biggest challenges confronting Venezuela is both its politics, but it's also—it basically—you know, you don't have—you don't have international oil service providers in the country. I think the only—the only one now that the U.S.—the U.S. has sort of given a sanctions exemption to, is that of Chevron. But I think—yeah, I mean, if you were to see, you know, kind of shifts in the political regime, and you were to see more openness, then I think you could imagine, you know, Venezuela having an opportunity, or a pathway forward, to be more integrated into the global energy system, and the global oil system. You know, I think one of the big problems that Venezuela faces is that most of its infrastructure is really old at this point. And it would need a significant amount of reinvestment to get it up to a place that it could sort of meet its potential. So, you know, Venezuela is one of these countries that's not producing as much as it could, right? It has the potential to be producing 2 million-plus more barrels per day. But you know, we've seen that they really have just—they went into freefall. So, I think that's a big issue. And another big issue, which—God, it goes back to an earlier question—is that of emissions. So, the oil that comes out of Venezuela is a very, very heavy oil. So, it's—it has very large carbon emissions associated with the production of that oil. So, that, I think, is—again, as we—you know, think about the emissions from oil production in countries that are sort of seeking to kind of market themselves as low-emission producers, you know, Venezuela definitely will have a very hard time recouping its—where its oil sector was. Again, it has the capacity, it has the reserves. But getting that—getting that oil out of the ground right now, you have a lot of significant above-ground risks. FASKIANOS: Thank you. I'm going to go next to Clemente Abrokwaa. Raised hand, so please unmute yourself. Q: Can you hear me, please? FASKIANOS: Yes, we can. Q: Thank you. Thank you so much for your—for your talk. I was also very shocked about the amount of barrels that we consume every day. (Laughs.) I didn't know that. But anyway, I'm from Penn State University. And my question is: You just mentioned about the above-ground, you know, effects. And—so the movement towards, like, electric vehicles and so on, how do you think it is going to affect the African continent? KISSANE: Thank you. Q: I am—I'm thinking, you know, the economies, and then infrastructure. It will be very difficult for them to—(laughs)—move with the rest of the world in terms of electric vehicles, and so on. I just wanted your take on that. KISSANE: Thank you, Clemente. It's an excellent question. Yeah, I mean, you have countries across the African continent that not only have oil reserves, but are already producing, right? Nigeria is a—is an oil-producing country, also has more capacity, but again, you have some above-ground risks. You also have the need for investment of new infrastructure. I think one of the things that has been very interesting—and I think it's getting—it's getting more attention, as it deserves, is how Western governments are—some of—I think a challenge across Africa is that a lot of Western governments have sort of said, listen, we're not going to invest in fossil fuels—or also, financial institutions, Western financial institutions—we're not going to invest in fossil fuels, or new projects that are fossil-based. And that—you know, that's problematic when you look across the African continent, where you still don't have, you know, 100 percent energy access. You know, the idea of the transition to electric vehicles, which is taking a very, very long time, even here across the—across developed economies—so the need for the infusion of more capital to go into, you know, across the continent of Africa for oil and gas, that's for their economies and for their own economic growth, I think, is really, really pivotal. And I think this is something that, you know, is being discussed across multilateral financial institutions. And also, you know, is it hypocrisy, right, for Western banks that have, you know, kind of funded the oil and gas industry, or helped to fund the oil and gas industry in the United States and many different parts of the world, and that are now sort of not allowing those funds to flow to Africa. And they have the—again, they have the—they have the resources. So you know, is it—you know, the equity of some of these decisions that are being made, I think, is one that's—is one that's really important. And again, I—you know, I said earlier in this talk, is that, you know, all—most of the demand for oil is not coming from North America and from Europe. All of the demand that we're seeing and new demand that we're going to see, is coming from Asia, and is going to come from Africa. So again, you know, how are we going to make sure that that demand is met, again, going back to that idea of energy security, so there is—there is accessibility, so there is reliable sources of energy at affordable prices, you know, without sort of thinking about kind of a whole-of-energy approach. So, I think it's very—it's a very complex issue. And I think, you know, Western banks who have sort of taken very sharp positions on what they will and will not fund, when it comes to new oil and gas projects, are getting sort of challenged as to, you know, what does that mean, then, for, you know, countries across Africa that are still very much in need of more energy, not less. And again, recognizing that, you know, EVs that, again, are still—are—you know, we're seeing adoption here in the United States and across Europe, but it's a big, big, big adoption in China. But it's very uneven. So how do we ensure greater energy security for the continent of Africa, I think, is a really critical question. FASKIANOS: Thank you. I'll take the next question from Kyle Bales, who is a senior at Lewis University in Romeoville, Illinois: How is the war between Russia and Ukraine having an effect on the progress of the European Green Deal? Maybe you can tell us what the European—define the European Green Deal for us, Carolyn, give us the context for that. KISSANE: Yes, so, again, this is another fantastic question. Yeah, the European Green Deal, it's—this is—this is great. Yeah, I mean, a lot of people would say that the European Green Deal now is—that the—Russia's invasion of Ukraine has sort of said, hey, this is why the Green Deal is so important. This is why we really need to more quickly transition to renewable energy, because look what—look what happened when we were dependent on Russia for over 30 percent of our natural gas. And look, when Russia, you know, illegally invades Ukraine and suddenly weaponizes gas, we are left very energy-insecure. It affects—it affects consumers. It affects industry across the continent. So, I think we're seeing, not just through the Green Deal, but we're also seeing through, sort of European green industrial policy—so in some ways, akin to what, you know, we put into effect in—this past summer, is the Inflation Reduction Act. And we're seeing almost, kind of, this industrial competition around clean energy technologies. And so, Europe is investing—you know, I think it's about $250 billion, the United States, it's about 370 billion—towards the—kind of the energy transition, and helping to support domestic industries and companies to—you know, to be able to, you know, develop the technologies, and to have the, you know, the opportunity to contribute to the energy transition. So, I think one thing, though—whenever I talk about Europe, it's really important, is to sort of recognize that, you know, when you look across Europe, you have very different policies and kind of approaches, to sort of thinking about energy, and how quickly some countries want to transition and can transition, whereas others, you know, are probably going to experience a slower transition. So, just really interesting example, as you talked about the Green Deal, is the EU taxonomy, the green taxonomy, that went into effect in the—January of 2022. And there, you had, like, really a lot of contention between France and Germany, because France wanted to make sure that nuclear was part of the green taxonomy. Germany was opposed, right, but Germany wanted to make sure natural gas was part of the green taxonomy. So ultimately, in the end, both natural gas and nuclear—and again, this was—this predated Russia's invasion of Ukraine. But in the EU green taxonomy, you have—you know, you have both nuclear and natural gas, in addition to other renewable energies that can make up this taxonomy, that includes specific measures towards adaptation and mitigation for climate change. So you know, I think you're seeing this kind of—some people call it a race, a competition. You know, ideally, it's—you know, we're kind of working together to—because we're all sort of going in the same direction—to, you know, support the transition, and to reduce—to reduce carbon emissions, and to bring in more, sort of, cleaner energy technologies into our system. FASKIANOS: Thank you. I'm going to take the next question from Dr. Laeed Zaghlami. Q: Yes, good afternoon. This is Laeed—good afternoon, Irina. Good afternoon, Carolyn. I'm very pleased to be part of your program. Just to—want to be back to Africa and particularly to Nigeria, how practical the two projects that Nigeria is advocating for pipelines, one from—through Algeria, and the other one to Morocco through western African countries? How practical are these pipelines to supply gas to Europe and parts of some African countries? FASKIANOS: And Dr. Zaghlami, you are at Algiers University, correct? Q: Indeed, Irina, yes. I am professor at University of Algiers, faculty of information and communication. FASKIANOS: Thank you. KISSANE: Dr. Laeed, can I—can I keep you on for just one second? Can I ask you, what is the—what is the status right now? Is it—it's planned, under construction? Where is—what is the status of those two pipelines? My understanding is that it's—they're proposed, but— Q: Yes, well, actually in—practically, the pipeline between Algeria and Abuja, which means through Niger and so forth, is already in progress, whereas the other project, through thirteen western African countries, they are supposed to be implemented by 2047. But is it—is there any political game or something of strategic—(inaudible)—how practical, how logical, how efficiently will be for Nigeria to have two similar project(s)? KISSANE: Yeah, no, it's—again, thank you for the question. You know, pipelines, again, that's why I wanted to show the—(laughs)—kind of the map of pipelines, is because, you know, a lot of pipelines transverse, you know, multiple countries, right? And this is—this requires not just, you know, a lot of cooperation, but it requires technically. It also can be very complex to build—to build pipelines. And when you're talking about something like, as you—as you point out, these are, you know, crossing many countries. You know, I think one of the—again, one of the issues is whether or not—since, you know, what already is under construction, I think you can, you know, with confidence, that one will be completed. Anything that's not yet under construction—and again, the timeline, 2047, is way out there—a lot of—a lot of uncertainty as to what the status of those projects will be moving forward, for various reasons, in terms of making sure that the investments are there. Someone I know that studies pipelines, he says, you know, until the steel is in the ground, you don't have the pipeline, and so until you know that you've got that, you know, you've got all the OKs, and you feel that kind of security of being able to build it, and being able to provide the resources to supply it and to move it. I think Algeria has been a really interesting case that hasn't gotten enough attention, in terms of Algerian gas, that has—that has helped support Europe. Over the last years, we've seen an increase in Algerian gas going into Europe. Again, a lot of attention on U.S. LNG and the increase of liquefied natural gas exports into Europe, but also Algeria has been, you know, very important for helping to support European energy security, and make up for some of the losses of the—of the Russian gas. And I think we'll see more attention on Algeria, and Algeria's role as a—you know, as an important source of energy, especially, you know, gas, going into—going into Europe, moving forward. FASKIANOS: So, I'll take the next written question from Vincent Brooks, who is at Harvard and Diamondback Energy board of directors: How do you view the purchasing of discounted Russian oil by India, in particular relative to the purchasing by China? How are they using the oil purchased? And are you seeing more internal usage or external profit-making sales in places like Africa? And what are the implications of all of this? KISSANE: Right, great. Great question. So, all of the above—(laughs)—in some ways, right? There is definitely sort of profits that are being made. You know, I was—I was talking about this last week with someone, and you know, if you sort of put your shoe—put yourself in the shoes of India, right, so, India is a—is a rapidly growing economy, 1.4 billion. You know, if you had—if you have very high energy inflation and high oil prices, that's going to have ripples effects across the Indian economy. And so, you know, when you have a kind of opportunity to buy, you know, pretty steep discounted oil, which, you know, they had been able to buy from Russia, you know, for purposes of national security, they've been buying the oil. And one of the things that's very interesting about India is that, actually, India has been building out its refining capacity. So, a lot of that oil is both for domestic, and some of it is being sort of re-exported. But I think what we've seen is that they're using that oil to also sort of enhance their capacity and capabilities as a rapidly emerging, refining power in Asia. And we see that in some ways in China, too. So, China, even though oil demand was down in 2022, much of the oil that they were buying from Russia went into its strategic supplies, which, you know, they now have access to. And again, I think, you know, a big question is what we're going to see moving forward around oil demand in China. Wood Mackenzie just published a really interesting piece, kind of very bullish, on the expectations for oil demand in China, so whether or not they're going to continue to buy, you know, Russian oil—and again, sort of taking advantage of these lower prices, you know. And I think—I think one of the things that—it's kind of an inconvenient truth, whereas a lot of this oil trading used to happen in Europe, so European trading houses were kind of the main—the main points of Russian oil trade. A lot of that has been moved out, so, you know, Russia has found ways to kind of bypass some of the sanctions, and have set up—in some cases, they've set up trading houses. And some of those trading houses have been sort of set up in places that, you know, that they can sort of, again, bypass the compliance to the sanctions. And you have some—you have some Russian oil traders that are making a lot of money—(laughs)—selling discounted oil, and then reselling it. A really interesting case, a couple of months ago, was out of Malaysia. Malaysia announced—or, in the, you know—that they were—that 1.5 million barrels were produced and sold, but only—Malaysia doesn't produce that much. So, those were Russian barrels that were sort of being sold under, sort of, the Malaysian—under the Malaysian barrel. So, again, I think China and India have, you know, have taken advantage. Some of this has, again—as I said, has been re-exported. And some of it, you know, has been re-exported through petroleum products, because China and India, you know, both are building and have refining capacity. FASKIANOS: Thank you. I'm going to take the next question from Bhakti Mirchandani at Columbia University: What global trajectory do you see for nuclear? The Russia-Ukraine crisis has taken some of the refining capacity offline, and nuclear has the potential to change the geopolitics of energy. And so what steps can be taken to foster nuclear energy? KISSANE: Bhakti, thank you. And I was just at Columbia earlier today for the Center for Global Energy Policy's conference. Yeah, nuclear is very interesting, right? So when we're thinking about, you know, decarbonizing our energy systems, you know, nuclear plays a very important role, because it's zero-emitting. So in certain parts of the world—China being one, Saudi Arabia—you know, you have a lot of new nuclear build. You know, in other parts of the world, you have a lot of contention about nuclear. We saw that even in Germany, which have, you know, three remaining nuclear power plants. And even in the midst of massive energy crisis over the last year, there was still sort of pushback about, no, those nuclear power plants need to be shut down, whereas you would think, OK, in light of energy insecurity, let's keep them open. So, you know, France is an interesting country. France had planned to reduce its nuclear capacity by 50 percent. But this past year, they pivoted and they've said, no, we're actually going to build out more nuclear, and we're sort of—we're totally scrapping that idea of reducing nuclear energy. And nuclear is very important for France's electricity system. Sweden has also announced that they are going to build new nuclear, and they're going to increase by, I think, almost 50 percent. Again, part of this is their—to meet their targets of net zero. We also see Japan. Japan, you know, the Fukushima disaster really turned Japanese—the Japanese public off of nuclear. Very, very deep opposition to restarting the nuclear power plants. But this past year, even though there's still safety concerns on the part of the public, the public is also very concerned about energy insecurity and higher prices. So, nuclear being a domestic source of energy. So, I think when you look at, you know, net-zero pathways, I have not seen a net-zero pathway that does not include nuclear. So, here in the United States, the net-zero America project out of Princeton, very important place for nuclear. We just have a really hard time—(laughs)—building nuclear at cost, so it's very expensive. Usually, it's significant cost overruns. And of course, there is the—I think they have a really significant PR problem. People—there's still a lot of concern about the safety of nuclear. So, I think to your point, it's very, very important for decarbonizing energy systems, but you're going to see, I think, very disjointed approaches. Some countries are going—are embracing nuclear, and other countries are sort of doubling down on their opposition, and are not going to allow nuclear to be part of the energy system. FASKIANOS: We have so many questions, and we are just not going to get to them all. So, I'm going to take the next question from Christian Bonfili, who's at Torcuato di Tella University in Argentina. So, do you think, Carolyn, that the landscape resulting from the Ukraine invasion by Russia, vis-à-vis securitization of gas and energy between Europe and Russia, could accelerate energy transition toward greener energy? KISSANE: Great question. I think in Europe, it is. And I think, you know, many analysts would agree that—the IEA, for example—you know, you had the, you know—how does Europe continue—you know, to enhance and achieve energy security without the dependence on Russia gas? And a lot of that is through renewable energy. You also have a lot of new attention on hydrogen, and the role that hydrogen will play. I think—I think Europe is being cautious, and so they are not saying that they are going to completely move away from gas, so as earlier questions, are they getting gas from Algeria, or are they getting gas from Norway? Are they getting more gas from the United States in the form of liquefied natural gas? And then also an uncomfortable truth is they continue to get liquefied natural gas from Russia. So, we've seen an increase in LNG from Russia going into Europe. That said, I think all in, you are seeing that, you know, countries across Europe are saying, OK, you know, how can we enhance our energy security? How do we build more sort of domestic energy sources? Solar, wind, we're seeing, you know, more rapid deployment. You've got a lot of questions about supply chains and things like that, but I think—overall, I think the answer would be that it's quickening the energy transition. FASKIANOS: So, I will take the moderator prerogative to just ask the final question for you to close on. And just to give us your top three—what are the major challenges for the geopolitics of oil, as you look out over the next five- to ten-year horizon, that you would leave us with, to be looking for? KISSANE: OK. You know, so I think what we saw, right, tensions between Saudi Arabia and the United States. We also have a, you know, a hot war, cold war, depending on, you know, the term you want to use, between the United States and China, and lots of sort of questions as to what that's going to look like. I think there's—you know, I think there's concern that, you know, we're not reducing demands, but we're seeing tightening supply. And so that's going to have, you know, very significant impacts for economies, especially economies that are already very fragile, economically fragile, politically fragile. So that concerns me a lot, in terms of, you know, what happens when, you know, economies don't have adequate access to energy to make sure that their industries, that their—that consumers, you know, are able—that the lights can stay on, and you can get—you know, if you're dependent on cars, you're depending on trucks, like, all these kinds of things are really, really critical. So, I think we have to be very cautious moving forward, that we don't take more out of the system before we have adequately set up the system to be resilient, and to be able to sort of meet the energy security demands that are not—are not—they're not decreasing. I think they are increasing and becoming even more complex. So, I think there's a lot of concerns and a lot of uncertainty. And you know, this definitely is going to be an area to watch in the years ahead. FASKIANOS: Carolyn Kissane—Kissane, excuse me—thank you very much for shaping and sharing this discussion, for sharing your terrific insights with us, and to all of you for your questions and comments. I'm really sorry that we could not get to them all. But we only have an hour. (Laughs.) KISSANE: Thank you. FASKIANOS: You can follow Carolyn on Twitter at @carolynkissane, and we will be announcing the fall Academic Webinar lineup in the CFR Academic Bulletin. If you've not already subscribed, you can email us to subscribe. Send us an email,
[email protected]
Again, I encourage you to share with your students our CFR paid internships announcement. We also have fellowships for professors. You and they can go to CFR.org/careers, follow us at @CFR_Academic, and visit CFR.org, ForeignAffairs.com, and ThinkGlobalHealth.org for research and analysis on global issues. Thank you all again. Good luck with your finals. Carolyn Kissane, thank you so much. KISSANE: Thank you. It was a pleasure. Great. FASKIANOS: And we look forward to your continued participation in this series. KISSANE: Thank you very much. Appreciate everyone's questions. Bye. (END)
Brian Winter, vice president of policy at Americas Society and Council of the Americas and editor-in-chief of Americas Quarterly, leads the conversation on U.S. relations with South America. CASA: Welcome to today's session of the Winter/Spring 2023 CFR Academic Webinar Series. I'm Maria Casa, director of the National Program and Outreach at CFR. Thank you all for joining us. Today's discussion is on the record and the video and transcript will be available on our website, CFR.org/Academic, if you would like to share it with your colleagues or classmates. As always, CFR takes no institutional positions on matters of policy. We are delighted to have Brian Winter with us to discuss U.S. relations with South America. Mr. Winter is the vice president of policy for the America Society and Council of the Americas and editor in chief of Americas Quarterly. An influential political analyst, he has followed South America for more than twenty years and has served as a correspondent for Reuters in Brazil, Argentina, and Mexico. Mr. Winter is the author of several books including Why Soccer Matters, a New York Times bestseller he wrote with the Brazilian soccer legend Pelé. He is a regular contributor to television and radio and host of the Americas Quarterly podcast. Welcome, Brian. Thank you very much for being with us. WINTER: Thank you, Maria. Thanks for the invitation. CASA: Can you begin with a general overview of current U.S. relations with South American countries? WINTER: I can try and actually, as a matter of fact, today is an extremely fortuitous day to be doing this and let me tell you why. A couple of weeks ago on February 10, Brazil's new president, Luiz Inácio Lula da Silva, made a one-day trip to Washington. He met with President Biden while he was here. He brought his foreign minister with him as well as his chief foreign policy adviser, his finance minister, a couple other members of his Cabinet. One of the biggest sort of concrete results of this trip that Lula made up here was a U.S. donation to the Amazon Fund of $50 million. That is million with an M. Well, today, Lula leaves for China with about half of his Cabinet and a delegation of approximately two hundred and thirty leaders from Brazil's private sector in what Brazilian media are calling the biggest foreign delegation ever to leave Brazil for another country. They will be in China for six days and there is a whole roster of deals on the table ranging from financing to infrastructure to education, environmental, and so on. So the point I'm trying to get across here is one of clear asymmetry and it really reflects kind of the new moment for U.S. relations with South America overall. As Maria mentioned, I started my career in the region as a reporter a little more than twenty years ago. I was in Argentina for four years. I was in Mexico for one year and Brazil for five, and in the course of that relatively short period of time we've seen kind of the power balance in how we think about Latin America but specifically South America. We've seen a significant change in how we think about that region. Back the early 2000s, certainly, during the 1990s, these were the final years of the so-called Washington Consensus, a period characterized by kind of the unipolar moment that came with the end of the Cold War, a certain consensus not only around democracy but around a certain set of liberalizing economic policies as well, and that ran its course. But really, it was around 2003 when everything started to change for a variety of reasons. The biggest one is the one that I've already referenced, which is the growth of China as a trading partner for the region. China had always had a presence in Latin America. In fact, for the magazine that I run, Americas Quarterly, we ran a piece two years ago about the Chinese presence in Mexico going all the way back to the 1600s when they operated barber shops and other sort of forms of commerce. But what's happened over the last twenty years is really remarkable. In numbers, Chinese trade with Latin America and the Caribbean overall went from 18 billion (dollars) in 2002 to a stunning 450 billion (dollars) in 2021. China is now the largest trading partner for Brazil, Chile, Peru, and Uruguay, and for South America as a whole if you take all those countries in the aggregate China now outranks the United States. When you look at Latin America, by the way, that includes Mexico. If you take that grouping then the U.S. is still the number-one trading partner but, again, that's almost entirely because of that relationship—that trading relationship as a result of the former NAFTA and now USMCA. Along with that big growth in Chinese trade have come other changes. We've had a lot of talk in the U.S. media in recent days about the twentieth anniversary of the Iraq war. That was something—and I was living in Argentina at the time and you could really feel how that even then carried a cost for the U.S. reputation in some of these countries. I think that with the failure of the—the failures of the war over time I think that that only accentuated the view that—not only a long-standing view that the U.S. was an unwelcome, meddling, and in many cases imperialist presence but it also accelerated this narrative that the United States was in relative decline. More recent years we've seen kind of other things contribute to this diminished reputation of the United States and throughout many countries in the region—everything ranging from not just the election of Donald Trump, who, of course, was not popular in most of the region; but also specific decisions that were made by his government, such as the withdrawal from the TPP—the Trans-Pacific Partnership—that, of course, is the trade deal that was negotiated under the Obama administration that included several Latin American countries, including Chile and Peru—but also the weaponization of tariffs; and, you know, Trump's repeated threats to even cut off Mexican imports. They did—those threats did have the effect of kind of forcing, first, President Peña Nieto in Mexico and then his successor, Andrés Manuel Lόpez Obrador, to cooperate with initiatives like management of migration policy. So in the short term, they, quote/unquote, "worked" but in the longer term it showed Mexico as well as other countries in the region that the U.S. was not a particularly reliable partner. Some of you may be listening to all this and thinking, well, this sounds like the viewpoints espoused by governments in the region that are leftist and have never really cared for the United States in the first place. But another interesting thing about this latest trend and the way that things have changed over the last ten years is that this desire to forge a middle path between China and the United States as their strategic competition escalates is shared by leaders across the ideological spectrum. South American countries in particular are not unlike the United States when it seems like virtually everything is polarized, and yet in this area and specifically the need—the perceived need to have closer relations with—I'm sorry, closer relations with China while maintaining a civil relationship but not siding too much with United States, some of the most enthusiastic proponents of that view in recent years have actually been governments on the center right and right such as Sebastián Piñera, the former president of Chile, Iván Duque, the former president of Colombia, Guillermo Lasso, the current president of Ecuador, who has worked extensively with China, and even Jair Bolsonaro, who was until recently the right-wing president of Brazil, ended up essentially going along with Beijing and allowing Huawei to participate in the recent auction of 5G mobile communications technology there. And so what we end up with as a result is a policy in many countries across the region that some are calling active nonalignment, the idea that governments in the region, regardless of their ideological stripe, need to seek an equidistant or middle path between Washington and Beijing, essentially taking advantage of their relative distance from not only potential conflicts between the U.S. and China but also looking at what's happening in Ukraine right now and saying, look, we need to maintain our independence, not side too strongly with either of these emerging blocs, and see if we can benefit from this by selling our commodities to everybody, keeping in mind that these are economies, especially in South America, that rely extremely heavily on the sale of commodities exports to drive their economic growth. So, you know, in conclusion for these initial remarks that is a huge change in the course of a generation. We've gone in a little more than twenty years from this assumption that most Latin American countries are in the U.S. sphere of influence, to use a very outdated term, which I detest, that they were part of our, quote/unquote, "backyard" to an increasing realization in DC, and I think people are still getting their heads around that, that automatic support, automatic alignment, can no longer be expected whether it is in Mexico, Guatemala, Panama, and then on down into South America, which I know is our focus today, governments like Argentina, Brazil, Colombia, another country where we've seen a lot of change on this front even in the last couple years and, again, not just because there's a leftist president in Colombia now because his predecessor, who I've already mentioned, Iván Duque, was one of the main people pushing this change. So that's a lot to digest. I'm happy to take any questions and hear from you. So thank you. CASA: Thanks, Brian, for that comprehensive introduction. Now let's open it up to questions. (Gives queuing instructions.) Our first question is a written question and it comes from Andrea Cuervo Prados, who is an adjunct instructor at Dickinson State University, and asks, what is your perspective regarding the new leftist president of Colombia and U.S. relations? What is the risk that Colombia could turn into another Venezuela? WINTER: Right. It's a good question. I think that we are still figuring out exactly what Gustavo—not only who Gustavo Petro is but what his ambitions are for both Colombia and for his relationships with the rest of the region and the rest of the world. There is some distance between what he has said he wants to do and what he may be able to do. This is a president who, you know, talks in these grand sweeping terms but ultimately has to get things through congress, and to just cite a result or an example of this that doesn't directly have to do with Colombia's foreign relationships, he said—he gave a very dramatic speech at the UN General Assembly last September in which he talked about the need to legalize narcotics across the board, including cocaine. But then—it was a speech that generated a lot of attention in capitals all over the world and all over the region. But then in ensuing weeks when he was pressed on this he didn't really have a lot of detail and admitted that it was not something that Colombia could do unilaterally, which is all to say that, again, there's this gap where I think it's important to pay careful attention to the gap between the rhetoric and what's actually possible with Petro. I don't personally—you know, the question of could X country become another Venezuela it's a question that people have been asking all over Latin America for the last ten years. I think—I understand why people ask it because what happened in Venezuela was so awful and dramatic, not only with the country becoming a full-fledged dictatorship that represses political opposition but also the humanitarian crisis that has forced some 7 million people or about a quarter of the country's population to leave the country. But, look, Petro is Colombia's first president on the left and I don't think it necessarily follows that—in fact, I'm certain that it doesn't follow that every person on the left wants to go down the path of Venezuela. So I suppose I'm a little more optimistic not only that Petro is a pragmatist in areas like the economy—for example, his finance minister is a quite pragmatic figure, a Columbia University professor who is well respected by markets—and I'm also somewhat optimistic about Colombian institutions and their ability to stand in the way of any truly radical change. CASA: Thank you. Our next question comes from Morton Holbrook, who is an adjunct professor at Kentucky Wesleyan College. Morton? Q: Hello. Yes, I'm here. Morton Holbrook, Kentucky Wesleyan College. University of Louisville also. Thanks for your really interesting comments, especially about China's relationship with Latin and South America. Can I turn north a little bit to Russia? Considering particularly the Brazilian president's upcoming visit to China do you think he might want to go to Russia, too? Bearing in mind that the International Criminal Court just issued an arrest warrant for President Putin, how might that affect Latin American relations with Russia? Do you think some of them might now have second thoughts about Russia or inviting Putin to visit their countries? Brazil, Argentina, Mexico, Venezuela have all signed the ICC statute promising to cooperate in the carrying out of arrest warrants. Thank you. WINTER: That's a great question and one that is—I can tell you is very front of mind for Brazilian officials and I think others around the region right now. I was just in Brazil two weeks ago working on our—our next issue of Americas Quarterly will be on Brazil's foreign policy and what it means for the rest of Latin America. This is a question that's very front and center. Brazil's foreign minister did say in the last couple of days—he did explicitly almost word for word repeat what you just said, which is that Brazil is a signatory to that treaty. That would seem to eliminate any possibility of Vladimir Putin visiting Brazil. I'm not sure that that was really on his list of things to do anyway. But it was not only a practical signal but a diplomatic one as well. Lula's position on Russia and the Ukraine war has been inconsistent. He said during his campaign last year that Zelensky and Putin bear equal responsibility for the conflict. My understanding is that after that statement, you know, nobody wants to contradict the boss openly and sometimes not even in private. My sense personally based on conversations with others in Brasilia is that at the very least his foreign policy team regretted that he made that statement. Brazil has, in other form, condemned the Russian invasion. Other governments including Chile, Argentina, Colombia, and others have done the same. However, these are countries that, like most of the Global South, are firmly opposed to any sanctions and so their position, again, ends up being I suppose you could call it nuanced. They believe it's important in part because of their own experience as nations to condemn invasions of one country by another. I, personally, think that it's fair to think of what Putin is doing is a kind of imperialist aggression, which these are countries that have certainly objected to that when it's the U.S. over the last, you know, 200-plus years and so you would think that it would be in their DNA to do so in the Ukrainian case as well, and in fairness most of them have. I would just add that, you know, the Brazilian position, I think, though, gets influenced also by two other things. One is, again, this notion of nonalignment. Most people talk about nonalignment in Brazil and Argentina, in Chile and Colombia, and they think about the U.S.-China relationship, as I noted during my introductory remarks. But they also think of it as a helpful guide to thinking about the conflict, the war in Ukraine, as well for reasons that are not firmly rooted in morals or values, let's say, but in interests as, you know, foreign policy often is. To say it in a different way, I had a conversation a couple of years ago with former Brazilian President Fernando Henrique Cardoso, who I helped him write his memoir in English back in 2006. He was president during the 1990s, and in talking with him about the China question he said, we have to take advantage of our greatest strategic asset, which is that Brazil is far. (Laughs.) And to just unpack that a little bit, I think the meaning of that is clear to all of you. But these are countries that really see an opportunity right now just by virtue of their geographic distance from these conflict zones to avoid being dragged in and also to potentially, at some level, benefit from it through strategic superpower competition for their support as well as through higher prices for some of the commodities that they produce. There's one added element in the case of Brazil, which is that Lula, I'm told by people close to him, sees himself as almost a Nelson Mandela-type figure. He's back now for his third term in the presidency twenty years after he was president the first time. Of course, I'm sure people on this call know that he went through some real struggles in the intervening years including nearly two years in prison over—on corruption charges that were later thrown out and, you know, he may see his presidency as an opportunity to kind of write the last chapter or two in his biography, and there's talk that he wants a Nobel Peace Prize and that he sees potentially helping negotiate a peace deal for the Ukraine war as the best opportunity to do that. I actually think that that idea, which is—tends to be dismissed in Washington as well as in European capitals, I personally think that idea is not as crazy as some people here in Washington think. But maybe I can go into that a little bit later if anybody wants. CASA: Thank you. Next, we have two written questions from the same university that we can take together. They're from Marisa Perez and Trevor Collier, who are undergraduate students at Lewis University. They would like to know what world leaders such as the United States can do to prevent deforestation of the Amazon rainforest and how they can do so without compromising Brazil's sovereignty. WINTER: Well, it's a really great question, in part because it mentions an issue that Americans don't often think about, which is precisely the sensitivity on the sovereignty issue. Brazil, and specifically not only Brazil's military but Brazil's foreign policy establishment, have a long-standing concern that is part of their doctrine, I suppose you could say, that is concerned always about the possibility of territorial loss and about foreigners gaining influence or, in some cases, even control over the Amazon. And I have to say, you know, this is another one of those ideas that I think—I wish we were all together in a room. This Zoom is kind of the next best thing. I could see your faces that way. But sometimes when I talk about this I see people kind of roll their eyes as if it was some sort of imagined conspiracy. But the truth is that as recently as 2019 when the—the first year of Jair Bolsonaro's government when the fires in the Amazon really became a huge controversy, driven in large part by social media and tweets from people like Justin Bieber and Cher, who, to be clear, were, I think, justifiably and quite heroically shining light on what was happening there. In the midst of all that Emmanuel Macron actually proposed that perhaps some sort of international force in the Amazon was necessary, that that deployment of that would be a good idea if Brazil was not capable of taking care of the Amazon itself. That proposal was disastrous because it just reinforced this long-standing fear that so much of the establishment in Brazil has always had, and it's true that Bolsonaro was on the right but you, certainly, in conversations, I think, with people across the ideological spectrum this is something that people think about. So OK. So back to the original question, how can the U.S. help. Well, the U.S. could help by providing both logistical and financial resources beyond the $50 million, which is, you know, the equivalent of about seven seconds of what we're spending in terms of supporting Ukraine right now. I don't know—Norway is the biggest sponsor of the Amazon Fund. I don't have that number in front of me but I think that their contribution is upwards of at least a billion dollars, probably more. Ultimately, though, I do believe that the Amazon is a local challenge and I know that can be unsatisfying to hear in forums like this where we're sort of designed—you know, this is a CFR event. We're supposed to be thinking of ways that the international community can get involved. But it's going to be a big challenge. The good news is that Brazil has shown that it is capable of getting its hands around this problem before. During Lula's first terms in office from 2003 to 2010 his government was able to reduce the level of deforestation by upwards of 75 percent. It was a very dramatic difference in a very short period of time. This was done through a variety of means, both things like satellite monitoring and new technology that let the authorities follow this in real time. They were also able to step up environmental enforcement agencies like IBAMA, whose inspectors are necessary. It's necessary to have them on the ground in order to, you know, stop—actually stop illegal loggers from setting the fires that are the main driver of deforestation. They were also able to build political consensus around the need to reduce deforestation during those years. I don't think it's going to be—in fact, I'm certain it will not be as "easy," quote/unquote, this time around. A lot has changed. The upwards of 60 percent increase that we saw in deforestation during the Bolsonaro years had the support, unfortunately, in my view, of local populations who believe essentially that slashing and burning will lead their day-to-day economic lives to improve. In the election that happened in October where Lula won and Bolsonaro lost but by a very small margin—the closest margin in Brazil's modern democratic history—the strongest support nationally for Bolsonaro was in areas that have seen the most illegal deforestation over the last four years and what that tells you is that, again, these are local populations that believe that this will lead to greater wealth and greater well-being for all of them, this being deforestation. So that's a big challenge for Lula with a—you know, at a time when resources are fairly scarce. It's not like it was during his first presidency when all of this increase in Chinese trade was really boosting the amount of money in Brazil's coffers. So he's going to have to figure out a way to dedicate financial resources as well as convince local populations that this is in their interest to do it. It's not going to be an easy road. CASA: Our next question comes from Mike Nelson, an affiliate adjunct professor at Georgetown University. Mike? Q: Thank you very much for an outstanding overview of what's going on in U.S. relations to South America. I study international technology policy and data governance but my question is about corruption. You mentioned corruption in Brazil but it's a problem throughout South America, and my three-part question, is it getting worse or better; are there any countries who have really done the right thing and have taken serious measures to address it; and how can the internet and some of the technologies for citizen journalism help expose corruption and make leaders less likely to dip into the public fund? WINTER: OK. Yeah. No, great questions, and reflective of if you look at opinion polling and remember that these are countries that many of them have been dealing with rising crime, rising homicide levels, economic stagnation, the pandemic, which hit Latin America by many measures harder than in any other region in the world at one point—I haven't seen updated numbers on this but it was fairly consistently throughout the pandemic Latin America, which is about 8 percent of the world's population, was accounting for about 30 percent of the world's confirmed COVID deaths. Anyway, amid all of that, and the economic stagnation that has been such a problem over the last ten years, in a lot of countries and in public opinion surveys, the thing that people identified as the number-one problem in their country is corruption. That was not always true. If you look back at public polling twenty years ago, people tended to identify kind of more, what's the word, basic needs—think, like, unemployment, hunger, misery, which often is kind of asked as a separate—that's one of the boxes you can check. Twenty years ago, those were the issues. And as the region became more middle class, especially in the 2000s because of this China-driven economic growth that described during my introduction, a lot of people were able to move beyond their basic needs and focus on essentially what was happening to the money that they paid in taxes, keeping in mind that many people were paying taxes for the first time. Some of it surely was also driven by these things, as you mentioned, mobile phones that not only things like videos of people carrying suitcases of cash, but also the attention that was given to big corruption scandals. Previously in a lot of countries, governments were able to make pacts with newspapers and TV channels, and kind of tamp things down a little bit, and lower the temperature. In an era of Facebook and Twitter, that was no longer as easy for them to do. All of this culminated in several corruption scandals at once in the mid-2010s, the most emblematic of which was the so-called Lava Jato, or car wash, scandal, which originated in Brazil, but eventually had franchises, if you will, in almost a dozen countries throughout Latin America and the world. That story is complicated. Politicians all over the region went to jail. Business leaders did too. Lula was one of them. That was the case that put him in jail. In intervening years, we've discovered that there were abuses and procedural violations, both things on behalf of the prosecutors and the judge involved, who the Brazilian Supreme Court decided, I think in 2021, they ruled—maybe it was earlier than that—that the judge overseeing Lula's conviction had not been—or, rather, it's easier to say—had been partial in his rulings. And so that's left us in a place today where populations are still angry about corruption, as I mentioned, but it is no longer driving conversation in most countries, like it did before. I still believe—and you can probably tell, this is something I've thought about a lot over the years and continue to watch. The first question you asked, in some ways, is the most important one. Is corruption getting worse or better? It's impossible to know for sure. My hypothesis is actually corruption is about the same, and may in fact be getting better, which flies in the face of all of these headlines that we've seen. But to me, the operative question over these last ten years or so has been, you know, not why—I've heard people say, well, why are these—why are these countries so corrupt? And to me, the real question is, why are we suddenly seeing these cases of corruption? Because I think it speaks to not only the technological changes that I referenced, but also the improvement—(audio break)—these are countries many of which transitioned from dictatorship to democracy in the 1980s and early 1990s. And therefore, it really took a generation for independent prosecutors to show up, to have the training and political support that they needed to go after some very powerful people. So, in sum, I am a believer in the story of rule of law improving in many countries in Latin America. I would recognize, again, that it's a very complex story, in part because of some of the problems around not just Lava Jato but in other countries, such as Peru and Guatemala. But progress is rarely linear. (Laughs.) And I still think that this is something that is likely to get better with time. CASA: Our next question is a written one from Mary Beth Altier at New York University. She asks: What role do you think misinformation and disinformation play in citizens' perceptions of the U.S. versus China and Russia in Latin America? What could the U.S. do better from a strategic communications perspective, if anything? And then—I can repeat this other question later, which is kind of a follow up. So you think— WINTER: Yeah, maybe. Well, that first one—that first one is worthy of a book. All of these are—these are great questions. They're difficult to answer in pithy fashion in three minutes. I am continually impressed by the quality of Russian propaganda in Latin America. Those guys are really good. You look at RT en Español—(changes pronunciation)—RT en Español—it has one of the biggest social media followings of any "media company," quote/unquote, in the region. Even people who I know are—who I know to not be pro-Russia, let's put it that way, I see sharing content and videos from RT, which, of course, is just as pure a propaganda arm as you can get of the Russian government. But also, you know, have a whole network of sites that are more subtle and that push very sophisticated and sometimes, you know, not particularly obvious narratives that are designed to undermine the United States or promote the views of China and Russia. I would recognize at the same time that—I referenced this during my introduction remarks, sometimes the United States does not need any help with it comes to undermining its reputation in the region. I mentioned some of the, quote/unquote "own goals" that we've seen over the last five to ten, even twenty years, going all the way back to the Iraq War. As far as actively pushing back, all I can say is this: You know, I think that they're—on the one hand, I think there are concrete steps that are being used. We're still trying to get our heads around this problem to fight misinformation. But I was just in a different forum this morning where I was asked, what—how can the U.S. help the cause of democracy in Latin America. And my answer to that is that the best thing the United States can do to help democracy in Latin America is to get its own house in order, to move past the polarization, the misinformation, and the scorched earth politics that have put our own democracy at risk over the last several years, and try to, you know, recapture some of the consensus, at least around basic democratic rules of the game and how we hold elections that characterized most of the previous two-hundred-plus years of our history. Because I do think that while—you know, look, I lived ten years in Latin America. I know that people roll their eyes at the notion of the United States as being kind of the shining city on the hill. And I understand why. And that was always true, in part because of the long history of U.S. intervention in Latin America often showing, you know, some of our worst behaviors. On the other hand, as a Brazil specialist, I've seen how some of the tactics and even some of the same people that were behind our own democratic decay of the last five years, some of those same tactics were repackaged and exported to open arms in Brazil. So I do think that it makes a difference on the ground in places like Brazil, potentially, and other countries as well, when a strong democratic example is being set in the United States. And I think that's the most powerful thing we can do. Some of the other stuff, like what's happening on RT and Telesur and some of these other outlets is relatively outside our control. CASA: We have a complementary question from— WINTER: There was a second part of that question. CASA: Oh, no, you did end up answering, I think, what could the U.S. do better from a strategic communications perspective. I think you kind of covered that. We have another question from Gursimran Padda, a student at Stony Brook University, who asks: Does China's strategy of gaining influence in Latin America differ from its tactics in Africa? And if so, why? WINTER: Gosh, all these great questions. China—I have to start from the beginning. I am not an African specialist. But I can tell you kind of the narrative of what happened in Africa through Latin American eyes, if that makes any sense, because this is a conversation I've had a lot over the years. The perception is that China went into some of these countries in sub-Saharan Africa, and engaged in infrastructure projects and other things that had abusive terms. In many cases, China imported its own labor to do some of these projects. They also engaged in some predatory lending practices. And that was all—essentially the takeaway from actions like that in places like Buenos Aires, Bogota, certainly Brasilia, was that the Chinese would not be allowed to come and engage in those same behaviors in Latin America. And I think, in practice, it seems that the Chinese have realized that. There have been examples, such as the construction of a dam in Ecuador, where the terms ended up being perceived as something of a debt trap. But my sense—again, and this is not so much my sense; it's repeating what I've heard in numerous conversations about this subject with leaders across the ideological spectrum and throughout the region—is that they understand the risks involved in working with China, in part because of the experience throughout parts of sub-Saharan Africa. And they're determined to not let those things happen in their home countries. You know, I know that that's a view that, in places like where I am today—I'm on in the road in Washington, participated in this other conference this morning. That's why my Zoom background is not quite as put together as it sometimes is, by the way. I know people roll their eyes at that notion here, and are constantly warning—you know, kind of wagging their finger a little bit at governments throughout South America, and saying that they need to be eyes wide open about the risks of engagement with the Chinese. The problem is that here in the U.S., I think they're underestimating, in some cases, the sophistication of foreign ministries and trade ministries in places like Peru and Chile when they make those comments. Which is to say, I think that there's something both visually and in terms of the context a bit paternalistic about it, that everybody picks up on and tends to make people in the region justifiably crazy. (Laughs.) And then, the other part is that the U.S. is not really offering much in the way of alternatives. We're at a pretty unique moment in the history of the United States right now where we have both parties—the Republican and Democratic Parties—are pretty much closed to the idea of new free trade deals. That, in my lifetime, has never happened before. I mentioned the fact that Trump dropped out of TPP. Well, Joe Biden has not picked that back up. I think there are domestic political reasons that explain that, but what it means in practice for our relationships with governments in Latin America is that Washington doesn't have a whole lot to offer. Because, unlike the Chinese, we can't just order our companies to go invest someplace. That's not how our economy works. It is very much how the Chinese economy works, where they can decide to make these decisions. They are not necessarily for a short-term economic payoff, but for medium-term reasons, or even decisions that have very little to do with dollars and cents or ROI, return on investment, and everything to do with geopolitics. So wanting to have beachheads in terms of, say, ports in places like El Salvador. So, you know, again, without that—without trade and without that ability to kind of dictate investment, there's not a lot that's left in Washington's toolkit for counteracting this kind of influence. CASA: Our next question comes from Daniel Izquierdo, an undergraduate student at the U.S. Military Academy at West Point. Daniel. Q: Good afternoon, sir, ma'am. Thank you for taking the time. I just had a quick question on the increasing tensions between China and the U.S., and how that will kind of develop itself in Latin and South America. So given the strategic interests of Latin and South America, and the persistent political unrest, along with increasing tensions between China and the U.S., what do you believe the likelihood to be of proxy conflicts or foreign meddling, similar to what occurred during the Cold War, occurring in the region? And if not, how do you foresee the U.S. and China competing for influence in the region? WINTER: So another very good question. Thank you for that. Look, I think some of this ground we've covered already, but I would say that, you know, you're the first to mention—I had not previously mentioned this idea of a new cold war. And this—you know, this is another reason why so many countries across the ideological spectrum are opting for this policy of nonalignment. Essentially because they believe that the first Cold War went badly, very badly, for Latin America. It resulted in all kinds of traumas, from the wars in Central America during the 1980s to U.S. support for coups in places like Chile, to, you know, Cuban meddling in places like Bolivia and elsewhere around the region during those years, which led to the rise of guerrilla movements like the FARC, that ended up killing very high numbers of people. And so essentially, you know, not to be glib about it, but the reaction that today's generation has is: We want no part of this. Because it didn't go well for us the first time. I think there are obvious differences between a conflict between the U.S. and the Soviet Union back in the 1950s and 1960s, and this strategic competition between Washington and Beijing, that thankfully has not quite reached those heights, at least not yet, here in the twenty-first century. But I have to tell you, and again this is based on conversations I'm having all the time, the fear is real. The perception is that the world may be headed back to that kind of conflict, being driven not only by what's happening in the Ukraine but the increasing speculation of potential war over Taiwan. So this, again, as far as—as far as how it could play out in practice, I think it's still early. I think it remains to be seen. Right now there is—you know, there are clear cases where I think the Chinese are, as I alluded to in my previous answer, making investments not for economic reasons but for strategic ones, with a long-term horizon I mind. Things like the, quote/unquote, "space base" that they've established in Argentina, which really is deserving of the full air quotes when we say the phrase "space base." I think everyone senses that—you know, that that conflict—or, that competition, if you will, is likely to define the next twenty to thirty years. And I think there's a determination in most countries, it makes a lot of sense to me personally, that they don't want their countries used again as a chessboard amid that larger conflict. CASA: Our next question comes from Damien Odunze. He's assistant professor at Delta State University who writes: Ideas in the long run change the world. Do you think a closer educational collaboration between U.S. universities and those in Latin and South America could help shape and strengthen liberal democratic values in those countries? WINTER: What an interesting question. Look, let me talk first about kind of the—that equation today. There's already quite a lot of connectivity, especially at the—at, you know, not a word I love to use, but at the elite level, the elites in government and business and U.S. education systems. Which is an unnecessarily wordy way of saying that a large percentage of people in South America come from the elite classes and get educated at universities and sometimes even at high schools in the United States. That is one reason why, again, many of these governments are likely to at least forge a middle path between China and the United States, rather than going full-fledged in the direction of China. I think there's a cultural affinity, family ties, cultural ties, educational ties, and other things that are probably kind of the strongest connection that the U.S. has with a lot of these countries right now. As to whether a strengthening of those educational ties would improve dedication and the strength of democracy, whew. It could, but I watched with dismay as poll after poll suggests that younger generations, not just in the United States but across the Western world, are less committed in theory to both democracy and democratic institutions than their predecessors. And so I wonder just—I don't have an answer to this—but I wonder if even, quote/unquote, "even" within the United States, if we're properly instilling an appreciation for democracy in today's generations, which then raises the question of whether we'd be able to do so amongst the youth of other countries as well. I'm not sure. I think this is another area where, you know, in the U.S. we have some work to do at home before we start thinking about what's possible in other countries. CASA: Our next question comes from Mary Meyer McAleese, who is a professor of political science at Eckerd College in Florida. Mary. Q: Yes. Good afternoon and thank you for this opportunity. I have, well, two questions. I hope they're quick. The first one is, what do you think the effect will be on Latin America or South America with regard to the failure of the Silicon Valley Bank? I read that a lot of Latin American businesses have had investments in that bank, so I wonder if you could say a bit more about the banking situation and the longer-term effects there. And also, gender violence, of course, is a horrible problem all around the world, but especially in Latin and South America. What do you think the United States and the Americas Society could do to support groups in the region that are fighting against gender violence? Thank you. WINTER: Well, thank you for both questions. Both very good questions. There's been a lot of talk about SVB and possible effects in Latin America. What I've heard from people who are far more knowledgeable about the financial—excuse me—the financial system than I am, is that as long as it does not spread and become a more systemic risk, it should not pose much of an issue for Latin America. In part because—and this is another area where just like—where we were talking about the courts having, I think, been engaged in a thirty-year long process of improvement—I think the same can be said of banking and financial systems around most of Latin America. My first job was covering the financial crisis that Argentina went through back in 2001 and 2002. Which, for the uninitiated, that saw five presidents in two weeks, a freeze of bank deposits, and a 70 percent devaluation of the currency. It was quite a traumatic thing to be a part of. And during those years, we saw similar—well, not quite as bad—but at least thematically similar crises in Brazil, Colombia, and elsewhere, following other crises in the 1990s. Which is all to say, Latin America has been curiously quiet this time around in terms of financial contagion. The economies aren't doing well, for the most part, but at least we're not talking about a financial meltdown. And that is because of lessons learned. These are banking systems that now have stricter capital requirements than they did in the past. And the macroeconomic fundamentals, generally speaking, are better than they were twenty years ago. Argentina, of course, is kind of in trouble again with an inflation rate that just passed 100 percent. And that's terrible. But again, the depth—(laughs)—everything's relative. And the depth of just financial devastation is, thankfully, nothing compared to what it was when I was there twenty-plus years ago. So, you know, we'll see. If the bank run spreads and we start seeing other banks come in trouble here in the U.S., then my sense is that, with the whole Credit Suisse thing, and we're not out of the woods yet. But if it stays more or less contained, then the consensus, at least so far, is that Latin America should be fine. Your question about femicide is an excellent one. It has driven the political discussion in Brazil in recent years. It's something that President Lula has spoken movingly about. It has also been, on the other end in Mexico, the feminist movement that has had femicides as one of the main areas of concern, has been one of the most effective opposition groups to President López Obrador, who has often been, sadly in my view, dismissive of the seriousness of that problem. As far as what the United States can do to help, or even what my own organization can do, I think that in a lot of cases these are—you know, like a lot of problems—there are things that the international community can do to help. And certainly, I see things from a journalist's perspective, even though I'm more analyst than journalist these days. I think that shining light on these problems, using vehicles like—platforms like Americas Quarterly, which is the small publication about Latin American politics that I run, that's, you know, my own insufficient contribution to looking at his problem. But it's certainly one—I mean, we look at the numbers in places like Brazil. I don't have those numbers on my fingertips, but it is just an incredibly serious problem, and one that deserves more attention. CASA: Thank you, Brian. We have so many other questions. I'm really sorry, though, we have to cut off now. We're at the hour. But this has been a very interesting discussion. And you've covered an enormous amount of ground. Thank you to all of you participating for your great questions. I hope you will follow Brian on Twitter at @BrazilBrian. The next Academic Webinar will take place on Wednesday, March 29, at 1:00 Eastern Time. Renee Hobbs, professor of communication studies at the University of Rhode Island, will lead a conversation on media literacy and propaganda. In the meantime, I encourage you to learn about CFR paid internships for students and fellowships for professors at CFR.org/Careers. Follow at @CFR_Academic on Twitter and visit CFR.org, ForeignAffairs.com, and ThinkGlobalHealth.org for research and analysis on global issues. Thank you, again, for joining us today, and we look forward to you tuning in again for our webinar on March 29. Bye. WINTER: Bye. Thank you. (END)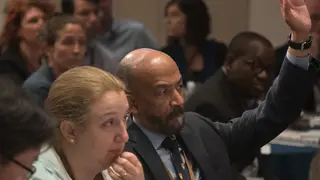 Higher Education Webinars
Reserved for college and university leaders, administrators, and professors, the CFR Higher Education Webinar series offers timely conversations on global issues affecting higher education, featuring CFR fellows and thought leaders. Webinars convene monthly to explore strategic challenges and share best practices for meeting them. Video recordings and transcripts are posted to CFR.org after the fact. 
To sign up or ask questions about the series, please email [email protected]. You may also subscribe to the CFR Academic podcast via iTunes.
Past Higher Education Webinars
Dr. Haass, author of the New York Times best seller The Bill of Obligations: The Ten Habits of Good Citizens, discusses how to reenvision citizenship if American democracy is to thrive or even survive. His guide is particularly relevant for college students who are learning how to navigate and participate fully in life on campus and in civic society. FASKIANOS: Thank you. Welcome to today's Educators Webinar. I'm Irina Faskianos, vice president of the National Program and Outreach here at CFR. Today's discussion is on the record and the video and transcript will be available on our website, CFR.org/Academic. As always, CFR takes no institutional positions on matters of policy. We're delighted to have CFR President Richard Haass with us to discuss the themes in his new book, The Bill of Obligations: The Ten Habits of Good Citizens. Dr. Haass needs no introduction, but of course I will say a few words. He is in his twentieth year as president of CFR. He has served as special assistant and senior Middle East advisor to President George H.W. Bush, served in the U.S. State Department as a director of policy planning under Secretary of State Colin Powell, and held various positions in the Defense and State Departments during the Carter and Reagan administrations. He is the author or editor of fourteen books on U.S. foreign policy, one book on management and, of course, this one on American democracy. So, Richard, thank you very much for being with us today to discuss this book. I thought we could begin with you giving us an overview of your book, why you wrote it and, more specifically, why the focus on obligations rather than on rights. HAASS: Well, thank you, Irina. Thank you all for giving us some of your time. So really two separate questions—why the book and why the focus on obligations. Why the book is, look, I'm a foreign policy guy, for better and for worse. But increasingly, when I thought about all the challenges this country faced in the world, they all presume that we would have a functioning democracy that others in the world might want to emulate, others in the world would feel comfortable depending on, relying on. Our foes in the world might be deterred by. That we would generate the resources we needed and the political unity we needed to act in the world. Increasingly all that came under—has come under question. So I don't see how you can talk about American national security and just talk about the sort of stuff that the Pentagon or State Department do, but increasingly our ability to have a working democracy, to have a society that has the bandwidth and the unity to carry out our foreign policy. That's in question. And that's one of the lessons of the last few years. We assume these things are just fine at our peril. So, you know, that's what led me to write this book. And I actually have come to see the state of American democracy as, in many ways, the biggest threat to our national security. More than China, or Russia, or climate change, or anything else, because this is the foundation of our ability to contend with all these external threats. Moving to the question of "why obligations," look, no one should get me wrong here. Rights are central to this American experiment, as I expect all of you know. You know, the Bill of Rights was politically essential in order to get several states that were holding out to ratify the new Constitution. A lot of people understood that the Articles of Confederation were woefully inadequate, but it was something very different to say they were prepared to sign on for a much stronger federal government and a much stronger executive. And the condition that several states set then was, hey, we need this Bill of Rights which protects states and individuals from the reach of the federal government. Over the last nearly two and a half centuries, we've lived with the reality that there's often a gap between our political realities and the Bill of Rights, you know, what Lincoln called the "unfinished work" of this country remains unfinished. I fully appreciate that. But just try a thought experiment: Just imagine that somehow we managed to close the gap between our reality and the Declaration of Independence, and suddenly rights were 100 percent what they ought to be. Then the question you have to ask yourself, if we were to reach that point, would American foreign policy be on safe, firm ground? And the answer is no. Because what would happen is someone would say, hey, the mother has an absolute right to choose. And someone else would say, no, the unborn, they have absolute rights. Or someone would say, I have all sorts of rights under the Second Amendment to bear arms and someone else would say, oh, hold on a minute, I've got rights to public safety, to physical safety, and so on and so forth. You know, it wasn't by accident that Justice Steve Breyer said that the toughest cases before the court are right versus wrong, but rights versus rights. So what do we do? How do we avoid the clash of rights which, at a minimum, would mean gridlock, and worse yet, in all sorts of situations, one could imagine things descending into violence. If people felt that adamantly about their rights, and if their rights were not adequately recognized, from their point of view, what's holding them back from political violence? And that's what led me to this book. And that's what led me to obligations. Obligation is the other side of the citizenship coin. Rights are essential. To use the political science idea, they are necessary, but they're not sufficient. We need obligations. We need to complement rights, supplement rights with—we need obligations to one another—you to me, me to you, Irina, me to everybody on this Zoom—and vice versa. And then, second of all, we all need to think about our obligations to the country. What do we—in the spirit of John F. Kennedy—what do we owe this country? Only if we balance or complement rights with obligations do I think this experiment of American democracy has a good chance of surviving another two and a half centuries. FASKIANOS: So when you were writing this book, Richard—clearly we all need to read it—but what was your target audience? HAASS: It's a good question. Let me give you a couple of answers. One is, and it's something you and I know from our work here, I'm always interested in finding multipliers in American society. So in this case, it's a lot of the kinds of people on this call, educators, because they all have students. So whether they're administrators, classroom teachers, you know, university, four-year schools, two-year schools, colleges, at the high school level, what have you. So educators are my principal—if not THE principal audience, as the principal multiplier. Obviously, students as well because, you know, particularly if you think about it, college students by—well, we can talk about this more—but they're a perfect audience for this. I'm also, though, interested in other multipliers in this society. One is journalists. They have tremendous reach. They have obligations. Religious authorities, the people who give the sermons. You know, tens if not even more than a hundred million Americans hear sermons every week. Well, why can't religious authorities do things like discourage political violence, say nothing justifies violence, or civility is always called for, or compromise ought to always be considered. Or, how about this, you are your brother's and sister's keeper. You have an obligation to look out for the common good. Who better than a religious authority to do that? I think parents have certain special opportunities, if you will, to carry out these obligations, to model certain behavior. So I'm interested in all of them. And what I found is a lot of—you know, and the good news is I think it's resonating. Particularly a lot of older people know there's something amiss in this country. And what they want to make sure is that younger people get a chance to take this in. FASKIANOS: Right. So in your book, you have laid out ten principles. And under the ten principles— HAASS: We call them obligations, Irina. FASKIANOS: Ten obligations, yes. So what are the key insights that you would want, or the obligations that you would want educators and students to take away from reading this book, and that you would want educators to promote or to share with their students? HAASS: Well, first of all, all ten I think are valuable. You know, if we were in a religious context and you say which of the commandments would you jettison, you know, we all might have our favorite for jettisoning, but—Mel Brooks had his ideas in one of his movies. But I think all ten are necessary, in this case. I'd begin with being informed, which I think is particularly relevant to this kind of a group. You know, Jefferson's notion of the informed citizen is basic to a democracy. And then I think it immediately then calls for a conversation on exactly what is it we mean by being informed in terms of the basics. What do we mean in terms of current issues that come and go? How then do you get informed? How do you avoid being misinformed? I think it's a really rich conversation. Again, with students, we want to urge them, once they are informed, to get involved. To use an old quote of Ronald Reagan's, we don't just want patriotism we want informed patriotism. So we want people to be involved, but we want them to be involved once they are informed. You know, we can go through all of them, just things like behaviors, civility, compromise, observation of norms. Those are all important. Just kind of attitudes and behaviors become important. Then there's more specific things. I'd love for younger people to get involved in public service. Several states have instituted, like California, a large public service program. I think it's great. I think too many of us in this country are now leading very separate lives defined by geography, educational attainment, wealth, race, religion, gender, what have you. I love things that produce a bit of common experience, I think would be good. I'm obviously big, and we'll probably get to this, about teaching civics. I think it's simply wrong that anybody should leave a campus without having been exposed to civics. We wouldn't let them leave the campus if they couldn't read or write. Why would we want them to leave a campus if they didn't have—if they weren't, essentially, literate about citizenship, given how important that is. So, you know, I thought hard about the obligations. And I just think that this is what is required if American democracy is going to prosper. FASKIANOS: We've talked a lot about how this book is a perfect fit for the first-year experience and for incoming students to college campuses. And I thought you could talk a little bit about the connection of this book, and why it would be such a perfect fit. HAASS: Couple of things. One is, the average freshman is pretty close to eighteen. So what a perfect time to be doing this, because they're going to have the right to vote. And we want them to vote. And we want them to be informed voters. So that's one thing. But this is—the timing is perfect for people stepping onto campus. Second of all, in addition to voting, campuses, like any other, if you will, environment are political environments. And so over the course of their two, three, four, however many years on campus, students are going to be in all sorts of formal and informal, structured and unstructured, settings in which politics are going to come up. So I believe they need some help in navigating what they're going to experience on a—in classrooms, over drinks, over coffee, study groups, what have you. I think it's really essential there. I also like the idea of first-year experiences—and first principles—I love the idea that people read something and have it in common and they can talk about it. So whether you're a flute major, or a physics major, or a computer sciences major, I love the fact that everybody's reading something. And this is something with real, I think, practical payoffs, again, for the years on campus, and for life afterwards. So I actually think it's a good thing. And, just to be clear, the book doesn't tell them about what's the, quote/unquote, "right" or "wrong" policy on any issue. It's simply about how one approaches political life, whether it's on campus or beyond. And I just think it's—for eighteen-year-olds about to embark on a college experience and on a life experience, I think the timing's pretty good. FASKIANOS: So we have a written question from Jim Zaffiro, who is a professor of political science at Central College. And he asks along the same lines— HAASS: Central College in Iowa? FASKIANOS: Yes. HAASS: I got a—I was lucky enough to get an honorary degree from Central College in Iowa. It's a wonderful, wonderful place. FASKIANOS: So he would like to know, how would you present the nature and significance of this as a common reading for eighteen-year-olds? Like, how would pitch it to an incoming freshman about why they should read it? So from the student's perspective? HAASS: It's a good question. Like it or not, government is essential to our lives. And indeed, both whether you like it or not, that makes the case for learning about it. It's going to affect you. But, more important, government is not some impersonal force. Government is affected by citizens. So I want students to understand that government is what we make of it. And it's who we vote for. It's who we reward or penalize politically. It's who they work for. I'd love them to get involved themselves. Not just in campaigns, one day some of them may choose that as a career—I did for a long time—in public service. And it could be—in my case it was working on the policy side. It could be the military. It could be intelligence. I've got a daughter who works for the Department of Sanitation here in the City of New York. There's all sorts of ways to have a public service kind of career. But even if you don't, we still, as citizens, have the right—and I would say, the obligation—to vote. And if they don't, well, that's just another way of saying you're going to let this other person decide what your future is. Why would anybody want to abdicate the chance to influence their own future and lets the person sitting in the seat next to them make choices that would affect them? So I would want students—I would want to remind them that government is responsive. That we've made enormous changes. I think a lot of young people have a really negative view of government. They see what's happened in recent years—whether it's the Iraq and Afghanistan wars, or economic crises, or pandemics, or climate. And a lot of them are very down on government. And I get it. I get it. But government also, over the decades, has delivered in important ways. And even when it's failed, the failure wasn't inevitable. So I want to give students a sense of possibility. And that government is really important. And the good news, in a non-authoritarian, democratic system, is governments are potentially responsive, and that there are real opportunities to make an impact that will affect their future and the futures of others they care about. And, you know, as I've learned in life, for better and for worse, not acting—you know, if you will, omissions—are just as important as acting in commission. And so I want students to understand that it's consequential not to get involved. And it's probably consequential and bad in ways that are most – more likely than not, not to be good for them. FASKIANOS: Wonderful. So I'm just going to—people are already writing questions in the Q&A box. Love to see that. So if you do that, please also include your affiliation or I will try to pull out your affiliation. You can always also raise your hand on the screen to ask a question. And on an iPad and tablet, you can click the "more" button. For those of you who have written your question, if you want to ask it yourself please do raise your hand because we love to hear your voices. The first person, Miriam Kerzner, wants to know what you mean by "civics." And I think that's a good jumping off point for you to talk about civics and why it needs to be—how you think about it. HAASS: No, it's a great—yeah, in a funny sort of way, everyone—well, not everyone—but almost everyone is in favor of civics until you drill down a little bit. (Laughs.) And then they go, oh, I didn't mean that. So it's not enough to be in favor of it in principle, but you've also got to be in favor of it in practice. So it seems to me, and it's complicated, I get it. It ain't going to be easy. I get it. But I think there's certain things about our history, about certain documents people should be exposed to, certain, you know, dates and events that people should be exposed to, certain understandings about how government works at the national, the state, and then the local level people should be exposed to. Certain behaviors and attitudes that are consistent with a democracy that people should be exposed to. I think civics has got to do all of that. And I also think modern civics has to also take into account or include what is increasingly known as information literacy, to teach students to be critical consumers of this flood of information that's coming at them. And it's ironic. It's almost strange that in an age in which we're deluged with information, it's also harder than ever to be informed. But there you have it. So I think modern civics has to teach elements of history, teach some of the elements or basics of the American political system. Probably teach some basic elements of American society, the economy, and so forth, foreign policy. Talk about attitudes, behaviors, almost the culture of democracy, get into things about rights and obligations, talk about information literacy. And it's demanding. It's going to be very hard to—it's going to be impossible to satisfy not just everybody, probably anybody. This has now become a politicized terrain, probably a minefield's a better metaphor. Again, I'm not naïve about that. But I don't think we can throw up our hands and say it's too hard. It's probably impossible to get anything done at the national level just now, but not at the state level. I've already talked to several governors who are willing to take a try. I see certain schools are willing to take a try. I mean, Stanford's going to introduce a civics module for all of its freshmen starting next winter term. Other schools have some things like it. The service academies have been doing work in this area for quite a while. I don't mean to leave anybody out, but I know that schools like Purdue and Virginia, some others, have elements of this. Johns Hopkins is debating it. And so I just think it's also that universities have far more flexibility because, you know, I think it's tougher for public high schools, given the roles of state legislatures and politics. It's probably somewhat tough also, obviously, for public universities, given the way they're funded and the oversight. I think private colleges and universities have enormous discretion. There's nothing stopping them. They could do it tomorrow. There are resource issues. I get it. And not everybody has the, shall we say, resource advantages of a Stanford. So I think, you know, for a lot of schools, they're going to have to look at what's not just desirable, but you've always got to ask what's doable, what's feasible. I get it. But I think every—I think this is a conversation faculties, administrators, boards, students, and others need to have. Which is, one, whether civics? I would say the answer to that is yes. And then, OK, then let's have a follow-on conversation. What should go into it? And we can talk more about it, but I think particularly when it comes to history, which is probably the most controversial area, my own advice is to simply say there's got to be certain things about history which are not terribly controversial. There are certain documents that are essential, certain Supreme Court decisions, certain speeches, certain commentaries. Certain things happen. There's the factual spine of American history. Then there's interpretations of what caused certain things, what are the consequences of certain things. OK. Well, there, I think the lesson is not to teach a single history, not to impose a vision of history, but to expose students to a range of responsible historical analyses and interpretations. And then maybe in the classroom provide mechanisms for debating them in a civics course. And, indeed, I could imagine lots of other ideas—and there's teaching notes we just produced. One could imagine all sorts of model or mock legislatures where people—students would introduce certain legislation. One of the ideas I proposed was a model constitutional convention, and students would have a chance to propose amendments to the current Constitution and debate it out. So I think things like that. I think there's all sorts of participatory things that one could introduce or incorporate into a civics curriculum without imposing a single vision or interpretation of history, which would obviously be unacceptable to, you know, significant constituencies. FASKIANOS: Great. Thank you. And Miriam's at Columbia Basin College in Pasco, Washington. So I'm going to go next to Larry Mead, who has raised his hand. And if you could identify yourself and accept the unmute prompt, that would be fantastic. HAASS: Or not. FASKIANOS: Larry, you still need to unmute, or not. All right, I will go next to Laura Tedesco, and we'll come back to Larry. Or, we'll try. Laura. There you go, Laura first, OK. Laura, you just muted yourself again. Q: OK, now? FASKIANOS: You've got it. Q: OK. Thank you very much. My name is Laura Tedesco. I'm working from Madrid, Spain, working at St. Louis University, in the campus that they have here in Madrid. And my question is basically how we are going to—I agree with you about, you know, the education of citizenship here. But how are we going to really make people understand—not only students in universities, but everybody else, you know—about the right and the need to act as citizens? For instance, in a country like the United States, where your vote is not obligatory, yeah? You know, how can we make people understand that, you know, democracy should not be taken for granted, and we should all work to improve democracy from the different positions we are? Thank you. HAASS: No, it's a great question. How do we incentivize people not to take democracy for granted? One is to teach them in a civics curriculum a little bit about what are the structural strengths and advantages for democracy in terms of everything from the freedoms and rights they tend to provide and protect, to democracy's ability to adapt and innovate. We also got a pretty good historical record. I mean, yes, this democracy and other democracies have made serious mistakes, and they're imperfect to say the least, but there's a lot that they have accomplished and a lot that they have provided and delivered. So I think we need to remind people about the record of democracies to—and to also—I'd be more than comfortable pointing out some of the shortcomings of the alternatives, because obviously the alternatives do have, shall we say, more than their share of flaws. And I—again, to encourage, you know, informed participation—I think you have to make the case that democracies are responsive, that individuals and groups can make a difference. There's almost nothing that's inevitable. And history is, in many ways, what we make it. And that's what I want students to come away with, the sense of possibility and empowerment. I mean, what I came to conclude in writing this is if we wait for democracies to be delivered, if you will, or saved by someone at the top, it's going to be a long wait. And what we really need to think about is empowerment, whether it's young people or, again, these critical constituencies in American society from business to religious leaders, to teachers, to journalists, officials, and so forth. You know, we all have a chance to make a difference. And I want students to get excited about both why democracies are worth saving and the difference that individuals can make. And I think if we do that, we can generate some greater political involvement. And what the last two elections show is even minute amounts—you know, 1 percent here or there—of greater political involvement can have enormous impact. And that's what I want, again, students to come away with. The, yeah, well my vote won't matter. Well, probably not, if you're talking about one vote. But it doesn't take a whole lot of people getting involved in order to tip the scales. And so I want students to get a sense of empowerment. FASKIANOS: So you can build on—that starts to answer Robert McCoy's question, who is at the University of Montana, in the Maureen and Mike Mansfield Center in Missoula, Montana. He says: Read the book. Think it ought to be mandatory reading for all, not just students. However, your opening chapters paint such a dire picture that I fail to see how today's issues can be rectified. Can you speak to that? HAASS: Hmm. I'll have to go back and reread the opening chapters. I thought the first chapter was kind of about the— is really neutral. It's kind of the march of American history—American political history. It's kind of how we got to where we are. You know, the second chapter is on backsliding. And the reason it's that way is if things weren't in a bad way, I wouldn't have needed to write the book and I could have focused on my golf game and lowering my handicap. But because democratic backsliding in this country—and, by the way, in others—is a reality, I felt compelled to write this book. So I didn't have confidence that it would just sort itself out by itself. I actually think very few things just sort themselves out by themselves, whether we're talking about domestic political systems or international systems. I think it takes agency. And but again, small numbers could have really large impact. I mean, we just had a midterm here where roughly, I don't know, 45 percent of the eligible voters voted. And which was, you know, slightly higher than traditional midterms. Still disappointing. But some of the outcomes were pretty impressive. And in terms of stabilizing American democracy. Very easily, though, there could have been other outcomes. And think of the consequences there. So the whole argument for making—you know, for obligations is that nothing's baked into the cake, for better and for worse. So we shouldn't assume that everything's just going to turn out just fine. And we shouldn't assume that it won't. And I think, again, small numbers could have real impact. And, again, it's an empowerment argument. And I think there's a lot—there's a lot of distributed authority—obligation, or authority, or potential for various groups within the society, various constituencies, as well as with individuals writ large. And I think possibly reminding people about how government over the years has adapted, I think people need to, in some ways, rediscover a bit of respect and admiration for government. And I look at some of the changes we've had over the course of, say, the last—take my last seventy-five years, or even, you know, from on domestic things. Civil rights, you know, extension of the vote to eighteen-year-olds, what we've recently done on gay marriage, and so forth. The degree of adaptability and change, government turns out to be quite flexible in this society. So I want students to get jazzed about the potential here, about the possibility, but to remind them it just doesn't happen by itself. And people have to get involved. And politics is not dirty. It's a calling. And so I want the best and brightest to do this. You know, I've had a career that's been in and out of government, and I wouldn't trade it for just about anything. And it's really satisfying. I talk to them about careers and other things also. So I mean, not just people that are going to become doctors, and lawyers, and plumbers, and electricians, and whatever. And I want them to be involved, informed citizens. But I would love a chunk of the best and brightest to go into government and choose that as a calling. So again, one of the reasons I love the idea of a public service experience, say, for a year or two years after high school, before college, or during college, or after college, not only do would I think a lot of people come into contact with one another who ordinarily wouldn't meet where people grow up, but I think they would see what government could do. They would see that public service can actually accomplish some things that are good for the public. So I think students need to realize that. FASKIANOS: Thank you. I'm going to go next back to Larry Mead. And let's see if we can get your technology—there we go. Q: Can you hear me now? OK. Thank you. FASKIANOS: Yes, we can. And identify yourself, please. Q: What I wrote was, I thought I was the only political scientist to write about obligation. I wrote a book about that back in the 1960s. It was about domestic policy, mainly. I think your book is—I think the second book to really focus on obligation. And my question is this: In fact, our system presumes a very high level of civic obligation. We are, in fact, one of the most civic countries in the world, one of the best governed in the world. And that all depends on that civic culture. So why then do we talk only about rights? HAASS: Great question. First of all, what's your book? My research was inadequate. Tell me about your book. Q: (Laughs.) OK. It was called Beyond Entitlement: The Social Obligations of Citizenship. It's about welfare, poverty, and reform of welfare. It makes a case for work requirements. And later on, I became the theorist of welfare reform. But the general argument is that freedom depends on obligation. And actually, freedom is a form of obligation. But people aren't thoughtful about that. They somehow think that freedom is simply liberation from all sets of outside expectations. No. Our heaviest obligations are the obligations we set for ourselves in our own lives. We work very hard to achieve those things. So freedom isn't free, and yet we don't talk about it. HAASS: I agree. And good for you. Thank you. I will now make up for my impoverished scholarship and researching skills. Q: Well, I'm going to read your book, and I will write you a reaction, I promise you. HAASS: Thank you. Be kind. Look, there's a lot of—in the course of writing this, I read some religious and political philosophers. And that was their argument, that freedom without obligation is dangerous. It actually leads you to anarchy. And but obligation and the rest without freedom denies you basic rights. And you've got to—you got to get both. Find it infused in religious and philosophical literature. I found it in some educational literature after World War II. So I've asked myself, to your question, how did we kind of lose the balance? Because if you go to early American history, there was such an emphasis on rights, and my hunch is people were much more conscious of rights because the entire context was not reimposing tyranny after getting out from under the yoke of Britain. I also think our culture was different. That a lot of obligations, or the notion of obligations, was assumed. It was implicit. It wasn't missing. It was there. And when you go back—when I went back and read de Tocqueville, and Bryce, and others, you re-read a lot of this—even the Federalist Papers, they didn't spend a lot of time hammering away on obligations. I think they saw it all around them. I think what's happened, and it's probably beyond my paygrade, or at least beyond my intellectual understanding—because I'm not an anthropologist or a sociologist—was somehow this notion of the balance between rights and obligations in American society, to use a technical phrase, has gotten out of whack. We've become much more rights focused, almost rights obsessed. What are we owed? Whether they're political rights or economic rights. And we've lost a sense of what do we owe in turn. And, you know, how that happened is an interesting conversation. And it's something I've been meditating about and thinking about. But however it happened, it happened. And that's why I think we need something of a corrective. And I'm no longer confident it'll just happen. The ship won't right itself. And I think that we have to now be conscious about advocating for obligations, because they have the coin of citizenship has lost its balance there. And it's gone way too much in one direction. So what I'm trying to do is by talking so much about obligations, decades after you did—is in some ways resurrect the idea and strengthen a recognition that we've somewhat lost our way. And, by the way, I think people know that. I got to tell you, I've been on the road a lot the last six weeks, talking about this book to all sorts of citizen groups. I did one last night about fifty miles from here. And people know it. I got to tell you, particularly people who are middle-aged and older, they look out their window, they get up and they look out at this society, and they go: This isn't the American I remember. There is something amiss. There is something wrong. I'm not saying the old America was perfect. It was obviously flawed in some significant ways. But there is something wrong about our culture. I think if de Tocqueville were to come back, he would not be happy, in some ways. He would see things that were missing a little bit from the relationship between individuals and society, and particularly the obligation I have, say, about the common good. I think there's a degree now of selfishness and individualism. And I think it's gotten out of hand in American society. We saw a lot of that during the pandemic. And that, to me, was yet another message that we've got some work here to do. FASKIANOS: Thank you. I'm going to go next to Louis Caldera, who is a professor of law at American University. Can you talk about our democracy as an example to the world that is foundational to achieving our foreign policy and national security goals? Do you agree? Do we undermine our leadership in the world if our own democracy is undermined by things like gerrymandering, vote suppressing laws, unchecked special interest money, and so on? HAASS: In a word, yes, we do. We certainly undermine the appeal of democracy. It's very hard to talk the talk if you don't walk the walk. And January 6 was probably the low point. But again, when people look at American democracy or look not just at democracy but American society, I think our ability—and, how do I put this—we're not quite the shining city on the hill we should be or could be. So, we can have—we can arm every diplomat with talking points about preaching democratic reform, but it's not going to have any traction if it's done against the backdrop of what we now have in this country. So I think that's just a fact of life. So you're spot on. And I also think the divisions in our society and the lurches, increasingly, in our politics have made us much less influential in the world, because we're no longer seen as predictable or reliable. And allies, by definition, what have they done? They have essentially made a security choice to put a big chunk of their security in our hands. If our hands are no longer seen as reliable, predictable, or safe, they're either going to put security in their own hands—and that's a world of much more proliferation or something like that—or they're going to defer to some powerful neighbors. That is not a pretty world. I also worry that our—my own guess, I can't prove it—but Vladimir Putin was somewhat encouraged to do what did in Ukraine because he didn't think the United States had the will to come together to resist. And so I take these things seriously. So, yeah. So I think, again, this is directly—what's going on here, you know, to use the old line about Las Vegas, it doesn't stay here. This isn't Las Vegas. And it's—if anybody's on this from Nevada, I apologize. But it does have real foreign policy consequences. So I think you're spot on. FASKIANOS: Thank you. I'm going to go next to Collette Mazzucelli, who has raised her hand. Q: Hello. Good afternoon, Dr. Haass. And I just wanted to ask you if you think that there's a need for a new model of citizenship because of the evolution of the internet, the next phase that's coming, the prevalence and, you know, omnipresent nature of misinformation, disinformation in our society, and also across the world. Thank you. HAASS: It's a really thoughtful question. It was about, what, two weeks ago the Supreme Court had two days of oral hearings—or arguments on Section 230 of the 1996 law, the Communications Decency Act. I think we're struggling with the internet, because these companies, or the pipes that they operate, are carrying millions and millions of messages from millions and millions of people. So the question is, can we—and if so, how, and the rest—can we in any way regulate the content? So I think there's real issues. And social media is, in many cases, inflaming divisions within a society. It is encouraging some bad behaviors in many cases. But it's not quite clear to me what the remedies are, what's practical, and what's desirable. Some things are simply impractical given the number of users, the volume of messaging. And some things may not be desirable because where do you draw the line on First Amendment rights, free speech, and so forth. And who does the drawing? Who's in charge of line drawing? And do we want to necessarily delegate the ability to draw certain lines to some individuals who may be working for Twitter, or Facebook, or Instagram, or what have you? So I think these are really tough issues. My guess is the Supreme Court will probably punt to Congress. Congress will not pick up the ball, would be my guess. There might be some movement. If you look at one of the cases heard before the court now, I think they'll issue their decision in, say, June or so. Where it's one thing for the companies to say they're neutral, they can't be expected to regulate content. OK. I think it's different, though, when they highlight, or accelerate, or intensify certain content through algorithms or what have you. So I think there might be some pushback there, that they can't necessarily police or regulate all the content. But they can be held accountable for not—or, regulator-required, not to highlight certain content. I think it might get at their business model, but I can live with that, to say the least. And then the other half of the coin is how do we make ourselves more critical consumers? And that gets at the whole information literacy movement that we're seeing in New Jersey at the high school level, and other places. But I would think, again, on university campuses, the idea—if I had my way, there would be a mandatory civics course. And, again, one dimension of it would be information literacy. So even if we'll never succeed in totally regulating what goes on social media, in whatever form. But I do think we can improve our ability to be critical consumers of it. And I think that is out there. But, look, when I look at democratic backsliding around the world, not just in the United States. We're seeing it in Mexico, we're seeing it in India, we're seeing it in Israel. We're seeing it in lots of places. The proliferation of media, social media, you know, my word for it is narrowcasting. We now live in an era of narrowcasting. And people are no longer exposed to common things, and they increasingly go into various social and regular media outlets, which tend to either confirm certain views or prejudices, what have you. I think it's a real challenge for democracy. FASKIANOS: So we have a written question from Victoria Powers, who's at Capital University in Ohio. I agree with you that teaching civics is critical, and I understand that it's complex in the current environment for some high schools to teach civics. Although I hate to give up requiring civics in K-12 schools. Do you have ideas about what we could do to help provide an education in civics for all those young people who will not be headed to two- or four-year college or universities or community colleges, obviously. And, sorry, she is an adjunct at the Capital University Law School in Ohio. HAASS: Well, I think the takeaway I take from that question, and it's a good one, is what we do on two- and four-year college and university campuses is part of the answer, it's not the totality of it. And we've got to get to citizens younger. So that gets at what you do at high school, junior high school, even middle school. I mean, iCivics has been active in middle schools for a long time. And it also raises questions of what we do away from school. And that's where, again, I think that those who give the sermons have a certain responsibility, media has a larger responsibility than it is often willing to carry out. Businesses, corporations have a responsibility. I think there's got to be distributed obligations here. And I believe each one of these segments of society has obligations and should be pressured by citizens to carry it out. But I do think, yes, we ought to be pushing civics down younger, but we also—we need—as important as classrooms are, we've also got to do things beyond—outside the classroom. But the basic point is right, particularly since the only thing most Americans have to do is attend school through the age of sixteen. So we can't afford to miss that opportunity. Irina, you're on mute. FASKIANOS: Right. How long have I been doing this? OK. (Laughs.) HAASS: For about half an hour, but we've been waiting for you. (Laughter.) FASKIANOS: I'm going to go next to Jody McBrien, who is a professor of social sciences at the University of South Florida. I understand why young people feel powerless, especially when you consider gerrymandering voting and using misinformation. You mentioned state level, she lives in Florida, enough said. How do you suggest getting students engaged in spite of these issues that understandably cause a feeling of helplessness. HAASS: Well, again, you know, the people who are in power passing certain laws now, or redrawing lines, they weren't always in those positions. They got there. So my view is if one disagrees with them, then one has to get them out of there and put other people in there. And that's what political involvement is all about. There's nothing inevitable. There's nothing permanent. These things go in cycles and so forth. So I would tell students, yeah, channel your frustration. Channel your anger. But channel it in ways that will change the political realities. Don't just protest. Don't just get—certainly don't give up. I mean, I think the worst thing is to walk away from it and saying it's hopeless. That becomes self-fulfilling, because then, again, you leave your political future in the hands of others who are unlikely to have your best interests at heart. So I think the best thing is to sit down with students and talk about how politics have changed American time, and time, and time again. And they ought to essentially think about collective action. And that's the history of American political life. FASKIANOS: I will take the next written question from Ali Abootalebi, who is a professor at the University of Wisconsin, Eau Claire. Would you comment on implications of your civic education argument for U.S. foreign policy? The American public is fundamentally divorced from U.S. foreign relations, leaving the foreign policy establishment free from certain obligations and in pursuit of narrowed interests. HAASS: Well, the latter we can have a debate about, to what extent does American foreign policy always served American interests. And I would say, at times it has and at times it hasn't. I'm often a critic of what we do in the name of the national interest, which at times to me seems to be anything but. But that's almost a case-by-case type thing. But, look, I would say that one part of being an informed citizen is understanding the world and understanding foreign policy. It's one of the reasons about a decade ago here, at the Council on Foreign Relations, we made it a real priority to promote literacy in matters of the world and matters of foreign policy. And we've got an entire curriculum. We've got simulation resources. We've got resources aimed at younger students. We do now all sorts of public fora on our website, CFR.org. The most trafficked items tend to be the explainers of these complicated issues to give people a basic understanding of these issues. I think it's part of being an informed citizen. So my own view is we want to have what we call global literacy, in addition to having what I would call civics literacy. I think they are both—since we live in a global world, where everything we do or don't do affects the world and vice versa, everything that goes on the world affects us, for better and for worse, we want citizens to be aware of that loop, and to think about the consequences of certain policies or actions for that. So I think that as an extension of informed civic involvement. It's just the content, in some cases, has to involve things international, and not just things domestic. FASKIANOS: All right. I'm going to take the next question from David Cheney. And I'm trying to pull up affiliation. While I am: How can young people stay accurately informed, given their reliance on social media? And how would you have them balance right-wing with left-wing media sources to arrive at a closer approximation of the truth? And he is at NYU. HAASS: I've heard of NYU. Look, a couple things. Yeah, I know what is not in my answer. TikTok is not the answer. Let me say that. A couple of things. One is, and in the book I have a whole section on where to go for more. And I also think—you know, because there are certain quality publications. Certain newspapers just tend to be good, or better than others. They're not perfect, but they're better. Certain magazines, certain television and radio shows, certain websites. So there are quality places to steer people to. I think as a rule of thumb we ought to encourage multi-sourcing, not to put all your—not to depend on a single source. It's almost like a journalist. A journalist would never write a story based on a single source. They have to double-source it. And I almost feel as citizens we ought to double-source our information, and not just depend on one. I used to have a rule when I went to the gym in my pre-COVID life, when I went on the elliptical, I would divide my time among Fox, MSNBC, and CNN. And I'll admit, I did cheat and ESPN would get a chunk of it as well. But the whole idea was the be exposed. It was just—it was interesting just to see the different "realities," quote/unquote, that were put forward. But I think it's important to—if you read a national newspaper, then read a local newspaper, maybe. Or if you do something of the left, do something of the right. Or if you read this book, as a professor or teacher, you'd encourage someone to read something else to—so you're not, again, single sourcing. And I think that's the—if I had a single rule of thumb, it would probably be that, to protect yourself from the structural biases. Because all authors or publications have a bias either in what they cover or how they cover it. I take that for granted. So the only way—the best way to protect yourself from it is a degree of multiple exposure. FASKIANOS: OK. I think we have time for one more. Dana Radcliffe at Syracuse University. President Obama in his farewell address referred to the citizen as "the most important office in a democracy." The philosopher Joseph Tussman in 1960 offered an insightful characterization of "the office of the citizen." Might the suggestion that citizen is a public office help advance the thesis that citizenship entails obligations as well as rights? HAASS: An interesting construct. I like it. It kind of adds a bit of heft, because we tend to sort of just talk about citizenship, almost dismiss it at times. Well, he's just an ordinary person. But I like the idea of an office, that it's—that you're—because that suggests a degree of empowerment and a degree, again, of obligation. So I like the idea. I think it kind of—kind of it gets people to take the potential to make a difference a little bit more seriously. And I really like it. So that's a useful construct. So thank you for that. FASKIANOS: OK. We have a few more minutes. Richard, is there anything you want to leave the group with that we haven't covered? HAASS: I know I'm always supposed to say yes at this point, but no. It's been a really wide-ranging conversation. No, and I think what I'm hoping is that people on a call such as this will think about how to promote—you know, particularly on campuses and schools—the teaching of civics. Both to create a mandate for it, and then we can debate the content. But the idea that—you know, one of the arguments often used that I encounter—I'm not in a position to judge its accuracy—is that too many of the constituencies on campus oppose this, particularly it's often said to me, you know, faculty, or whatever. And I think the faculty could make an important difference by basically saying: Actually, no. We don't oppose this. We think this is a swell idea. And we're prepared to work with administrators, students, and the rest, to make it happen. And I think that would be fantastic. So, again, you're the multipliers. And I think you're in a special position to do this. So, again, I think freshman year experience is a good place to get the kids going, the students going with this. But I do think, whether it's a course or a module at some point, it needs—but we need advocates for it. So I hope some of you on this call will be advocates, because I just think we're missing not just an opportunity but, if you'll pardon the expression, we're missing an obligation to see that—to make sure that our students are prepared to do their bit, to do their share, for upholding democracy in this country. And so I just think universities and colleges have, again, a special opportunity and obligation both. And you're all so instrumental to do that. So Godspeed in that effort. FASKIANOS: Well, with that, thank you very much, Richard. Thank you for writing, authoring, this book, The Bill of Obligations. Richard has also written teaching notes to go with the book that we will be posting on the website alter this week. If you're interested in an exam copy, either digital or print, we can—we can honor that request. And if you want to try to make—put his book on the common reading list or incorporate it into your first-year experience, we can also think about having Richard address the incoming class virtually or perhaps in person. We appreciate all that you have done, Richard. He has really transformed CFR into an educational institution. You should check out Model Diplomacy and World 101. You can follow Richard on Twitter at @richardhaass, subscribe to his Substack newsletter which he just launched, called Home and Away, by going to richardhaass.substack.com. We'll include those links in our follow-up note with the link to this video and transcript. We will include the teaching notes as well. And I also encourage you to follow @CFR_Academic, visit CFR.org, ForeignAffairs.com, and ThinkGlobalHealth.org for research and analysis on global issues. Again, thank you all for being with us today, for the work that you do on your college campuses. And, Richard Haass, again, thank you for being with us. HAASS: Thank you, Irina. Thank you, all. I appreciate it. (END)
Jeremi Suri, the Mack Brown distinguished chair for leadership in global affairs and professor of public affairs and history at the University of Texas at Austin, leads the conversation on how to teach the history of American democracy. FASKIANOS: Thank you. Welcome to CFR's Higher Education Webinar. I'm Irina Faskianos, vice president of the National Program and Outreach here at CFR. Thank you for being with us. Today's discussion is on the record, and the video and transcript will be available on our website, CFR.org/Academic, if you would like to share it with your colleagues. As always, CFR takes no institutional positions on matters of policy. We're delighted to have Jeremi Suri with us to discuss teaching the history of American democracy. Dr. Suri is the Mack Brown distinguished chair for leadership in global affairs and professor of public affairs and history at the University of Texas at Austin. He has received several accolades for his research in teaching, including the Pro Bene Meritis Award for Contributions to the Liberal Arts and the President's Associates Teaching Excellence Award from the University of Texas at Austin. He writes for major publications and is the author and editor of eleven books on contemporary politics and foreign policy. And his latest book is entitled Civil War by Other Means: America's Long and Unfinished Fight for Democracy, which was published by PublicAffairs. So, Jeremi, thanks very much for being with us. I thought we could begin by just diving right in, for you to tell us about what you think about when you're teaching the history of American democracy, and what it means to you. SURI: Thank you so much, Irina. It's really a pleasure to be here with so many fellow educators, CFR members, and various others—even some former students of mine, I think. And this is a great time to be teaching American democracy. It's not necessarily a great time for democracy, but it's a great time to be teaching American democracy because I think one of the things we do well as scholars is to help people understand and make sense of the confusion in their world. We don't offer solutions. That's really the world for policymakers to try to come up with solutions. It's our job to help people understand the complexity and confusion in their world, to provide narratives. And, what we as historians do most of all, to provide people with an origin, a deeper understanding for what they confront today, which helps people to think about then alternatives for moving forward. We study the past, not because the past repeats itself—it doesn't—but because the past opens up other opportunities for thinking about the present. If you don't understand the past of our democracy, you think we're stuck with all the problems we have today because they seem unavoidable. But if you go to the past, you can study the choices that our society has made at different moments and how those choices—which might have made sense in their own time—can be rethought today. So you're not playing Monday morning quarterback, but you're rerunning what Stephen Jay Gould calls the tape of evolution. And you're rerunning that tape to see how there are alternatives in the past that can be alternatives for our present as well. So you study the past to look forward. And this is a great moment to teach the history of American democracy, because our students—and I mean students broadly defined, not just our eighteen to twenty-one year old students, our graduate students, our public students, various others—they see democracy as a topic that needs analysis as they might not have thought before. It's not a topic now that's prima facie fixed. It's not a topic that's prima facie set for us in the world. And what I try to do is begin by making the point to any group I'm talking to, like this group, that democracy in the United States has always been a work in progress. There was no founding definition of democracy. Different founders thought about it differently. And, yes, they thought we were a democracy. Let me make that absolutely clear. They thought we were a democracy that was also a republic. But they believed that we were a democracy. But they differed on what that meant. There's no one single totemic document. The Constitution itself is not a totemic document on this. Our democracy's always been a work in progress. And it has had peaks and valleys in the nature of its development. We're in one of those valleys now. I think three questions that I always like to teach and pose that I think are at the core of the historical evolution of our democracy. First, what kind of democracy are we going to be? Back to Jefferson and Adams, of course, there was a debate right there as to whether this would be a democracy that would be built upon the yeomen farmers that Jefferson revered—even though he really wasn't one himself—or a more deferential democracy as Adams thought about it, with a more Brahmitic—Boston Brahmitic elite that was able to set the standards. That debate, of course, goes on through Jacksonian America. And, from my recent book, the Civil War is the second American Revolution. I take that term from James McPherson, the great Civil War historian. It's the second American Revolution, because it's the moment when initial compromises on what our democracy should be are fundamentally rethought. And the question coming out of the Civil War, that remains unresolved today, is the question of what role should the federal government have versus state governments. Everyone on this call I think knows that coming out of the Civil War the apparent losers, the former Confederates, make a very strong argument for states' rights. They even try to remake the war into a war over states' rights. Which it wasn't. It was a war over slavery, obviously. But the argument against federal power, in fact, grows in some ways. But the reality of federal power grows as the argument against federal power grows. Welcome to our world today. And one of the things I like to point out to students of all kinds is that this is an ongoing debate that has meant different things in different times. And we can understand both positions today, even if the actors themselves don't as legacies, as extensions of that debate. And people play into it. The rhetoric that gets used—often horrible rhetoric—seems legitimate because it has been there for a long time. I'll give you one example. Claims of fraud in elections, especially when the federal government steps in to different states that are not running fair elections, that is an old trope that has been used repeatedly. Used by Democrats, as I show in my book, in the 1870s and 1880s, used, of course, by some Republicans today. Second question: Democracy for whom? Democracy for whom? And this is a central element of my book, something I became deeply interested in, watching the difficulties of the last five to seven years and our society today. Democracy is, in a sense, the standard discourse of American society, but for whom has not been resolved. And the Civil War leaves that deeply unresolved. As I show in the book, very vividly I think, many figures who were former Confederates come out of the Civil War still believing that democracy is only for certain white men, or other groups. But fundamentally, that certain groups should be excluded. Ben Tillman is one of many examples. President Andrew Johnson is another example. Many, many figures. I show in the book that there are a lot of figures who never even accept that they lost the war. It's not even a lost cause. It's a continued cause. And their argument is a very simple one. That if I'm in a community that has ten white slave owners, or former slave owners, and there are a hundred slaves, and we go to a system of actually single person franchise across races, I, the ten white people, are losing our democracy. We're losing our say in our community. Or that's how it's perceived. That, ladies and gentlemen, of course, is the same argument that's going on about replacement theory, immigration today. It's an argument, of course, that continues in the late nineteenth century. The multiracial argument also grows in strength, of course, after the Civil War. It's the argument of the then-Republican Party. It's the argument of Ulysses Grant. And it's the argument of many communities that come into the United States. But I think it's important for us to see today that our debate is drawn on exactly those lines, and to see how the exclusionary, non-multiracial democratic argument—although many of us might have thought that was a creature of the past—has resilient power. And you see that in its history across time. We shouldn't undercount that. Most of us on this call probably lean towards the multiracial democracy argument, but it's not only crazies who see the exclusionary, non-multiracial argument. And we have to be conscious of that and think about how, from history, we can learn to be better and more persuasive about that. And then the third point, the one that I really want to underline and that my book tries to underline, is how we've never really resolved how change should occur, when we want to change our democracy. The amendment procedure is very difficult. Hardly ever works. Impeachment never works. I talk about this in the book, and we've learned that more recently. Elections don't resolve our differences. I point out in the book that from 1870 to 1900, all of our elections are closer than the last two presidential elections—closer, and unresolved. And that's one of the reasons we don't even remember who the presidents were between Grant and William McKinley. And so these things that we think that we're taught in civics class that resolve our differences, don't. Two things resolve differences in our history. One is the force of legislative supermajorities. And I want to remind everyone, and I want to remind all of my students always, that the Thirteenth, Fourteenth, and Fifteen Amendments, three of the most important amendments in our history, right, ending slavery, equal protection under the law, and all that follows from that in the Fourteenth Amendment, at least in theory, and, of course, voting rights—or, prohibition of stopping some voting based on race. Those three amendments passed with zero Democratic votes. It takes a Republican supermajority to push those through, similar to FDR's supermajorities during a New Deal, and similar to Lyndon Johnson's supermajority in 1964 and 1965 to get us the Civil Rights Act and the Voting Rights Act. We have this vision that there was this bipartisan moment when people came together. This is the Cold War narrative, the Cold War myth that many of us, as Cold War historians, bought into for a long time. Change doesn't happen that way in our system. Change happens with supermajorities or change happens through violence. And we are a very, very violent democracy. Gun ownership is only one version of that. Recently when—I forget the name of the gentleman who broke into Nancy Pelosi's house and attacked Paul Pelosi—when he was—when he was discussing why he did what he did with the FBI, the affidavit's available online, he said—he used words that were exactly the same, exactly the same, as the words I quoted, before he did this, by Ben Tillman in my book. Ben Tillman was a South Carolina white supremacist. And what the man who broke into Nancy Pelosi's house said was: I wanted to break her knees and wheel her into Congress so that the Democrats would see the results of their action, and act differently. Ben Tillman said in 1870 in South Carolina that he wanted to cut off the arms of all the Republicans and Black men who voted so that they would show other Black men and Republicans what happens if they try to vote. Bullying, and of course lynching, is the semi-institutionalized way this goes on until the 1960s in our country, and one could argue might still go on within some elements of criminal justice today. Bullying and violence is, unfortunately, another way that change happens in our society. Sometimes, as in the Civil War and the Union Army, violence is somewhat necessary. But the nonstate violence, the non-Weberian violence in our society. So supermajorities and violence are two parts of our history. We should today, as we're looking at our democracy, not be surprised that we see problems with both, and that both are elements of what's happening. I think many of us believe that we need supermajorities to get things changed in many parts of our society. Certainly, if we want to have voting rights we're going to deal with the gerrymandering. And we also have seen an uptick in violence. And we shouldn't be surprised by that. We need to be ready. I would say I think our democracy will survive, but we're going to see more violence, I think. The historical record would lead us to think, not less. The last point I want to close on, because I know people have so many more smart things to say and ask about, but the last thing I want to close on, it's a statement I make in the book toward the end. And I really believe this, and it's strange for me to quote myself but I want to make sure I get the words right. (Laughs.) I think the historical record shows that democracies do not come together when they glorify their past. That's an easy way to become a cheerleader, but they don't come together that way. They come together when they strive to repair their past. I'm an American patriot. I'm the child of immigrants. I couldn't do what I do if the United States had not taken in my immigrant parents and grandparents from Russia and from India. So I love this country, but I kind of approach it, and I think historians should help us to approach it, as good parents approach parenting. Which is you love your country and your kids, you support them, but you hold them accountable. And you say, because I love you, I want you to reach the values we believe in. I love my country. It's the role of historians to point out the good things we've done—reconstruction of Germany and Japan that I've written about myself after World War II—but also the things, the places where we've not done well, and how we can do better. Not because we want to trash our country, but because want us to live up to our values. I think that's crucial for our foreign policy. And I'll close it on this point. In my study and my writing on the Cold War, and I've written a lot on U.S. foreign policy for prior books and articles, it seems to me we've been at our best, just as George Kennan predicted, when we're setting an example for the world rather than running the world. And if we want to have the influence and want to return to a democracy agenda internationally, which I hope we return to at some point, we got to get our own democracy doing better. Our work in progress has to improve, learning from this history, if we want to have that influence in Ukraine, and elsewhere, going forward. So thank you for listening to my opening. That's all I have to say for now. (Laughs.) FASKIANOS: Jeremi, that was fantastic. Now let's go to all of you for your questions, comments. (Gives queuing instructions.) Which we have our first question from Todd Barry, who's an adjunct professor at Hudson County Community College. In light of the fact that many of America's founding fathers were slaveowners, how can we encourage our students to still feel patriotic? SURI: Great question, Todd. And I get that question a lot, especially as, I'm sure many of you do, when Thomas Jefferson comes up. And it's not just that they're slaveholders. They're hypocrites, right? And we can find for any figure—(laughs)—certainly ourselves—but certainly any figure who deserves more reverence than us, we can certainly find evidence of a gap, a big gap, between ideals and behavior in our history. And so I don't think we should apologize for the slavery of Thomas Jefferson and others, but I think what we should do is, first of all, we should show how many Americans struggled with this, as probably some of us struggle with environmental issues today. My kids think I don't do enough to deal with climate change. They're probably right. They don't like the fact that I fly on planes too often to go and give talks places because it's bad for the environment, right? They want me to do more through Zoom. I don't think they want me more at home, they just want me to not fly. (Laughs.) Not fly as much, because it's bad for the environment. And I think we struggle with that. I feel guilty sometimes, right, about some of our wasteful habits. That doesn't mean I don't care about the environment. It doesn't mean that Thomas Jefferson didn't care about human rights and civil rights. But it means he himself was dependent upon the slaves on his farm. He was trying to work his way through that. That does not apologize for his behavior, but I think it shows the humanity of the individual. And I think we have to avoid trying to create men of marble, but we also have to avoid trashing men of marble also. We have to treat them as human beings. And so I try to avoid getting people to say he's a slaveholder and horrible or we should excuse his slaveholding because of the times he's in, and more to understand the struggles of the individual. And then for us to think about, and as a scholar of leadership what all leaders struggle with, which is your ideals and your reality. I don't think we should hold people in condemnation because they live short of their ideals. We should judge them on how well they try to reconcile their ideals with the world they're in. And here, then I would stand with Annette Gordon-Reed, and Peter Onuf, and others. I think figures like Jefferson deserve our reverence for the thoughtfulness with which they approached these problems. But they also deserve our criticism for the moments where they fall into exploitive behavior that they don't need. That's the whole Sally Hemings story, right? That was not economically necessary for Jefferson. So I want people to be patriotic by seeing good people struggling even when they do bad things, believing in our ideals, and giving us models how we can struggle today. FASKIANOS: Thank you. I'm going to go next to Jennifer McCoy, who has raised her hand. Jennifer, if you can give your affiliation that would be great. Q: Hi. I'm a political science professor at Georgia State University in Atlanta. Thanks, Jeremi, for that great overview. When I talk to groups or to students about, you know, how we can get out of this current situation that we're in, you know, we face the chicken and egg thing. How can we make the changes when the institutions are so rigid and our polarization is so rigid. So I wanted to ask your two solutions of violence and supermajorities, to get supermajorities, again, would require a realignment, it seems. But it seems there may be a third one. I wanted to ask you about this as well. What about bottom-up pressure? Although, I believe most of our problems are elite-driven, I'm thinking back to the Progressive Era, when bottom-up organization could be effective. So I wondered how you view that and how you kind of teach that. What I'm trying to do is give people hope that they can do something, empower them basically. (Laughs.) SURI: I have hope. And I'm a hopeful person. And I think—I often tell people, I'm hopeful most of all because I think the last few years have unmasked deep problems that many of us didn't pay—myself, I didn't pay enough attention to. Even as someone who's paid to do it, even as a historian, I didn't pay as much attention to these—to some of these issues. So I think that's the gift of the last few years. I think—let me just go through your points here, which were so well-said, Jennifer. Our institutions are rigid. They're designed, in a sense, to be rigid and hard to change. And then people double down in power that's organized around that. But they are changeable, still. And that's the thing about democracy, unlike an authoritarian or autocratic system. They are changeable. And, first of all, I think we have to be deft at finding the ways where we can make changes. And often that occurs, and maybe this connects to your bottom-up point, by starting local, starting within cities, and states, and places like that. And that is the progressive tradition, right, to use the city and the state as the laboratory. Now, that's not going to work in the state of Texas, where I am. But it does work, to some extent, in the city of Austin. And it can work in other communities. So I often tell young people to really double down on learning about these issues at the local level, because you can start to make change there that can have a huge effect upon people. And that is one of the strengths of our system, of a federalist system. And it's also a strength of learning the details, learning procedure, learning political science, learning actually how institutions operate, taking that seriously. It's not good enough to just be right. You've got to figure out how to work through the institutions, what Rudi Dutschke called two generations ago, right, the long march through the institutions. I think when I talk about violence, there I'm obviously not advocating violence. I'm not even advocating peaceful revolution. What I am advocating, though, is the use of state power and, when necessary, with controlled violence in the Weberian sense, to control those who break the law, and to recognize how violence is being used by those who want to prevent change and want to harm our institutions, and to use law enforcement, true law and order, in that way. One of the best things I think we've done since January 6 is actually prosecute those who broke the law on January 6 as part of an insurrection. And we need to do more of that. And let me state very clearly, I think the historical record shows that if we want law-abiding behavior, we have to hold everyone accountable. And so if the evidence rises higher, as it might, we need to hold other individuals accountable. And those who have information must be required to share their information with regard to criminal behavior. So I'm getting a little—I don't want to get lost in this. But I do want to say, the former Vice President Mike Pence will be in Austin on Friday. And if I have a chance, when I'm at an event with him, I intend to ask him this. Why will he not testify as a patriot about what happened? I'm sure I know the answer, but I think we need to press people to be part of the law enforcement process, because that's how you deal with violence. And that is the legitimate use of the force of the state to protect our institutions and to protect against the bullying. I am for bottom-up change. I wrote a book about this years ago, actually, on the 1960s. I revere a lot of the bottom-up work that was done by civil rights activists in the U.S., activists in Germany, and France, and elsewhere, activists in the Czech Republic, or it was Czechoslovakia, that led to such important change. So I revere that. But I think that has to work by also getting into the institutions. And that's what I mean by supermajorities. By getting into the institutions, by getting elected to office, by taking ownership of our institutions. What worries me, even though I'm optimistic, is when I hear young people say: Well, we're disillusioned. You can't do this through our institutions. No, I think we have to work through the institutions. We have to be supportive of that in one way or another. And I actually don't think we're that far from supermajorities on certain issues. Certainly where we stand as a citizenry, right? On many issues, there's 75 percent agreement in our country, for example, that if a woman is raped that she should have the choice over whether to give birth or not. Seventy-five percent think that eighteen year olds shouldn't be able to buy AR-15s, right? There are places where we have a supermajority of opinion. We have to force that in, and—this is the last point I'll make, Jennifer—I think a lot of that comes through generational change. A lot of that comes through generational change. And that's where our students have to be the next set of bottom-up leaders who get in and make a difference. FASKIANOS: Thank you. We'll take the next question from Muhammad Kabir, who is a faculty member at Queens College. What do you think of the idea that political parties are gatekeepers in American democracy? SURI: Great question, Muhammad. Of course, they are. It's a very learned and accurate question. They have always been gatekeepers. They still are gatekeepers. But they gatekeep in different kinds of ways. Right now, I think they're gatekeeping more for those who can raise the most money. There was a time they were gatekeeping for certain ideological positions or certain various other interests, often related to money. It's not unique to this—to this moment. But there's no doubt that parties play a gatekeeping role. And some gatekeeping is good. Some gatekeeping is good, I think. We have to have a debate over what that gatekeeping should look like. I think the problem now, I'm going to say the obvious, is that for both parties, but particularly for the Republican Party, a very, very small group of people do the gatekeeping deciding in primaries. The primary system, as everyone knows, was created to open up parties, to get rid of the smoke-filled room. And I, as a historian, am not nostalgic for the smoke-filled room. If we went back to the smoke-filled room, we'd have an even less representative group of people. So I don't want to go back to the smoke-filled room in choosing candidates for parties. But the primary system has turned out to actually be a pathological way to prevent representative figures from becoming party nominees. Let me just give you the numbers on Texas, which are extraordinary, right? So, in Texas, there are about thirty million citizens. About one million people—one million, probably a little less, decide who the nominee—the Republican nominee—for governor is. So one million people chose Greg Abbott in a state of thirty million people. That's a real problem. That's a real, real problem. That's not democracy. Again, the smoke-filled room's not better, because that's going to be five hundred people choosing someone. (Laughs.) We need to have a system that's more inclusive. And the parties need to be gatekeeping in a way that's more representative—not purely majoritarian—but representative of our society. So what would I do? I would change the way our primaries work. I would open it up in ways that make it much easier for people to participate in the choosing of who leads the parties. I would require that the person running in the primary get enough votes that they're actually representative of something like a large proportion of those in the state. And we could go on and on. We could take the gatekeeping process and make the gatekeeping process more inclusive, to still be gatekeeping. We've all learned to do this, right? We all are on search committees. And it used to be a search committee was run by three men who looked the same, and they chose someone who went to the same graduate school who they knew. Now we have procedures to make sure—it's not perfect—to make sure we have representative search committees. They're still gatekeeping. But they're doing a job that's designed to be more representative. And we need to have that conversation about our primaries. This is an ongoing debate, back to the history, that's been going on in our history for a long time. FASKIANOS: OK. Going next to Jin In, who has a raised hand. Q: Thanks, Jeremi. My name is Jin. I'm the assistance vice president for diversity and inclusion at Boston University. And I say that actually diversity and inclusion is the twenty-first century repackaged version of e pluribus unum. And that's—and so as far as democracy is concerned, this isn't just about political party. How do you address this to a whole group of diverse group where they don't feel that they're part of democracy? SURI: Great question, Jin. And thank you for all the work you're doing. And I get that question from lots of students, actually, and lots of activists. It's obviously probably the most important question. So I'm glad you put it so succinctly and so eloquently for us. Diverse—we have to begin by recognizing diversity's hard. Diversity's very hard, because of what Richard Hofstadter wrote about seventy years ago, one of the truly great historians of the twentieth century. That people, no matter who they are, don't like to give up status and power, right? And the challenge with diversity is that those—there are those who have power, and there are those who are coming into our society and have gained and merit access for all kinds of reasons. And those with power don't want to share power. Many call this—and you know this literature better than I do, I'm sure—the hording of privilege, right? And I'll tell you, I feel this personally. I mean, as much as I pontificate about this, you know, my wife and I intentionally lived in a part of Austin where our kids would be able to go to good schools. And our daughter's in college, our son just got admitted to college. And, you know, we've done all the things to get them access to go to privileged institutions, right? So we can pontificate about this all we want. We have to take a deep, hard look at ourselves. And so I think that to get people involved in this issue, to get them to see there's a chance is, first, for them to recognize that this is a long-term struggle. That we've been in this struggle for a long, long time. And that should not make us despondent. It should make us to see that our time horizon has to be a broad one. Doesn't excuse problems today, but we have to see ourselves as part of a long time horizon. And then, second, we have to be smart about finding the things we can do, the institutional levers we can push and pull that can have a disproportionately positive effect opening up access to people. That things that will help—and I'll give you a few examples of things I think a lot from my historical work. It's a central part of this—of my new book is voting. There are a lot of things we do that make it hard for people of color to vote. I'm Asian American myself. My father's an immigrant from India. And I see Asian communities in Texas that have actually lower voter turnout not only than white communities, but than Black communities. And in Texas, Asian Americans are one of the fastest-growing populations, but their turnout percentage is actually lower than African Americans, which is, of course, lower than white Americans. And I think this is true in many parts of the United States. And I think there are things that the state of Texas does, if you look closely, that actually make it harder for Asian immigrants, particularly immigrants from Southeast Asia and elsewhere—to feel comfortable registering to vote, to feel comfortable going to vote. And Filipino nurses, for example, in Houston, there's been a lot written about this, they tend to work shifts that make it hard for them on one day to go vote. And the state makes it harder for them not to vote if they don't vote on the Tuesday in Houston, right, during the day. They had twenty-four voting two years ago. The state is now not allowing twenty-four-hour voting in Houston. Who doesn't get to vote? So we have to be conscious of those things that sometimes don't look like barriers, in addition to the obvious barriers, and push to change those. Make the case to change those. And work piece by piece. And how I try to get my students and others to be optimistic and engaged is to show them places where we have made progress and where we can continue to make progress in that way. States that have eliminated onerous registration requirements. States that have—and places that have made it easier to vote. It was a victory for us at the University of Texas in the midterm election. We added voting booths, and we intentionally put them in the parts of campus where we had more minority students. We didn't put them in the places where the faculty were. We put them where our students were, and things of that sort. So we can do those things. We can start at home. And we can start to build upon that. But we should be realistic. We're not going to fix this in one year, or two years, or five years. Q: Well, thank you. I'll just say hook 'em, 'Horns. SURI: (Laughs.) Thank you. FASKIANOS: All right. So I'm going next to a written question. Trelaine Jackson, who's the disability services coordinator for Fort Valley State University. What are your thoughts on the ongoing debate about critical race theory (CRT)? SURI: Thank you for asking that question, Trelaine. I hope I'm pronouncing your name correctly. I get this question a lot. I do a lot of work with teachers through the Gilder Lehrman Institute. I'm sure many of you work with Glider Lehrman, and through various humanities councils, including the one in Texas. This comes up all the time. And I give that background because I think on an average year, through workshops and things of that sort, I probably work with about five thousand different teachers. And I am yet to find one who teaches or knows what critical race theory is. History teachers are not teaching critical race theory. This is—this is a total made-up issue. It's a total—it's like fraud in elections, right? (Laughs.) It's a total made-up issue, right? History teachers—I can't comment on law professors. It might be different, right? But, again, law professors are not teaching undergraduates or high school students, right? (Laughs.) Among history teachers at the high school and college level, I don't know anyone who's teaching critical race theory. And I really don't know anyone who could identify and tell you what it is. This is a made-up boogeyman. You know, once there were reds under the bed and communists everywhere. Now there seem to be critical race theory proponents everywhere. What most teachers are trying to do, even at the collegiate level, is get students to sit on their butts, turn off their phones, and listen, and read. (Laughs.) That's what they're trying to do. And they're not indoctrinating. They're not indoctrinating. Of course, everyone has biases. I have biases. Everyone has biases. But that's actually not what's driving any of the issues that people care about, really. All it is is a boogeyman to scare people one way or another. If you want more points of view to be taught, here is what I think should be done. If you want more points of view, create more opportunities for students to hear other points of view, but don't try to cut off the legitimate teaching. And don't disrespect teachers, who are every day doing their best. What teachers need—and this is why I work through Gilder Lehrman and Humanities Texas, they need exposure outside the classroom to material they don't have time to learn because they don't have the privilege I have of being a tenured professor who gets paid to sit and read and do research. They're so busy. They have a harder job than me. Teachers, especially in the high school, or at a college where they have a four-four load, have so much more work to do than I do. They are in the classroom all day. They're dealing with all kinds of student problems that I don't see at a research one institution. What I try to do is to offer them workshops where they actually get paid to show up, and they can hear from me and other scholars about new research that then can then bring into the classroom. If you care about getting a more set—a diverse set of viewpoints offered, invest in that. Invest in the teachers. Educate the teachers. Do not attack the teachers. Do not make things up. And I'll say what I'm sure Trelaine and others know really well, which is that the challenge we face—in part because of the CRT attacks—is lots of teachers are leaving the profession. And that's a real problem. That's a real problem. We need more talented teachers, not fewer. And we don't need to attack them. So the CRT stuff, it's a boogeyman. FASKIANOS: Thank you. I'm going to go next to Karl Inderfurth of St. Johns—actually, I don't know—he's with—let me get this. OK, he's at George Washington University. St. John's College is known for its great books curriculum. What would be your short great books list for teaching American democracy? He is just finishing up Carl Sandburg's six-volume biography of Lincoln, and just finished a chapter entitled "America -Whither." Still asking that question today. (Laughs.) SURI: Great question, Karl. And I am a believer in great books. I think our great books can be old and new. If we weren't talking just in an American context, right, there's no reason we can't go Plato to Toni Morrison, right? We can have great books, they don't all just have to be from people of another age. So I'll give you my four that I think are essential. And this is in addition to reading the Constitution and reading—(laughs)—the Declaration of Independence. The first is also a primary document, The Federalist Papers. I think everyone should read The Federalist Papers and grapple. They are great for discussions because there's so much meat in them, and they don't agree all the time, even internally. Even the ones Hamilton wrote himself, or Madison wrote himself. So The Federalist Papers. Then I really like the classic book by Edmund Morgan, American Freedom, American Slavery. And that book makes the point, focusing on Virginia—written, I think, in the 1960s or 1970s—focusing on Virginia. Makes the point that American—the definition of freedom in the United States was connected to slavery. That Virginians thought they were free because they held slaves. And these are not contradictions. And that's so important in thinking about how we think about race going forward. Alexis de Tocqueville's Democracy in America, which captures so many concepts. It's empirical in the time, but also captures concepts about social capital, associationalism that are so important to us going forward. And then I would—I'm going to actually give you five. I already had three, I have two more I want to—(laughs)—two more I want to mention here. I think it's absolutely crucial that students get a sense of what happened in the Civil War and the Civil War's legacies. I wrote a book on this, but I think the best book for anyone to read is James McPherson's Battle Cry Freedom, which captures the politics of the war, the nature of the war, and the legacy of the war, as such. And then I really love the classic book that was written years ago by William Leuchtenburg on Franklin Roosevelt and the New Deal, which just gives you a basic—I think it's from the 1950s—it was a classic book that gives you a basic overview of what the New Deal was about. There's a more recent version, not quite as detailed, by Eric Rauchway, I think called What the New Deal Did [sic: Why the New Deal Matters], something along those lines. David Kennedy's also written a book, Freedom from Fear. But one of those New Deal books I think is really, really important. And, you know, I gave you five, I'm now thinking of another eight I want I want to say, but we'll stop there for now. (Laughs.) FASKIANOS: That's great. All right. There's a raised hand. Stan Gacek. Q: Yes, thank you, Professor Suri. Absolutely an enlightening discussion. I am the senior advisor for global strategies of a—we argue that we are the largest union of workers in the private sector, United Food and Commercial Workers International Union. My question is the following, Professor Suri. From a historian's point of view, you have mentioned, quite insightfully, you know, what the role of supermajorities, and how supermajorities have been necessary in order to get things changed. But how would you, from a historian's point of view, how do you assess now what are really anti-majoritarian institutions in our constitutional system, most notably the Electoral College? And from a historian's point of view, why is it that we, as the American people, have not been able to change this system over time? SURI: Great question, Stan. And I struggle with this myself. So the Electoral College is a—is a really interesting phenomenon. First of all, almost no one understands it. I always ask my students, who have taken AP history before they come into my class, where the Electoral College meets. They think there's, like, some college of cardinals somewhere that—I mean, people don't understand how this thing works. People don't understand who electors are. Most of us don't really understand it. And it's never been popular. It wasn't even popular among the founding fathers. I wrote about this in an earlier book, and many of you know this, the Electoral College was a last-minute compromise. They couldn't figure out how to elect a president. The founders believed that Virginia would always put up someone, Massachusetts would always put up someone, New York would—and how would they—how would they come to an agreement? And so they created this jerry-rigged system that they never thought would last. They actually expected that most elections would work the way the 1824 election worked, where things went to Congress. They actually thought that you were going to have multiple candidates, no one would have a majority, and Congress would have to decide. Which has only happened a few times in our history. Most famously, again, 1824, 1800 to some extent too, though that's a more complicated example. So this is something that shouldn't exist. The problem is, we can't agree on what to replace it with. So this is a classic case of suboptimality, where we're stuck with something because we can't agree on what to do in place of it. That is something I tell another generation they've got to work on that. Every student I met thinks it's silly we have an Electoral College. It's time that we actually put work into something that would replace it, and building support for that. Now, that's a long-term issue. That's not going to happen overnight. But there are anti-majoritarian elements that have been misused recently that we can use history to help us un-misuse. (Laughs.) And one of them is the filibuster. And I'm sure you know this, Stan. The filibuster exists because Aaron Burr changes the rules of the Senate. But for the most part, the filibuster is rarely used and, when used, the barrier to use it is pretty high. Until the late twentieth century. It is consistently used on race issues, which is interesting. It's consistently used to protect slavery and then to go against civil rights. But the barrier to use it is high. And it is rarely invoked. We have gone to a system in the last thirty years where on every issue if you don't have sixty votes you can't go forward. And so that means in the Senate that basically forty-one senators can stop anything from happening. And you can actually have forty-one Senators who represent less than 40 percent of the population. So thirty-some-odd percent of the population is holding things hostage, such as voting rights. I am a firm believer, as a historian, that the filibuster should not work that way. No one intended it to work that way. It is not good for our democracy. And that can be changed tomorrow. It can be changed in 2025 if one party has enough people who just change the rules. All you need is fifty-one, or fifty-plus-one, with the vice president's vote. And I'm a believer that that should be changed. It's already been changed for Supreme Court nominations, right? You got rid of the filibuster for Supreme Court nominations. Let's just get rid of it for everything. Let's go to reality and say if you have fifty-one votes you have a majority, and forty-one people don't get to stop us. FASKIANOS: Thank you. I'm going to go next to Patrick Duddy at Duke University. The immense flow of undocumented migrants over our southern border and recently over our northern border have alarmed many and aggravated certain nativist elements in African—I'm sorry—American society. The numbers are startling. More undocumented migrants have crossed our border in the last year than there are citizens in a dozen U.S. states. But we are a nation shaped by immigration. How do you approach the history of immigration in the U.S. in view of the current political discourse on the subject? SURI: Great question, Patrick. And also thank you for being fact-based, because a lot of people talk about this without being fact-based. And I think you clearly know the details, probably know them better than I do. Look, the first thing a historian would say is that immigration has always been a problematic issue in our country. We are a nation of immigrants. I proudly stand by that, as a child of immigrants myself. But we've always been a country that has had strong nativist impulses, as you point out, and done a lot to restrict immigration. The most infamous example being the 1924 Immigration Act, that actually, between 1924 and 1965, created a quota system that made it very difficult for people like my father to come into the country. My father came into the country from India in 1965, after Lyndon Johnson passed the reform act of 1965 that actually allowed Indians, South Asians, to come into the U.S. in any significant number for the first time. And it changed everything, right? Silicon Valley, Austin, look at the South Asian communities. So this is a long-term problem. It's not new to today. But what I will say is what has been not necessarily new but been striking about the last thirty years is our inability to pass any legislation. So the challenge that we have, particularly on the southern border, is we don't have effective legislation to deal with exactly what you pointed to, which is the processing of people who want to come and deciding who gets to come in and who doesn't. As much as I, in theory, would like an open border, we can't have one, for what you implied. But we have to let people in. We need them economically. The Austin miracle—Austin's the fastest-growing city in the U.S., right—is because of immigrants. There was a shortage of computer programmers every day in Austin, Texas, and we're hiring educated people from India and Mexico. There's a brain drain from those countries to Austin. We need immigrants, as our country does. You know, our demographics also. We don't have the replacement rate population. And if you want to look at the country that doesn't bring in immigration, what happens, look at Japan and the economic stagnation they have faced. So we need immigrants, as well as wanting immigrants ideologically. But we don't have a process—an effective process that helps us to have the resources and to have fair laws that are actively applied to determine who comes in and who doesn't. I believe that we should not allow families to come in, I think we should do more for political refugees—those who can prove they're political refugees. We should do more also for skilled workers. And we can have various other categories—DREAMers and others. Some of my best students, by the way, every semester, are DREAMers, in my classes at the University of Texas. But that's not to say we're letting everyone in. And we should hold people accountable to the law. But right now we have a system of laws that are outdated. The last legislation was in the Reagan administration. We have poorly funded and mis-funded institutions. We have states like Texas and Florida that are sending ill-trained forces down to the border to do things that are intentionally not matched up with the federal government. And then, it has to be said, we are creating not only hateful rhetoric but misallocating resources in building walls, or pieces of walls, that don't keep anyone out of anywhere. It is long time that members of Congress sit down and work toward the passage of legislation. There was a majority that agreed to a legislative package during the Obama administration. And it was filibustered, back to that—back to that point. So the best way to deal with this issue is to update our laws based on our values. That won't solve the problem, but that can do a lot better. And I am deeply frustrated that we haven't had the historical will or the political will in the last thirty years. That has to change. FASKIANOS: I'm going to go next to Jennifer Brinkerhoff at GWU. Do you think Supreme Court reform is needed to keep our democracy strong? SURI: Yes. And I have a strong historical argument for that, Jennifer. Thank you for asking that excellent question. Here is the thing about both the Supreme Court and Congress. I think most people know this, but it's worth resaying. From the late eighteenth century until the early twentieth century, we expanded Congress every ten years. So we need more members of Congress for more representation. And we brought in more states. We need to bring in Puerto Rico and Washington, DC, as states. And we changed the composition and jurisdiction of the Supreme Court. I point this out in my book, the Supreme Court numbers, the number and jurisdiction of the court, the actual operation of the court was changed by Congress three times between 1861 and 1872. To change the number of justices—for a time there were ten, then there were eight—to change their jurisdiction. And this was what everyone assumed was Congress' role. Congress doesn't get to decide the cases, but Congress sets the framework within which the Supreme Court operates. Since the late nineteenth century have we not only kept Congress at about the same size—so we now have 750,000-800,000 people per member of Congress in the House—but we've also—we've also kept the Supreme Court at the same size. We all know that the legal structure of the United States has multiplied in its complexity and scale since the late nineteenth century. And why we think that nine cardinals is still the appropriate number, and the jurisdictional demarcations make the same sense, it doesn't fit with our world. We need to update that. And we could do something that would be very fair. We could follow the model of our appellate courts where, let's say, we created nineteen, eighteen Supreme Court justices. And they rotated randomly in groups of nine to hear cases? So that way, you couldn't also game who your Supreme Court judges were for the cases you were bringing. There's no reason we couldn't do that. We could give every president a guaranteed number to appoint, and then have others that are appointed when people pass away or retire. We could do this in a way that initially might give one side an advantage, but would set up a fair system, a fair rotational system, which is what we do for our appellate courts. And I think it's long time we do that. I think something like this was recommended, Jennifer, you probably know more details, but by the committee that was brought together to advise on this. I think this was recommended. And let me say one other thing. That's not packing the court, what I just described. What FDR was trying to do with the alleged packing of the court was actually trying to change the judges in real time so he'd get the outcome he wanted at that moment. I'm not talking about doing that. I'm talking about creating a long-term process that would make for a court that would be less political, because you couldn't choose exactly which justice, and because every president would get to appoint. And a court that would be able to cover more issues more appropriately. FASKIANOS: Jeremi, just as a follow up, do you think that there should be term limits, both in terms of the Supreme Court and in Congress? And is there any historical evidence that that might make a difference? SURI: Well, I think the term limits on the court might make sense, because I will say, as a historian, the founders and most who have written about this through the twentieth century never assumed people would serve on the court as long as they have, right? Because life expectancies were not the same. People were actually not appointed as young, chosen by the Federalist Society or things like that. So I do think there's an argument to be made. It think it would be a long term limit you would want. But I think you could say you're dealing with the historical intent by assuming people don't get to be Supreme Court justice for fifty, sixty, seventy years. That does seem like a very, very long time, in a sense. So I would—I'm not saying I'm advocating that, but I think one could make a historical argument for that. My problem with term limits at the congressional level is one that's always been the historical objection, which is that in some ways further empowers parties and further empowers lobbyists, right, because if you're constantly rotating, the new person who wants to run is dependent upon the party and dependent upon people who raise the money. So I'm not sure that's the best way to deal with things, although I do think there is at some point enough time that someone has been in office. But I'd like to make it easier for people to run, and easier for people through primaries, as well as through general elections, to vote someone else in. FASKIANOS: Thank you. I'm going to go next to Damian Odunze. I hope I pronounced that correctly. Assistant professor of criminal justice and criminology at Delta State University in Mississippi. How can we address the structural problems that confront the criminal justice system, for instance police use of excessive force? Do we have a problem of a few rotten apples, or do we need to address institutional inadequacies? SURI: So this is a great question, Damian. A question my students are asking all the time. And this is one I'm actually optimistic on. I think we've made progress since George Floyd, or in the aftermath, or around this period, despite what recently happened in Memphis and what happens in Austin quite often here. We've made progress, because people are much more aware of these issues. I think we start by understanding the very severe problems of the criminal justice system by talking about precisely the history we've been talking about today. Our criminal justice system is not entirely, but is in part, an extension—an extension of a slave system, slave enforcement system, and even more so a post-Civil War system of protecting white supremacy in our society. And that's incontrovertible when you look at the evidence. Let me make this as clear as I can. I show this in the book, and I could have shown it even more. There's only so much about this you can write about in one book. But most of the violence that occurs in major areas after the Civil War, which involves rioting and violence to prevent people from voting, to prevent African American and Jewish communities, and immigrant communities living places. The Memphis riot in 1866, New Orleans, Colfax, 1873. Almost all of this involves local policing not simply allowing this to happen, being responsible for much of it. Almost every one of these police forces are involved with the violence. Now, current police officers are not those people. Many of my students have become police officers. My cousin just retired from, I think, twenty-eight years on the New York City Police Department, where he survived. I'm so—he's one of the best public servants I know. Richard Mack is his name. I have a deep respect for police officers. That's not the problem. The problem is the structure of policing, the attitudes that are encouraged, the practice and behavior, the violence that is used and now has gone upscale with new weapons that are acquired. It's a classic case of what you call, Damian, right, structural or institutional racism. Doesn't make the individuals racist. But we need to understand that—I'll give a very concrete example of this. My wife happens to be on the city council here in Austin. And she looked at the curriculum for cadets. And the curriculum for cadets was not teaching them to understand the communities they were dealing with. In fact, just the opposite. They were taught a civics course that did not mention slavery in Austin, Texas. And how can you understand that—in Austin 1924, there was forced segregation. Entire community of African Americans were forced to move from one part of town to another. Police officers are not taught that history. Now they are, because my wife got involved. That's a classic case, I think, not of the racism of the officers, but of the institutionalized racism. And I'm optimistic, Damian, not because I don't see resistance to changing that, but because we are all more aware. Every one of my students now has seen a video of something like what happened to George Floyd. And every one of my students recognizes it as a problem. And you can't solve a problem till you recognize it. And we're farther along now in recognizing it. FASKIANOS: Thank you. Question from Julie Hershenberg from Texas, Collin College in Plano, Texas. I'm always struggling to find unbiased news sources for my students to help them stay current. What are your suggestions? SURI: Great, great question on that. I don't think there's one. I think what we're teaching our students to do is to go to real, serious sources that try to be unbiased, even though they are not. And that's the big difference. Is the source fact-based, as best as it can? And is it self-reflective on its own biases? And is it trying to get beyond those biases? So I'm very predictable on this. I want my students to read the New York Times. I want them to read the Wall Street Journal. I want them to read either the Financial Times or the Economist, particularly on the U.S., how those sites view the U.S. I want them, of course, to read Foreign Affairs on foreign policy, and the Foreign Affairs website. And others as well, right? But the point is, there's a difference—this is what I'm trying to get across to my students—there's a difference between those sites and sites that have not the same elements of fact-checking nor the same effort to be unbiased. Whether you like Fox News or not, Fox News is not trying to be unbiased. That's now documented. MSNBC I don't think tries to be unbiased. I like MSNBC. I sometimes go on MSNBC as a guest. But I don't think MSNBC tries to be unbiased either. So I think it's a lot better than Fox News personally, but I don't think it's—that's as good a source as the others. And so those are the things. For basic news coverage day to day, especially students who want to follow international affairs not just U.S. affairs, I still think the gold standard is the BBC. You know, I find bbc.com to be the best. If I want to know what's going on in Turkey, that's what I look at. FASKIANOS: Fantastic. Let's go to—back to Todd Barry, Hudson County Community College. Is another constitutional convention possible? And would it be meaningful with new constitutional amendments? Or could it be dangerous, with too much change? SURI: Yeah. I have a colleague, a wonderful, very distinguished colleague, Sanford Levinson, who has been arguing for a new constitutional convention for, like, thirty years. And he's arguing for it from the left. And then my governor, Greg Abbott, is arguing for a constitutional convention from the right. I think a constitutional convention would be a disaster. The last thing I want us to do is throw away two hundred years of wisdom and try to start again. But I do think we need amendments to the Constitution. And our Constitution makes it hard, but we can rewrite the Constitution. So I'm for rewriting the Constitution. I'm not for starting over, because I'm a Burkean. I'm not for revolution. I'm for building on the wisdom of the past. And we have a lot of wisdom to build on. My problem is not that we don't have the wisdom. I mean, I'm a historian so I'm obviously going to say this. It's not that the problem is the absence of wisdom. It's whether we're willing to learn it and use it. So let's study the Constitution, and then let's change it. Let's not try to throw it away and start again. FASKIANOS: And, Jeremi, I'll ask you the final question. Do you think, as you're seeing students come into your university, do you think that there should be more systemized teaching of civics and history across the states? Because each state, as you mentioned with what the officers are studying, their civics didn't mention slavery. So what does that look like for students, and how it's being taught in different states—history? SURI: Yes. I think civics should be taught. I think we should be less prescriptive. I am for empowering teachers. I think we should—in the same way we invest a lot in educating science teachers, and math teachers—we don't do enough, obviously, but we do a lot in that—we should be doing more to invest in an attractive career path for people to teach civics, to each constitutional and American history, and to teach it across the board, to be supported in doing that, to be given material and then left to their devices to teach. And that should be something supported not just by the federal government financially, it should be encouraged by our country as a whole. What I have witnessed is actually students are coming into my classrooms from all over the country, from very good high schools. It's very hard—to get into UT now you have to be in the top 5 percent of your class, at least. It's really hard to get in. They come from great schools with lots of AP credits. And they haven't learned basic—they haven't read the Constitution. They don't understand basic things. And that shouldn't be the case. We can do better. I don't think we're worse than we were, but we can do better. We can do better. And I think that should be a national mission. But I don't want that to be civics taught just one way. I want use to actually train teachers to do it, and then let them run, let them do—let them do the teaching. FASKIANOS: Thank you very much for this hour. This was fantastic. We really appreciate your insights, and for all your work on this. Again, I commend Jeremi Suri's book Civil War by Other Means: America's Long and Unfinished Fight for Democracy. If you haven't already read it, you should. And we really appreciate your being with us. You can follow him on Twitter at @jeremisuri. SURI: And if I might, Irina, I also have a podcast called This is Democracy, where each week we talk about these issues. We bring on people to talk. We just had Jonathan Alter on this week to talk about Jimmy Carter and his legacy, positive and negative, for our democracy. We had John Sipher on last week or the week before talking about the CIA and its role in our democracy. So please listen. It's called This is Democracy. It's free. FASKIANOS: Fantastic. And we are going to continue this conversation on the future of democracy with our next webinar with CFR President Richard Haass on Tuesday, March 7 at 3:00 p.m. As many of you know, he's written a book entitled The Bill of Obligations: The Ten Habits of Good Citizens, and feels very strongly about how we need to be training and teaching young adults about their obligations. SURI: It's a great book. I just want to—I want to pitch for Richard. He's a friend, so I'm biased. But it's a great book, and I hope you all will come and—read my book first, and then read his book. But you should— FASKIANOS: Oh, OK, but—(laughs)—I won't tell him you listed it, but I will share your endorsement. (Laughs.) SURI: Tell Richard—tell Richard I was pushing his book. It is a great book. I highly recommend it. It's very readable for students also. I've actually already given some of it to my students to read. FASKIANOS: Fantastic. So in the meantime, please do follow us at @CFR_Academic, go to CFR.org, ForeignAffairs.com—Jeremi already mentioned Foreign Affairs—and ThinkGlobalHealth.org for research and analysis on global issues. It was great to be with you all, and with you, Jeremi. Wishing you all a good rest of your day. SURI: Thank you, everyone. Thank you. (END)
Ashley Holben, interim manager and project specialist with the National Clearinghouse on Disability and Exchange and executive specialist to the chief executive officer at Mobility International USA, leads the conversation on disability inclusion on campus and in international affairs. FASKIANOS: Welcome to CFR's Higher Education Webinar Series. I'm Irina Faskianos, vice president of the National Program and Outreach here at CFR. Today's discussion is on the record, and the video and transcript will be available on our website, CFR.org/Academic if you'd like to share it with your colleagues. You can enable the closed captioning by clicking on the icon on your laptop or on your iPad in the "More" button. If you click on that you can show captions. So I encourage you to do that. As always, CFR takes no institutional positions on matters of policy. We're delighted to have Ashley Holben with us today to discuss disability inclusion on campus and in international affairs. Ms. Holben is interim manager and project specialist with the National Clearinghouse on Disability and Exchange, and executive specialist to the CEO at Mobility International USA. In these roles, she develops initiatives and resources to increase participation and inclusion of students with disabilities in international exchange. So, Ashley, thanks very much for being with us. Let's just get right to it. If you could discuss and share with us the importance of disability inclusion in higher education institutions and international affairs, and share what you have found to be some of the best practices to do so on college campuses. HOLBEN: Certainly. Well, thank you so much, Irina, and thanks so much to the entire CFR team for putting this topic on the agenda of this webinar series. It's such a fantastic opportunity to discuss an often misunderstood topic but a very prominent community, which is people with disabilities in higher education. And so really appreciate all of those who are joining today to tune in, and welcome. And, you know, the CFR team shared with me the roster of folks who were planning to attend and one thing that really stood out to me is kind of the really wide breadth of expertise and departments represented and positions represented. So it's really encouraging to see so many different types of leadership wanting to discuss this further and wanting to share practices. So I'm looking forward to doing that today and I really hope to hear from some of those who are tuning in with your expertise and observations and activities as well, and I am delighted to share some—just observations of my own in this role at the National Clearinghouse on Disability and Exchange (NCDE). As Irina said, this is a project that's housed at Mobility International USA since 1995. But we're sponsored by the U.S. Department of State's Bureau of Educational and Cultural Affairs, really, in order to promote the participation of people with disabilities in international exchange between the U.S. and other countries, and that is to say kind of to the end we provide tips and strategies for people with disabilities and international program staff on how to prepare for an inclusive international exchange. So, before I kind of dive in, I just wanted to define these terms a little bit because it's not always clear what we mean by international exchange. But, basically, we're talking about everything from study abroad, teach abroad, volunteering, research, professional visitor exchanges. Also, cultural like arts, sports programs. So try to picture a U.S. college student going abroad for a semester or an international student coming to the U.S., a Peace Corps volunteer, Fulbright scholars, and so on. And we're—the genesis of this project is really because people with disabilities are taking advantage of these same opportunities as nondisabled people in order to advance their educational/career goals, their personal goals. And that kind of brings me to kind of another definition—a loose definition—that people often wonder, well, what do you mean by people with disabilities, and by that that includes people with physical or mobility disabilities, sensory disabilities, chronic health conditions, intellectual or developmental disabilities. That includes mental health disabilities, neurodiversity learning disabilities. And then keep in mind that disabilities can be apparent or nonapparent. And then also somebody's disability might be apparent certain times and not others—for example, if they use assistive devices on some days but don't need them on other days. So one topic that I really—is close to our hearts in our world is this theme of disability as diversity, and I saw on the roster—I was really excited to see that there were some folks who registered who are, for example, the director of diversity and inclusion, DEI specialists, and so on, and it's so encouraging to see that higher education is really embracing this diversity, equity, and inclusion, implementing DEI strategies kind of throughout all areas of higher ed. And so, with this in mind it's really vital to recognize that disability is part of diversity and not separate from it. Too often folks want to separate the two. Or, disability is an aspect of diversity that can get overlooked in diversity initiatives, we find, too often. So that inclusion of people with disabilities is really fundamental to be able to—and acting on that commitment to diversity at the institutional level. And then, for many, disability is an important facet of their identity, connecting someone to a larger disability community—for instance, disability pride, disability culture, history, and more. So it's really important to keep that in mind in any discussion related to DEI. And just as important, many people with disabilities have identities in addition to their disability identity. So, for example, a person with a disability can also be a person of color, a first-generation college student, LGBTQ, an immigrant. And so one thing that we find often when we're talking to people with disabilities about their experience is, there was so much focus on my disability that we completely forgot—(laughs)—to talk about these other aspects of myself that are important to me. So I think that's definitely a good lesson. If anyone out there is more interested in this topic of disability intersectionality, I want to just kind of do a little plug for a publication that I'm really excited about that we put forth last year on Intersections Abroad, which I'm holding up to the screen. I think it might be blurred out, unfortunately, but—(laughs)—oh, here we go. FASKIANOS: It's a little blurry but we'll— HOLBEN: It's a little blurry. FASKIANOS: (Inaudible)—anyway. HOLBEN: But it's Intersections Abroad: "Travelers with disabilities explore identity and diversity through a lens of international exchange." So it's a series of travelers' stories, interviews with people with different types of disabilities including people who are blind or have chronic health conditions or who are on the autism spectrum but who also want to describe what their study abroad experiences in different countries was like as a person of color or as someone with a religious identity or someone who brings all these unique experiences to their international exchange experience itself. For those of you who—I know we have a lot of different folks joining the call. On the higher education campus, people with disabilities not only includes students but also faculty, staff, administrators, campus leaders, visitors, and institutions often have dedicated staff or offices to support individual level disability accommodations and also to promote disability access more broadly across campus. So I noticed some folks who registered for this event come from, for example, Office of Student Accessibility, Office of Disability Services, Office of Student Support and Success. We had—I saw an access and accommodations coordinator, an ADA compliance coordinator. So these are all some examples of the types of folks who are working to help promote access at the—in higher education. You can also find counseling centers, tutoring centers. There are a growing number of campuses that are providing services tailored for students on the autism spectrum and also those that are tailored for students with intellectual disabilities, which is really interesting. And if you want to learn more about that I encourage you to check out the organization Think College. But in addition to campus accessibility and disability support services you're going to find other entities that help promote disability community, disability history, disability rights, representation and visibility. For example, student groups led by and for students with disabilities. I saw one of the registrants—there were a couple of registrants on this event who are representing the Harvard Law School Project on Disability to, as they describe, use their learning in comparative and international law to advance understanding regarding disability law, policy, and education around the world. So it's really exciting to see just kind of all the different ways in which higher education can support and promote disability access and inclusion in different ways in representation. Another topic that we are really passionate about at the NCDE is disability-inclusive campus internationalization, especially when it comes to the international exchange aspect of internationalization. So take education abroad, for instance. For the most part, I think a huge bulk of our resources relate to students—college students with disabilities who study abroad. That's a big chunk of our resources, and we get a lot of questions about that from international exchange administrators and international study abroad advisors and coordinators about how can we provide some support to these students who want to study abroad who might have some specific disability-related accommodations they might need abroad, or everything from how can we attract students with disabilities to participate in our programs, and so on. So you're going to find a lot of those types of resources in our library. But, education abroad that can also encompass faculty with disabilities leading trips abroad, and it's really exciting to be able to connect with some faculty with disabilities who can share some of their stories with us about arranging these types of exchange programs. And the programs that they're leading may or may not have a disability theme, depending on what their scholarly background is. However, I've observed that some education abroad curricula does include disability-related themes. So one example is at California State University in Northridge. One of their faculty led an exchange program called "Black Deaf Activism: Culture and Education in South Africa," bringing together a lot of students from their campus who identify either as deaf, as Black, or both, and more. So that was really exciting to follow their journey through South Africa, again, with those different lenses. And then, of course, people with disabilities working in the international exchange field—in the international education field as advisors, administrators, and more, and that's always something that we get really excited about at the Clearinghouse. We kind of proselytize a little bit to people with disabilities about, oh, have you thought about entering a career in international education so that we can see more disability representation and leadership within that field. A lot of students with disabilities are—and without disabilities are kind of blown away in a good way to see some of that disability representation in the kind of leadership level of that field and so that's something that we try to encourage in some different ways that I'll get to a little later. And then on the flip side of education abroad we also want to see disability-inclusive campus internationalization in the form of international student recruitment, so welcoming international students and scholars with disabilities to U.S. higher education, and that comprises another large segment of the resources housed at NCDE. So for those of you who advise international students and scholars on your campus or who are connected to the recruiting side to bring students with disabilities to the U.S., or bring international students to us, ESL offices and instructors. We want to work with them to make sure that they're aware of the international students with disabilities. These are fantastic opportunities for them, too, and but they also might have some different cultural expectations related to disability. They might be used to a different type of system of accessibility and accommodations or a lack thereof. And, most recently we've talked to a lot of international students who are expressing an interest in connecting with other students with disabilities during their stay in the U.S., whether it's other American students or other international students with disabilities. And so one thing that we're excited to do in the near future is think of some ways that maybe we can help facilitate these types of connections on kind of a peer-mentor type model. Another focus of campus internationalization can be offering coursework on international disability rights. One prominent example in my mind is the University of Oregon's "Global Perspectives on Disability" course because it's co-taught by MIUSA's own CEO, Susan Sygall, who is a woman with a disability, and what's interesting is that that course is cross listed on campus with international studies, special education, and disability studies. So, you know, disability is such a cross-cutting issue. There's really no topic or department or educational focus that doesn't—that can't touch upon disability, inclusion, and access. And so the "Global Perspectives on Disability" course at the U of O is one that's been running for several years and it's fantastic. We're able to bring some guest presenters who are often disabled women leaders from countries around the world to share about their experiences in disability rights, disability policy, movement building, and so on. And then, one last example I'll share, but not to say the last one, is access to foreign language learning and ESL and really ensuring that, you know, those are so vital to promoting campus internationalization and often they're linked to these international exchange experiences, education abroad, and so on. But, sometimes we hear from people with disabilities that they were discouraged from taking a foreign language class because of assumptions about what they're able to do. So, for example, like a person who is deaf, there might be some assumptions that they can't participate in a foreign language class. And so, we would really promote any person with a disability to see if learning a foreign language is something that would help further their goals, personal, career wise, or otherwise. And so, I do want to hear your—all of your questions and your—not just questions but also just sharing from your experiences. But before we do that, I do want to just say a little bit about NCDE resources so that you're aware of what we have in our library. That is to say they all touch on this crossover of disability inclusion in international exchange and include everything from tips for recruiting people with disabilities in international exchange programs, disability-specific tips for international travel. So, if your wheelchair gets broken when you're abroad, what might you do? Or, what are some different types of accommodations that a blind student might use or someone with dyslexia might use? Best practices from various U.S. higher education institutions. And I think that's going to really appeal to the folks who are on this webinar today. We have—just like we've been able to interview international exchange alumni, students who've come back from their experiences abroad, and others, we've also really relied on higher ed professionals to share their best practices with us because, really, our resource is a compendium of expertise from the field. And so I would really encourage anyone here who maybe they have a best practice to share from their own campus that they're working on and we would love to be able to add that as a resource to be able to share with our broader community. So if that's of interest please get in touch. We also offer sample disability accommodation forms and questionnaires, which is really handy for those out there who are wanting to start a conversation around disability access but maybe don't know the—don't have the vocabulary or don't have the language. These are kind of helpful guides that can help you take those next steps. And then, finally, one thing that I am really excited to share because this is a new—relatively new initiative on our part is we've started hosting an access to exchange externship for—and this is a resource you can share with your students—this is for students with disabilities, recent graduates and others, who want to use their experiences to further the mission to promote disability inclusion in international exchange. So they're tasked with coming up with some kind of either a webinar or event or a country guide, some kind of resource that can help further this mission. And so some of them have created resources for peers like prospective study abroad students with disabilities or for the folks who are working in the international education field so that they can be more cognizant of—you know, from a disabled person's point of view what are the supports needed or what can they be doing. And then our seminar—access to exchange seminar is for people with disabilities who have not had any international exchange experiences and, you know, or maybe it's a little intimidating to take that first step, and so our seminar is really just trying to break it down and make it feel a little bit more comfortable to ask questions and help try to just instill some confidence in future international exchange participants with disabilities. So, well, let me stop there for the time being and let me put it to all of you. What I'd like to know is, given, again, just this very—all of the different types of departments and expertise that you're all bringing with you today what are some of your own experiences, observations, activities, around disability inclusion on your campus and in international affairs. So I'd really like to hear from you all and I wonder if anyone would like to start. FASKIANOS: Great. Great. Thank you, Ashley. This is terrific and, yes, we want to go to everybody on the call. You can click the raised hand icon on your screen to ask a question, and on an iPad or tablet click the more button to access the raised hand feature, and when I call on you, you can accept the unmute prompt. Please state your name and affiliation followed by your question. You can also write your question in the Q&A box. If you do that, please say who you are. And we do have our first written question from Pearl Robinson, who is an associate professor at Tufts University: Does the Peace Corps offer opportunities for people with disabilities? HOLBEN: Thank you for that question. Oh, I'm so glad you asked. Absolutely. The Peace Corps encourages people with disabilities to participate in—as volunteers and, indeed, we have seen so many returned Peace Corps volunteers with disabilities come back and share their experiences. I think I referred earlier to a person who was discouraged from learning a language because she's deaf, and she often shares, she really pushed back against that, insisted she wants to learn French and one of the happy results of her advocating for herself to be able to pursue French despite being discouraged from doing so is it enabled her to be able to serve in the Peace Corps in Francophone Cameroon, which was a life-changing event for her. And, actually, I know that there is an upcoming webinar that's going to be hosted by a Peace Corps staff on volunteers with disabilities that will feature a number of returned Peace Corps volunteers. And so if that—I think that is coming up pretty soon. So I'll share that information with Pearl individually or unless other people are interested I can share with you, Irina. But also the Peace Corps also has opportunities for shorter-term programs for folks with unique expertise and who have a specific area of specialized focus. And so we recently interviewed someone who took part in that program—it's called Peace Corps Response—which worked out really well for her because she has some chronic health conditions and mobility disabilities that made that format work quite well for her. But, yes, we have lots of returned Peace Corps stories on our website about people with different types of disabilities who served and it's really fun to read their stories and just really eye-opening as well. FASKIANOS: Great. So we have another question from Deena Mansour with the Mansfield Center: We've appreciated using some of your resources on our State Department exchanges. Could you speak to some of the most important ways you prepared others in a cohort, a predeparture orientation to support a colleague with disabilities, given that many countries have less—far less exposure and support than we have had in the U.S.? HOLBEN: Mmm hmm. Yeah. I would say—and that's fantastic that you're working with—being able to implement State Department exchanges as well. We're really excited by any time we can provide resources related to, for instance, the Global UGRAD program or the Mandela Fellowship or Fulbright, whatever it might be. And then, as for predeparture orientations, this has been a topic that we've explored both in terms of international students coming to the U.S., which we just kind of put—created some new resources for that. But it sounds like what you're asking is for folks going abroad—maybe coming from the U.S. and going abroad. I think it's just really important that people with disabilities who are preparing to go abroad are—have a chance to research a bit about the country's disability rights—not only disability rights laws but disability culture and context. We really encourage folks to try to do outreach to a disability-led organization, if possible, and some people who've been able to do that it's led to a really fruitful relationship and really enhanced their experience to be able to meet with local people with disabilities who can share kind of the real experience on the ground, what it might be like. I think a lot of people are also—maybe aren't prepared for just the feeling of kind of being—standing out and others are unprepared for—well, just to use an example from our Intersections Abroad publication that I shared earlier, one student who studied abroad who is blind, she really thought that people would only be interested in her blindness and only have questions about her blindness, and she was really surprised that when she arrived people had wanted to know about other things about her, too. And so I think just allowing some room for all aspects of yourself there can be really beneficial. It's something that sounds simple but people might forget. And so kind of evaluating different identities that you have, what you want to get out of the experience. But it sounds like what you're asking about is kind of more just on-the-ground—those logistics, those environmental barriers. And you can't foresee all of them, but I think just one thing that's really helpful is just getting an idea of, how do people in that destination approach disability access because, if you call a hotel or something like that and you say is this going to be disability accessible, I really encourage just trying to get a little bit more specific, because they might say yes because their idea of disability access is having some burly people lift you up over some stairs, whereas that might not be at all your idea of accessibility. And so some of these things you're not going to know until you arrive. But if you can connect with another—a person with a similar disability who has traveled abroad or someone who has gone to the place where you're going that can really be helpful, or talking to locals with disabilities. And then our resource library, that's one of the things that, I think—I really hope is helpful to folks planning their trips abroad is to be able to read about the experiences of other travelers and kind of the types of things unexpected that they encountered during their travels that might help other folks just get into that mindset of what might be on the horizon. FASKIANOS: There's a question from Kwaku Obosu-Mensah at Lorain County Community College: Do students with disabilities need special insurance to travel abroad in an exchange program? HOLBEN: That's a great—thanks for that question. Not always. Some students who have maybe chronic health conditions have been able—sometimes their study abroad program, for instance, has been able to negotiate, like, a group rate of health insurance for—for example, if it's a group of students who are going abroad, in case there's some additional coverage needed related to preexisting conditions or disabilities. However, we're also seeing a best practice in the form of international exchange departments and offices budgeting for some funds to be able to provide for students with disabilities in those instances where something's not going to be covered by. It's kind of an extenuating circumstance, whether it's related to getting access to health care, kind of an emergency fund, or being able to help pay for some private transportation when the local public transportation is not accessible, to use a couple of examples. So I think you're going to have to—it's really important to check with the insurance company and find out what their policies are around that but also to consider negotiating what they're able to cover to be as inclusive as possible. And that's not always going to be able to happen in that way, in which case those contingency funds are going to help supplement whatever the insurance is not able to. FASKIANOS: Great. And people can also raise their hand and ask their questions and share best practices. But I will have another question—written question—from Kimberly Pace, University of Alaska Anchorage, which goes along with Kwaku's question, which was—you just answered about health care for students—faculty with disabilities when engaged in study abroad programs. So it'd be great if you could elaborate on that. HOLBEN: So, with health care, I guess just some additional considerations related to health includes mental health. Some folks with chronic health conditions might need to just get some—do some extra preparation—not only chronic health conditions but other types of disabilities. People with disabilities planning to go abroad will sometimes need to just take some extra steps for preparation, for example, those who are taking medications in the U.S. Certain types of ADHD medications in the U.S. are not legal in certain countries where people study abroad, and so trying to get information about what types of health care you're able to receive abroad, what types of prescriptions you're able to bring into the country abroad, working with your health care professionals about whether or not to adjust any medications prior to travel, and then where are you going to be able to access medical supplies in case yours get depleted or are lost or stolen or break—you know, where to go if your mobility equipment breaks. And we do have some tip sheets kind of on these different types of disability topics related to, what happens if you get into this dilemma, how can you try to, for example, keep your mobility equipment or your medications—how do you travel with those things in such a way that kind of helps mitigate some of the risks of having things break or confiscated or flagged or whatever it might be. So it's not, like, a simple answer but it's absolutely really important predeparture. Part of the —it's part of the research. It's part of the process for going abroad and, unfortunately, it typically means building in some extra time for planning to go abroad. So we always encourage students with disabilities, even if you think you might possibly go abroad at some point in your college career it's not too early to start planning for it now and start looking into some of these questions, and some of the guides that we have on our website are helpful just for thinking through what those questions might be because, as they say, you don't know what you don't know. And people will often think, well, I've got that taken care of, no problem. But they're only considering it from a home environment perspective and not really thinking about how, well, is the host city infrastructure going to be able to support this accessibility software that I use or whatever it might be. So not just in terms of health care but other types of accommodations as well. FASKIANOS: Thank you. Can you elaborate on the difference between access and inclusion? I think it would be helpful to give those. HOLBEN: Well, I don't think there needs to be a broad difference. But one thing that I would want to emphasize is, there's—on one hand, we're talking about disability inclusion and how can we make sure that—they're really—they go hand in hand. Inclusion is how can people with disabilities access these—all of the same programs, all of the same services—really, just kind of everything that nondisabled people can access and—but I think inclusion is not quite the full picture. It's not really enough. And so what we would say is how can we go beyond inclusion—the inclusion piece—which is just making sure can you participate to sometimes you have to kind of take the first step to get people with disabilities to see these things as belonging to them or see these—sometimes people will self-select out of things because they've grown up with these messages that this isn't for them, or they have to wait until it's a special disability-focused program or activity for them to participate. And so one message that we tell people with disabilities is to kind of think of it as an infiltration where you're, like, find these nondisability-focused activities and if you want to be part of it then be part of it. But on the flip side, we're also thinking a lot about reverse infiltration, which is the folks that are managing different projects and opportunities and activities sometimes you might have to go out of your way a little bit to invite in people from the disability community, meet them where they are, really make sure that they are expected, anticipated. So it's not really just enough to say, well, we wouldn't turn a person with a disability away so that makes us inclusive but, really, how can you be more proactive and intentional in your strategy to make sure that disability is represented. So I think that that would be one distinction. And then, furthermore, beyond just disability inclusion—are they participating—then I think another important step to look at is disability leadership, and so that's kind of where—why I say we get really excited when people with disabilities are entering leadership positions in higher education, whether that's working in the study abroad office or as faculty leaders and others who are taking part in these decision-making roles and, how can we create kind of a pipeline for people with disabilities to become leaders in these different areas and be that kind of next generation of leadership. So I would keep that at the forefront as well. FASKIANOS: Great. HOLBEN: And, you know— FASKIANOS: Uh-huh. HOLBEN: Oh, go ahead. FASKIANOS: Oh, I was just going to call on Kimberly Pace. She raised her hand. HOLBEN: Oh, perfect. Yes. Looking forward to hear Kimberly. FASKIANOS: From the University of Alaska Anchorage. Q: That's brilliant. Oh, I'm just so appreciative of this forum, and thank you both so much. As a person with a physical disability it never occurred to me as a college student to ever go—even ask the question about study abroad and I—certainly, you're blowing my mind that there are resources to allow students to do this. I teach international relations and comparative politics, and I am just beyond giddy that there—(laughter)—are options for students because that's something that, personally, I, you know, never got to experience and never, certainly, was encouraged to do that. So I'm very excited. I just want to say thank you very much for the information. So thank you. HOLBEN: We're right there with you, Kimberly, as far as the giddy factor. And, you know, thank you so much for sharing that experience because, actually, that is—I think that inclusive, that welcoming, encouraging messaging is so important and we kind of go into detail about that on one of our tip sheets about inclusive recruitment. But even just something as simple as a message on an opportunity that says people with disabilities encouraged to apply, you never know who that's going to make all the difference in the world to and one prime example is our organization, Mobility International USA, might not exist if our CEO, who is a wheelchair rider, hadn't done her Rotary exchange program in Australia, which kind of spawned this idea of what Mobility International USA should be, and what led her to participate in that Rotary exchange program was seeing just a simple ad in the newspaper that said people with disabilities encouraged to apply. And who was responsible for putting in that little line? We're not sure. But it kind of led to this chain of events that kind of brought us to where we are here. And, you know, there are so many folks in the field in higher education who are—they don't have all the answers and they don't have a lot of—they might not have personal experience with disability. But I think if they can help be a champion, an ally, and be kind of someone who says, well, let's figure this out, or let's see what's possible and not shut it down, I think that that's often what has led to all of these amazing outcomes and impact stories from the folks who have shared their experiences with us on our website and then who knows how many more are out there. So, sounds simple, but it can have an important impact. FASKIANOS: So we have a written question from Mark Scheinbaum, who's at the Florida International University: What updates or guidance do you have for students with de jure and/or de facto comfort pets that are needed for completion of usual and customary academic tasks? HOLBEN: If you can leave the questions up a little longer. Then I can— FASKIANOS: Oh, sure. Sure. Sorry. HOLBEN: That's OK. FASKIANOS: I'll put it back. HOLBEN: Well, I would just, first of all, make sure that you're familiarizing yourself with the distinction between—you kind of use two different terms here. So there are comfort animals or emotional support animals, and then there are service animals, which are trained to do a specific service. Comfort animals and emotional support animals aren't necessarily trained to perform a specific service related to a disability-related accommodation whereas a service animal is. So maybe that service is helping to detect the onset of an epileptic seizure, or the service is being able to help the person open doors or pick up items from the floor, or, of course, sight dogs for folks who are blind or visually impaired, for mobility. And so, anyway, that's going to be a really key distinction for whether or not it's going to be appropriate to have a service animal or an emotional support animal in a higher education setting, and especially that becomes more complicated when you're talking about going abroad to another country where you're also considering factors—not just the laws but also the cultural factors whether dogs are welcome in every restaurant or if it's an animal that's very taboo and you don't keep them as pets, let alone travel around with them. And so all of those questions are going to come into play. We do have some tip sheets on our website that go into more detail around some preparation for bringing animals abroad, what you should know related to quarantine, vaccinations, and things like that. So search for animals on the MIUSA website to access some of those tips. FASKIANOS: Great, and we'll send out links to that section, Ashley, after this so people can access it easier. HOLBEN: Oh, great. Yeah. FASKIANOS: So another written question from Erin Reed, and I will leave it up so you can see it— HOLBEN: Oh, thanks. FASKIANOS:—who's the student services and admissions advisor/DSO at California State University San Marcos: What are your suggestions for a university study abroad program that is not made aware of a student's disability prior to the student's arrival? HOLBEN: I think my number-one suggestion would be rather than waiting for one student to participate start thinking about it now what are some ways we can build in some inclusive practices into our programming. So one thing that some programs might do is, well, maybe people aren't disclosing their disability because we're not giving them the opportunity to do so. So including questions in some of those post-acceptance forums that ask how can we make this program—how can we help set you up for success in this program. Might also ask specifically, including related to disability accommodations so that folks know that—I think it's really important for prospective students or otherwise to just know that they're being anticipated, that someone is thinking, yes, like, we're totally expecting that at some point some students with disabilities will participate in this program. And I think that that can be—really signal to students, OK, this—we're coming from a place that or we're going to be interacting with folks who are anticipating me and, even if they don't know all the answers to my questions they're not going to shut me down. So I think that some of those types of—whether it's just amending some of your forms or putting information on your program website, having inclusive images such as if there are images of people with apparent disabilities participating in the program, seeing themselves reflected in those images can be just as important as an inclusive written message. Let me go back to that question. Sorry. It went away again. (Laughs.) FASKIANOS: If you click on the answered question. HOLBEN: I got it. Yeah. FASKIANOS: OK. And then I have two more written questions. Everybody's sending in their questions at the end here. (Laughs.) HOLBEN: But just also, going back to Erin Reed's question, if the program—it sounds like, we didn't know that there was a student with a disability planning to arrive. Now we—we have this—these things that we need to figure out in the meantime. One more thing I'll just say about how to maybe avoid that situation is working with—oh, this is so important—collaborating with the disability services office and other similar services on the campus to be able to arrange some kind of system. So a lot of institutions—for example, their study abroad offices will share a list of all of the students who are enrolled in study abroad for that upcoming semester and they'll share it with the disability services office so that they can kind of go through and say, oh, well, we recognize—and this is all just privately on the disability services side to protect the students' privacy—but they will kind of flag, oh, this is a student that we work with. And so what they might then do is connect with that student directly and say, hey, we learned that you're going abroad—do you want to talk about some of the questions you might have or is there anything that we can do to support you and can we—are you comfortable with inviting those—the international advisors into this conversation so that we can just kind of put everything out in the open and we can figure out all the best ways to support the—that student. So, I would say, that's so important that we used to at NCDE pay people to take each other to lunch from the study abroad office and the disability services office because too often we heard, oh, yeah, they're just right across the—you know, their office is literally right over there. I can see them from our office. But we've never talked to them or—and we don't really know what they do. So I think just to have it breaking some of that ice early on and not waiting for the time when there's a student with a disability there but just kind of building that into your process, and that can also be helpful for collecting data as well. The Institute for International Education has an annual Open Door survey that provides data and statistics around who is participating in an international exchange and they've started including a question—some questions related to disability so that, hopefully, over time we can kind of see is disability—are people with disabilities being represented in international exchange in greater numbers, what types of disabilities do they have, and so on. So working with the disability support office is one great way to also collect that type of information too, which is going to really help the field and, hopefully, help more people with disabilities to be able to participate in international exchange. FASKIANOS: So we have a question from Andrew Moran from London Metropolitan University: In the U.K. inclusion is not just about access or being in a classroom. It is also about inclusive assessment methods. I wonder if you have any resources—if you know of any resources that suggest assessment methods that would allow neurodiverse or physically disabled students to fully engage and not be excluded. They've done away with exams because you can't rely on an elevator to work to get to an exam room, let alone the barriers in the exam might pose for neurodiverse students. And he's leading a working group on allowing students to choose, create their own assessment method to enable greater diversity and meet students' needs but always looking for new ideas. HOLBEN: Oh, that's really interesting. Thanks so much for sharing that, Andrew, and for sharing the example at your own institution as well. And I would love to hear other folks respond to this, too. As far as—one, again, I would really encourage you to check out Think College as a prospective resource for—especially just because you mention neurodiverse students. So Think College operates at different campuses right now—for now, I think, only in the U.S. Perhaps their network is growing beyond that as well. But it's kind of this network of professionals who work with—to try to get students not only with intellectual disabilities but also those who are neurodiverse, including those who are on the autism spectrum. And so they are really a fantastic source of expertise for everything from inclusive education or specialized support and accommodations and pedagogy. So I think that they would be probably the ones to connect with about this question in particular. But if other folks have other ideas in response to Andrew, I'm sure we'd all appreciate it. And maybe while we're thinking of that, we'll check out this next one. FASKIANOS: Right. McKennah Andrews with the Mansfield Center: We have a blind participant on an upcoming international program taking place here in the U.S., and MIUSA's resources have been so valuable. Can we touch on the topic of personal assistants? What advice or testimonies might you have regarding engaging with personal assistants during a program? HOLBEN: Yes, absolutely. So personal assistants can look like a couple—many different things, actually. You might even—since you mentioned having a blind participant, this might not be what you meant but some—for some folks who are blind they may have had some sighted guides during their exchange programs abroad. So that's another example where a student who—or a person who is used to one type of access accommodation or assistive devices or technology in their home environment might have to look into some different ones for their host environment. So we've known some people who are really—have great cane skills for orientation and mobility and strong independent mobility skills in their home environment but have felt more comfortable having the program help arrange a sighted guide for them when they're going to, perhaps, countries where—or environments that are a little more chaotic or where, for whatever reason, their usual skills might not work out. Or, again, if that person uses a service dog in—or service animal in their home environment and that wouldn't really be feasible in the home environment then having that kind of human guide or a personal assistant might be one method that they look into. Personal assistants might also provide everyday living services—you know, feeding or using the bathroom or just getting ready throughout the day, assisting with lifting and transferring, and that's going to—might—again, as somebody who—we've seen some instances where people in the U.S. who don't use personal assistant services might opt for that when they're going to a place where, you know, they might need to be lifted more often because the infrastructure is not as—going to be as smooth or not as accessible. And so we've seen different situations where sometimes they are—the personal assistant in question is someone they've worked with a long time in the U.S. Sometimes it might be a peer who attends their school. Sometimes it's a parent who travels. I've definitely seen all kind of different types of—oh, and also a local person that's hired in the country to provide personal assistant care. So it's really interesting just to kind of be aware of all of the different ways that that might look and check out—again, we have a specific tip sheet about that—actually, a series related to personal assistant services. So, yes, we can talk about personal assistant services and we have kind of a suite of resources related to that so there's a lot that can be said. So thanks for bringing that up. FASKIANOS: Terrific. We are almost out of time, and I did see that there was a raised hand from Justice Chuckwu— HOLBEN: Fantastic. Let's hear from Justice. FASKIANOS: —disability rights, Oregon. He lowered his hand but—oh, there we go. And if you can ask it quickly and unmute yourself that would be great. HOLBEN: I think we've met before, Justice. Hello. HOLBEN: Oh, hi. There's Justice. Q: Hello. HOLBEN: Hello. Q: Yeah, I think we met a couple times. Yeah. So my name is Justice and, yeah, I'm so much appreciative of this program. And I always have a simple question and the question is how do we—how do we unify orientation for international students with disabilities, given the fact that they come from different backgrounds and most times there are just maybe one or two or three in one university or one college and may not be able to really understand the environment early enough. Maybe by the time they would get to understand the environment they might be getting to the mid-semester. So my question is, is there a way to kind of unify the orientation, especially since we now have online—things could be done online to unify the orientation to make sure that students—international students with disabilities are not left behind. HOLBEN: Mmm hmm. Yes. Thank you, Justice. And, actually, it was your bringing that to light that kind of got—we started incorporating that question into some of our resources and, in fact, you helped contribute to one of our webinars on this very topic of support for international students with disabilities coming to different campuses in which you kind of described that feeling of how do I connect with other people with disabilities, especially other international students with disabilities, who might be able to share in some of these experiences so I don't feel so alone in this. And I really—that really sparked a lot of ideas but one of which is, might there be some kind of opportunity for a student group of international students with disabilities but bringing together students from different campuses to be able to share their experiences. And so that's something that we at the NCDE are exploring more. But as for existing resources, in addition to the webinar that Justice contributed to we also added some others related to just sharing some best practices from our—MIUSA leads an orientation for high school exchange students with disabilities who are arriving to the U.S. for a State Department-funded scholarship program and we—as part of this orientation we incorporate information about your rights as a person with disabilities while you're in the U.S. and how to advocate for yourself if there's something that you need but aren't getting, how to fully participate in all of the opportunities while you're there. So I think that those are the—some of the same messages that could be really beneficial to folks entering U.S. higher education from different parts of the world and just learning about U.S. disability culture and those steps for taking advantage of all of the resources available to you. So, yeah, you're absolutely right, Justice. There's more work to be done, and I think folks like you who are voicing kind of those needs—those firsthand gaps that you've identified is kind of one of the first steps in helping to build out some of these resources. FASKIANOS: Fantastic. Well, we are out of time. In fact, we're a little over. HOLBEN: Oh. (Laughs.) FASKIANOS: So, Ashley Holben, thank you so much for doing this. We really appreciate it, and to all of you for your questions and comments. Again, we will be sending out a link to this webinar transcript as well as to the resources that Ashley mentioned. So stay tuned for that. Our next Higher Education Webinar will be on Wednesday, February 22, at 2:00 p.m. Eastern Time with Jeremi Suri, who will lead a conversation on teaching the history of American democracy. And just please do follow us at @CFR_Academic and visit CFR.org, ForeignAffairs.com, and ThinkGlobalHealth.org for research and analysis on global issues. Ashley, again, thank you very much for doing this. We appreciate it. HOLBEN: Thank you. Thank you for—to everyone who attended for your time and thanks to CFR for getting this on the agenda. I really appreciate it also. FASKIANOS: Great. We look forward to everybody continuing to participate in this Higher Education Webinar series. Have a good rest of your day. (END)
College and University Educators Workshop
CFR hosts an annual workshop for university and college professors, the College and University Educators Workshop, which features expert briefings on global issues and discussion groups on best practices for teaching international affairs. For more information about future workshops, please email [email protected].
College and University Educators Workshop Sessions
The 2021 Virtual College and University Educators Workshop convened professors from across the country for substantive expert briefings and group discussions on foreign policy issues, to learn about the wide variety of CFR and Foreign Affairs academic resources available, and to share best practices and educational tools for bringing international affairs into the classroom.
Kim K. Azzarelli, Jamille Bigio, and Richard Fry analyze factors underlying the global gender wage gap and discuss the benefits of gender parity, with Elmira Bayrasli moderating.
Student Events
Back-to-School Event
Each year, CFR invites college and university students and professors to the annual Back-to-School Event in New York. The program includes a panel discussion with foreign policy experts on a pressing issue, a presentation of the latest CFR multimedia resource, and a networking session with CFR representatives. 
Watch the 2019 event celebrating the tenth anniversary of the podcast The World Next Week with a live taping before a student audience.
Student Briefings
Each year, CFR welcomes a limited number of college and university student groups to its New York headquarters and Washington, DC, offices to learn about the organization and meet with CFR fellows and staff (*Note: All briefings are currently conducted virtually). Briefings may include an overview of CFR and its mission, a foreign policy discussion with a CFR expert or Foreign Affairs editor, or a short presentation on job and internship opportunities. A minimum of twenty students is required to arrange a visit, and briefings are scheduled on a first-come, first-served basis. For more information and to apply, please fill out the CFR Briefing Request Form. 
Conferences
2023
CFR Academic participates in conferences across the country by hosting exhibitions, meetings, and workshops. Meet CFR representatives and learn more about our resources at upcoming conferences. Contact [email protected] for more information.
CFR Discussion: Geopolitics in the Middle East
March 17, 2023
The conversation featured Steven A. Cook, Eni Enrico Mattei senior fellow for Middle East and Africa studies and director of the International Affairs Fellowship for Tenured International Relations Scholars at CFR; Nicole Grajewski, Stanton nuclear security postdoctoral fellow in the Belfer Center for Science and International Affairs at Harvard University; and Catherine E. Herrold, associate professor of public administration and international affairs at Syracuse University. Lawrence P. Rubin, associate professor in the Sam Nunn School of International Affairs at the Georgia Institute of Technology, moderated the discussion.
Surveys
Commissioned from Gallup, a December 2019 survey by CFR and the National Geographic Society revealed that adult Americans exhibit gaps in their knowledge about geography and world affairs. While the report shows that U.S. adults have limited knowledge about these topics, seven in ten respondents consider international issues to be relevant to their daily lives and express a desire to promote education in these areas.
Partners
CFR partners with educational institutions and research centers to foster a deeper understanding of international relations and an enduring interest in U.S. foreign policy.
Contact
For more information about CFR Academic programs, please contact [email protected]. Follow us on Twitter at @CFR_Academic.