Reversing the Flow
September 23, 2005 5:34 pm (EST)
Backgrounder

Current political and economic issues succinctly explained.
This publication is now archived.
Introduction
Images of desperation along the U.S. Gulf Coast reversed the usual pattern of relief donations as nations around the world opened their hearts and wallets. Four Arab countries—Kuwait, Saudi Arabia, Qatar, and the United Arab Emirates—pledged $100 million each. Kuwait, liberated from an Iraqi invasion by a 1991 U.S.-led coalition, offered an additional "in-kind" donation of $400 million worth of oil. Nations without deep pockets—or deep wells—also contributed to the relief efforts. Among them are countries that have been on the receiving end of U.S. disaster-relief assistance in recent years: Tsunami-ravaged Sri Lanka pledged $25,000; Honduras offered 134 rescue specialists; and Afghanistan offered $100,000.
Foreign Donations for Katrina Relief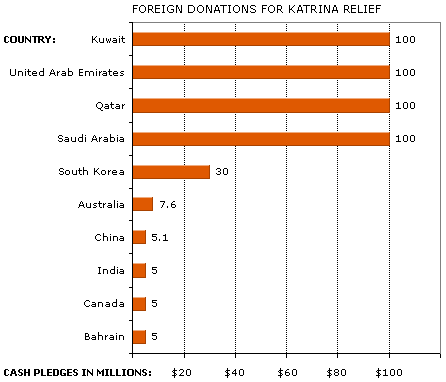 Source: U.S. State Department/Claire Calzonetti, cfr.org
More detail: U.S. State Department Donors List; Foreign Policy