Sustainable Development Goals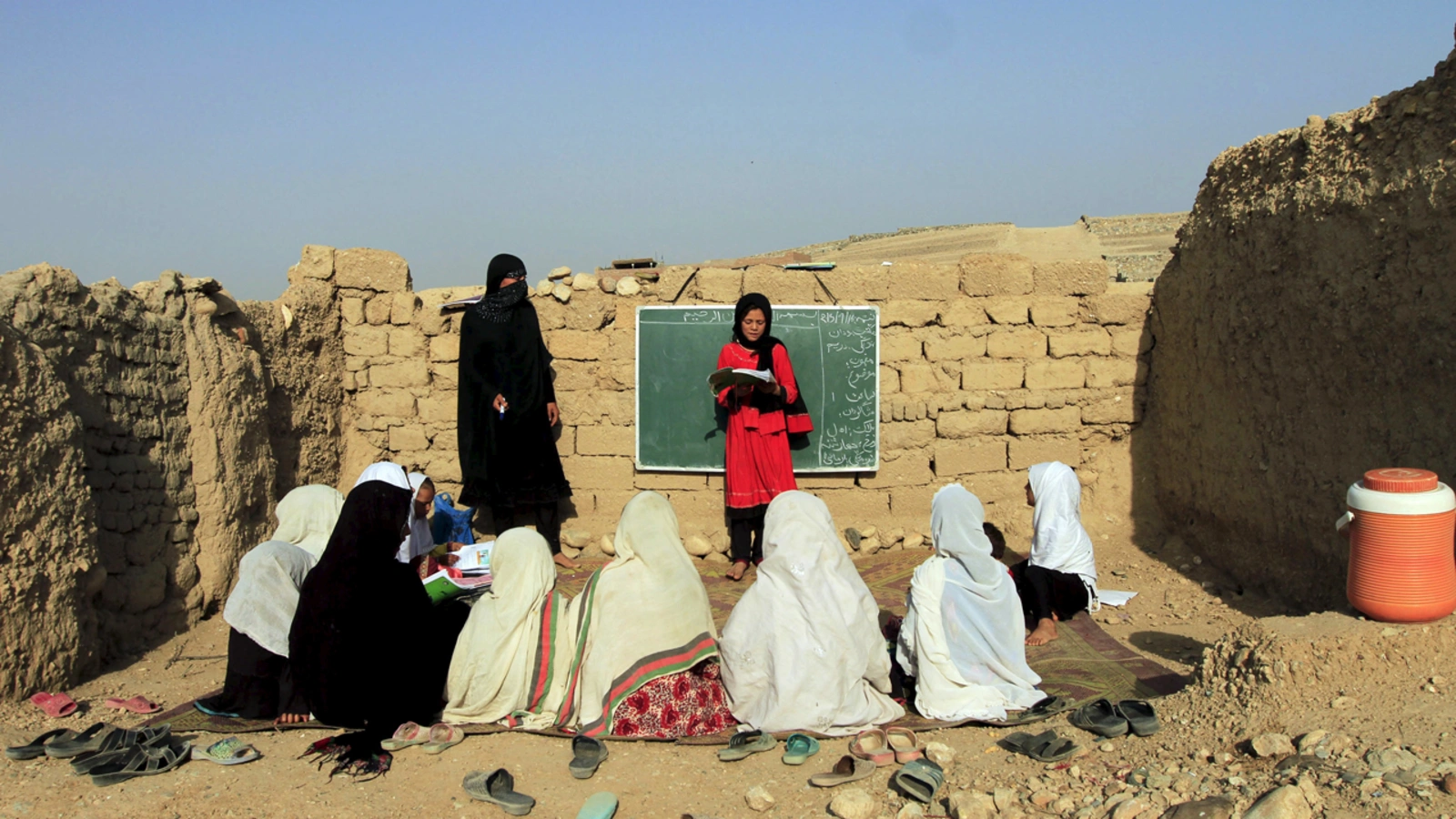 The UN's sweeping new development agenda aims to "provide the overarching narrative" of sustainable growth for the next fifteen years, yet critics say the Sustainable Development goals are broad, unfocused, and unrealistic.
September 23, 2015 2:15 pm (EST)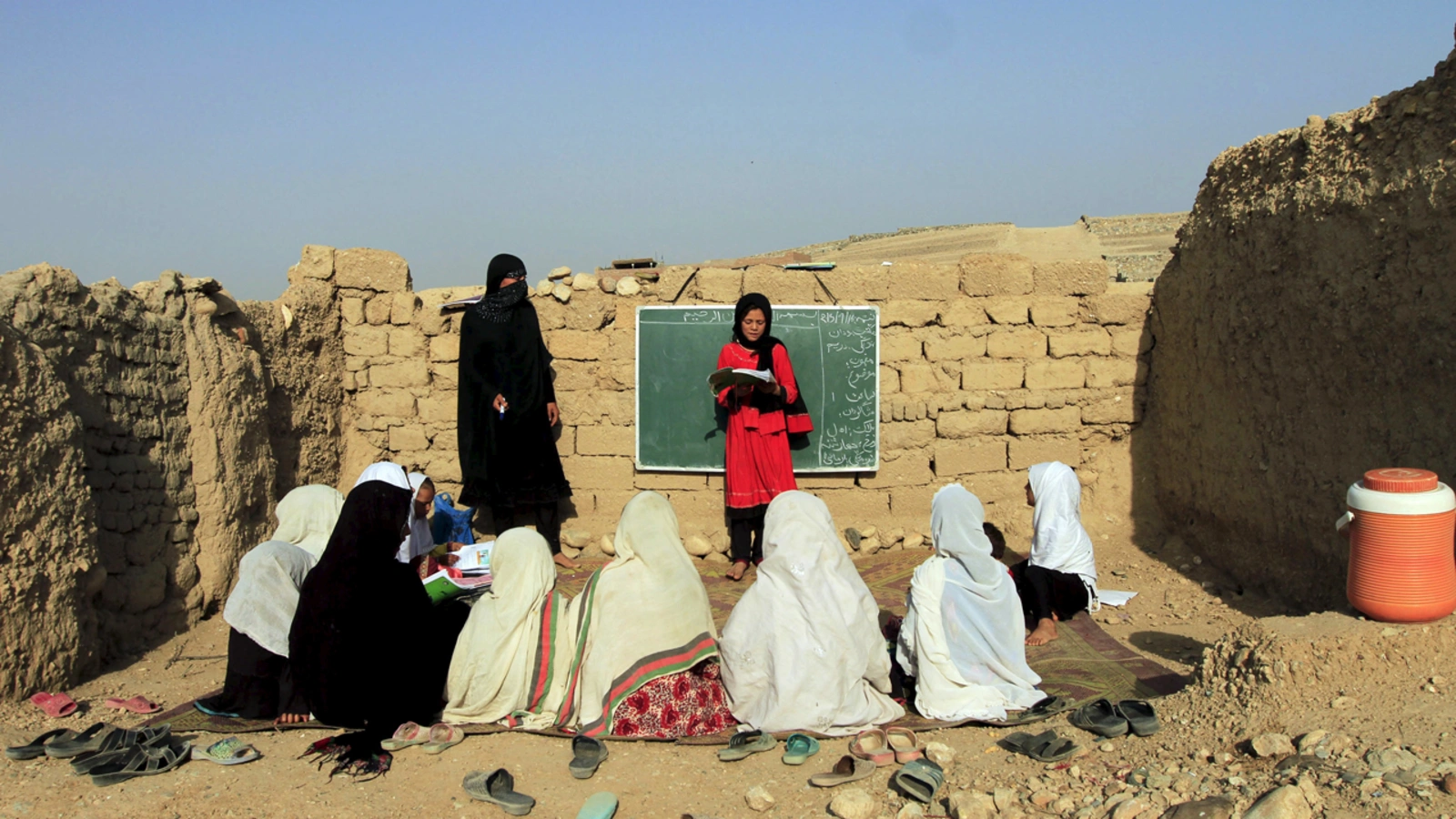 Backgrounder

Current political and economic issues succinctly explained.
Introduction
The seventieth UN General Assembly adopted an expansive and ambitious set of development goals that aim to "end poverty in all its forms" by 2030. The seventeen Sustainable Development Goals (SDGs) will succeed the Millennium Development Goals (MDGs) as the UN's chief initiative for advancing basic living standards in the world and addressing a range of issues, including armed conflict, climate change, and equality. Supporters say this set of nonbinding goals enjoys unprecedented input from governments and NGOs and will "provide the overarching narrative" of sustainable development, while critics say they are too broad, unfocused, and unrealistic.
What are the Sustainable Development Goals?
The SDGs are a set of seventeen goals comprising 169 targets and indicators for reducing poverty and improving environmental sustainability. Conceived of at Rio+20, the 2012 UN Conference on Sustainable Development, the SDGs were developed with input from the UN's 193 member states and an array of nongovernmental organizations.
UN Secretary-General Ban Ki-moon says the SDGs, which would replace the MDGs in January 2016, are based on six essential elements: "dignity, people, prosperity, our planet, justice, and partnership." Many development experts have noted the ambitious sweep of the goals, which include:
Ending poverty in all its forms everywhere;
Ending hunger;
Achieving gender equality;
Ensuring healthy lives and promote well-being for all at all ages; and
Ensuring access to affordable, reliable, sustainable, and modern energy for all.
How are the SDGs different from the MDGs?
The MDGs are a set of eight goals enacted in 2000 that aimed to eradicate extreme poverty, which the UN defined as earning less than $1.25/day, by 2015. These goals had a special focus on improving global health, such as:
Reducing child mortality;
Improving maternal health; and
Combating HIV/AIDS, malaria, and other diseases.
While the MDGs focused primarily on poverty and health, the SDGs also cover the environment, human rights, and gender equality, among others. According to the Guardian's Liz Ford, the MDGs "failed to consider the root causes of poverty, or gender inequality, or the holistic nature of development." She writes that the MDGs were primarily targets for poor countries to work toward (with financing from wealthy countries), while SDGs demand action from all countries.
The MDGs were drafted by a small team of technical experts at UN headquarters, while the SDGs were drafted over years by an intergovernmental Open Working Group (OWG) that comprised representatives of seventy countries. "The SDGs are a shift in the paradigm for international development," says Sarah Hearn, associate director and senior fellow at New York University's Center on International Cooperation. "The MDGs were about resource transfer from rich countries. The SDGs are universal—they're supposed to apply to all countries and try to overcome the 'West lecturing the rest' dynamic."
The SDGs are also expected to be more costly. While estimates vary, analysts say it could cost as much as $4.5 trillion per year in state spending, investment, and aid to meet the SDGs. However, a 2014 UN report estimates that infrastructure investments necessary to create jobs and sustain growth alone could reach $7 trillion annually. Bjorn Lomborg, an economist and director of the Copenhagen Consensus Center, attributes $200 billion of $900 billion in aid spent between 2000 and 2014 to the MDGs; he says the SDGs could direct as much as $700 billion in aid over the next fifteen years.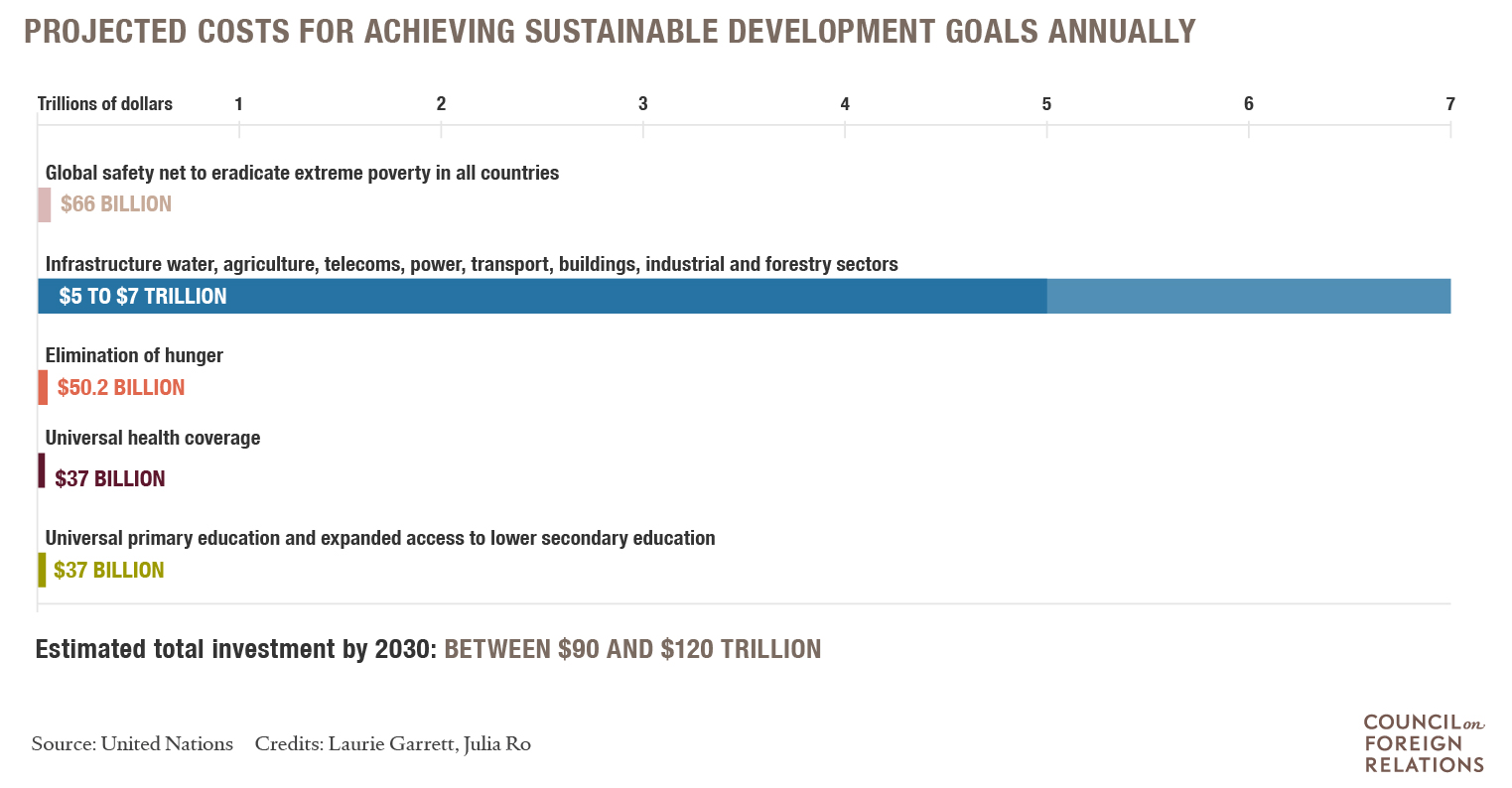 How successful were the MDGs?
Success on the MDGs has been mixed. Between 1990 and 2015, extreme poverty in developing countries fell from 49 to 14 percent, the proportion of undernourished people fell by almost half, the mortality rate for children under five dropped by more than half, and maternal mortality deaths declined by 45 percent. Garrett writes that global health has improved so dramatically since 1990 that "we almost live on a statistically different planet."
Still, a UN progress report on the MDGs [PDF] noted that in 2014, gender and income inequality persisted, millions remained in extreme poverty, an estimated sixty million people were displaced by conflict, and climate change and environmental degradation had reversed many economic gains and disproportionately affected poor people.
Some economists question how much the MDGs can be credited with reductions in extreme poverty. They point to China's economic growth and increased trade as having been more important to eradicating poverty than foreign aid. (Between 2000 and 2015, extreme poverty in China fell from 61 percent to 4 percent.) A 2015 UNICEF report [PDF] found that while the MDGs contributed to "tremendous progress" for children in developing countries, the UN's focus on national averages may have encouraged some countries to overlook the poorest of the poor. "In setting broad global goals the MDGs inadvertently encouraged nations to measure progress through national averages," shifting focus away from those "greatest in need," writes Anthony Lake, UNICEF's executive director.
How will SDGs be financed?
Developing countries, through tax revenues and private investments, provide "the vast bulk" of resources for development, says Homi Kharas, senior fellow and deputy director for the Global Economy and Development program at the Brookings Institution. Kharas found that developing countries, excluding China and India, mobilized $2.8 trillion in development financing, including $2.3 trillion in government revenues, in 2011. Meanwhile, OECD countries, thirty-four of the world's most advanced economies, gave $135 billion in aid to developing countries in 2014.
The UN Conference on Trade and Development says the SDGs face an annual funding gap of about $2.5 trillion [PDF]. Delegates from more than one hundred countries convened in Addis Ababa, the capital of Ethiopia, in July 2015, where they agreed on a financing framework for the SDGs that emphasized international tax reform and private investment. Ban called the agreement a "critical step forward." Hearn, however, says the summit was disappointing. "Countries didn't put new resources on the table. BRICS [Brazil, Russia, India, China, and South Africa] and rising countries held that hostage, so we don't have concrete plans and actions for how to achieve the SDGs," she says, adding that private investments would be critical to make up for lagging government contributions.
Resolving tax fraud is seen as crucial to closing the funding gap: Developing countries lose nearly $1 trillion [PDF] a year to "illicit financial flows," according to the NGO Global Financial Integrity. The developing countries that comprise the G77 had advocated for the creation of a new UN body to crack down on tax evasion, something that did not come to fruition in Addis Ababa. At the meeting, Ban called on OECD countries to make good on a 1970 pledge to donate 0.7 percent of their gross national income (GNI) to development assistance. (In 2014, the United States gave $32.7 billion in development assistance, approximately 0.18 percent of its GNI.)
How is progress on development goals measured and how are they monitored?
The UN Statistical Commission is tasked with assigning and measuring indicators of progress toward the SDGs, and Hearn says negotiations to create a UN body to hold governments to account on the goals are ongoing.
"These are voluntary agreements. They're not treaties. There will be an effort to review how countries—including developed countries—are doing across these indicators, but ultimately these governments are accountable to their own citizens," says Kharas, adding that there is little that global governance can do if countries choose not to apply SDGs.
Bill Gates, whose foundation, Bill and Melinda Gates Foundation, supports the MDGs through grant work in agricultural development, vaccines, malaria, and HIV/AIDS, compares the development goals to a report card. "The MDGs aren't a test that the world will either pass or fail," he writes. "Without the MDGs, we wouldn't have any idea who was acing the test and who was struggling to get by."
One program that seeks to make countries accountable to donor states is the U.S. Millennium Challenge Corporation (MCC). Launched in 2004, the MCC provides large-scale grants to countries committed to "good governance, economic freedom, and investments in their citizens" to pursue the MDGs. The program has allocated $10 billion in funds since 2004.
What are the main critiques of the SDGs?
The SDGs have drawn criticism for being too broad. An Economist critique argues that the seventeen "overarching" goals "shows what happens when a bureaucratic process runs out of control." Speaking in New York in 2014, UK Prime Minister David Cameron said he worried there were too many goals to communicate effectively. "There's a real danger they will end up sitting on a bookshelf, gathering dust," he said.
Lomborg argues that some of the SDGs absolutist targets, such as ending malnutrition, malaria, and tuberculosis, are "implausibly optimistic and inefficient," and argues that investing in nineteen of the most cost-effective targets, instead of all 169, could produce better results.
Proponents of the goals, like Columbia University economist Jeffrey Sachs, the UN Secretary-General's special advisor on the MDGs, argue that they serve to mobilize support and resources, create "peer pressure" for political leaders to work to end extreme poverty, and form "epistemic communities" to advise governments and organizations on best practices. "Global goals helped to galvanize a global effort," writes Sachs.
Experts agree success in SDGs success depends on their implementation. "In the next six months, it's incumbent upon the UN, the UN system, and different countries to coalesce around different concrete plans to achieve the SDGs," says Hearn. "Otherwise, we'll lose what was advantageous about the MDGs, which is that they were galvanizing."