U.S. Aviation Infrastructure
The U.S. air travel system is the most heavily used in the world, but it needs a much higher rate of investment to modernize and improve efficiency.
May 28, 2015
Backgrounder

Current political and economic issues succinctly explained.
Introduction
U.S. aviation infrastructure—including airports, air traffic controls, and aircraft—is a vital link in the U.S. transportation system. Its relative performance and outlook, though, is mixed. More people travel by air in the United States than on any other nation's system but the U.S. system ranks behind other major industrialized states in performance. Its airports perform poorly on international rankings, and no U.S. airline rates among the top performing global carriers.
Although U.S. travelers benefited from falling fares in the initial decades following deregulation in the late 1970s, prices have begun to rise again in recent years and may continue to rise as bankruptcies and mergers limit competition among airlines. The Federal Aviation Administration's (FAA) NextGen program and planned airport improvements may cut costs. At the same time, the FAA faces challenges to safety regulations from the emergence of drone technology, a potentially promising area for commercial aviation.
Economics of Aviation
Civil aviation is a critical enabler of U.S. growth. It accounted for 5.4 percent of U.S. GDP in 2012 (compared to 3.4 percent for the United Kingdom and 3.5 percent for the entire world) and supported 11.8 million jobs, more than 20 percent of the global total. Americans take more trips annually (593 million in 2013) than any other nation, ranking seventh globally in air trips per capita. While non-U.S. aviation industries are expected to outpace U.S. aviation growth in the coming years, it is still expected to have the most trips in 2020. The FAA forecasts that U.S. passenger flights will grow at an average annual rate of 2.7 percent through 2030 (following the expected GDP growth rate), but air freight tonnage is expected to grow at 5.1 percent per year, more than doubling by 2030.
Aircraft manufacturers, such as Boeing, are typically far more profitable than airlines and airports, holding the largest positive trade balance ($54.3 billion) among U.S. industries. However, manufacturers held a paltry 3 percent of the global air industry's total capital investment—which had reached $1.2 trillion globally by 2011—compared to airports (36 percent) and airlines (54 percent for both direct and through lessors). Airports and airlines earn lower returns on invested capital, and while airports are typically stable investments that benefit from low borrowing costs, airlines generally have volatile earnings and higher borrowing costs.
In the thirty-year period after deregulation began in 1978, U.S. airlines lost nearly $60 billion. However, U.S. airlines now rank among the world's most profitable thanks to a boost from market consolidation and tight capacity. Airlines have exerted greater discipline in holding capacity by focusing on increasing fares and filling all seats on flights.
Volatile fuel costs are airlines' largest operating expense. Passenger traffic is susceptible to demand shocks because demand for air travel exaggerates economic changes; swinging up strongly during economic booms with sharp declines during recessions. In the United States, a 1 percent change in per capita income is estimated to increase or decrease demand for air travel by 1.6 to 2 percent. The growth of low-cost carriers has hampered the ability of higher-cost legacy carriers to raise fares without surrendering market share. Airlines also have an incentive to expand their networks to increase the attractiveness of their frequent flyer programs and to bid for lucrative corporate contracts.
But travelers have clearly benefited from lower prices. Real prices in the United States have fallen by about half over the last thirty years, accompanied by considerable turmoil in the market; there have been nearly two hundred bankruptcies since 1990, including all of the legacy carriers. Airline mergers have concentrated the industry; once the American Airlines and U.S. Airways merger is complete, the top four airlines will control over 80 percent of the U.S. market. Recent consolidation may lead to higher prices on less popular routes, while airlines continue to benefit from lower fuel costs and higher economic growth, which typically stimulates consumer demand.
Funding Airport Infrastructure
U.S. aviation infrastructure moves more people than any other nation's system—more than twice as many as China, the world's second largest. Yet the United States lags on performance indicators compared to other leading industrial economies. No U.S. airport made the top twenty-five of the latest World Airport Awards, an annual customer rating of best airports. No U.S.-based airline made the top ten for on-time performance among global airlines compiled by FlightStats, a flight data services company. Four U.S. airlines ranked in the world's top six for oldest aircraft fleet.
Lagging performance by the U.S. aviation system may partially be explained by lower investment in the last decade. Every two years the FAA submits a consolidated five-year plan to Congress on airport improvement, comprising project ideas for over three thousand U.S. airports. The 2015 edition showed a twenty-one percent decrease in development projects. This is due to a variety of factors, including lower growth expectations and less traffic as passengers occupy fuller and fewer flights.
While total U.S. public aviation infrastructure spending on operations and maintenance has been slowly growing in the last ten years, capital spending has declined, from $21 billion in 2004 to $13 billion in 2014. Reasons for this include a decline in the federal share of spending, project delays due to budgetary constraints, and the Great Recession (2007-2009). From 2013 to 2017, annual development costs at U.S. airports are expected to plateau at $13.6 billion. Delayed infrastructure investment can be costly in terms of time lost due to airport delays; the FAA estimates a cost to the U.S. economy of $24 billion annually.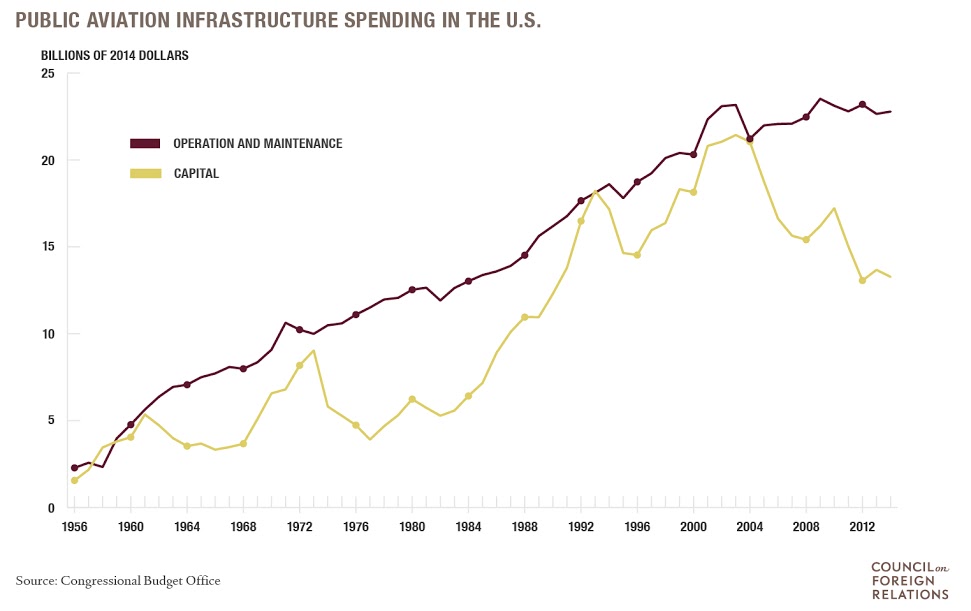 U.S. airports also tend to fare poorly on intermodal transport compared to foreign counterparts. The Global Gateway Alliance, a nonprofit organization that advocates for greater infrastructure investment in the New York metropolitan area's three major airports, ranked the world's thirty busiest airports on mass-transit connections; only one U.S. airport, Atlanta's Hartsfield-Jackson International Airport, ranked in the top nine, while six U.S airports held spots in the bottom nine. U.S. airports are controlled and funded by local authorities, with about 55 percent of revenue derived from aviation. The remaining income comes from sources such as parking and retail fees. Public control allows airports to benefit from lower borrowing costs, due to lower default risk and tax deductible interest for bondholders. Local airport authorities provide most capital investment, primarily financed through bonds. There is some federal support; of the estimated $13.6 billion in capital investment, the FAA's Airport Improvement Program will contribute $3 billion in annual federal funds through grants.
Despite playing a smaller role than local authorities in airport investment, the federal government has a substantial role in aviation. The FAA spends over $7 billion annually on air traffic control operations, and over $1.2 billion in developing and enforcing new safety standards and aircraft certifications. The federal government also controls air travel security through the Transportation Security Administration and negotiates Open Skies Agreements, agreements aimed at creating a free-market environment among international carriers, with other nations.
The federal government also collects taxes and regulates certain fees, including a passenger facility charge (PFC) that airports collect for every boarded passenger. Airports use this money for FAA-approved projects such as terminal improvements, enhanced security measures, or to service debt. Collections from this charge totaled $2.8 billion in 2013, but the PFC has been capped at $4.50 per passenger since 2000 with no adjustment for inflation, and much of that funding is already committed to retiring debt from prior projects. In its fiscal year 2014 and 2015 budgets, President Barack Obama's administration has proposed raising the cap to $8.00 to account for inflation, but Congress has not yet approved the increase.
Canada and several European nations have successfully privatized airports, but the United States has had minimal success. In 2010, 48 percent of European passenger traffic was handled by the 22 percent of airports that were fully or partially privately owned. Though the FAA established a pilot program for airport privatization in 1996, only the Luis Munoz Marin International Airport, in Puerto Rico, has been privatized, and there is only one active applicant in the program: Hendry County Airglades Airport in Florida. Two major factors have limited U.S. success [PDF]. First, privatization in the United States would typically require agreement at multiple levels of government, while most privatized airports abroad were owned by their national governments, simplifying the approval process. Second, publicly controlled U.S. airports benefit from lower borrowing costs because state and local governments can issue tax-favored debt, but few foreign airports enjoy similar benefits, and therefore lose less in the transfer to private hands.
FAA's NextGen
Improving airport infrastructure is not limited to airports and rail connections. The FAA plans to revamp the air control system with a program known as NextGen, a "wide ranging transformation of the entire national air transportation system" that the FAA says will help the air control system to "meet future demands and avoid gridlock in the sky and in the airports."
NextGen aims to improve safety, cut costs, increase existing airports' capacity, and make available more airspace by collecting and sharing more accurate data among air traffic controllers and pilots. The program will replace the FAA's current land-based radar system with a more sophisticated GPS satellite-based system. The new system, slated for completion by 2020, will allow air traffic controllers to track the locations of planes in flight more precisely, allowing for takeoffs and landings to occur closer together, and improves landing safety in poor visibility.
The FAA's implementation of NextGen has generated criticism. A May 2015 report from the National Academy of Sciences—done at Congress' behest—called for more emphasis on cybersecurity and the growth of drones. The report also found that NextGen had shifted from its original vision of a transformative change to one emphasizing more incremental improvements and replacing and modernizing aging equipment and systems.
The FAA's current NextGen business case [PDF] estimates the program, which they say will cost the FAA $13.6 billion and airlines $15 billion, will yield $133 billion in benefits between 2013 and 2030. The FAA expects airlines to pay at least $7 billion to revamp their current fleets and has mandated complete fleet compliance by 2020 [PDF]. Globally, an estimated $120 billion will be spent over the next ten years on similar efforts. Europe's SESAR is taking a similar approach, and since March 2011, both SESAR and NextGen programs have worked toward harmonization.
Rise of the Drones
Another area of technological innovation with potentially profound implications for civilian aircraft use is unmanned flight. There has been rapidly rising private interest in drones, but this appears to be at odds with the FAA's deliberative approach to safety in the skies. Drones have many potential uses beyond recreation: aerial photography, crop monitoring, oil exploration, and delivery services, to name a few. There are risks, including many documented near misses with manned aircraft, and privacy concerns highlighted by a drone crash on the White House lawn in January 2015.
Legally flying commercial drones requires a special certificate or exemption, but in February 2015 the FAA proposed new commercial drone regulations, including a certification process. The proposed rules would open up many commercial uses, but set limits on elevation (five hundred feet), speed (one hundred miles per hour), and weight (fifty-five pounds), and also required drones to be flowing within the operator's sight.
While the United States has been a center of innovation for drones, the proposed rules could put the nation at a competitive disadvantage. In testimony to the U.S. Senate, an executive for Amazon, which has expressed interest in drone delivery services, said that "nowhere outside of the United States have we been required to wait more than one or two months to begin testing." The FAA later granted an exemption to the company in April 2015 for testing. But, until the FAA rules are finalized, it is unclear whether they will stymie attempts to innovate and commercialize drones, from Amazon's intended delivery service to agriculture.