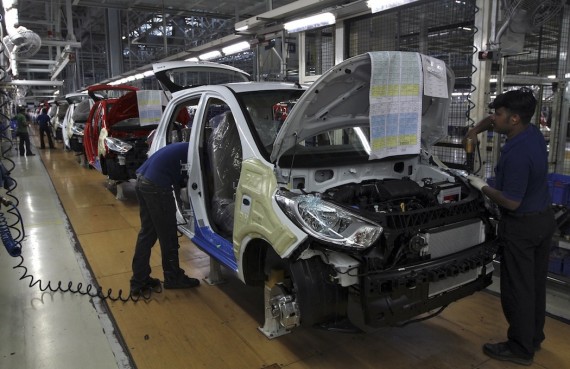 Time to beat my drum again …
A nice little piece from the BBC offers another reminder of how Asia is changing and why America must adapt. It builds illustratively on one of several themes of my recent essay, "Why America No Longer Gets Asia." Asia is reintegrating but America isn't adapting quickly enough.
Nissan, the piece notes, "is among several major Asian companies that have set up manufacturing hubs" in the south Indian state of Tamil Nadu. "A short drive down the congested highway, packed with large container trucks, and you'll pass the facilities of Hyundai, Samsung, Mitsubishi and myriad others. 'India is a rapidly growing market, so therefore it is very important for global auto manufacturers,' says Nissan's managing director in India, Kiminobu Tokuyama. But they are not just hoping to capture the local market. They are also using India as a hub for products aimed at overseas markets … Chennai alone has close to 3,000 Koreans and Little Koreas are springing up in pockets around the city."
My essay focused, in part, on this theme. Put simply, it urged the U.S. to recognize the strategic implications of a more economically integrated Asia.
This provoked some thoughtfiul responses from around the region.
Take this comment from a prominent Southeast Asian policymaker: "I agree with most of it. I wish I didn't because that would mean that the U.S. has a coherent policy, but alas I do." Or this response from a leading Asian national security official: "Really enjoyed your article. I think you are right about the pace of Asian reintegration [but I'm n]ot so sure the answers for the U.S. are just the institutional and other steps you mention. I do think that there is an Asian pull and need that will keep the U.S. engaged in Asia—for balance of power reasons if nothing else."
True enough. Look, I'm an old-fashioned balance of power guy. So to be clear, and as I readily admit in the piece, "the United States will not cease to be a power in Asia, particularly in East Asia where Washington remains an essential strategic balancer, vital to stability." In fact, this security-related role has been reinforced in recent months, as China's behavior has scared its neighbors silly, from Japan to Vietnam to India.
But a clear-eyed realism suggests that the United States also needs to understand the economic dimensions of change if it is to adapt to its strategic effects. Postwar American leadership in Asia depended not just on Washington's capacity to provide security-related public goods but on its willingness, too, to provide Asia's economic-related public goods. Washington's posture in Asia wasn't simply about alliances, treaties, bases, and carrier battle groups. It touched, in a highly adaptive way, the demand for Asian products, a continuing willingness to stand against protectionism, and Washington's willingness to be a force for regional and global trade liberalization.
But security and economics in Asia are increasingly in collision, with the U.S. providing the security-related public goods while Asian economics become more diverse, complex, and multifaceted.
Policies and interests are changing across Asia. Thus India is looking eastward. Asia's various subregions are being gradually reconnected. And China's economy is perhaps the decisive integrative force, lying at the core of East Asian supply and production chains. China has reemerged, too, on its old continental periphery, playing a crucial new role as a source of trade, investment, and finance in both Central and South Asia.
But the BBC piece on India's auto industry offers a nice reminder that China isn't the only Asian country rearranging the region's economics. Just look at South Korea—a major focus of the BBC piece. To the north, way up in Central Asia, Daewoo produces seven of ten cars driven in Tashkent, the Uzbek capital. Korea-Central Asia bilateral trade rose 350 percent between 2000 and 2008, from $511 million to $2.3 billion. And a coalition of Korean and Chinese (and United Arab Emirates) companies, working jointly, beat out U.S. and European multinationals in 2009 to win $9.7 billion worth of services contracts to develop Turkmenistan's largest natural gas deposit, one of the biggest fields in the world.
Similarly in South Asia, Japanese and Korean trade with India have risen sharply from 2000 to 2008—more than doubling in Japan's case and increasing 11 times in South Korea's. Brands from both countries dominate nearly every consumer sector in India, from passenger cars to electronics. A Japanese subsidiary, Maruti Sazuki, commands about half of India's booming car market, while a Korean subsidiary, Hyundai India, was only recently dislodged from the number two slot by a domestic producer, Tata Motors. Korean brands dominate every consumer electronics sector in India, from liquid crystal televisions (63 percent Korean market share) to microwave ovens (48 percent Korean market share). And Japanese official development assistance is building the Delhi metro, renovating ports, building industrial parks, and connecting major industrial centers, including through a loan of $2.3 billion to the Delhi metro in 2008.
To me, the bottom line is that intra-Asian trade will likely dominate trans-Pacific trade, much as it did in history. And these economic realities will, in time, have strategic effects.
My essay, which appears in the current issue of The Washington Quarterly, offers a few reasons why the U.S. should take notice. And it throws out a few ideas on how Washington might adapt.