The Amir's TV Station
February 22, 2017
7:00 am (EST)
Blog Post

Blog posts represent the views of CFR fellows and staff and not those of CFR, which takes no institutional positions.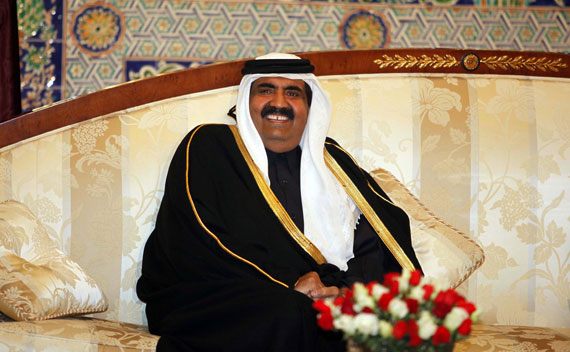 The president's meeting today with the Amir of Qatar offers a timely opportunity to take stock of the amir's TV station, Al Jazeera.
Despite its success in reaching mass audiences and its undoubted influence, we should never forget that it is not an independent news source. Its coverage reflects the foreign policy of Qatar.
A recent Reuters story sets out the facts:
Qatar-based Al Jazeera, the leading Arabic language network, was pivotal in keeping up momentum during protests that toppled Zine al-Abdine Ben Ali and Hosni Mubarak, both entrenched rulers who were no friends of Qatar's ruling Al Thani dynasty.

When Al Jazeera's cameras turned to Yemen, it was as though its guns were trained on the next target in an uprising longtime Arab leaders were convinced was of the channel's making. Yemeni President Ali Abdullah Saleh, whose impoverished country of 23 million is not a member of the affluent Gulf Arab club, accused Al Jazeera of running an "operations room to burn the Arab nation." His government has revoked the Al Jazeera correspondents' licenses over its coverage in Yemen.

For viewers watching protests spread across the region, the excitement stopped abruptly in Bahrain. Scant coverage was given to protests in the Gulf Cooperation Council member and to the ensuing crackdown by its Sunni rulers, who called in Saudi and Emirati troops in March under a regional defense pact.  Protests in Oman and Saudi Arabia have also received scant attention in recent months.  "Bahrain does not exist as far as Al Jazeera is concerned, and they have avoided inviting Bahraini or Omani or Saudi critics of those regimes," said As'ad Abu Khalil, politics professor at California State University.
This is nothing new. When Qatar and Saudi Arabia have been at odds in recent years, for example, coverage of problems in the Kingdom has increased; when the king and the amir kissed and made up, such coverage has disappeared.
Apologists for al-Jazeera say that its English-language broadcasting is better, and less directly influenced by Qatari foreign policy. That may be true; it is also irrelevant. AJ English is not being watched by millions in the Arab world, and is not the heart of the station's influence. It is the Arabic language broadcasting that magnifies the importance of tiny Qatar and its foreign policy goals.
Some of those goals align with U.S. interests and others do not. During the worst and most violent days of the war in Iraq, al-Jazeera made the bloodshed worse with broadcasts that incited more attacks on American troops. But the point is not that al-Jazeera does not comport with U.S. policy, which it sometimes does and sometimes doesn't. The point is that it always aligns with Qatari foreign policy and is its tool. It should not be viewed as a reliable and independent news source.