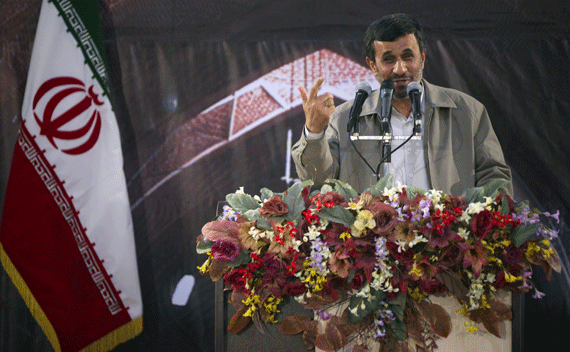 Most Americans believe that Iran is up to no good. It turns out that many Arabs have come to the same conclusion.
A recent poll of six Arab countries by the Arab American Institute Foundation found that in five of them Iran's favorability rating has plummeted. In Saudi Arabia, for instance, 85 percent of respondents in a 2006 poll gave Iran a thumbs up; in 2011 only 6 percent did. Egyptians went from 89 to 37 percent, Moroccans from 82 to 14 percent, Jordanians from 75 to 23 percent, and the UAE from 68 to 22 percent. Only in Lebanon did a majority of the population (63 percent) look favorably on Iran. Lebanon also happens to be home to the highest percentage of Shi'ia Muslims, who are the majority in Iran. Arabs also aren't eager to see Iran join the nuclear club. Support for an Iranian bomb was highest in Lebanon at 33 percent; it did not break into double digits in any of the other five countries.
What accounts for Iran's plunging popularity in the Arab world? The poll questions themselves don't offer a conclusive answer, but the report that summarizes the results speculates that several factors are likely at play. One is Iran's defiance of the international community on its nuclear program. Another is Tehran's 2009 crackdown on the Green Movement and its subsequent repression of its critics. A third is growing allegations of Iranian meddling in Bahrain, Lebanon, Syria, and elsewhere. A fourth is a sense that the United States has become less central to events in the region. In the years immediately following the Iraq War, favoring Iran was a way for Arabs to signal their displeasure with American foreign policy.
Two bugaboos of all polling, question selection and wording, may also have helped drive down Iran's favorability ratings. The poll report states:
In previous polls, when Arabs were asked questions about Iran or its nuclear program, and the U.S. and its threats of sanctions or military action were a part of the question, Arabs would indicate strong support for Iran and its defiance on nuclear issues. The more negative attitudes toward Iran reflected here may be accounted for by the fact that in this survey Arabs are being asked to state their attitudes toward Iran without reference to the U.S. and/or that Iran's regional behavior has succeeded in alienating Arab opinion.
The United States certainly continues to be unpopular in the Arab world. It registers the lowest favorability rating—yes, even lower than Iran—in five of the six countries. The exception is Saudi Arabia, where 30 percent have a favorable view of the United States, putting it ahead of not just Iran but also China (26 percent).
Question selection probably doesn't entirely explain Iran's fall from grace in the Arab world. But it does suggest that the poll results shouldn't be read as implying that the Arab world would applaud an Israeli or American attack on Iran's nuclear facilities. In the Middle East, as elsewhere, context matters.