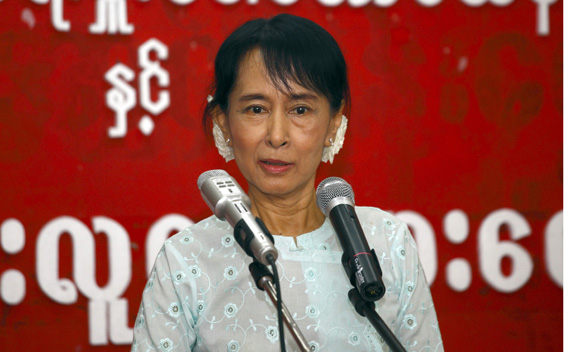 Speaking with a number of Burmese political analysts over the past month, I have repeatedly heard an unsettling conclusion – one that the military's latest actions make even more likely. Nearly all of them agree that, by the end of this year, the Burmese regime is likely to put Aung San Suu Kyi back under house arrest. This would mark the continuation of a pattern: The regime has released and then detained Suu Kyi over and over during the past two decades.
Though it's impossible to predict anything for sure in Burma, many of the signs of a hardening political climate are there, and noted today in brief in the New York Times. Having successfully had an election – albeit a highly flawed one – last fall, the regime, most Burmese analysts say, appears to be confident that the election provides enough cover of legitimacy to allow Asian nations, and some European ones, to work more closely with and invest in Burma. The election, and rising investment, has also made Senior General Than Shwe more confident about his own future and control of the country. One of Thailand's biggest companies is going forward with a major port investment in Burma, and there are discussions on reopening the old World War Two "Stillwell" road in Burma and connecting it to the new network of roads and rails joining Southeast Asia.
With investment booming and some legitimacy, the regime needs Suu Kyi less and less. In recent weeks, the Burmese government has jailed Australian publisher Ross Dunkley, who ran the Myanmar Times, and began making ominous noises about Suu Kyi's party's continuing call for sanctions on Burma – the kinds of warnings it has issued before prior to a crackdown on Suu Kyi and her party.