In Bangladesh, the Pope Has Balm for Rohingya Refugees But No Answers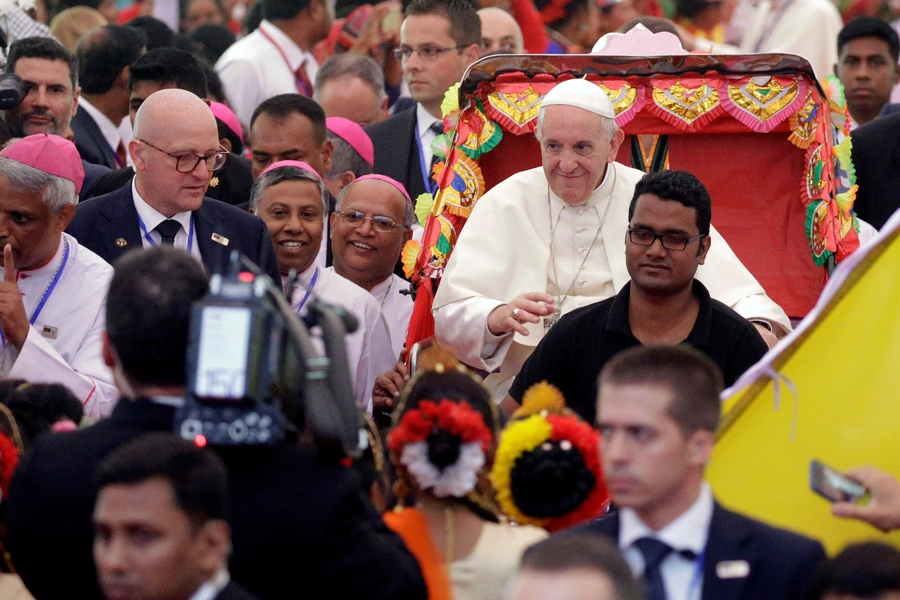 Earlier this week, Pope Francis visited Myanmar. During his visit there, he did not mention the word "Rohingya" publicly, despite the fact that since August 25, world attention has been focused on the Myanmar military's ethnic cleansing of more than 600,000 Rohingya Muslims from Rakhine State.
That's why, when the pope mentioned the Rohingya by name today in Bangladesh, it captured attention. Pope Francis—arriving at a cathedral in an open cycle rickshaw, totally unlike the bulletproof "popemobiles" of his predecessors—participated in an interfaith gathering in Dhaka, and then interacted with sixteen Rohingya refugees who had been brought to Dhaka from refugee camps near the border with Myanmar. As the BBC reported, Pope Francis said in a remark departing from his planned speech that "the presence of God today is also called Rohingya." He asked for their forgiveness "in the name of all those who have persecuted you."
Recognition from the pope does help raise global awareness of the continued humanitarian catastrophe the Rohingya have experienced, but it unfortunately does very little to address the big questions about their future. With much fanfare, Bangladesh and Myanmar reached an agreement on the repatriation of the Rohingya on November 23. As my colleague Josh Kurlantzick wrote on Monday, there are some big questions to ask about how this agreement would work in practice. Specifically, Josh asks: how would repatriation occur with ongoing violence still in Rakhine State? Where would the Rohingya live in Rakhine State—would they be forced into camps? What rights would they have, if not citizenship rights? And how can their safety be guaranteed?
The questions Josh poses are some big ones, and they illustrate how difficult it will be to effect an actual repatriation of any scale. Is this agreement actually implementable? Despite a relatively successful repatriation effort in the 1990s, I am personally doubtful, and would like to be proved wrong. It is entirely possible to imagine this agreement running aground if, for example, Rohingya refugees are refused entry to Rakhine based on a lack of identity documents, or they are told they will have to live in camps once again, or there is no way to guarantee their safety in the end.
Meanwhile, what of the present situation and the immediate future for the Rohingya refugees?
To date, the total number of Rohingya arrivals to Bangladesh since August 25 has increased to 625,000. The UN mounted a humanitarian funding appeal to support the extensive needs of such a large refugee population in Bangladesh, and the total appeal amount through February 2018 is $434 million. According to the most recently available figures from the UN Office for the Coordination of Humanitarian Affairs, only 34.8 percent of that total has been funded so far. The financial shortfall will obviously affect the ability of aid organizations to deliver relief.
And the Bangladesh government, which should be commended for its open door to the refugees in this terrible moment, has begun taking steps to move refugees from the Teknaf Peninsula to an island in the middle of the Bay of Bengal. Reuters reported that the Bangladesh government this week approved a plan to develop this island, known as Thengar Char or Bhasan Char, so refugees could be shifted there. The island, as Reuters notes, is "two hours by boat from the nearest settlement…has no roads or buildings and it regularly floods during the rough seas of the June-September rainy season."
So, despite the good news of an agreement to repatriate the Rohingya, it strikes me that bigger questions still remain about what will happen to them in the next several months. I am afraid all the mercy Pope Francis can muster will not help with the answers.
My book about India's rise on the world stage, Our Time Has Come: How India is Making Its Place in the World, will be out in January. Follow me on Twitter: @AyresAlyssa. Or like me on Facebook (fb.me/ayresalyssa) or Instagram (instagr.am/ayresalyssa).