BJP Puts Religion in the Front Seat in India's Largest State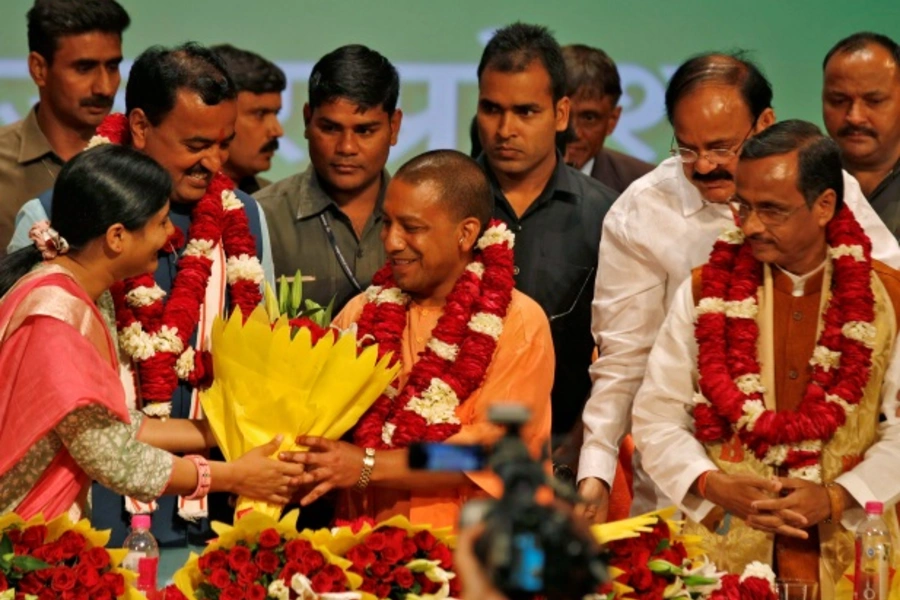 Last week, India's ruling Bharatiya Janata Party (BJP) received a landslide victory in the state assembly elections of Uttar Pradesh (UP), India's most populous state, and arguably one of the country's most politically important arenas. The day after the election results, Prime Minister Narendra Modi delivered a celebratory speech at the party headquarters in New Delhi, and heralded the dawn of a "New India." As I wrote last week, his New India remarks, along with a campaign unfurled to encourage citizen involvement, pointed to a focus on jobs, development, anti-corruption, "Clean India," protecting nature, peace, unity, and goodwill, among other priorities.
Modi has expended enormous political capital in domestic and foreign policy highlighting the urgency of India's development, and during his nearly three years in government has initiated countless initiatives geared toward providing better sanitation and infrastructure for the whole country, encouraging more foreign direct investment, enticing manufacturers to set up in India, calling for "women-led development," plumping for greater innovation, and positioning India as a new "leading power" on the world stage. These emphases can be summed up in his party's national campaign slogan, sab ka saath, sab ka vikaas—everyone together, development for all.
The BJP conducted their campaign in UP without naming a chief minister candidate for the state. Over the weekend, the chief minister was selected, and let's just say his claim to fame to date has not been development. Instead, Yogi Adityanath, the new chief minister of UP, is a popular, five-time member of parliament who leads a Hindu religious order in Gorakhpur, in the eastern part of the state.
Adityanath has attained fame in India due to his oratory, nearly always described as "fiery," with him frequently described as a "firebrand" leader of Hindutva, or Hindu nationalism. I will refrain from enumerating some of the many speeches he has given over the years that illustrate his antipathy for Muslims. You can learn more about his public remarks here, and about the pending criminal charges against him here. The point is that he will now be responsible for overseeing the development of this critically important state, one with enormous problems and enormous needs, and one in which Hindu-Muslim tensions continue to be a concern.
Indian parties do not choose their politicians with a view to what the world might conclude, but there is no denying the signal this pick sends: with a huge mandate, the BJP has decided to lead with the face of religious nationalism—not the forward-looking, twenty-first century face of the New India—in their most important state. Some Indian commentators have used the phrase "the mask has come off" or "bait and switch" to describe this abrupt shift from a development-focused platform. I hope this does not signal that UP will become enmeshed in religious conflict, unable to advance its development agenda.
Adityanath supporters will say he deserves a chance to prove himself. He does, but his past inflammatory remarks—the reason for his national notoriety—are surely cause for concern.
He has earned high marks for asking questions in parliament, and for his strong anti-corruption stance. As a member of parliament, his legislative focus has been on matters such as cow protection, renaming India as "Bharat," calling for a uniform civil code, banning religious conversion, and adding a court bench in his city.
After his swearing-in as UP's new chief minister, he said he would work to eliminate goondaraaj, or thug rule, from the state, which has serious law and order problems, and that he would focus on development for all, as Modi has repeatedly emphasized.
His first acts as chief minister have been to seek a declaration of assets from state government ministers, and to end the use of red lights on official government vehicles, a step toward ending what many describe as the "VVIP culture" of special privileges for those in office.
The Modi government has two years left in office, and despite having initiated many development programs, has a long way to go to see them fulfilled. Let's hope the new leader of India's largest state adjusts his perspective and his public rhetoric to befit the new office he holds, one charged with the welfare of more than 200 million people, of which some nineteen percent are Muslim. All citizens of UP, no matter their religion, deserve a chief minister who will seek development for all, regardless of their background.
Follow me on Twitter: @AyresAlyssa. Or like me on Facebook (fb.me/ayresalyssa) or Instagram (instagr.am/ayresalyssa).