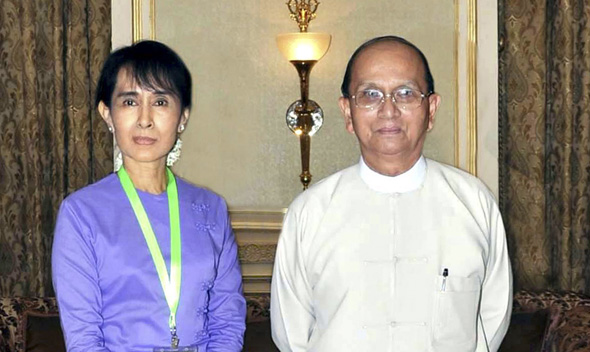 A front-page article in Friday's New York Times, entitled "Detecting a Thaw in Myanmar, U.S. Aims to Encourage Change" captures the frankly shocking new spirit of reform emerging in recent weeks in Burma. The pace of the apparent reforms has surprised many cynics, including myself – I have long warned that any reforms should be seen as superficial and likely to be rolled back, as has happened many times in Burma's modern history. Other doubters, including many in the Obama administration, the U.S. Congress, and the human rights community, including exiled Burmese reformers, also are starting to put aside some of their (well-earned) skepticism. Indeed, this is by far the most optimistic period for Burma in at least two decades, and the optimism is bracing among Burmese who are used to nothing but political stasis and economic misery and mismanagement.
The NYT article hits many of the key points. Since taking over the presidency, former general Thein Sein has surprised nearly everyone by seeming to show true intentions as a reformer. Though he could still be stymied by hard-liners in the government, or by Senior General Than Shwe, the former military ruler who still wields significant power from behind the scenes, those reforms he has already mooted suggest Thein Sein is serious. He must, however, proceed cautiously so as to not alienate hard-liners in his government. To date, Thein Sein has relaxed laws on the media, allowed for increased foreign coverage, initiated a dialogue with Aung San Suu Kyi, called for exiles to return to the country, begun to launch liberal economic reforms and, in the next few weeks, may order the freeing of significant numbers of Burma's thousands of political prisoners, many of whom are linked to Suu Kyi's National League for Democracy party. With little warning, the government also put on hold a major China-funded dam in northern Burma, angering Chinese officials. Burmese reformers suggest that even Suu Kyi, who has seen other periods of optimism end with her return to house arrest and crackdowns on her party, is surprised by the pace and scope of the apparent reforms this time.
To be sure, one can never tell: the Burmese government has pulled flip-flop acts before, in the mid-1990s and early 2000s, in order to win admission into ASEAN and to gain greater foreign investment and rapprochement with its neighbors. It could be pulling the same trick this time, trying to host the 2014 ASEAN Summit and balance Chinese investment by attracting greater U.S. and other western investment and aid. Still, perhaps cynics about Burma (including, still, myself) may need to rethink their position, which would be an enormous relief.