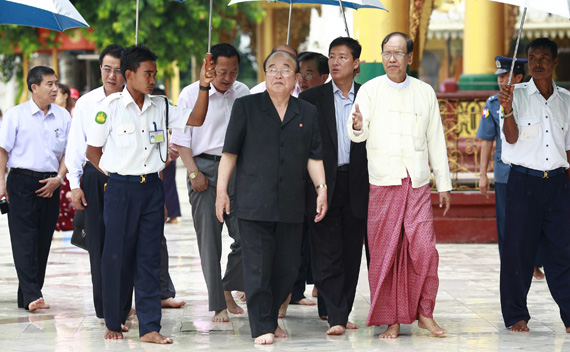 One of the most interesting elements of the Wikileaks' cables has been the large number of reports – thus far- from the U.S. embassy in Rangoon. Some media outlets have focused on these cables' characterization of China's position on Burma, which actually is less supportive and tolerant of the junta that it often seems. But several other cables detail allegations of North Korean workers building an underground facility at a Burmese military installation, of North Koreans allegedly building a missile program in Burma, and of the Burmese working on what they characterize as "peaceful nuclear cooperation" with Pyongyang. (Perhaps as "peaceful" as Iran's program!) Another cable detailed allegations that 112 tons of "mixed ore" including uranium may have been shipped to Burma in early 2007.
Of course, when dealing with both Burma and North Korea, military deals are so opaque that one must take any report skeptically and wonder about the reliability of any information. Still, what is interesting is that, over the past five years, the idea of Pyongyang helping Burma build a serious nuclear/missile program has gone from being pooh-poohed by most American analysts and officials as ridiculous to now, apparently, being taken seriously as a possibility. In fact, only two years ago several American officials assured me that the chance of a Burmese nuclear program was ridiculous, the idea ginned up by Burmese exiles to keep the world's focus on the country. Is that view seriously changing?
Go to Wikileaks and search for cables originating from the embassy in Rangoon, and see for yourself.