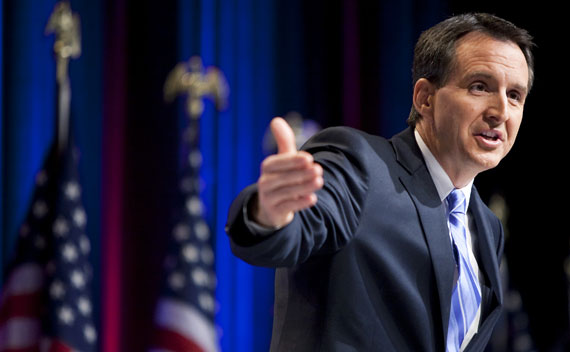 On Monday TWE welcomed Tim Pawlenty into the 2012 GOP presidential race. Perhaps I should have waited a couple of days. Yesterday, Gallup released a new poll on the name recognition of the potential 2012 GOP candidates. The survey has mixed news for Pawlenty.
The bad news first. Pawlenty's name recognition remains below 50 percent and hasn't been growing despite the fact he has been crisscrossing the country trying to meet every Republican voter he can. At least eight GOP hopefuls, including Mississippi Governor Haley Barbour, register higher recognition numbers. The salt in the wound is that he trails his fellow Minnesotan, Congresswoman Michele Bachmann, by 10 percentage points in name recognition (42 to 52).
Now the good news: Pawlenty is tied with Mitt Romney for the fourth highest "positive intensity score" among Republican hopefuls. That forbidding term simply means the net difference between people who hold strongly favorable views of Pawlenty and those who hold strongly negative views. Only Mike Huckabee, Michele Bachmann (there she is again!), and Sarah Palin have higher positive intensity scores. (I'm going to go without the acronym on this one.)
Does recognition matter at this point in the race? Certainly. All the 2012 GOP presidential hopefuls are in a behind-the-scenes race right now trying to line up donors to finance their campaigns. Name recognition plays a big role in those decisions. Few people will bet big on someone who can't seem to break through to the broader voting public. And a small bankroll limits a candidate's options for reaching the voting public.
(Some of you may be thinking: What about Barack Obama, didn't he come from the back of the pack to win in 2008? Not in terms of name recognition. One year before the Iowa caucuses he had 75 percent name recognition.)
To his credit, Pawlenty is taking the poll results in stride. Yesterday, a voter at a telephone town hall—what you and I would call a teleconference—asked him about his low name recognition. Pawlenty replied:
If you're a serious candidate for president of the United States and get any reasonable amount of traction, then your name I.D. will be 100 percent by the time the process enters the serious stage.
An easy way to gauge whether Pawlenty is gaining traction? Check out how many "likes" he has on his Facebook page. As of this morning, he had 80,420. Before he announced, he had 74,000 "likes."