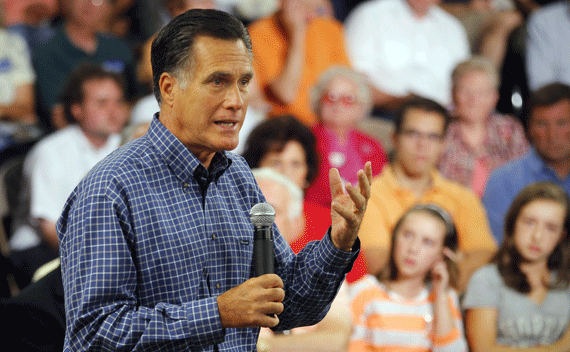 Mitt Romney has taken exception to Rick Perry's comment over the weekend that he would consider sending American troops into Mexico to help end the drug war raging there. Romney told the New Hampshire Union Leader that Perry's suggestion is "a bad idea:"
Let's build a fence first, and let's have sufficient border patrol agents to protect it. And if the Mexican government wants us to help it with logistics, intelligence, satellite images, I'm sure we can provide the sort of support we provided in Colombia.
You can expect to hear more about Mexico at next Tuesday's GOP debate. If Romney makes the Colombia comparison again, he probably should explain what the United States did there. Most people don't know.
Romney touched on some other foreign-policy points in his Union Leader interview. (A video of the interview is available at C-SPAN.org.) He is worried that: China wants to "expand control into the South China Sea" and has its "eyes on Taiwan"; Iran is "about to become nuclear"; Russia is "trying to rebuild parts or elements of the old Soviet Union"; and Pakistan "could easily become a failed state." He said relatively little about how he would handle these threats. The exception was Iran, where he advocated "very substantial covert activity" and convincing Iranian leaders that the United States "is seriously considering a military option and that we would consider using them." That sounds a lot like current policy.
Romney also said that defense spending should be at least 20 percent of the federal budget, which is roughly its current share. So he won't cut defense spending. He has previously said he intends to bring government spending under control without raising taxes. Making those pledges fit together will be a Herculean task. Even if you eliminated every dollar of non-defense discretionary spending, the annual budget deficit would still exceed $500 billion. And we know that Congress is not going to vote to end every domestic program.
Romney plans to give a foreign-policy speech at The Citadel in Charleston, South Carolina this Friday. (Random historical aside: Then candidate George W. Bush gave his first big defense policy speech at The Citadel, which hails itself as the military college of South Carolina, back on September 23, 1999.) We'll see whether Romney moves from naming threats to laying out a strategy for meeting them, as well as whether he explains how he would make his budget math add up.