Campaign 2016 Friday Foreign Policy Roundup: Donald Trump's "America First" Foreign Policy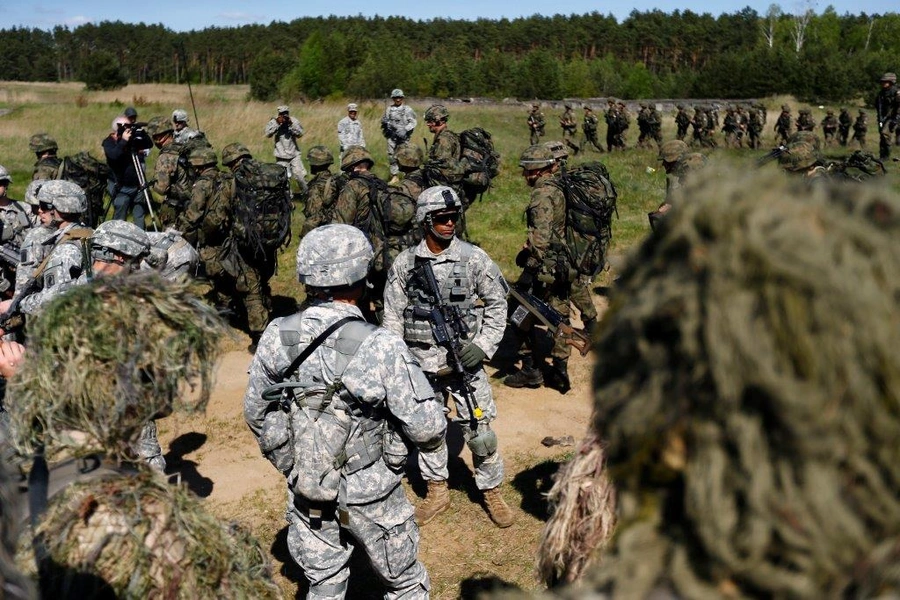 Donald Trump made foreign policy news a hot topic on the campaign trail this week. In interviews with the Washington Post and the New York Times and in various campaign appearances he suggested that NATO is obsolete, the United States is too poor to afford its current foreign policy, Japan and South Korea perhaps should get nuclear weapons, the Geneva Conventions are "the problem…so the soldiers are afraid to fight," and presidents should be much more unpredictable. To say this collection of policies runs counter to the bedrock assumptions of seven decades of American foreign policy is an understatement. Trump gladly embraced the term "America First" to describe his views, though he gave no indication that he knew the origins of the phrase or its place in American history.
Trump's pronouncements attracted blistering criticism. His GOP rival, John Kasich, called Trump's proposed foreign policy the "most ridiculous" he's ever heard. The New York Times's editorial board called his views "dangerous babble." Max Fisher concluded that "Trump really doesn't understand the post-WWII international order." Noah Rothman argued that Trump's "epic ramble" has made "the prospect of testing NATO's commitment to mutual self-defense a more inviting one for Vladimir Putin." Bill Schneider accused Trump of wanting to abandon America's allies. Ian Bremmer argued that Trump's policies wouldn't move the country ahead but rather leave it behind.
These criticisms are deserved. Contrary to Trump's claims, the United States isn't a poor country. Far from being obsolete, NATO has changed with changing times; some twenty NATO countries have lost soldiers in Afghanistan. Meanwhile, NATO's original mission to keep the peace in Europe remains essential in the face of increased Russian belligerence. Encouraging Japan and South Korea to go nuclear would make northeast Asia a far more dangerous place in addition to wreaking havoc on the Nonproliferation treaty. The Geneva Conventions, which the United States has subscribed to since 1882, help protect soldiers and civilians and embody the principles the United States is fighting for. And while a dash of foreign policy unpredictability might at times be useful, it's dangerous as standard practice. After all, which countries will want to stick by Washington if they aren't sure Washington will stick by them.
Of course, bad policy ideas can make for good politics. We'll get some early indication if that's the case with Trump's brand of America First foreign policy with the results of next Tuesday's GOP primary in Wisconsin.
In Case You Missed It
Ted Cruz held a "Jobs, Freedom, and Security" rally in Wisconsin on Tuesday and elaborated on his foreign policy vision. He also wrote an op-ed in the New York Daily News defending his call to combat "radical Islamic terrorism," and issued a statement calling the terrorist bombing in Lahore, Pakistan a "shocking display of savagery." Kasich released a similar statement denouncing the Lahore attack. He also posted videos of General Michael Hayden and Gillian Turner (a former White House national security staffer) saying that he was best prepared to take on national security threats. Bernie Sanders told CNN that the United States needs to improve its surveillance to prevent a Brussels-style attack at home. If you missed Tuesday's Republican town hall in Milwaukee, CNN has a transcript.
The Washington Post's Max Ehrenfreund profiled what Americans really think about free trade. The New York Times's Neil Irwin argued that cutting the trade deficit will not make America great again and could harm the economy. FedEx founder and CEO Fred Smith wrote that trade is what made America great. The New York Times's Binyamin Appelbaum looked at how anger about free trade is playing out this election cycle. William Finnegan examined how the trade wars have heated up in Wisconsin.
The Wall Street Journal reported that al-Masra, a publication linked to al-Qaeda in the Arabian Peninsula, has published its own report on the presidential election. CNN explored whether India likes Trump.
Looking Ahead
Democrats and Republicans head to the polls in Wisconsin on Tuesday to vote in their respective primaries. There are 96 Democratic delegates at stake and 37 Republican delegates. The Wisconsin Republican primary is "winner-takes-most." Colorado holds Republican district conventions on April 8 and the state convention on April 9. There are 37 republican delegates at stake in Colorado.
The Republican National Convention opens in another 108 days at the Quicken Loans Arena in Cleveland on July 18. The Democratic National Convention starts seven days later at the Wells Fargo Center in Philadelphia on July 25. Here are where things stand with the delegate count: (The Democratic count includes  super delegates, elected Democratic officials and members of the Democratic National Committee who can vote for the nominee but who aren't selected by voters or bound by what they want).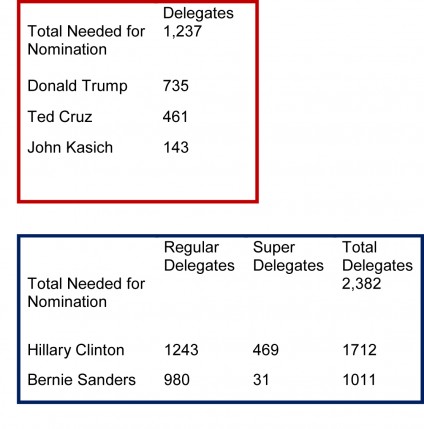 Election Day is 221 days away.
Brett Ekberg and Olivia Bethea assisted in the preparation of this post.