And then there were eleven. Mike Huckabee, Martin O'Malley, Rick Santorum, and Rand Paul all opted to end their campaigns this week in the wake of their poor showings in the Iowa caucuses. It's not surprising that Huckabee, O'Malley, and Santorum came up short in their presidential bids. Conventional wisdom always had them as longshots.
Rand Paul's quick departure, though, is a different matter. Sixteen months ago, Time magazine put him on its cover and called him "The Most Interesting Man in Politics." Fourteen months ago, two Washington Post writers pegged him as the person most likely to win the GOP nomination. And twelve months ago, Paul won the Conservative Political Action Committee's presidential straw poll—for the third year in a row no less. Of course, none of these developments guaranteed Paul the nomination. They did suggest, however, that he would be in the race long after the Iowa caucuses ended.
Analysts have begun weighing in on why Paul's once promising campaign never gained traction with voters. (Actually, they have been doing so for quite a while.) Foreign policy gets a lot of mentions. A year or two ago Paul's brand of anti-interventionist foreign policy was expected to resonate with an allegedly isolationist electorate. Perhaps that assessment of voter sentiment was correct at the time. (For the record, I didn't think so.) But in the aftermath of the rise of the Islamic State, the Paris attacks, and the San Bernardino shootings it no longer is, especially among Republicans. And with that, Paul's presumed strength quickly became a liability.
Foreign policy no doubt provides only a partial explanation of why Paul is now campaigning to keep his Senate seat. And it's worth remembering that most bids for the White House end up falling short. But Paul's candidacy is a reminder that while foreign policy seldom decides elections, it can on occasion help decide a candidacy.
In Case You Missed It
Gallup reports that when voters are asked to rank issues on a scale from "somewhat important" to "extremely important," majorities of Democrats and Republicans say terrorism and national security are of "above average importance." Majorities of Democrats, but not Republicans, say the same about climate change.
If you missed the CNN Democratic presidential town hall on Wednesday evening, CNN provides a transcript and video. If you missed last night's Democratic debate, the Washington Post provides an annotated transcript.
Stephen M. Walt reviews the foreign policy history and credentials of Marco Rubio, Ted Cruz, Hillary Clinton, Bernie Sanders, and Donald Trump and laments "the sad state of foreign policy." Micah Zenko examines what he says is Trump's often contradictory foreign policy views. Politico assesses Sanders's reluctance to discuss foreign policy. Max Fisher argues that it is too early to write Sanders off on that score. The Atlantic reports on the lack of attention paid to foreign policy in endorsements of Clinton and Sanders. Foreign Policy details how Clinton is "wielding foreign policy and national security as a weapon against Bernie Sanders." Bloomberg View discusses the mystery of Trump's foreign policy advisors.
Looking Ahead
The big campaign event next week is Tuesday's New Hampshire primary. But before New Hampshire voters go to the polls, Republicans will debate again on Saturday night at 8 p.m. (EST) on the campus of Saint Anselm College in Manchester, New Hampshire. ABC will broadcast the debate, and David Muir and Martha Raddatz will moderate. Trump, Cruz, Rubio, Carson, Jeb Bush, Chris Christie and John Kasich all made the cut. Carly Fiorina did not, despite appeals from several prominent Republicans that she be included.
Clinton and Sanders will wait until after the vote is in from New Hampshire for their next debate. They are scheduled to meet next Thursday night at 9 p.m. at the University of Wisconsin-Milwaukee. PBS will broadcast the debate, and Gwen Ifill and Judy Woodruff will moderate. Meanwhile, Clinton and Sanders have worked out their differences on the remaining Democratic debate schedule, agreeing to participate in this week's debate (officially sanctioned by the DNC) and in three additional debates. One of those debates will be in Flint, Michigan, which has been in the news over the past few months for its water crisis.
We are 164 days out from the start of the Republican National Convention, which opens at the Quicken Loans Arena in Cleveland on July 18. We are 171 days out from the start of the Democratic National Convention, which opens at the Wells Fargo Center in Philadelphia on July 25. Here are where things stand in the delegate count: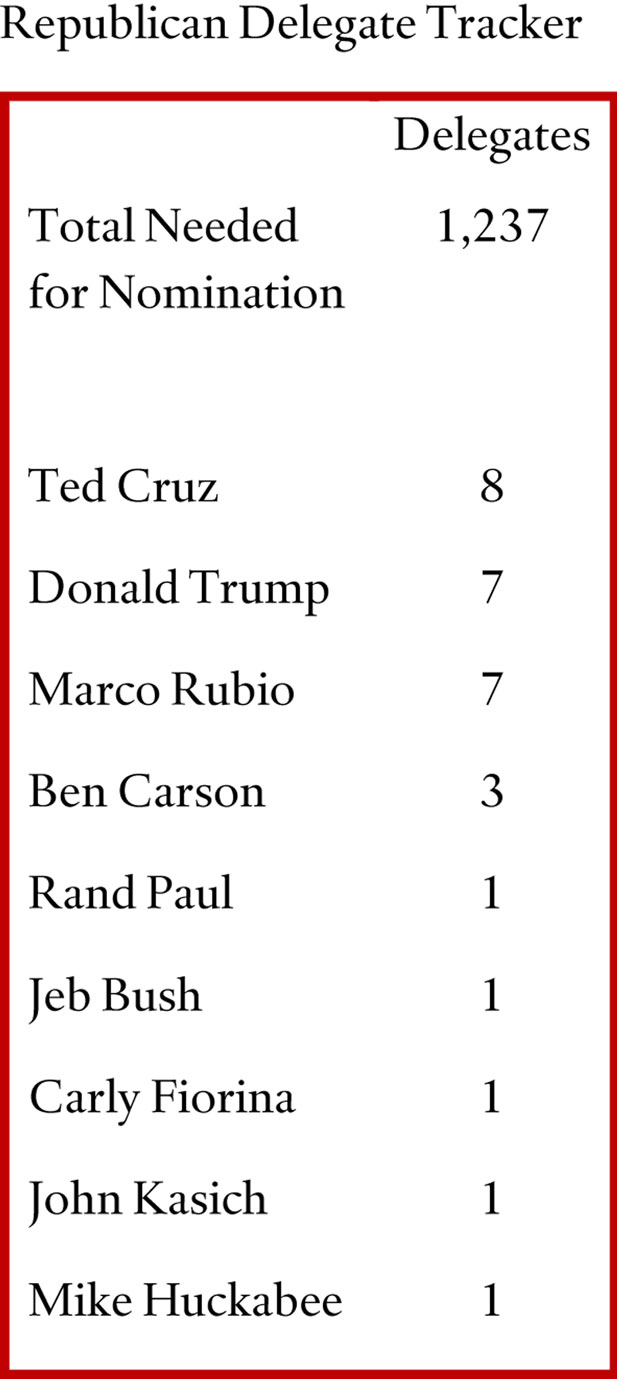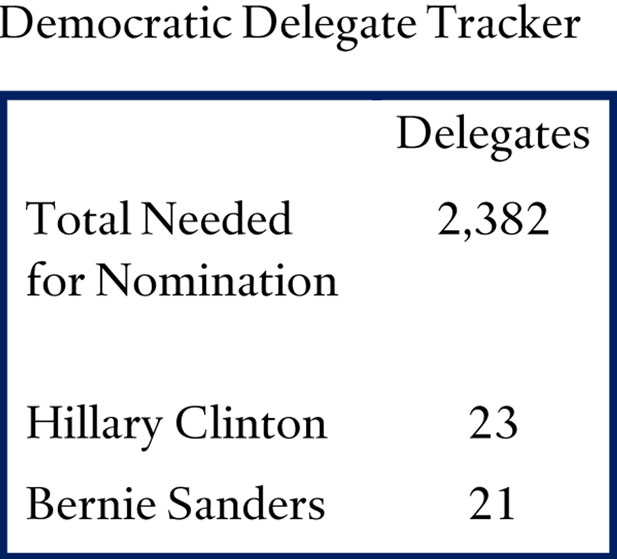 Election Day is 277 days away.