Campaign Foreign Policy Roundup: Campaigning in the Era of the Coronavirus
Each Friday, I look at what the presidential challengers are saying about foreign policy. This week: the coronavirus dominates the conversation, Senator Sanders defends a sister-city program, and experts debate the merits of former Vice President Biden's vision for U.S. foreign policy.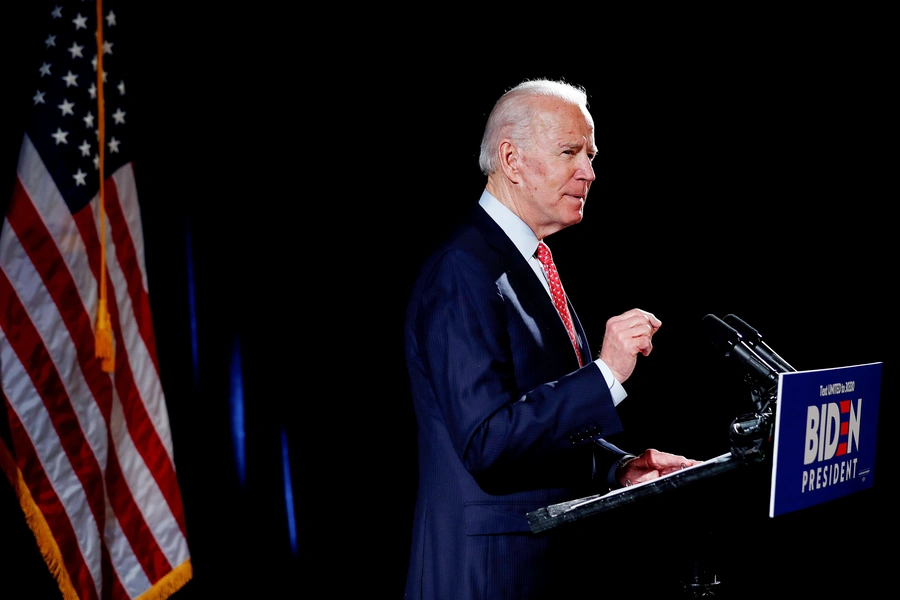 Hockey great Wayne Gretsky famously explained his success on the ice by saying, "I skate to where the puck is going to be, not to where it has been." That quote comes to mind as the coronavirus threat dominates the campaign conversation.
Joe Biden and Bernie Sanders both focused their public remarks this week on the coronavirus crisis. The former vice president released a plan on how to tackle COVID-19 and to prepare for other global health threats. He also gave a speech yesterday warning against underestimating the virus and sketching out his differences with the Trump administration's response:
Labeling COVID-19 a "foreign virus" does not displace accountability for the misjudgments that have been taken thus far by the Trump administration.…Banning all travel from Europe or any other parts of the world may slow it, but as we have seen, it will not stop it. And travel restrictions based on favoritism and politics rather than risk will be counterproductive.…Our government's ability to respond effectively has been undermined by hollowing out our agencies and disparagement of science; and our ability to drive a global response is dramatically, dramatically undercut by the damage Trump has done to our credibility and relationships around the world.
Sanders used a Fox News town hall on Monday night, two days before President Trump announced the thirty-day Europe travel ban, to argue against imposing travel bans to contain the virus. Yesterday, he gave a speech, saying that "the threat we face from the coronavirus is on a scale of a major war, and we must act accordingly." He went on to outline specific steps he thought the government should take to deal with the crisis.
Here's where Great Gretzky comes in. Whatever the merits of Biden's and Sanders's recommendations on what to do now, neither can implement them. Should either candidate win in November, they will almost certainly face a different set of policy questions than the ones we face today. Some of these questions might be predictable, such as how best to organize the U.S. government to face pandemics, whether to overhaul the World Health Organization, and how to improve global efforts to develop and distribute vaccines. But some could be relatively new questions, such as what steps the United States should take to diminish its dependence on China as the primary source for medicines and medical equipment. The candidates—and their advisors—should be using the coming months to anticipate, and start to answer, these kinds of questions.
As the campaigns do that, they would be wise to check the work of ThinkGlobalHealth.org. It is a new online magazine that my colleagues in CFR's Global Health program have launched. The site's multiple contributors are assessing how the coronavirus and other global health challenges are intersecting with issues like the environment, trade, poverty, and urbanization.
The Candidates in Their Own Words
Sanders responded to a question at Monday night's Fox News town hall about a New York Times story critical of his efforts in the late 1980s while mayor of Burlington, Vermont, to set up a sister-city program with the Soviet city of Yaroslavl. The Vermont senator didn't back down:
Let me be very clear, I think that was a great idea. And I want to see more—rather than spending money, billions of dollars on the military, I want kids from all over the world to visit the United States.
Yaroslavl remains one of Burlington's sister cities.
What the Pundits Are Saying
Christina Wilke speculated before primary voters went to the polls in Michigan that the outcome of their vote would show whether Biden's or Sanders's views on trade are carrying the day with Democratic voters. If that was the case, then Biden is winning the argument running away.
Dania Thafer, executive director of the Gulf International Forum, compared how she thinks Sanders and Trump would approach issues in the Persian Gulf region.
Emma Ashford and Matthew Kroenig contrasted Biden's and Sanders's foreign policy views and debated the foreign policy challenges that the eventual Democratic nominee will need to face.
The Quincy Institute's Stephen Wertheim, who is informally advising the Sanders campaign, faulted Biden's recent Foreign Affairs essay for not "confronting the failures" of the foreign policy decisions made while he has held public office. 
Ted Galen Carpenter, a senior fellow for defense and foreign policy studies at Cato, argued that Sanders's voting record doesn't match his recent calls for a more restrained foreign policy.
Campaign Updates
Biden won at least four of the six states that held primaries on Tuesday. Sanders won North Dakota, the state that offered the fewest delegates. Meanwhile, nearly three days after the polls closed, the outcome in the state of Washington remains too close to call. With his strong showing on Tuesday, Biden increased his delegate lead over Sanders. As of this afternoon, here's where the Democratic delegate totals stood:
It takes 1,991 delegates to win the nomination on the first ballot.
The Northern Mariana Islands votes tomorrow. Six delegates are up for grabs. Democratic voters in Arizona, Florida, Illinois, and Ohio head to the polls on Tuesday, which is also St. Patrick's Day. They will be allocating 577 delegates. No one knows how concerns over the coronavirus will affect turnout or the conduct of the vote. On the latter score, the state of Ohio has scrambled in the last week to move roughly 125 polling stations located at nursing homes. Likewise, some poll workers might not show up for work because of concerns about their health. While Arizona, Florida, Illinois, and Ohio are proceeding with their votes on Tuesday, Louisiana has postponed its primary, originally scheduled for April 4, until sometime this summer. Other states may follow suit.
Biden and Sanders are still set to debate Sunday night at 8 p.m. (EST). However, the site won't be Phoenix, Arizona, as planned. The Democratic National Committee has moved the debate to CNN's studios in Washington, DC. There will be no audience or a "spin room" for the press.
There are 122 days until the start of the Democratic National Convention and 164 days until the Republican National Convention. We are 235 days out from Election Day.
Margaret Gach assisted in the preparation of this post.