Campaign Foreign Policy Roundup: The National Defense Authorization Act
Each Friday, I look at what the presidential challengers are saying about foreign policy. This week: the National Defense Authorization Act, Latin America, and climate change.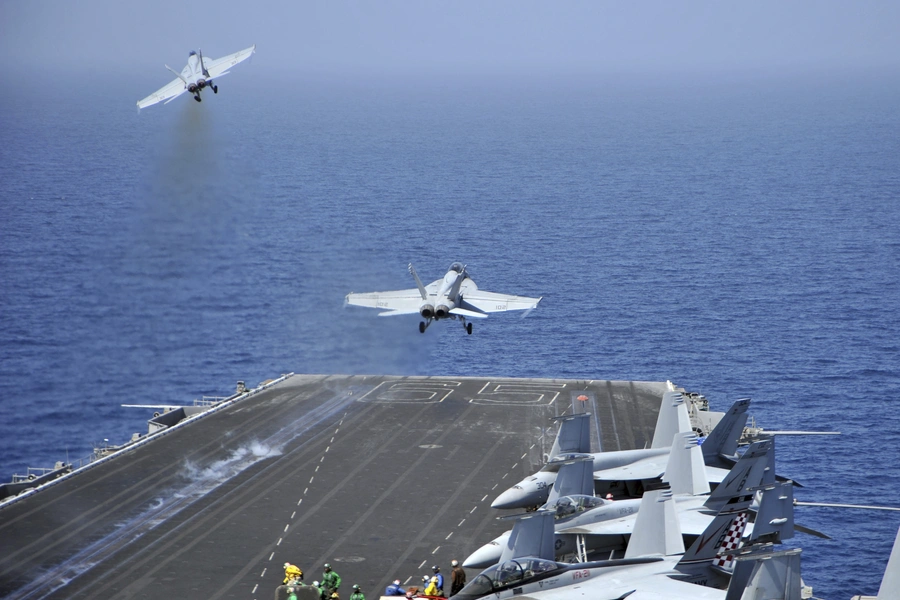 The U.S. House this week overwhelmingly passed the National Defense Authorization Act (NDAA). The bill authorized $738 billion in defense spending and, among many other provisions, created a sixth branch of the U.S. military, Space Force. House Armed Services Committee Chair Adam Smith, a Democrat from Washington, praised the legislation as "the most progressive defense bill we have passed in decades."
However, neither of the two Democratic presidential candidates championing a progressive foreign policy, Bernie Sanders and Elizabeth Warren, were impressed with Smith's handiwork. The Vermont senator released a statement saying:
Congress must vote against this disastrous Pentagon authorization—a bill of astonishing moral cowardice. Congress should have used this National Defense Authorization Act to stop our endless wars. Instead, this bill does nothing to rein in out-of-control military spending, prevent unconstitutional war against Iran, limit the poisoning of Americans' drinking water, or end the obscenity of innocent children in Yemen being killed by U.S. bombs.
Warren staked out the same position in a pair of tweets:
The Pentagon's budget has been too large for too long. I cannot support a defense bill that's a $738 billion Christmas present to giant defense contractors & undermines our values and security.

— Elizabeth Warren (@SenWarren) December 11, 2019
and
The NDAA does nothing to end our disastrous and inhumane support for Saudi ops in Yemen, nothing to prevent a war with Iran, and permits the deployment of a destabilizing low yield nuke weapon. For that and 738 billion other reasons, I don't support the bill.

— Elizabeth Warren (@SenWarren) December 11, 2019
Is $738 billion too much, too little, or just the right amount to spend on defense? Sanders, Warren, and other proponents of cutting the Pentagon's budget point out that U.S. defense spending today is nearly 70 percent higher than it was at the start of the Iraq war and that the United States now spends more on defense than the next six countries combined. Whether these twin facts establish the case for a smaller defense budget lies in the eye of the beholder. In any event, Sanders's and Warren's opposition to the NDAA won't keep it from passing. It is one piece of annual legislation that Congress always passes.
Latin America
Immigration will be a big issue in the election. Much of the focus will be on how to treat migrants when they arrive at the border, and if they gain entry into the United States, how to treat them once they are here. But an equally important policy question, particularly in the case of migrants from the Northern Triangle of El Salvador, Guatemala, and Honduras, is what can be done to make it make it more attractive for them not to migrate. To that end, Joe Biden this week released his "Plan to Build Security and Prosperity in Partnership with the People of Central America." It calls for spending more than $4 billion to target the violence, corruption, and poverty that pushes people to emigrate to the United States. This is not a new position for the former vice president to take. He was the point person for similar efforts during the Obama administration. Biden coupled the release of his Central America plan with the release of his broader immigration reform plan.
Warren weighed in on a different aspect of U.S. immigration policy, namely, the Trump administration's policy toward Venezuelans living in the United States. Citing a report on Venezuelans detained in U.S. prisons, Warren tweeted:
Venezuelans are fleeing persecution only to wind up detained under Trump's cruel immigration policies.

My administration will not turn its back on those seeking freedom from violent dictatorships. Venezuelan asylum-seekers deserve parole and TPS now. https://t.co/1gnrJ8lRJu

— Elizabeth Warren (@ewarren) December 9, 2019
TPS refers to "temporary protected status," a provision of U.S. law that allows foreign citizens to stay and work temporarily in the United States if the U.S. government determines it is unsafe for them to return or be deported to their home country. The Trump administration has steadfastly refused to grant TPS status to Venezuelans despite recognizing the terrible conditions there and despite its own efforts to push Venezuelan President Nicolás Maduro from power. The broader Venezuelan refugee crisis will soon surpass Syria to become the largest one in the world.
Climate Change
Mike Bloomberg attended COP25, the major climate summit, in Madrid this week. He said he went "because President Trump won't." Meanwhile, the Bloomberg campaign outlined his climate plans. They include using trade and security agreements to ensure that countries fulfill their Paris Agreement obligations, creating an entry point for climate refugees, and improving the U.S. military's resiliency in the face of climate change.
Warren released her "Blue New Deal." It lays out her plans to restore the health of our oceans and lakes, which are threatened not just by climate change but also by overfishing and pollution. Among other proposals, the Massachusetts senator calls for the United States to ratify the UN Convention on the Law of the Sea, ban fishing on the high seas, and join the International Alliance to Combat Ocean Acidification.
Candidates in Their Own Words
Amy Klobuchar stopped by CFR's DC office to speak about the "five R's" of her foreign policy: "restoring American leadership, repairing our alliances, rejoining international agreements, responding appropriately to the threats and challenges that come before us, and reasserting American values—restoring, repairing, rejoining, responding, and reasserting."
The Washington Post's Jennifer Rubin said of the speech that "Klobuchar offers in place of Trump a commander in chief who would be steady, competent, knowledgeable and grounded in American values."
Michael Bennet was in Iowa and joined the Quad Cities' 4 the Record program to discuss the U.S. role in the Middle East.
He said there's "not much" the United States can do in Syria now, that the only "tenable" solution to the Israeli-Palestinian conflict is the two-state solution, and that he disagrees with the Boycott, Divestment, and Sanctions Movement.
What the Pundits Are Saying
Giovanni Russonello reviewed the polling data and concluded that "Americans have become much more likely to see trade as a good thing since Mr. Trump took office" and that "Americans have never been as pro-trade as they became after Mr. Trump entered the White House." That doesn't mean that Democratic presidential candidates are racing to endorse the deal that House Democrats struck this week with the White House on the U.S.-Mexico-Canada Agreement (USMCA). To this point, most of the Democratic candidates—John Delaney is the notable exception—have opposed it. With the House likely to pass USMCA next week, the Senate Democratic candidates will have to go on the record one way or the other early in the new year on the trade deal that President Trump with typical hyperbole has called "the most important ever."
Campaign Updates
Andrew Yang became the seventh candidate to qualify for the Democratic debate next Thursday in Los Angeles. He joins join Biden, Sanders, Warren, Pete Buttigieg, Amy Klobuchar, and Tom Steyer. That means Bennet, Bloomberg, Delaney, Cory Booker, Julián Castro, Deval Patrick, Tulsi Gabbard, and Marianne Williamson will be looking for other ways that night to attract the attention of Democratic voters.
There are 52 days until the Iowa caucuses, and 326 days until Election Day.
Margaret Gach assisted in the preparation of this post.