Campaign Roundup: Election Day Is One Year Away
Each Friday, I look at what the presidential contenders are saying about foreign policy. This week: Three things to know about the 2024 campaign.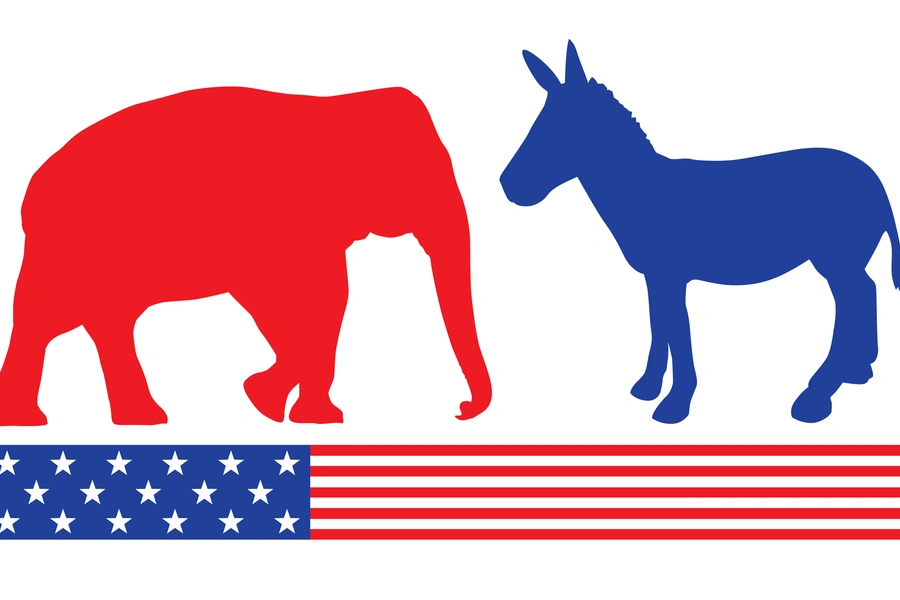 Sunday marks one year until Election Day in the United States. So it is time to resume TWE's quadrennial roundup of foreign policy issues making news on the campaign trail. Assuming my schedule cooperates, I will be back each Friday with a new installment. To kick things off, here are three general points to keep in mind about the upcoming election.
1. Foreign policy probably will not be decisive in 2024.
Think pieces appear every four years asking whether this will be the year that the election turns on foreign policy. (I've written my share.) And every four years the answer is no. Two thousand twenty four likely won't break the mold. Yes, the candidates will say a lot about foreign policy, with China, Russia, and the Middle East topping the list. And Democrats and Republicans do hold decidedly different views on foreign policy. But that doesn't mean that foreign policy will shape how large numbers of people vote or whether they turn out to vote. Consider the top dozen issues that Americans named when Gallup recently asked what is the most important issue facing the country:
| | |
| --- | --- |
| The government/poor leadership | 18 |
| Economy in general | 16 |
| Immigration | 9 |
| Unifying the country | 5 |
| Unemployment/jobs | 3 |
| Federal budget deficit/federal debt | 3 |
| Race relations/racism | 3 |
| Environment/pollution/climate change  | 3 |
| Judicial system/courts/laws | 3 |
| Poverty/hunger/homelessness | 3 |
| Crime/violence | 3 |
| Guns/gun control | 3 |
Largely missing from that list are events overseas. ("Climate change" appears as part of a cluster of related concerns; voters see immigration as a domestic and not a foreign policy issue.) Gallup reports that "foreign policy" logged in at 2 percent with survey respondents, the "situation with Russia" at 1 percent, and "national security" at 1 percent. The percentage of Americans who flagged "International issues," "situation with China," "lack of military defense," and "fear of war" didn't crack 1 percent.
Of course, events could upend this ranking. Even if they don't, a foreign policy crisis or decision could mobilize or alienate voters in a critical battlegrounds state, helping one candidate and hurting another. That's what Elián González's repatriation to Cuba did to Al Gore, contributing to George W. Bush's win in 2000. Speculation has already started that Biden's decision to back Israel in its fight against Hamas could cost him Michigan. But if the election outcome turns on a small margin in one or two states, then almost every issue and campaign decision will in a sense be pivotal.
2. Speaking of battleground states, the presidential election isn't a national election but the compilation of elections in fifty states and one district.
Hundreds of polls will be released over the next twelve months showing how the candidates match up nationally. But it is worth repeating an obvious fact: The next president won't be decided by who wins the national vote but by how things break in the Electoral College. So while Joe Biden outpolled Donald Trump by seven million votes four years ago, Trump would have won if he had picked up the right mix of 42,921 votes in just three states.
So if you are poll gazing, focus on polls done in battleground states like Arizona, Georgia, Pennsylvania, and Wisconsin. (If California or Texas are in play, then the election has been decided.) And while you are at it, always check to see if the poll surveys all adults of voting age or just likely voters. While determining likely voters is more an art than a science, those polls are better predictors. And the best approach is to look at poll averages that outlets like FiveThirtyEight and Real Clear Politics maintain. Any single poll can be wildly off in its results.
3. All elections are uncertain. Election 2024 has far more uncertainties than normal.
The list of potential wildcards in 2024 is long. Some of them apply to every election, like a possible economic slowdown or some voting group turning out in larger or smaller numbers than predicted. Ditto third-party candidates, who on rare occasions can change the outcome of an election, as happened in 2000. The 2024 election may abound in third-party candidates. Robert F. Kennedy, Jr., is polling well at the moment as an independent. The question political insiders are debating is whether his candidacy will hurt Biden or Trump more. Lurking in the wings is a third-party challenge from No Labels, a group that positions itself as bipartisan. Add in third-party candidate Cornel West, candidates from the Green and Libertarian parties, and the fact that most Americans are recoiling at the prospect of a rerun of 2020, and 2024 could be an election that has political scientists rethinking what they know about elections.
But some of 2024's wildcards are new. Here are a few:
For the first time in U.S. history, the presidential race pits two candidates in their eighties. A bad fall, an illness, or something worse could scramble the election in a flash. If a leading candidate departs the race once it is well underway, Americans will discover that the rules governing whose names can appear on the ballot are varied, complex, and baffling.
Trump is dominating the Republican field so far. However, he faces criminal charges in four separate cases. Those trials may produce evidence that undermines his candidacy—or galvanizes his base. And should Trump be convicted of a felony, whether before or after Election Day, and wins next November, American democracy will enter unchartered waters.
Election laws have changed since 2020. Numerous red-state legislatures have enacted laws that they say will make elections more secure and critics say will suppress the vote. Many blue-state legislatures have passed laws that they claim will make it easier for people to vote, and critics argue will jeopardize election security. No one knows how these laws will play out in practice, particularly in terms of which party's voters will be helped or hurt the most.
Election 2024 will be the first artificial intelligence (AI) election. The impact on voting could be profound. Foreign actors might be able to harness it to sow distrust and distort debate. Deepfakes could alienate voters and suppress the vote; suspicion that genuine material is fake could be just as harmful. Political parties may be able to use AI to generate hyper-personalized marketing material to shift voter perceptions and behaviors.
To borrow a phrase from the airline industry, buckle up. Campaign 2024 could produce considerable turbulence.
Campaign Update
The big news on the campaign trail this past week is that the Republican field shrank by one and the Democratic field grew by one. Last Saturday, former Vice President Mike Pence used his appearance at the Republican Jewish Coalition conference in Las Vegas to announce he was suspending his campaign, the political euphemism for dropping out of the race. He joined Will Hurd and Francis Suarez on the list of candidates who quit the race before the first formal nominating event in Iowa.
On the Democratic side of the race, third-term Minnesota Congressman Dean Phillips threw his hat in the ring. He joins Marianne Williamson in challenging Joe Biden's bid to be the Democratic nominee. Phillips is a longshot to win the Democratic nomination, a point he acknowledges. He says his overarching goal is to keep Trump from returning to the Oval Office. However, his candidacy could help make Trump's case against Biden.
Don't be surprised if more Republican candidates drop out of the race before the Iowa caucus. So far, Doug Burgum, Asa Hutchinson, and Tim Scott have yet to qualify for next Wednesday's Republican debate in Miami. Missing the debate will make it harder for each of them to attract news coverage and donations, both of which are essential for sustaining a campaign.
But don't expect more candidates to jump into the race absent some major development. The reason is prosaic. The deadline for getting on primary ballots has either passed (e.g., Nevada and New Hampshire) or is fast approaching (e.g., Alabama, Arkansas).
The Candidates in Their Own Words
All the major Republican candidates joined Pence in speaking at the Republican Jewish Coalition conference. Not surprisingly, Trump dominated the event.
As with most of his speeches, he spent much of his time re-litigating the 2020 election and decrying Biden's alleged corruption. Trump did speak about the Israel-Hamas war, arguing that "every single life that is lost in this conflict is on the shoulders of Hamas alone." He didn't attempt to explain his statement at the start of the war that Hezbollah is "very smart" or his criticism of Israeli Prime Minister Benjamin Netanyahu for failing to anticipate Hamas's attack. Members of the audience didn't seem interested in questioning him about either of those remarks.
Nikki Haley, however, didn't miss the opportunity to recall Trump's comments when she got her turn on the stage.
The former South Carolina governor and U.S. ambassador to the United Nations, who has been rising in the polls in Iowa but remains in a distant second, took several jabs at Trump, who was set to follow her the podium. "There are plenty of Democrats and Republicans who fail to understand the nature of the threats we face. You've already heard from some of them today. And I'm not today's last speaker." She also said: "As Americans, we need to ask a critical question. We all know what Trump did in the past. The question is, what will he do in the future?"
Ron DeSantis went on Morning Joe on Thursday:
He criticized Biden's approach to Ukraine, saying he "would not do what Biden's doing, which is, you know, funding pensions for bureaucrats over there, funding salaries, their funding small business stuff." Rather, he insisted: "As president, I'm going to leverage resources. I'm going to get the Europeans to do more." (He allowed that some European countries are doing a lot.) He also said: "The United States should turn every screw so that Iran is not getting money flowing into its coffers, particularly with their oil."
DeSantis also appeared on Meet the Press last Sunday. He opposed the idea of sending humanitarian aid to Gaza because of concerns that Hamas will "commandeer that money."
Vivek Ramaswamy sat down for a long interview with Piers Morgan.
The conversation got testy. Morgan pressed Ramaswamy on his proposal to end the war in Ukraine by negotiating a deal in which the United States would bar Ukraine from joining NATO, Putin would end his military alliance with China, and the fighting in Ukraine would halt along the "current lines of control." Morgan noted that this deal would "give Putin everything he's stolen." Ramaswamy denied that was the case, saying that "I'm not going to give him anything, I'm giving him a deal" and that the regions Russia has taken in Ukraine are Russian speaking. He also insisted that "Ukraine is not a democratic country."
Ramaswamy also debated Democratic Congressman Ro Khanna of California at St. Anselm College in New Hampshire.
Not surprisingly, Khanna and Ramaswamy disagreed a lot. Ramaswamy warned that "we are on our way to, potentially, World War III" and said that this "was probably my top reason for being in this Republican primary." On specific issues, Ramaswamy said that "Israel has an absolute right to its own national self-defense," that he opposed America's involvement in wars overseas, and that U.S. troops in Iraq and Syria "shouldn't be there in the first place."
What the Pundits Are Saying
The Atlantic profiled Burgum. The opening paragraph of the article telegraphed his primary problem: "The phrase one percent could be used to describe Doug Burgum's socioeconomic status and, less gloriously, his national-polling average. On a recent Thursday night in New Hampshire, the North Dakota governor squared up to the reality of his presidential campaign: "The first question I get is 'When are you going to drop out?'"
The Campaign Schedule
The Iowa caucuses, the first nominating event on the election calendar, is seventy-three days away (January 15, 2024).
The South Carolina primary, the first Democratic primary, is ninety-two days away (February 3, 2024).
The Nevada primary, the first Republican primary, is ninety-five days away (February 6, 2024)
Election Day is 368 days away.
Sinet Adous and Michelle Kurilla assisted in the preparation of this post.