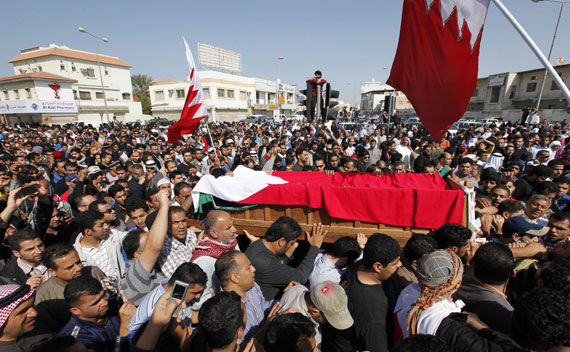 The Middle East has for decades seemed to be in permanent stasis, with little political change despite the statistics showing very young and frustrated populations. It was a commonplace that no regime had been overthrown in decades except by force of American arms and aging rulers could expect to die safely in bed.
Those years are over. Some thoughts about aspects of the current situation follow.
The regimes that have fallen (in Egypt and Tunisia) were fake republics, ruled via stolen elections and phony parliaments. No monarchy has yet succumbed, though Bahrain may be the first. The monarchs appear to have a genuine legitimacy, and in many cases the demands of protesters are for constitutional monarchy rather than for expelling the king and changing to a republican government. The legitimacy of the al Khalifa in Bahrain is perhaps least among the royal families, as it is Sunni and rules over a majority Shia population. But if one compares for example Jordan, Kuwait, Morocco, and Bahrain to Syria, Libya, Algeria, Mubarak's Egypt, and Saddam's Iraq, one can see why there is no assumption that republics are more free or more democratic than monarchies. In the recent Arab experience, decent governance and even moves toward public participation in government have been more common in monarchies. (The UAE and Qatar are exceptions, in part because they are so rich they can buy off public discontent and eliminate most poverty, and in part because they have very few citizens compared to the number of foreign guest workers who do not expect to have political rights.)

It's not hard to see why the monarchies are sometimes more liberal: the king or sultan or amir can stand back from politics a bit, allowing governments and ministers to fall when they perform badly or public frustration mounts. The hereditary ruler can also allow criticism of the government, for it is not necessarily criticism of him. A president-for-life cannot; all political activity threatens his grip on power. The parliaments in Bahrain and Kuwait have limited powers, to be sure, but they are not the jokes that the parliaments in fake republics visibly are.

Starting with Iraq, democracy has now arrived in the Arab Middle East and it may soon show up in Tunisia and Egypt. If it does, if the outcome of the current struggles is reasonably free and stable, the monarchies will be under pressure for more reform and the fake republics will be under far more. This includes Iran, which is supposed to be an Islamic Republic but has of course become a very repressive dictatorship backed by the Revolutionary Guards' use of force to stay in power. As the Arab Middle East becomes more democratic, Iran's bizarre system of velayat-i-faqih (which whatever its religious provenance has come to mean that a few politicized ayatollahs rule and everyone else shuts up or is shut up by the state) will become increasingly intolerable to the Iranian people. It is difficult to see how the frozen politics of Algeria can forever be defended by the army, which rules through President Bouteflika and fraudulent elections, and one can predict trouble there. It is true that Algerians have tasted the costs of terrorism and know that disorder and violence are a terrible thing, but if they come to see a much poorer country like Egypt transition to democracy they will increasingly demand similar political rights. The closest thing to Bahrain's division between a Sunni ruler and a Shia-majority population is Syria, where the Alawites rule through the Assad family in a Sunni-majority country. The pervasiveness and viciousness of the security organs there may mean, and thus far has meant, that demonstrations are not permitted and critics of the regime are instantly jailed. I wish I thought revolution was near in Syria, and hope I am wrong in thinking this regime will be one of the last to go.

The degree of liberalization and political participation varies among the monarchies; in the UAE, Saudi Arabia, Oman, and Qatar there is no real political life beyond the royal court. The Saudis are no doubt nervous about Bahrain, for their prejudices against Shia Muslims and their concerns about Iranian influence mean they will not want a Shia republic just across the causeway. Moreover, they will worry that the Shia who are a majority in their own oil-rich Eastern Province will get ideas about democracy and self-rule. This should lead the Saudi royals to treat those Shia better so as to secure their loyalty, but that argument has been tried and has failed for years in the Kingdom. One hears the occasional speech about ending discrimination against the Shia, but there has been no progress. Enlightened self-interest has not been a hot seller in Riyadh. In Jordan and Morocco there is politics, but the rulers have not been willing to relax their grips enough—meaning they have not yet really come to believe that they are safest if democracy expands. Participation rates in Moroccan elections are low because so many potential voters think all the strings are pulled from the palace anyway; and while the king appears to be widely popular there is growing criticism of the financial and commercial activities of the royals. Political reform in Jordan is always on the agenda, government after government, but never gets very far because it would increase the influence of Palestinians in Jordan at the expense of the East Bankers who form the Hashemite monarchy's true support base. (Yes, they are all Jordanian citizens, but any conversation with East Bankers finds them referring to "Jordanians" and "Palestinians" quite separately.)

Finally, a word about Egypt. What's going on where the media are not present remains unclear to me; I have been told that the police are not actually maintaining law and order in many places and there is a good deal of disorder outside the major cities. In Cairo the transition has begun, with a constitutional committee now drafting amendments to the most egregious provisions. I am not fearful that the military will seek to retain power and will refuse to go "back to the barracks." For one thing, Egypt's economic problems are intractable and the army has no answer to the demands for jobs and bread. It will soon conclude that throwing those problems at civilian, elected officials is a smart move. Moreover, the army need not "govern" Egypt to protect its interests. It needs only to blunt moves to investigate its own economic and financial activities and to reduce its budget. The image of an army that saved the people from dictatorship and then returned to the barracks is the stuff of legend and will help protect the institution against vigorous investigations.
What should the U.S. do now? Just two thoughts for the moment. We should offer Egypt a free trade agreement, for the offer can be presented as a generous response to the advent of democracy and can also serve to push Egypt toward a freer market economy. Under the Mubarak regime this was discussed but the Bush Administration pulled back partly in protest against human rights abuses and partly because we believed Mubarak wasn't serious about it. We thought he wanted a ceremony but would not sign up to a free market. It's worth a try now. Second, we should be having serious conversations with rulers in friendly countries -–whether fake republics or monarchies-- about how they see the next few months and years and what reform plans they have. If we find that they have none, we should advise them to wise up fast. It will be hard for us to help them if they won't help themselves. They might ask Hosni Mubarak or Zine el Abidine ben Ali about that.