Central America's Unaccompanied Minors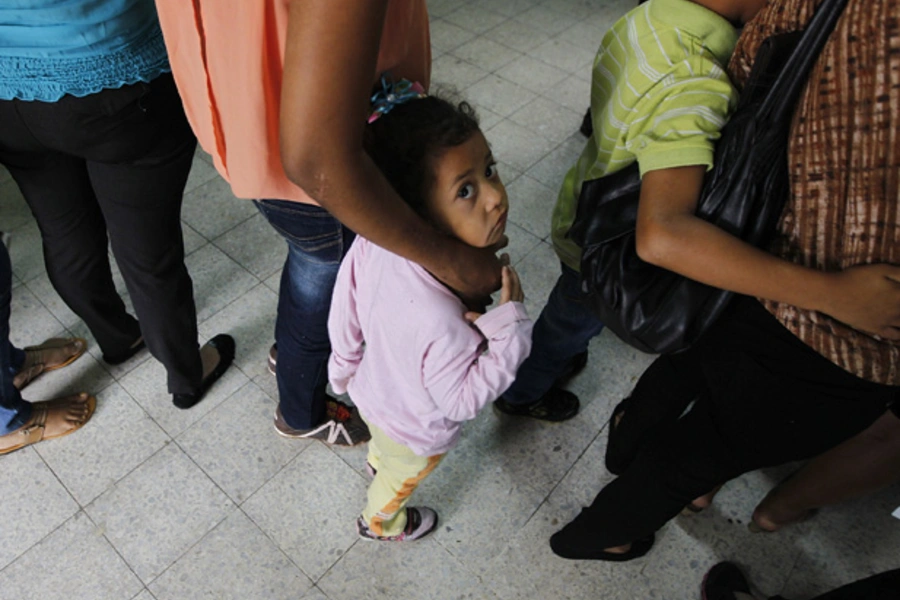 During the summer of 2014 tens of thousands of unaccompanied minors surged across the U.S-Mexico border. Over the course of the fiscal year, nearly 70,000—mostly from the Northern Triangle countries of El Salvador, Guatemala, and Honduras—endured brutal and at times even deadly conditions as they made their way to the United States. While most of these children were between the ages of 13 and 17, the fastest growing group was 6 to 12 years old. Of the many factors that influenced their individual decisions, four stand out.
The first is violence. In 2012, the homicide rate in Honduras reached 90 per 100,000—the highest in the world. El Salvador and Guatemala's homicide rates were 41 and 40 per 100,000, respectively, some of the highest in the hemisphere. Much of this violence is gang related, fueled by robbery, kidnapping, extortion, and drug trafficking.
Extreme poverty and inequality also leads children north. Nearly 67 percent of Hondurans, 45 percent of Salvadorans, and 55 percent of Guatemalans live in poverty. One in two Guatemalan children under five suffer from chronic malnutrition, affecting their physical and cognitive development for life. Add in bad schools and few good jobs, there is little reason to stay.
The third driving force is family. Over 3 million Central Americans live in the United States, the result of past migration waves. Surveys by Fulbright Scholar Elizabeth Kennedy found that 90 percent of the unaccompanied minors she interviewed from El Salvador had a family member living in the United States. One in three said reuniting with them was the main motivation for leaving home. The importance of family networks is reflected in the disparities in migration paths: despite extreme poverty, few Nicaraguans head to the United States; instead they flock to Costa Rica.
Finally, misinformation from client-seeking coyotes pushed many to come. Last spring and summer these traffickers spread rumors that for a limited time United States government would give children amnesty. Pushed out through social media, many families spent upwards of US$8,000 to take advantage of this supposed relaxation in rules.
The surge seemed to end as quickly as it began. By September illegal apprehensions were less than half May numbers. One reason for this rapid decline is seasonality. More Central Americans (and Mexicans) come in the spring and summer months when labor needs spike. A second are U.S. efforts to counteract coyotes' erroneous claims. A US$1 million Spanish-language multi-media "Dangers and Awareness" Campaign ran some 6,500 radio and television advertisements in El Salvador, Honduras, and Guatemala to dispel the falsehoods being spread. Perhaps most importantly, Mexico stepped up its southern border and transit route enforcement; curtailing, for instance, migrants riding the infamous train "The Beast."In 2014, deportations back to Central America jumped by a third.
Still, the United States should prepare for a new influx this spring. Poverty, inequality, and violence continue unabated in the region. And a decent U.S. economy provides opportunities that, for many, outweigh the dangers of the trip. If early trends hold, unaccompanied minors heading north in 2015 will likely be second in number only to the record breaking 2014 flows.
To help tackle the root causes, President Obama has asked for over US$1 billion to, in the words of Vice President Joe Biden, support the "difficult reforms and investments required to address the region's interlocking security, governance and economic challenges." Skeptics may argue that the billions of dollars spent in the past have little to show. Others may question whether just US$1 billion, divided between three troubled nations, can make a difference. Leadership and political resolve will matter just as much as resources. But without steps to change the calculus, Central America's youth will continue their treks to the U.S. border.