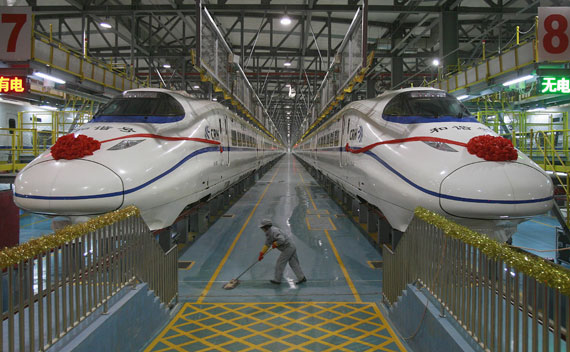 Last week, I took the train from New York City to Stamford, Connecticut to give a talk. The distance between Grand Central Station and Stamford is 33 miles, and it took me 44 minutes to get there. Not bad – at least I got there in time. Two weeks ago, I went to D.C. to participate in a conference, but the train was disabled at Baltimore station (how many times have we heard of a disabled Amtrak train?). I ended up spending six hours on the road. When I was waiting in the silent and dark train, I could not help but comparing the United States and China in high-speed train development. The distance between New York and Washington is about the same as that between Shanghai and Nanjing. The difference is the time it takes to complete the trip: one hour in China and three hours in the United States.
How time flies. How China flies! In Stamford, a former CBS News correspondent told me that the U.S. government had spent 15 years debating whether we should invest in high-speed trains (a "high-speed train" is defined by the Obama administration as one that runs at more than 90 miles per hour). In contrast, China has nearly completed a transportation revolution within one decade. Already having more than 4,400 miles of high-speed railways in service, the country plans to extend that network to more than 8,000 miles by 2012. A couple of weeks ago, one of China's trains set a new speed record on an operating rail line between Shanghai and Hangzhou, hitting a speed of 260 miles per hour. But the Chinese are not complacent. Just last week, the Ministry of Railway's chief engineer announced plans to have China's trains running at a speed of up to 312 miles per hour.
The development of high-speed train epitomizes China's rapid emergence as a great power. It should also serve as a wakeup call for U.S. policymakers, who seem to be losing their ability to do what is right for the country. Early this month, New Jersey Governor Chris Christie decided to halt a project that would add two more tracks to more than double the number of NJ Transit trains that could pass under the Hudson River (currently NJ Transit commuter trains and Amtrak cars share a century-old, two-track tunnel beneath the river, so when an Amtrak train is choked in the bottleneck, it causes significant delays for NJ commuter trains to and from New York City). Believe it or not, the project had been in the works for about two decades and had received a $6 billion commitment from the federal government and the Port Authority of New York and New Jersey. Alas, we have money to fight two extremely expensive wars, but we do not have money to add two more tracks. Where is that "can-do" and "get-it-done" attitude that had characterized America's state-building experience?
Photo courtesy Reuters/China Daily