China's Quest for Self-Reliance in the Fourteenth Five-Year Plan
Despite calls for openness and international cooperation, China's Fourteenth Five-Year Plan's emphasis on achieving "self-reliance" in science and technology shows that China is looking internally to ensure its future development.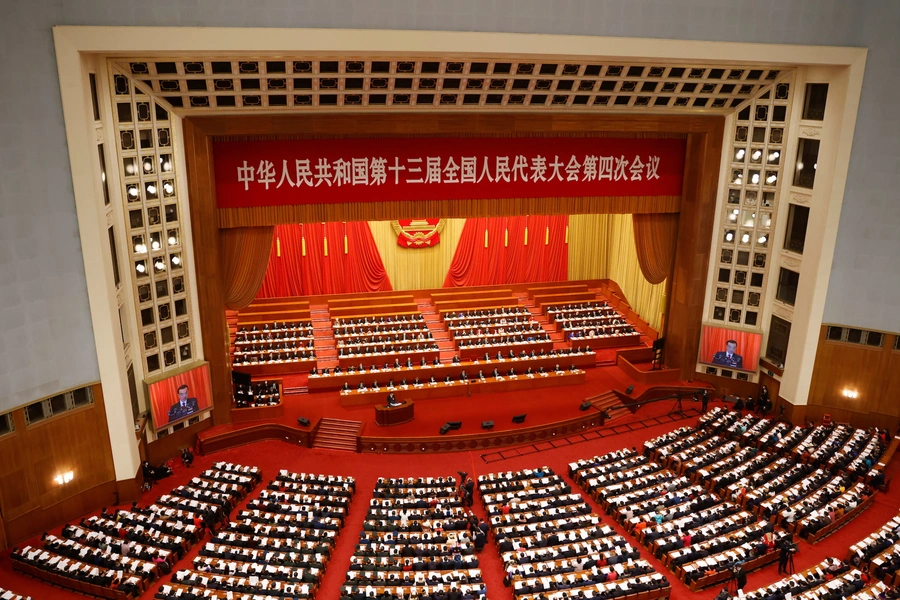 Lauren Dudley is a Research Associate for Asia Studies at the Council on Foreign Relations.
On Friday, China released the Fourteenth Five-Year Plan. The draft plan includes broad goals for China's economic and social development over the next five-year period and through 2035.  
Innovation is one of the main components of the plan. Over the next five years, China aims to increase research and development (R&D) investment by seven percent each year, with a focus on basic research. This increased R&D investment, paired with continued reform of China's innovation system, will play an important role in China's development of advanced technologies listed in the plan, including artificial intelligence, biotechnology, blockchain, neuroscience, quantum computing, and robotics. China is betting that by "tackling problems at the frontier of science and technology," expanding digital connectivity, and increasing data and computing power through the construction of new infrastructure, it will have successfully planted the "soil" to spur the growth of new technology applications, products, and business models.  
In many ways, China's quest to innovate and develop emerging technologies is not new. In the early 1980s, Jiang Zemin, the future president and then-Minister of the Electronics Ministry, stressed the need for China to catch up with its more advanced counterparts in information technology, which he deemed the strategic high ground in international competition. Major policies since then, such as the National Medium- and Long-Term Program for Science and Technology Development and China's Twelfth and Thirteenth Five-Year Plans have responded to this need to enhance China's technological capabilities. Calls in these plans for promoting "indigenous innovation," "leapfrogging" in priority fields, and developing "strategic emerging industries," among other tasks, reflect some of the main goals outlined in the draft Fourteenth Five-Year Plan. 
While recent Chinese science and technology policies have targeted moving Chinese manufacturing up the value-added chain, establishing China as a global center of innovation and technology, and fostering long-term productivity, the Fourteenth Five-Year Plan highlights a growing urgency to protect China from external vulnerabilities through attaining self-reliance in science and technology. The five-year plan further indicates that Beijing expects to develop what is known as the dual circulation strategy, which aims to reduce China's vulnerability to external shocks by relying primarily on domestic production, distribution, and consumption.  
China's push for self-reliance has been accelerated by the United States' ability to cut off certain Chinese companies' access to semiconductors, a critical component in many advanced technologies. Chinese reports suggest that there is widespread understanding in China that the United States' and China's competition in advanced technologies will continue, even if the Biden administration loosens restrictions for less-advanced products, as seen by the U.S. Department of Commerce's recent decision to grant licenses to U.S. companies to export last-generation manufacturing equipment to SMIC. Given these circumstances, China has put greater emphasis on developing "chokepoint" (卡脖子) technologies that it is currently unable to develop independently. The innovation goals in the draft Fourteenth Five-Year Plan set out to do just that. 
China's success is not guaranteed. As other analysts have noted, policy planning documents like the Fourteenth Five-Year Plan often equate to a "wish list" of what China hopes to accomplish, rather than a preview of what it will accomplish. Moreover, Beijing has a long history of frustration in the chip sector. Despite decades of investment, China still is unable to independently develop semiconductors. Acknowledging the challenges that lay ahead, influential officials, entrepreneurs, and academics have evoked the "patriotic spirit of scientists" and called on Chinese students and entrepreneurs to "gnaw on the hard bones" to help China build an independent, controllable supply chain.  
China is not alone in these efforts. The United States, European Union, and Japan are also looking at ways to shore up domestic manufacturing, guarantee supply of critical resources, and increase supply chain security. This represents a major shift in global attitudes away from viewing participation in an integrated global economy as a means of greater prosperity and peace, to a threat to security. 
The precise details on how China will implement the goals outlined in the Fourteenth Five-Year Plan—and how successful it is at achieving them—will become evident in the coming years. But what is clear from the Fourteenth Five-Year Plan is that China, despite calls for continued openness and international cooperation, is looking internally to ensure its future development.