China's Shifting Roles on the Korean Peninsula: Unintended Consequences of the Singapore Summit
One of the most challenging issues the Trump administration now faces is how to convince China to maintain economic pressure on North Korea in the midst of a simultaneously unfolding inter-Korean peace process and Sino-U.S. trade war.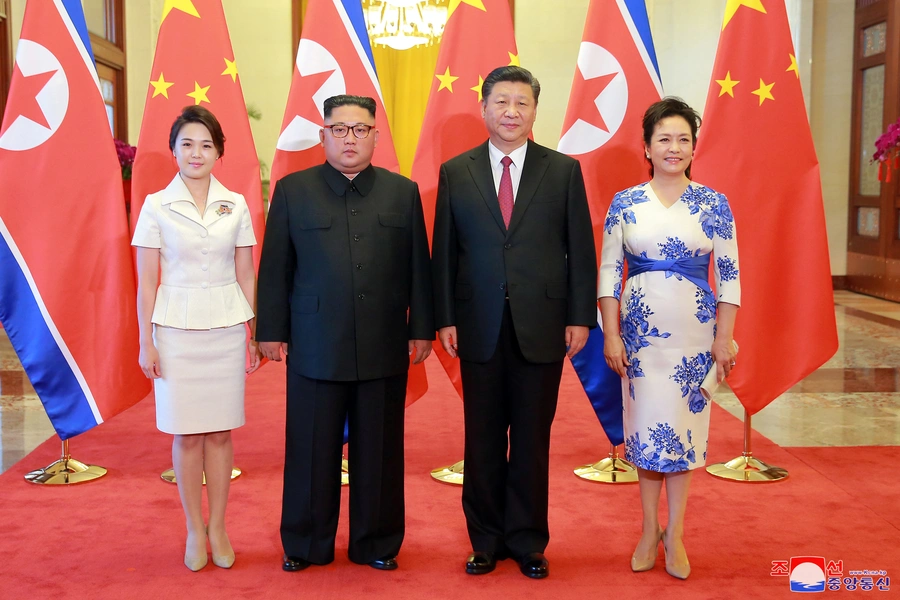 The Singapore summit has proven to be historic, but did not live up to its promise as a breakthrough moment in U.S.-North Korea relations.  The most dramatic unintended consequence of the Singapore summit was the revitalization of leader-level ties between China and North Korea. As a result, one of the most challenging issues the Trump administration now faces is how to convince China to maintain economic pressure on North Korea in the midst of a simultaneously unfolding inter-Korean peace process and Sino-U.S. trade war.

As I explore in greater detail in my review with See-won Byun of summer developments in China-Korea relations, a dramatic shift in China's policy toward North Korea has accompanied the whiplash-inducing shift in U.S. policy toward North Korea.  Most notably, China's policy has reverted from support for U.S.-led maximum pressure aimed at North Korea's denuclearization to restoration of China's geostrategic embrace of North Korean leader Kim Jong-un due to its fear of being marginalized in the rapidly evolving peace process.

Early this year, the Trump administration routinely received credit for implementing an effective pressure campaign that isolated North Korea diplomatically and mobilized economic coercion globally.  Beijing was an active supporting partner of the U.S.-led pressure campaign both through the authorization of UN Security Council sanctions on selected North Korean exports and through enforcement of restrictions that induced a ninety percent decrease in Sino-North Korean trade in the first three months of the year. China's fear of military conflict paralyzed Chinese policy and marginalized China's role on the peninsula.

But maximum pressure peaked on the day that South Korea's national security advisor announced on the front lawn of the White House that Trump had accepted an invitation to meet Kim Jong-un.  Inter-Korean momentum surrounding the Panmunjom Declaration, which hinted indirectly at China's exclusion from permanent peace arrangements by referring to a process involving three or four parties, further fueled Beijing's fear of missing out.  The nuclear issue was removed as an obstacle to a China-North Korea summit, and Kim Jong-un appeared in Beijing for the first time since he became North Korea's leader in 2012.  

China's objectives shifted from normal relations with North Korea dominated by economic coercion to a geostrategic embrace of "traditional friendship" with North Korea as a fellow socialist country, and emphasis on the "irreplaceably significant" role of high-level exchanges to develop strategic communication and safeguard common interests.  "Peaceful resolution of the peninsula issue" squeezed out denuclearization in China's public formulations of its objectives with North Korea.

The adoption of the Singapore statement made China a principal beneficiary of North Korean efforts to persuade President Trump to cancel U.S.-ROK joint military exercises and declare an end to conflict on the Korean Peninsula.  It further benefited from the framing of the Singapore Summit to include the parallel objectives of peace and denuclearization that China had formally advocated.  

There is a fourth potential role for China that could result from its concerns about marginalization of influence on the Korean peninsula: that of spoiler in blocking denuclearization by prioritizing geopolitics and using the Korean conflict to maximize its influence at the expense of the United States. It is a role that Trump has publicly suspected China of playing, both in comments he made in May to South Korean President Moon Jae-in about the Kim-Xi Dalian summit and in remarks on Twitter in August on the occasion of Secretary of State Pompeo's planned visit to Pyongyang.  

China's reversion to a policy that emphasizes geopolitical interests above denuclearization carries with it several negative consequences.  First, China's influence over North Korea as its key strategic ally relieves pressure on North Korea to denuclearize.  This prospect is likely to interact negatively with rising tensions in U.S.-China relations.  Second, China's reorientation toward the North may generate competition for economic influence within North Korea between China and South Korea as Moon Jae-in pursues his vision of a revitalized inter-Korean economic relationship, reliant on a tangible commitment by North Korea to denuclearization. Third, Chinese cooperation with the United States on North Korea may be negatively affected by broader tensions in China-U.S. relations, especially in the context of a Sino-U.S. trade war.
 
For these reasons, there is a need to provide China with a supporting role that ensures China's buy-in--but not a starring role that might enable China's veto--in an unfolding peace-and-denuclearization framework with North Korea. China should keep in mind the policy paralysis it faced in the context of the rising risk of U.S.-North Korea military confrontation as well as the risks of ownership of the North Korea problem that will come if China is perceived as a main obstacle to progress toward North Korea's denuclearization.