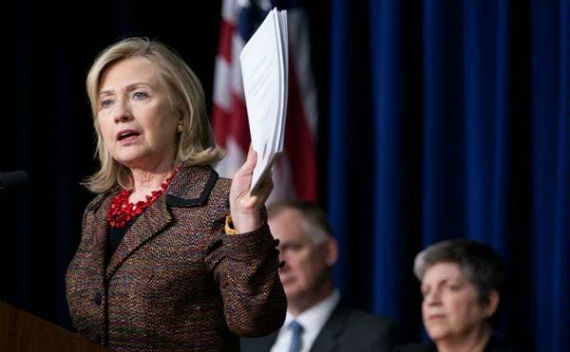 A week after the United States released its International Strategy for Cyberspace, it is possible to gauge some Chinese responses. Not surprisingly, there was a relatively high degree of skepticism about U.S. intentions. Chinese concerns revolved around three issues:
The strategy is really about military capabilities and deterrence.  Perhaps following the lead of some U.S. news reports, Chinese press reports focused on the statement that Washington reserved the right "to use all necessary means—diplomatic, informational, military, and economic—as appropriate and consistent with applicable international law," to defend itself and its allies.  This must be frustrating to the State Department since it was trying to de-emphasize cyberspace as a warfighting "domain" and stress its importance as a public forum, market, and source of innovation.  They wanted less talk about Cyber Command and more about international engagement.  Certainly it couldn't have been an accident that Deputy Secretary of Defense William Lynn spoke after Homeland Security Advisor John Brennan, Secretary of State Hillary Clinton, Attorney General Eric Holder, Secretary of Commerce Gary Locke, and Secretary of Homeland Security Janet Napolitano.
Despite the calls for cooperation, the U.S. is trying to maintain its technological lead.  In the view of some Chinese analysts, the call for interoperability and global standards mask an effort to lock others into technologies owned by U.S. companies.  Global Times quoted one analyst as saying: "The U.S. masters a number of core technologies for cyberspace usage, and it aims to continuously consolidate its advantages."  Similarly, in the area of Internet governance, no matter how often U.S. government officials refer to international cooperation, they still want the United States "to maintain its lead role. At a press conference on the same day, Hillary Clinton made this point very clear."
The push for Internet freedom will lead to more conflict. While U.S. calls for the free flow of information and criticism of censorship usually create most of the fireworks in discussions with Beijing, most of the Chinese reports seem fairly uninterested that the strategy is grounded in the "principles of fundamental freedoms, privacy, and the free flow of information."  Maybe they've heard it all before and are tired of making all the counter arguments; maybe they wanted to focus on what seemed new in the strategy.  Still, almost all the responses still managed to slip in the idea that the Internet freedom agenda would be used to pressure other countries and cause more conflict.
Of course, it is difficult to draw a straight line from Chinese press reports to official positions.  Maybe Chinese policymakers have been more flexible and expansive in the S&ED or at the ongoing track II dialogue on cyber issues.  But it suggests that Chris Painter, the State Department's Cyber Coordinator, has his work cut out for him.