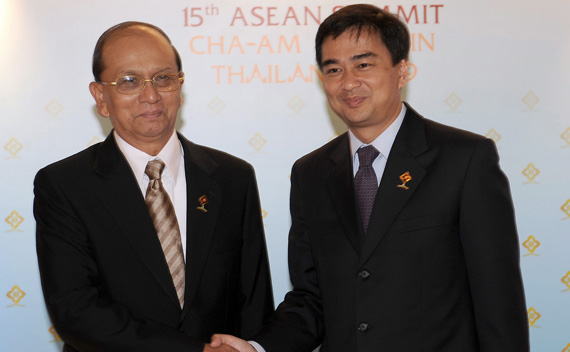 The decline of democracy in some of Southeast Asia's most important states does not only affect the citizens of those countries. The decline has a kind of knock-on effect, in which it also undermines the possibility for democratic change in other countries in the region.
Thailand and Burma today provide a clear example of this phenomenon. In the late 1990s, the last time there was a Democrat government in Thailand, the Chuan Leekpai administration pursued some of the most liberal policies toward Burma in Thai history. Thailand at that time did not support Western sanctions on Burma, but Chuan and other members of his government were willing to criticize the junta, to offer moral support for the Burmese democracy movement, and push ASEAN to take a tougher line on the Burmese regime. They could do so in part because of Thailand's own democratic credentials at the time – it had recently passed a reformist constitution and had entered into probably the freest era in modern Thai history, a time when it seemed unlikely the army would return to power in Bangkok.
Fast forward to 2010. Four years after the 2006 coup in Thailand, the military is firmly entrenched in power in Bangkok, with new army chief Prayuth Chan-Ocha, a royalist hard-liner, dominating the government from behind the scenes. Another coup is not out of the question, depending on events over the next year.
And with the military re-ensconced in power in Bangkok, Thailand's policies toward Burma are unlikely to revert to the liberalism of the late 1990s. True, some members of this Democrat government in Bangkok, led by Prime Minister Abhisit Vejjajiva, retain sympathies for Burma's embattled opposition, and are less interested in engaging Burma in order to boost their own commercial opportunities than former prime minister Thaksin Shinawatra was. But with Thailand itself no longer a democracy, Bangkok has little moral leverage, and little credibility within ASEAN.
So, over the past month the Abhisit government has taken several steps to placate the Burmese government, steps that never would have been taken in the late 1990s. Foreign minister Kasit Piromya has repeatedly suggested that, after Burma's national elections in November (which are hardly going to be free and fair), the Thai government might consider forcing Burmese living in Thailand after fleeing Burma to return to the military-ruled country. Then, in mid-November, one of the biggest Thai construction companies announced plans to sign a major contract to build a port in southeastern Burma, a massive infrastructure project.
Both of these actions will only shore up the power of the Burmese junta. But given how Thailand's own politics have changed, what else could one expect?
(Photo: Pornchai Kittiwongsakul/Pool/courtesy Reuters)