David Cameron to Visit Myanmar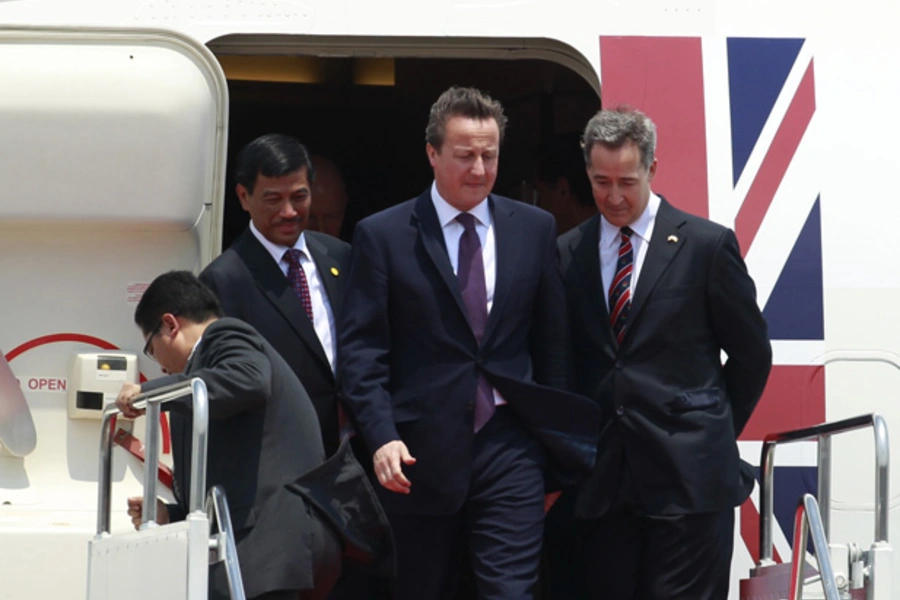 Press reports today and yesterday confirm that British prime minister David Cameron will visit Myanmar on Friday, as part of a tour through Asia. This will make Cameron the first major Western leader to visit Myanmar in at least two decades, since the 1990 elections, whose results were never recognized internationally. Cameron is supposedly bringing with him a business delegation, as companies are now rushing to get into Myanmar.
In some ways, the United Kingdom is well positioned to be the European country that breaks the ice, leading the end of the European sanctions. Among older Burmese, there is still a great affection for Britain, British products, and British schools, and the long, isolationist and xenophobic rule of Ne Win actually reduced whatever anti-British and anti-American sentiment existed in the Burmese population, because being pro-U.S. or pro-U.K. was a way to snub Ne Win and, later, the State Peace and Development Council (SPDC). The United Kingdom's role in the war on terrorism and the Iraq and Afghanistan wars also have had little impact on its popularity in Myanmar, as there is not a large pool of left-leaning opinion leaders in Myanmar who closely followed, and opposed, those wars. Of course, Aung San Suu Kyi also lived in Britain for many years, and the British media is popular in Myanmar.
In addition, because of its history with Myanmar and with Suu Kyi, as well as because of the strong human rights movement in London, the United Kingdom has long been the hardest-line on Myanmar among the EU nations. (The Czech Republic and a few other EU countries have shared London's hard-line sentiments.) So, while having a different EU leader break the ice, such as a leader from France or some of the Scandinavian nations that have been less hard-line on sanctions, might not have been as strong a signal, Cameron visiting is a very strong signal that Myanmar's isolation by the West is coming to a complete close.