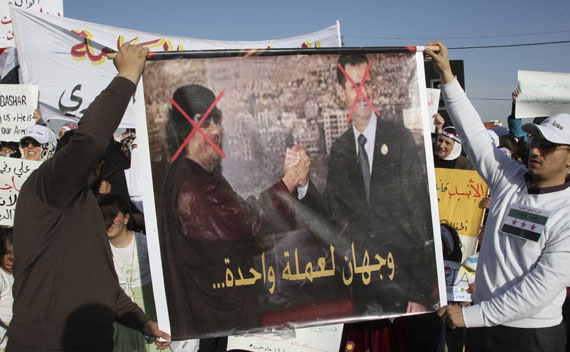 Hundreds of Syrians have been charged with the crime of "degrading the state."
The news comes from the Syrian Observatory for Human Rights, an independent human rights group. This "crime" carries a three-year sentence, and is reminiscent of Soviet-bloc criminal codes now gone except in Cuba. This is a useful reminder of the sort of regime that rules Syria: backward, resistant to any reform, bloody and violent, repressive, unchanging.
Since last Friday, the Syrian state has been attacking the citizens of that country and killing hundreds. This is clearly an effort to kill off the protest movement before it can gain momentum on Friday, when people gather at mosques for prayers. And it is possible that for a while the regime will succeed.
For the people of Syria are not getting the foreign support they deserve—including from the United States. The ambassador from Assad's bloody regime still sits happily in Washington, lying to reporters and diplomats alike. Our own ambassador remains in Damascus even after the regime detained, hooded, and beat up one of our diplomats. The Obama Administration, which called for the departure of Ben Ali, Mubarak, and Qaddafi, won't go that far when it comes to Assad. Nor did the sanctions adopted last week mention him.
As I have said in previous blogs, this is a bad and indefensible policy. The fall of the Assad regime would mean the departure of an enemy, would be excellent news for the people of Lebanon as well as Syria, and would represent a tremendous strategic defeat for Iran and Hezbollah. The United States should give our full moral and political support to those struggling for freedom in Syria, and offer concrete assistance to human rights and pro-democracy groups that are aiming at the noble goal of "degrading the state." In Assad's Syria, the state is a mafia dedicated to violence and thievery.  The sooner it is degraded, the better.