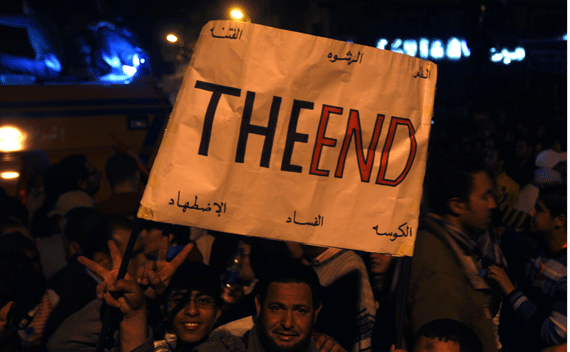 The Pew Research Center's Global Attitudes Project is out with a new poll on what Egyptians are thinking about the dramatic political changes they are experiencing. Egyptians are upbeat about their future, but they don't look too kindly on the United States or the now three-decades-old peace treaty with Israel.
Some highlights:
Nearly eight in ten Egyptians (77 percent) think that Hosni Mubarak's resignation was a "good thing."

More than seven out of ten Egyptians have a "very favorable" (37 percent) or "somewhat favorable" (38 percent) view of  the Muslim Brotherhood.

Nearly nine in ten Egyptians think that the Egyptian military has had a "very good influence" (53 percent) or "somewhat good influence" (35 percent) on the the way things are going.

Only 20 percent of Egyptians hold a "favorable" opinion of the United States. That's just three percentage points higher than what Pew found in its polling a year ago. Roughly two out of three Egyptians have "not too much" or no confidence in Barack Obama. So the White House has won few political benefits from urging Mubarak to step down.

A majority of Egyptians (54 percent) want to annul Egypt's peace treaty with Israel. The poll doesn't indicate how those who want to annul the treaty would change Egypt's policy toward Israel.
The survey covers a lot more terrain, including insights into what Egyptians hope will come out of the ongoing political change. Not surprisingly, better economic conditions top the list. No matter the country, jobs come first.
The poll holds one bit of good news for the United States. Although Egyptians might not think highly of Washington or Barack Obama, most value having a relationship with the United States. Only a minority of Egyptians (43 percent) say they want U.S.-Egyptian relations to become "less close." In comparison, 40 percent say they want relations to remain "as close" as they have been and 15 percent want them to be "closer." Whether Washington can take advantage of this support will depend on what it has to offer Cairo as well as how the January 25 revolution eventually plays out.