F-16s, Taiwan, and America's Future in Asia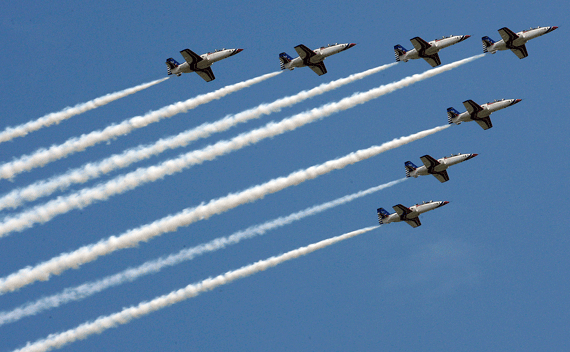 I noted in last week's Friday File that the White House had approved a $5 billion arms deal to upgrade Taiwan's fleet of 145 F-16 fighter planes. Robert Kaplan had a piece in yesterday's Washington Post that puts the arms sale in the broader context of the shifting balance of power in East Asia. The gist of the article is that the future looks grim for Washington's ability to preserve Taiwan's political independence.
Kaplan notes that a 2009 RAND study projected that by the end of this decade the United Sates will not be able to defend Taiwan from a Chinese air attack and that U.S. surface ships are increasingly vulnerable to China's land-based anti-ship missiles. He adds:
Because we cannot know the future, all we can do is note the trend line. The trend line suggests that China will annex Taiwan by, in effect, going around it: by adjusting the correlation of forces in its favor so that China will never have to fight for what it will soon possess. Not only does China have some more than 1,500 short-range ballistic missiles focused on Taiwan, but there are 270 commercial flights per week between Taiwan and the mainland, even as close to a third of Taiwan's exports go to China. Such is independence melting away. And as China's strategic planners need to concentrate less on capturing Taiwan, they will be free to focus on projecting power into the energy-rich South China Sea and, later, into the adjoining Indian Ocean.
How much to worry about this trend depends on how China will evolve over the next decade. We may end up with a friendlier, more cooperative China. Or we may not.
When faced with such uncertainty the standard advice is to hedge—push for the best outcome but prepare for the worst one as well. But how do you best do that? The grim U.S. budgetary picture makes it unlikely that the U.S. Navy is going to get much bigger. Washington could arm Taipei to the teeth. Even if that doesn't provoke the confrontation with China that we wish to avoid, Beijing has plenty of other ways to retaliate. That's one of the benefits that comes with being a creditor nation.
What would your advice be to the White House or the GOP presidential candidates on how to respond to the power shift we are witnessing in Asia?