Fed's Exit Strategy
May 22, 2009
Blog Post

Blog posts represent the views of CFR fellows and staff and not those of CFR, which takes no institutional positions.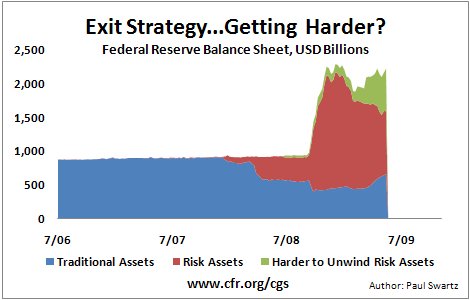 Some assets on the Fed's balance sheet are short-term credits than could be withdrawn easily if confidence in financial institutions returns, but the Fed has also been buying longer term assets that are harder to unwind. Should the Fed keep buying assets to signal its determination to fight deflation, or does the Fed need to think about how to unwind some of the programs to demonstrate that the expansion of its balance sheet won't lead to inflation?
Guha: Fed Lines Up Exit Strategy to Damp Inflation
Lanman, Torres: Bernanke, Kohn Pledge Fed to Withdraw Credit When Crisis Ends
Hilsenrath: For Fed, Big Test Will Be When to Turn Off the Money Pump
Zumbrun: Don't Fight the Fed. Please.