Five Elections to Watch in 2023
Numerous countries will hold elections in 2023. Here are five to watch.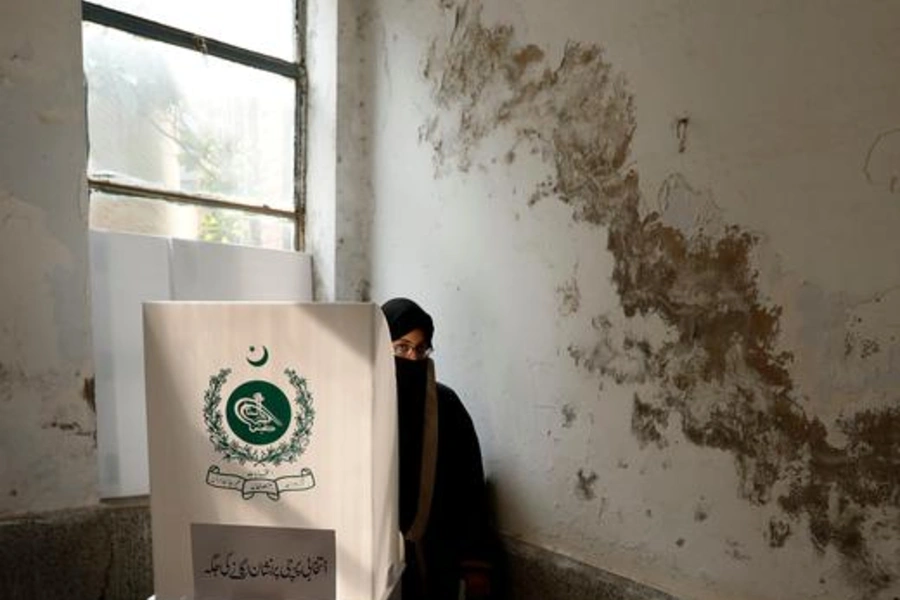 Millions of people around the world voted in 2022. South Koreans narrowly elected conservative candidate Yoon Suk-Yoel president. Viktor Orbán remained Hungary's prime minister as his far-right Fidesz Party dominated a heavily gerrymandered election. Emmanuel Macron won reelection in France, making him the first French president in two decades to win reelection. Voters in the Philippines elected Ferdinand "Bongbong" Marcos, Jr., the son of the dictator ousted from power in 1986, president. Anthony Albanese and the Australian Labour Party won Australia's parliamentary elections, ending nine years of Liberal Party control. Colombians elected their first leftist president, Gustavo Petro, a former guerilla fighter. The People's Movement for the Liberation of Angola held on to power in the closest election in Angola's history. William Ruto won Kenya's presidential race by less than two percentage points. Brazilian President Jair Bolsonaro lost a bitterly contested run-off election to former Brazilian President Luiz Inacio Lula da Silva. Israelis went to the polls for the fifth time in less than four years and gave former Prime Minister Benjamin Netanyahu the opportunity to form a new government. The U.S. congressional midterm elections saw the Democrats retain control of the Senate while the Republicans regained control of the House of Representatives.
Next year will see its share of consequential elections. Some of them might come as a surprise as governments fall, whether because of routine parliamentary maneuvers, protests in the streets, or coups. But many elections are already on the calendar even if specific dates have yet to be determined. Here are five elections to watch in 2023.
Nigerian General Elections, February 25. Nigeria is Africa's most populous, and in many ways most influential, country. So whoever wins Nigeria's presidential election matters not just to Nigerians but to all of Africa and beyond. Term limits bar incumbent president Muhammahu Buhari of the All Progressives Congress (APC) Party from seeking reelection. So the APC has nominated Asiwaju Bola Ahmed Tinubu the former governor of Lagos, the country's most populous state, as their candidate. The main opposition party, the People's Democratic Party, has nominated former Vice President Alhaji Atiku Abubakar, who lost to Buhari in the 2019 election. Sixteen other parties will have candidates on the ballot. One candidate who may surpass both Tinubu and Abubakar is Peter Obi, the candidate of the Labour Party. Obi is a businessman—he attended Harvard Business School—and former governor of the state of Anambra. A late September 2022 poll showed him leading comfortably among Nigerians who have already decided on a candidate. If no candidate wins a majority in the February vote, Nigeria would have the first run-off election in its history. The February election will be held under the new Electoral Act, which seeks to make the vote more transparent and secure. The issues of greatest concern to the estimated 95 million Nigerians heading to the polls to elect a president, vice president, and members of the Nigerian Senate and House of Representatives include security, corruption, jobs, and education.
Turkish General Elections, June 18. Recep Tayyip Erdoğan's two-decade dominance of Turkish politics will face its toughest test in Turkey's 2023 general elections, which will elect a new president as well as members of the Grand National Assembly. Erdoğan served as Turkey's prime minister from 2003 to 2014. In 2014, he ran for president, a largely ceremonial post in Turkey's parliamentary system. In 2017, he engineered the country's shift to a presidential system. He was reelected to the suddenly far more powerful presidency in 2018. In recent years, Erdoğan has lost his political magic even as he has made it harder for opponents to challenge his rule. In addition to eroding Turkey's democracy, he has mismanaged the economy. Annual inflation now runs at more than 80 percent, far above the global inflation rate of 12 percent, and unemployment tops 10 percent. But can Erdoğan's opponents unseat him? The Millet (Nation) Alliance, a coalition of parties, is the main opposition grouping. It has yet to decide on a presidential candidate. Another opposition grouping is the Labor and Freedom Alliance, which is led by the People's Democratic Party, the main political party for Turkey's Kurdish minority. The great risk is that the opposition coalitions will split the vote. If no candidate wins a majority in the June election, the two top vote getters will square off two weeks later in a run-off. Erdoğan may manipulate supposed foreign policy threats, especially from Greece, to rally support for his reelection.
Pakistani General Election, No Later Than October 12, 2023. Pakistan is in crisis. In April 2022, Prime Minister Imran Khan, a former cricket star, lost a no-confidence vote in parliament, continuing a streak in which no Pakistani prime minister has ever completed a full five-year term. Khan, however, did not go quietly into retirement. He instead led his followers in a series of protest marches on the capital of Islamabad seeking to oust his successor, Prime Minister Shehbaz Sharif. In November, Khan was wounded in a failed assassination attempt. He blamed Sharif and senior military officials for the attack. Meanwhile, Pakistan faces numerous economic crises. It is mired in debt, struggling to generate enough electricity to run its economy, and reeling from epic flooding that saw one-third of the country underwater. Against that backdrop, Pakistani voters are set to head to the polls no later than mid-October next year to elect a new parliament, though Khan is demanding that Sharif call early elections. The main contending political parties are: Pakistan Tehreek-e-Insaf (Pakistan Movement for Justice), which Khan leads; the Pakistan Muslim League, which Sharif and his brother, former Prime Minister Nawaz Sharif, lead; and the social-democratic Pakistan People's Party (PPP), which Asif Ali Zardari, the widower of assassinated Pakistani Prime Minister Benazir Bhutto, leads. Khan performed well in October by-elections, giving him momentum heading into 2023. Violence and vote rigging have marred past Pakistani elections and could threaten the 2023 election. Whichever party wins will have its hands full trying to address Pakistan's many problems.
Argentine General Elections, October 29. Argentina is one of two dozen democracies that makes voting mandatory. Next October Argentinians will vote for president, members of both houses of their National Congress, and governors of most provinces. Three coalitions currently dominate Argentine politics: the center-left Frente de Todos ("Everyone's Front"); the center-right Juntos por el Cambio ("Together for Change"); and the populist-libertarian La Libertad Avanza ("Freedom Move Forward"). Incumbent Argentine President Alberto Fernández of Frente de Todos says he will seek reelection. But he may face challenges from within his own coalition. Vice President Cristina Fernández de Kirchner, who was president from 2007 to 2015, has hinted that she will run. But just this month she was convicted on corruption charges, sentenced to six years in jail, and barred from holding public office. Sergio Massa, the current economy minister, may also throw his hat in the ring. Several senior members of Juntos por el Cambio are jockeying for their coalition's nomination. La Libertad Avanza will likely nominate Javier Milei, an economist turned politician who raffles off his legislative pay every month to protest what he calls government theft. Milei's attacks on Argentina's ruling class have led to comparisons to Donald Trump and Jair Bolsonaro. Milei has vowed if elected to move away from leftist ideas and develop closer ties with the United States. Argentina requires its winning presidential candidate to get 45 percent of the vote, or 40 percent with a 10 percent lead over the next closest candidate. If not, the top two vote getters go to a run-off election. Sky-high inflation will be a major campaign issue.
Bangladeshi General Elections, December 2023. Bangladesh's democracy has an unusual feature. In its general elections, voters elect three hundred members of its unicameral national parliament. Those three hundred members in turn vote exclusively for women to fill the remaining fifty seats in parliament. This two-step process is intended to make sure that women are represented. The entire parliament then elects a prime minister, who governs the country, and a president, who serves mainly as a ceremonial figure. Bangladesh effectively operates as a two-party system. On one side is the governing Grand Alliance, which is a coalition of left-leaning political parties led by the Awami League. On the other side is the Bangladesh Nationalist Party (BNP), which as its name implies, champions a nationalist agenda. Recent Bangladeshi elections have been marred by corruption and violence. The 2023 election may offer more of the same. Just this month, police arrested hundreds of BNP supporters who rallied in the capital city of Dhaka to demand that Prime Minister Sheikh Hasina Wazed resign because of surging inflation and what they see as the politically-motivated conviction of the BNP's leader, Khaleda Zia, on corruption charges. Hasina has been prime minister since 2009 and has used heavy-handed tactics to suppress her opponents. She has thus far rejected calls to hand power over to a caretaker government to monitor new elections, which must be held no later than December 31, 2023. Bangladesh has a new Election Commission that is charged with administering free and fair elections. It could play a critical role in determining whether democracy will flourish or erode in Bangladesh.
Sinet Adous, Elia Ching, John David Cobb, and Margaret Gach assisted in the preparation of this post.
Other posts in this series:
Ten Elections to Watch in 2022
Ten Elections to Watch in 2021
Ten Elections to Watch in 2020
Ten Elections to Watch in 2019
Ten Elections to Watch in 2018
Ten Elections to Watch in 2017
Ten Elections to Watch in 2016
Ten Elections to Watch in 2015