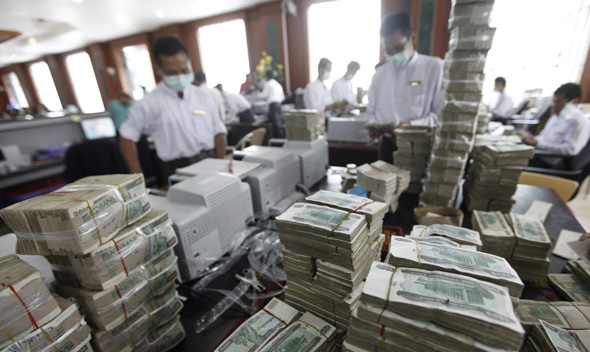 A recent report in The Diplomat suggested that Burma received some $20 billion in foreign direct investment last year, more than the past two decades combined. Of course, statistics in Burma are always to be treated with skepticism. These figures are for approved investments -- which means that the investments have not actually been made yet, so they could still be scuttled by the unstable business climate, political shifts, or for other reasons.
Still, it is a very big number – on par with Southeast Asian nations like Vietnam that are much higher-profile investment destinations, and that are attractive to Western companies. Comparatively, Burma has been historically viewed as a pariah and most Western nations have some form of sanctions on investment in the country. Most of the new investments, as The Diplomat notes, are in resources such oil, gas, dams, and other extractive industries. So, one has to wonder whether the benefits of such investments will extend to the average Burmese men and women, given that previous investments in Burma's resources made it easy for the government to siphon off the rewards, and led to horrific abuses including allegations of forced labor, wholesale dislocation of villages without compensation, and other crimes.
But even if the investments do not bode well for ordinary Burmese, they demonstrate a point discussed in the new book by Thant Myint-U and by many Asian experts on Burma. Despite Western sanctions, the Burmese government is proving skillful at attracting investment from neighboring nations, and sanctions are unlikely to impact that Thai, Indian, Singaporean, or Chinese investment. Though the U.S. has a role to play in Burma, and sanctions may serve an important purpose, the American role is limited. Even without U.S. investment, the Burmese government will carry on.