Friday Asia Update: Five Stories From the Week of April 15, 2016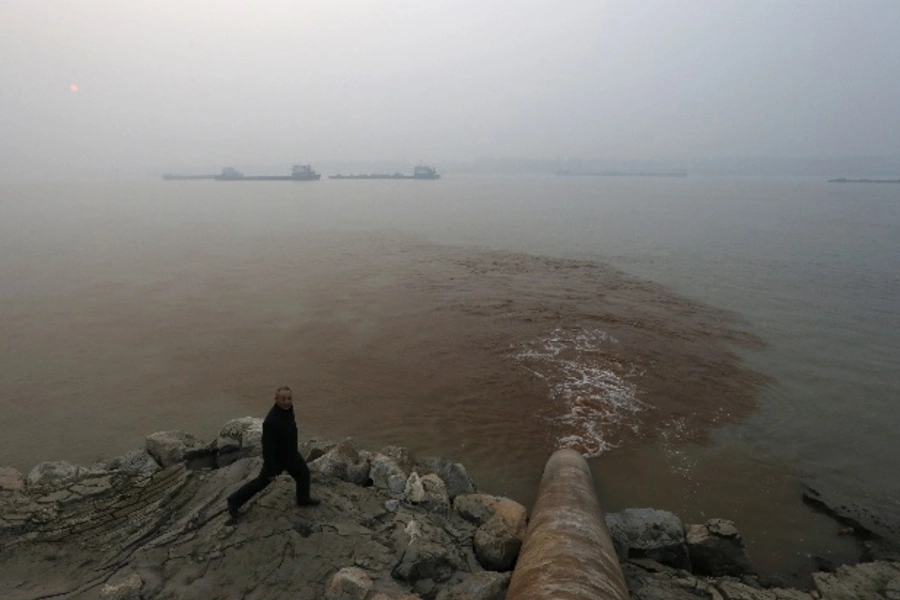 Rachel Brown, Lincoln Davidson, Gabriella Meltzer, Gabriel Walker, and Pei-Yu Wei look at five stories from Asia this week.
1. China's greatest pollution nightmare may be lurking underground. According to statistics released by the Chinese media on Monday, over 80 percent of water from 2,103 underground wells tested throughout the country is polluted to the point where it is no longer safe for drinking or bathing. According to Ma Jun, director of the Institute of Public Health and Environmental Affairs, this crisis primarily impacts rural farms, factories, and homes that depend on water sources close to the surface, since most Chinese cities derive their water from deeper wells that are far safer. China's Ministry of Water Resources reassured citizens, stating that "85 percent of the 1,817 of groundwater resources used for drinking water meet quality standards, while the 33 sources that supply drinking water to cities with a population larger than 500,000 all comply with water quality standards." Despite these statements, it is clear from the evidence that water pollution is a major issue for Chinese public health—in recent years, there have been around 1,700 incidents of water contamination reported annually, affecting at least 140 million people.  Part of the problem is the lack of clarification of responsibilities between the Water Resources Ministry and the Ministry of Environmental Protection in carrying out a $5.2 billion National Groundwater Pollution Plan issued in 2011.
2. Entrepreneurial upstarts in the Philippines. The growth of small businesses has long been stymied by limited access to credit and the dominance of large conglomerates in the Philippines, but the government has recently attempted to foster greater opportunities for entrepreneurship. Grace Poe, a candidate in the current presidential election, said that if elected she would promote greater access to financing for small and medium enterprises (SMEs), including a government-sponsored method for guaranteeing credit. Currently 8 percent of loans from Philippines banks are supposed to be for SMEs, but this rule is often disregarded. Poe also advocated for the establishment of entrepreneurship assistance centers, and the current government has already embarked on plans to create a system of 1,600 of them spanning the nation to aid SMEs. Another consideration is how to reduce the high levels of red tape surrounding the establishment of a business. The Philippines ranked 103 out of 189 nations in the 2016 World Bank's "Ease of Doing Business" index. Currently SMEs compose 37 percent of the Philippines' GDP and 62 percent of employment, a smaller fraction than in some other Southeast Asian nations. But there have been a number of notable successes, including  Aisa Mijeno, the creator of a saltwater-powered lamp, who shared the stage with President Barack Obama and Alibaba's Jack Ma during the 2015 APEC CEO Summit in Manila. Entrepreneurs in the Philippines' technology sector have also been gaining steam with the establishment of two startup incubators in 2012.
3. Kenya deports Taiwanese citizens to the Mainland. This week Kenya deported a group of Taiwanese citizens to China. The Taiwanese nationals were originally suspected of committing cybercrimes by the Kenyan authorities and were arrested in 2014 after police found a room full of high-tech computer equipment while responding to a fire in one of the slums in Nairobi. Some members of the group were later acquitted by Kenyan courts, but were immediately deported back to China after their acquittal. A video that has been circulating in the Taiwanese media since Tuesday showed fifteen prisoners trying to barricade themselves inside a prison cell to prevent themselves from being sent to China. Supposedly the Kenyan police used tear gas to force the prisoners out of the cell and onto a plane bound for Beijing, a claim that the Kenyan authorities denied. The Chinese government praised Kenya for recognizing the "One China" policy, and said that it would retry the Taiwanese prisoners for committing phone fraud against Chinese citizens. It has also said that it welcomes Taiwanese authorities to cooperate in the investigation. The timing of this deportation have led to speculations that Beijing is sending a warning to Taiwan's president-elect Tsai Ing-Wen from the China-skeptical Democratic Progressive Party, who will be sworn in on May 20. Taiwan's Ministry of Foreign Affairs said that it would try to negotiate the return of the prisoners with Beijing.
4. E-bike bans spread across China. Electric two-wheelers—bicycles with a small motor and battery attached—are ubiquitous in urban China, with more than 100 million sold in the country since the 1990s and 20 million sold each year. They have been praised as a way to fight pollution, as the bikes produce minimal emissions, and just last month a former Chinese government minister said the government should subsidize e-bikes. Yet Chinese cities have begun banning electric bicycles in recent weeks in an effort to reduce traffic congestion and prevent accidents. According to the government of Huizhou, which is paying owners 500 RMB per bike (about $77) ahead of a ban that will come into effect later this year, e-bikes are involved in 70 percent of accidents in the city. Beijing has banned e-bikes from ten high-traffic roads in the city center. And since March, Shenzhen has seized 17,975 unregistered e-bikes and freight tricycles. Critics of the bans point to the impact they have had on delivery services, which are big business in China's cities: in 2015, the average citizen of Shenzhen sent and received a total of 129 packages. The bans also have an outsized impact on migrant workers, who make up the majority of the express delivery workforce and generally can't afford to buy a car.
5. Indian tobacco firms spar with health ministry over cigarette packaging. On April 1, a new rule went into effect that requires graphic pictorial warnings to cover 85 percent of all cigarette packaging in India. Due to "confusion over the new requirements"—though the rule was first announced in 2014—a number of India's largest tobacco companies halted their cigarette production, effectively going on strike. Producers of beedis, or traditional cigarettes, also stopped production because of an inability for small-scale manufacturers to print the labels on conical packs, leaving all of the industry's 8 million workers, mainly women in rural areas, temporarily jobless. The Indian Food and Drug Administration has also taken a hardline stance on the new requirements, seizing imported tobacco products that do not meet the new labeling requirements. This week, one Gujarat-based cigarette manufacturer was the first to break rank and begin following the rule. But because other producers have gone to India's Supreme Court to protest the legality of the new requirements, it is unclear when, if at all, other companies might follow suit. The battle is one of numbers, if nothing else: the stoppages cost the government as much as $10 million a day in tax revenue, but tobacco-related illnesses kill nearly a million in India per year.
Bonus: "When you do what you want in life, humiliation usually follows." A lecturer in Chinese medicine at Anshun Vocational and Technical College in Guizhou, China, was suspended this week after he told his students that their final grade was dependent on their ability to drink a shot of baijiu, a Chinese liquor made from sorghum that's been said to taste like "liquid razor blades." According to one student at the scene, the instructor told his students, "If you're going to be doing sales, you have to be able to drink!" When contacted by reporters, the lecturer claimed that he hadn't told students that drinking was their final exam, but had simply wanted to give them a send-off from his class.