Friday File: The Globe Warms and the People Chill
April 22, 2011, 11:25 am (EST)
Blog Post

Blog posts represent the views of CFR fellows and staff and not those of CFR, which takes no institutional positions.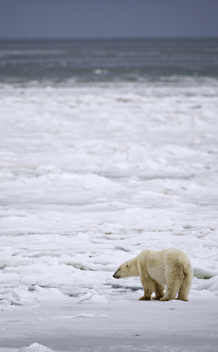 Above the Fold. Today marks the forty-first anniversary of Earth Day. When the first Earth Day was celebrated back in 1970 the problems were things like DDT and air pollution. We've made great progress on both of those issues over the past four decades—at least in the United States. (I wouldn't vouch for air quality in Beijing or Moscow.) But on the biggest environmental problem of them all—climate change—we have whiffed. Evidence continues to mount that our climate is changing, but Americans and Europeans have become more complacent about the threat. Alas, this isn't just the polar bear's problem.
CFR Event of the Week. It has been a year since the Deep Water Horizon exploded and we all witnessed the worst oil spill in history. The Gulf of Mexico is slowly mending, but oil demand and gas prices continue to rise. To get a better handle on where energy is headed, check out the comments of Fatih Birol, chief economist of the International Energy Agency when he visited the Council on Foreign Relations last December. You can read the transcript, watch the video, or download the audio to go.
Read of the Week. The May/June 2011 issue of Foreign Affairs is heavy on Middle East coverage for understandable reasons. For starters, try Michael Scott Doran's effort to understand how Iran and Syria will attempt to turn local gripes into a broader anti-Western campaign.
Blog Post of the Week. Gian Gentile, an active duty U.S. Army colonel, Stanford University Ph.D., and current Visiting Fellow at the Council on Foreign Relations, warns that unless the United States and its allies come up with a strategy, current military operations in Libya will end in a disaster.
Poll Question of the Week. Vice President Joe Biden says that President Obama's Libya policy:
is about our strategic interest and it is not based upon a situation of what can the traffic bear politically at home. The traffic can bear politically more in Libya: there's a bad guy there, everybody knows he's a bad guy, the people don't like him, and so that's not hard.
Perhaps. But according to the most recent Washington Post-ABC News poll, only 18 percent of Americans favor increasing "the level of U.S. military involvement in the situation with Libya."
Chart of the Week. Want some good news rather than the steady diet of bad news about how America is in decline? The United States ranks in the top five among advanced industrialized nations when it comes to adults ages twenty-five to sixty-four who have completed high school or obtained the equivalent degree.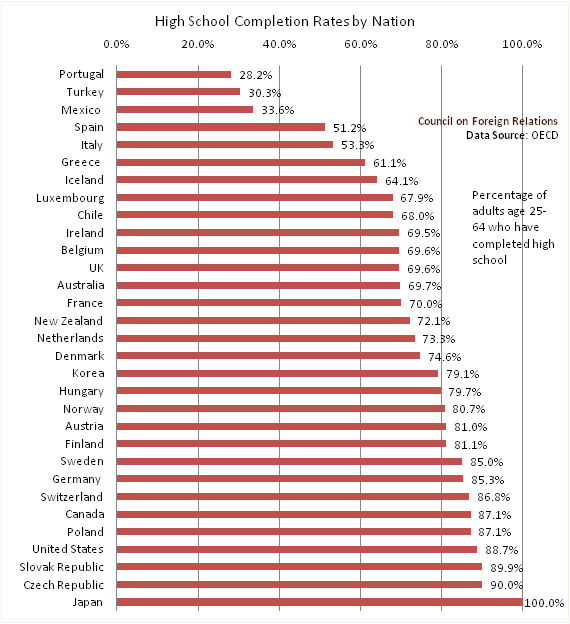 Yes, there is some bad news. The current high school dropout rate in the United States stands at a shade under 25 percent, putting us above the OECD average. That number will be a major drag on U.S. economic growth and social equality in a globalizing world. And what's up with Portugal?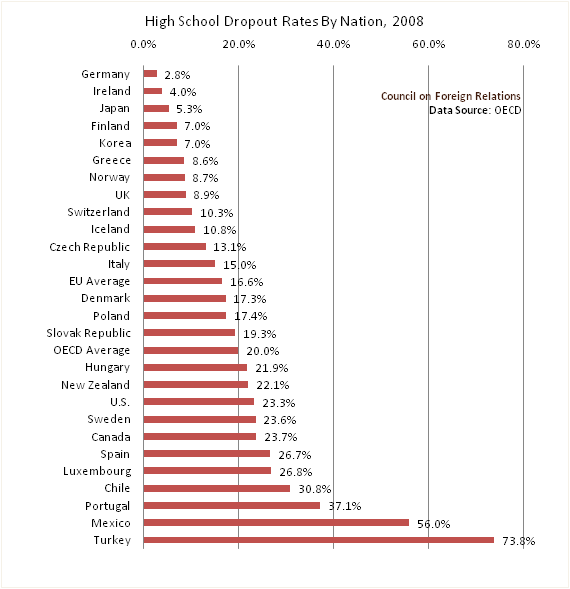 Too Good Not to Note. Former Treasury Secretary Bob Rubin sat down with Nobel Prize winning economist Mike Spence to discuss emerging markets; adjust your portfolios accordingly. Michael Levi assesses truth and nonsense in the debate over Chinese clean energy. David Rothkopf thinks that the Obama administration isn't doing terribly well in its applied Middle Eastern studies course this semester. My old boss Richard A. Clarke discusses how Chinese industrial espionage "threatens the international economic system." Peter Feaver takes exception to the possibility that the Obama administration is evaluating candidates to succeed Gen. David Petraeus in Afghanistan based on who can make the best case to Congress for the unpopular war. John Campbell notes that last weekend's elections in Nigeria are hardening the divisions between its Muslim north and its Christian south. David Weigel looks at Donald Trump, Take Two, so different from Donald Trump, Take One. Spencer Ackerman discusses a nearly one-hundred-year-old spy secret that the CIA recently declassified; apparently failed secret operations are nothing new.
Perils of Prediction. "It will be years—not in my time—before a woman will become prime minister." Margaret Thatcher, 1969. Lady Thatcher served as prime minister from 1979-1990, a stretch that no other British politician in the twentieth century matched.
Quote to Ponder. "Life is a succession of lessons which must be lived to be understood." Ralph Waldo Emerson.
A Reason to Smile. The incomparable dogwood in bloom, whether in white or pink.