Friday File: The Iran Debate Heats Up
December 9, 2011
Blog Post

Blog posts represent the views of CFR fellows and staff and not those of CFR, which takes no institutional positions.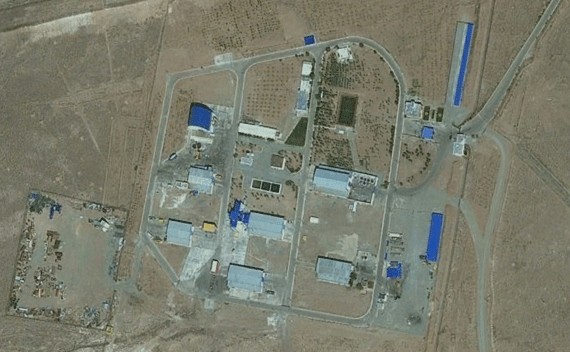 Above the Fold. The political debate over Iran is heating up. Much of that has to do with the presidential campaign here at home. Accusing the incumbent president or his political heir of not being tough enough is a tried and tested political strategy in American politics. JFK beat up Richard Nixon over the "missile gap," Ronald Reagan hammered Jimmy Carter over détente and the Iranian hostage crisis, Bill Clinton badgered George H.W. Bush about the "butchers of Beijing," and Barack Obama blamed George W. Bush for ignoring the resurgent Taliban in Afghanistan. So it's hardly surprising that Republican presidential candidates are charging Obama with being soft on Iran. But it's not just partisan politics that explains concerns about Iran. Earlier this week Turki al-Faisal, the former Saudi intelligence chief and ambassador to the United States, told a Persian Gulf security forum that if Iran went nuclear, Saudi Arabia might have to follow suit. That sort of talk gives U.S. policymakers nightmares; hence, another reason to keep Iran a non-nuclear state. The problem is how to do it. So-called crippling sanctions may be not be painful enough to change Tehran's thinking, and in any event it may be impossible to persuade other countries to impose them. Military strikes could trigger unpredictable and grave consequences, and they may only delay and not halt Iran's nuclear program. That takes the discussion back to containing and deterring a nuclear Iran. As new report out this week from the American Enterprise Institute notes, however, the fact that Iran might be contained and deterred "does not make it a low-risk or low cost choice." In all, Iran poses difficult decisions and lousy choices. But don't expect the political campaign to acknowledge that basic fact.
CFR Event of the Week. Representative Kay Granger (R-TX), chair of the House Appropriations Subcommittee on State, Foreign Operations, and Related Programs, and Michael Mosettig, senior producer for foreign affairs and defense at PBS NewsHour, came to CFR to discuss the changing environment in the Middle East, as well as Israel's future relations with Egypt and its other neighbors. To learn more, watch the video below, or download the audio to go.
Click here to watch this video on YouTube.
Read of the Week. Richard Betts, director of the Arnold A. Saltzman Institute for War and Peace Studies at Columbia University and adjunct senior fellow for national security studies at CFR, has just released a new book: American Force: Dangers, Delusions, and Dilemmas in National Security. It's a great collection of essays that take a skeptical look at the U.S. use of military force in the post-Cold War era. It's worth reading whether you are a dyed-in-wool non-interventionist or the most gung-ho neoconservative. Dick poses tough questions and highlights the challenges that inevitably arise in trying to find good answers when it comes to decisions about using military force.
Blog Post of the Week. The French writer Jean de la Fontaine wrote long ago, "Beware, so long as you live, of judging men by their outward appearance." Robert Danin reminds us that de la Fontaine's advice applies to the modern Middle East.
Poll Question of the Week. What do Israelis think about attacking Iran's nuclear facilities? The Israeli daily Haaretz commissioned a poll to ask just that question. It turns out that Israelis are split—41 percent support an attack and 39 percent oppose it. Twenty percent were undecided. The Israelis are struggling with the same questions that U.S. policymakers are: Can sanctions deter Iran from going nuclear? How much would a military strike set back Iran's nuclear activities? How might Iran respond, and what would the consequences be for the region? To repeat, tough questions with no easy answers.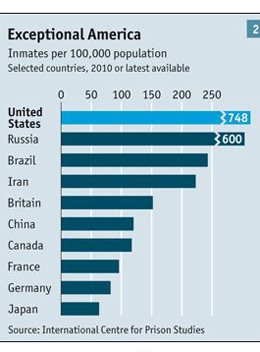 Chart of the Week. Sometimes you come across charts that just make you say, "Wow!" That was my reaction to seeing a chart that The Economist prepared on the number of prison inmates per capita in the United States compared with other major countries. The United States is exceptional, and not in a good way. The incarceration rate in the United States is more than three times that of Iran, six times that of China, and ten times that of Japan. Like I said, "Wow!"
Chart source: The Economist.
Too Good Not to Note. Steven Cook asks us to have a little perspective on the Egyptian elections. Isobel Coleman looks at the effort to transform USAID. Scott Snyder asks when Hillary Clinton will visit Pyongyang. Kaysie Brown writes that the Kimberly Process has not severed the links between diamonds and violence. Jim Kitfeld explains why Israel plays such a big role in U.S. presidential races. John Cassidy asks if we are seeing a "new Newt" Gingrich. Josh Keating looks at Jerusalem in his weekly Election 2012 Report. Mike Moran offers his thoughts on how the Defense Department should adapt to inevitable spending cuts. Steve Coll reports on the campaign of targeted assassinations against Taliban and al-Qaeda leaders. Simon Schama argues that Americans should care about the collapse of European unity. Uri Dadush and William Shaw think that the United States will end up paying for the euro crisis one way or another. Joe Nye assesses Obama's Pacific pivot. David Kramer wants Obama to read Vladimir Putin the riot act on Russia's rigged parliamentary elections.
Perils of Prediction. "Ours has been the first, and will doubtless be the last, party of whites to visit this profitless locality. It seems intended by nature that the Colorado River, along the greater portion of its lonely and majestic way, shall be unvisited and undisturbed." Lt. Joseph Ives, after visiting the Grand Canyon in 1861. More than 4 million people visit Grand Canyon National Park every year.
Quote to Ponder. "Give me the liberty to know, to utter, and to argue freely according to conscience, above all liberties." John Milton, Areopagitica. The author of Paradise Lost was born on this day in 1608.
A Reason to Smile. Turning 19. Or turning 14. Happy Birthday, Ian and Malcolm.