Friday File: Obama "Dithers" No More
March 18, 2011, 12:43 pm (EST)
Blog Post

Blog posts represent the views of CFR fellows and staff and not those of CFR, which takes no institutional positions.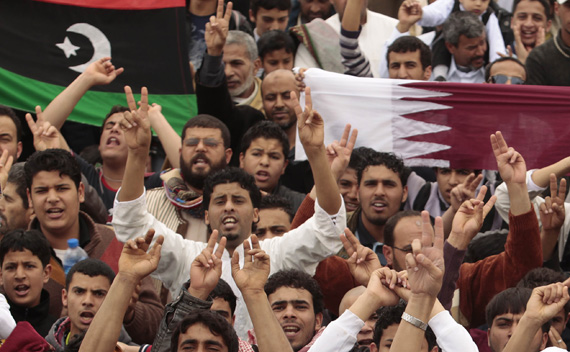 Above the Fold. Last week's Friday File argued that President Obama wasn't "dithering" on Libya but rather looking to keep the United States out of yet another military conflict in the Middle East. So much for that. We are now once again headed "to the shores of Tripoli."  The president can expect a shellacking from his critics for waiting so long to intervene in Libya. Why act only after Qaddafi's forces were approaching Benghazi? An earlier intervention would have helped the rebels hold far more territory, and as critics are sure to argue, perhaps broken Qaddafi's rule once and for all. But there will be ample time later to deconstruct and assess the White House's decision-making. For the moment, the good news is that Tripoli announced this morning that Libya is declaring an immediate cease-fire and halting all military operations. (We'll see if Qaddafi is true to his word.) But larger questions remain. Will the United States and its partners merely work to defend rebel-held territory? Or will they actively help the rebels to retake territory and ultimately oust Qaddafi? (Statements coming out of Paris suggest that the French think the latter is the goal.) Will Arab countries participate in the attacks on the Libyan military? Does the decision by Germany to join Russia, China, India, and Brazil (which is hosting Obama starting tomorrow) in abstaining on yesterday's UN Security Council vote signal a deeper split in Europe? And will Obama discover as have many of his predecessors that it is easier to get into a military conflict than to get out of it? On the latter, I certainly hope not.
CFR Event of the Week. Unions are under the gun these days. In the 1950s about one-in-three workers belonged to a union. Today it is less than one in six. On March 10, the Wisconsin state legislature voted to strip most state workers of their collective bargaining rights, despite more than two week of sit-ins in Madison. (Madison is a great place to live and just as good a place to visit by the way.) With unions in the news, CFR was honored yesterday to host AFL-CIO President Richard Louis Trumka to discuss the current state of labor affairs in the United States. You can watch the video or download the audio to go.
Read of the Week. They're back! Neo-cons, whom everyone gave up for dead after President George W. Bush went back to Texas, are enjoying a renaissance with the new crop of potential GOP presidential candidates. At least that's what Ben Smith and Byron Tau see in their survey of what the 2012 Republican hopefuls are saying about foreign policy. The one candidate who is marching to a different drummer is Mississippi Governor Haley Barbour. He warned Iowans in a swing through the state about the dangers of "nation-building" and said "I don't think it's our mission to make Libya look like Luxembourg." It will be interesting to see if any other Republicans, besides Ron Paul, join Barbour on the non-interventionist side of the debate, especially now that only fifty percent of Republicans think that the Afghanistan War is worth fighting.
Blog Post of the Week. Like many of you, I have spent hours this week trying to make sense of Japan's nuclear crisis. Matt Bunn, a professor at Harvard's Kennedy School of Government and a leading expert on nuclear proliferation, offers a readable and informative assessment over at "Power & Policy" of what has been happening.
Poll Question of the Week. On Tuesday I wrote a long-winded post on public support for a no-fly zone. The specific issue was how question wording affected our understanding of what the American public would support. Although the Washington Post is my hometown newspaper, I missed the front page story it ran on Tuesday about its joint poll with ABC News. The Post found that nearly six in ten Americans favored the idea of a no-fly zone. But when respondents were told that "such a mission would entail U.S. warplanes bombing Libyan antiaircraft positions and 'continuous patrols,' about a quarter of those initially advocating U.S. participation turn into opponents."
Chart of the Week. One reason that the U.S. government is spilling so much red ink is that tax receipts as a percent of Gross Domestic Product are at their lows over the past forty years (14 percent). If tax receipts returned to their recent historical average (18 percent), say because the economy rebounded or tax rates went up, about one-third of the current deficit would disappear. By laws of basic arithmetic, that means that two-thirds of the deficit would remain. So unless we pay more taxes or spend a whole lot less, we will see red ink for years to come.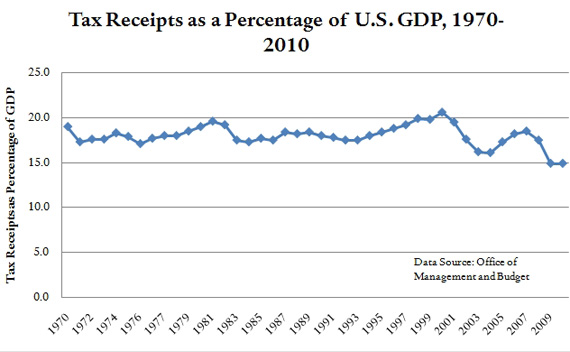 Too Good Not to Note. Josh Rogin has the inside skinny on what Obama administration officials told senators behind closed doors about U.S. war plans for Libya. CFR.org provides first-stop shopping on what is being written on what Japan is dealing with in the wake of its horrific earthquake and tsunami. David Abraham, a CFR International Affairs Fellow in Japan, writes how bad communication is hindering Japanese efforts to respond to the catastrophe it faces. Michael Levi dissects five myths about nuclear energy. My good friends and colleagues Julia Sweig and Shannon O'Neil preview President Obama's Latin America trip. Laura Rozen blogs from her new digs, "The Envoy," over at yahoo.com on how the arrival of Saudi Arabian troops in Bahrain has thrown U.S. policymaking for a loop. David Rothkopf worries about cyberwar. Adam Segal, my favorite China hand not named Elizabeth Economy and the author of the terrific new bookAdvantage: How American Innovation Can Overcome the Asian Challenge, offers advice on how the United States can build global norms on what constitutes acceptable behavior in cyberspace. Nate Silver at fivethirtyeight.com tells you more than you would ever want to know about how to pick your NCAA brackets. (My brackets are already blown. You broke my heart Louisville. Thanks a lot Michigan State.)
Perils of Prediction. "I see no good reasons why the views given in this volume should shock the religious sensibilities of anyone." Charles Darwin, in the foreword to his book, The Origin of Species, 1869.
Quote to Ponder. "The reputation of a thousand years may be determined by the conduct of one hour." Japanese proverb, quoted by Ohio State coach Jim Tressel in his book, The Winners Manual for the Game of Life. Tressel has asked to be suspended for the first five games of the 2011 college football season. He "had been handed a two-game suspension in a separate investigation by Ohio State after it was discovered he had not notified the NCAA, his Ohio State bosses or the school's compliance department that he was aware for more than nine months -- including throughout his team's 12-1 season in 2010 -- of the" fact that his  players' were receiving improper benefits.
A Reason to Smile. March Madness.