Friday File: Sanctions on Syria
August 19, 2011
6:00 am (EST)
Blog Post

Blog posts represent the views of CFR fellows and staff and not those of CFR, which takes no institutional positions.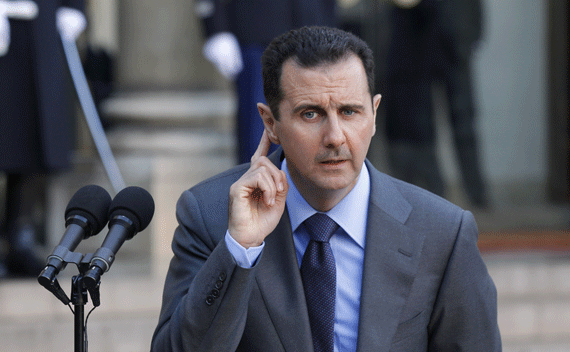 Above the Fold. President Obama's call yesterday for Bashar al-Assad to step down as Syria's president comes with some irony. During the 2008 campaign, candidate Obama steered clear of George W. Bush's "freedom agenda," so much so that many observers concluded that he was a rare bird—a Democratic foreign policy realist. But as my colleague Rob Danin notes, Assad is the third Arab leader that Obama has sought to push out this year. So Obama has discovered what many of his predecessors did before him—being president can reshape your foreign policy choices (something worth keeping in mind when listening to what Mitt Romney, Rick Perry, Michele Bachmann and the rest of the GOP presidential field have to say about foreign policy). Of course, many of Obama's critics—and a few of his friends—are asking, what took him so long to call for Assad to go? I have a different question, namely, what is Obama prepared to do if Assad ignores what he has to say? Six months of intermittent air strikes and a rebel ground campaign have not persuaded an isolated Muammar al-Qaddafi to give up power. So sanctions, however carefully crafted, aren't likely to drive Assad from office, especially when Iran will do what it can to keep him in power.
CFR Event of the Week. Turkey has demanded that the Syrian government "immediately and unconditionally" end its crackdown on protesters or risk further "steps." The demand is further evidence of Turkey's growing prominence in the region. In the past year, two high-ranking Turkish officials have spoken at CFR, President Abdullah Gül and Foreign Minister Ahmet Davutoglu. You can read the transcript of the conversation with Gül or download the audio to go. Find the transcript of the conversation with Davutoglu here or download the audio.
Read of the Week. Foreign Policy's September/October issue is "The Future Issue," featuring a special report on what the world will look like in 2025. An all-star team of big thinkers took on issues like the rise of small multinationals, conflict in the South China Sea, the development of energy in the Americas, and the aging and crowding of the world's population—just to name a few. Download the stories, put them in a safe place, and check back in fourteen years to see how well the experts did. Given Tetlock's Theorem, chances are not well at all.
Blog Post of the Week. Adam Garfinkle worries that the West's military intervention in Libya, which was justified by the desire to prevent bloodshed in Benghazi, may lead to great bloodshed in Tripoli. Adam notes that it is possible that Tripoli, a city of roughly one million people, could fall quickly and peacefully. But that most desirable of outcomes hardly looks likely. Which raises a pressing question for President Obama and his NATO counterparts: is the West prepared to do anything more than issue stiff denunciations should the fight for Tripoli turn bloody?
Poll Question of the Week. The latest Rasmussen Reports poll finds that 59 percent of likely American voters want U.S. troops to come home from Afghanistan either immediately or within a year. Twenty-eight percent oppose any firm timetable and 13 percent are not sure. That's up from 51 percent in June and 39 percent two years ago. Forty-three percent of self-identified Republicans say they want U.S. troops home within a year, the first time that more Republicans have been for a timetable than against it. These numbers suggest that GOP presidential candidates are not likely to get much political traction with their criticism that President Obama is moving too quickly to reduce the U.S. commitment in Afghanistan.
Chart of the Week. The United Nations currently runs fifteen peacekeeping operations and one special political mission on four continents. These operations deploy nearly 100,000 uniformed people—including 83,000 troops, 14,000 police, and 2,200 military observers—and nearly 20,000 civilian personnel. UN forces are drawn from more than one hundred countries. The chart below lists the top twenty contributors. The United States currently contributes one hundred people to UN peacekeeping operations. They are posted to Haiti, the Democratic Republic of Congo, Afghanistan, Iraq, Liberia, and Israel. No, Afghanistan and Iraq are not a misprint. Although virtually all of the U.S. troops in both countries are there under U.S. (or NATO) command, a few are deployed under UN command.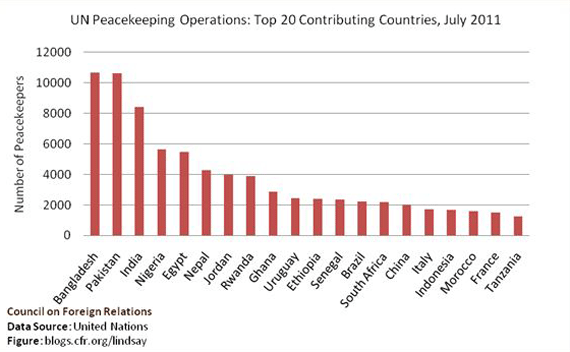 Too Good Not to Note. Evan Feigenbaum and his colleagues at the Eurasia Group look at China's "Great Rebalancing Act." Stewart Patrick plugs one his buddies and one of my favorite people, Susan Rice, the U.S. ambassador to the United Nations. Shannon O'Neil thinks we are witnessing the beginning of major changes in the Mexican economy. Stephen Walt sees no reason for optimism about the outcome of the wars in Iraq and Afghanistan. Catherine Hollander reports that new U.S. ambassador to China Gary Locke has the Chinese talking because he carries a backpack and orders his own coffee. James Kitfeld thinks that the defense budget has replaced America's full faith and credit as the hostage in Washington's political duel. Ezra Klein thinks that Governor Rick Perry's book, Fed Up!, is good. Simon Johnson notes the irony in how Tea Party rhetoric on the debt ceiling is helping big government and hurting the private sector. Natalie Jennings and the Mention Machine say that the Twitterverse likes Rick Perry.
Perils of Prediction. "There are no signs of a dramatic rebound for the [Republican] party, and the chance of Republicans winning control of either chamber in the 2010 midterm elections is zero. Not 'close to zero.' Not 'slight' or 'small.' 'Zero.'" Political analyst Stuart Rothenberg, "April Madness: Can GOP Win Back the House in 2010?" April 27, 2009. Not so fast my friend! As everyone knows by now, the Republicans retook control of the House in the 2010 midterm elections.
Quote to Ponder. "Worry is a down payment on a problem you may never have." Joyce Meyer.
A Reason to Smile. College move-in day.