Friday File: What Do the Panetta and Petraeus Nominations Say About Obama?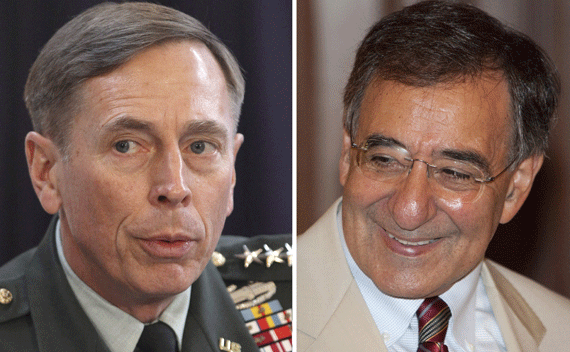 Above the Fold. Washington's worst kept secret is now out. President Obama has nominated Leon Panetta to be secretary of defense and David Petraeus to be director of the CIA. Washington insiders are weighing the pluses and minuses of these choices, with some pundits rating it between a wash and a slight negative and others thinking that Obama made a big mistake. Time will tell who is right. Lots of superstars have flamed out in the Cabinet, and plenty of supposedly misfit nominees have turned out to know what they were doing. A more interesting question is what these choices say about the president. The answer looks to be: he wants proven commodities rather than fresh faces. And who can blame him? He's got three wars on his hands, the Middle East is in turmoil, and solving America's fiscal woes will require making tough decisions about all kinds of government programs, including defense spending. So why not pick a defense secretary who understands budgets and knows how to navigate political minefields in Congress? And why not select a CIA director who is bulletproof on Capitol Hill and understands the importance of intelligence? During tough times you want to be surrounded by people who have been to the rodeo before.
CFR Event of the Week. Treasury Secretary Timothy Geithner dropped by CFR on Tuesday to discuss the variety of challenges facing the United States and world economies and prospects for growth. Inevitably, his comments on the upcoming battle over the debt ceiling made headlines as Washington gears up for the debate. You can watch the full video or download the audio to go. In the clip below, Geithner discusses what the emergence of new markets will mean for the United States and emphasizes the need for the country to arrive at a consensus on fiscal policy.
http://www.youtube.com/watch?v=Amx8305tYDQ
Click here to view this video on YouTube.
Read of the Week. If you want to get smart on what can be done to address the problem of climate change, read David Victor's new book, Global Warming Gridlock: Creating More Effective Strategies for Protecting the Planet. David is as smart and as savvy as they come, and he has been working the climate change issue since before it began grabbing front-page headlines. He presents a devastating critique of the global, UN-based diplomatic strategies that have dominated over the past two decades. He offers up an alternative approach that emphasizes bottom-up initiatives at the national, regional, and global levels.
Blog Post of the Week. Walter Russell Mead points to a paradox in the Obama presidency: "The President is a consensus-seeker whose decision making style rewards polarization and a conciliator who loses friends without winning over enemies."
Poll Question of the Week. A Gallup/USA Today poll found that just 43 percent of Americans think that Donald Trump was born in the United States. Another 20 percent say he probably was. Nate Silver writes on how this finding puts in perspective all those polls about how many Americans think that President Obama was born outside the United States.
Chart of the Week. While much of the United States was caught up in the media frenzy this week over whether President Obama is a "natural born citizen" or not, the International Monetary Fund released a sobering forecast: when measured by what economists like to call "purchasing power parity"—that is, taking into account that wages and prices differ across countries—China's economy will pass the United States and become the world's largest overall economy sometime in 2016. Here are the intersecting lines: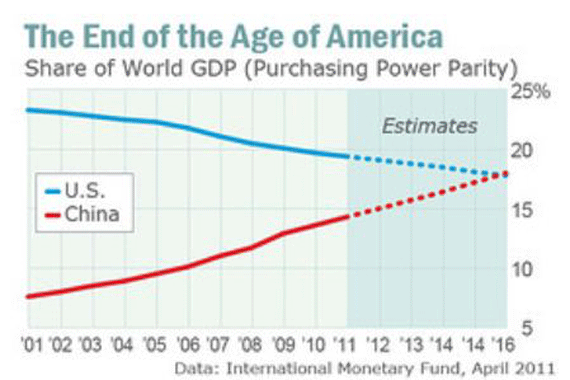 Source: Wall Street Journal.
Does this mean that China will have "caught up" to the United States economically? No. On a per-capita basis, the Chinese are far poorer than Americans and will remain so for quite some time. But the sheer size of the Chinese economy will further curtail Washington's ability to shape global economic rules, something that has been eroding for decades. And don't discount the psychological effect when Beijing starts trumpeting, "We're No.1!" We are looking at a steady diet of articles on "The End of the Age of America."
Too Good Not to Note. Shannon O'Neil argues that the United States is finding it harder to keep up in the new world of trade politics. Jamelle Bouie reads the recent Washington Post series on Guantanamo as evidence that President Obama sacrifices personal priorities to the needs of the Democratic Party. José Cárdenas asks why the Obama administration is letting the U.S.-Colombia strategic relationship wither away. Laura Rozen breaks the news that Steven Simon, a CFR Adjunct Senior Fellow and former NSC staffer, is returning to the White House to serve as senior director for the Middle East and North Africa. Steve is a top-rate talent who mentored me fifteen years ago when I joined the NSC staff fresh off the plains of Iowa. I am forever indebted to him for his kindness. So I am going to invoke personal privilege and say, "Best wishes, Steve."
Perils of Prediction. "The Americans have need of the telephone, but we do not. We have plenty of messenger boys." Sir William Preece, chief engineer of the British Post Office, 1876.
Quote to Ponder. "If I shoot at the sun I may hit a star." P.T. Barnum.
A Reason to Smile. The incessant coverage of Will and Kate's Big Royal Wedding is finally ending.