Above the Fold. A dinner obligation kept me from watching last night's GOP presidential debate in Jacksonville, Florida, breaking my streak of eighteen straight debate viewings. From what I can tell from reading the debate transcript this morning, I didn't miss much, at least as far as foreign policy is concerned. Mitt Romney, Newt Gingrich, and Rick Santorum grumbled a bit about President Obama's supposed lack of support for Israel, and they pledged to increase the pressure on Castro's Cuba. (The irony here is that Romney, Gingrich, and Santorum look to be taking a tougher line on Cuba than many Cuban-Americans in Florida do.) But that was about it. And in that sense the debate was a metaphor for the campaign as a whole. Although events overseas could scramble things in heartbeat, for now foreign policy is way down the list of issues that Americans are worried about. A Pew Research Center poll out this week finds that Americans think that domestic policy should take priority over foreign policy by a a margin of 81 percent to 9 percent. All the other polls I have seen show the same lopsided tilt in favor of domestic issues. No wonder Obama devoted only about a tenth of his State of the Union address to discussing foreign policy. In politics it pays to talk about what people want to hear.
 CFR Event of the Week. The political turmoil roiling the Arab world over the past year has unseated leaders in Egypt, Libya, and Tunisia, and has rulers in Bahrain and Syria under the gun. But so far Saudi Arabia looks to have escaped the winds of change sweeping the region. To help explain why, F. Gregory Gause III of the University of Vermont and Toby C. Jones of Rutgers University sat down with CFR's Paul B. Stares in Washington, DC. The three offered their takes on what to expect from the Saudi kingdom in the near future. You can read the transcript, download the audio, or watch the video here or below.
Read of the Week. Apple is arguably America's best-known, most-admired, and most-imitated company. It is certainly the largest company in the United States by market capitalization, and it just reported blow-out earnings on the strength of sales of the iPhone. But as Charles Duhigg and Keith Bradsher write in the New York Times, most of the people that manufacture and assemble Apple products live outside the United States and especially in China. And therein lies a problem for U.S. manufacturers. In the electronics business especially, but in other industries as well, the Chinese have succeeded in creating clusters of related, specialized industries working in close proximity. These industrial clusters give Chinese manufacturers a competitive cost advantage that could become self-perpetuating.
Blog Post of the Week. Egypt just marked the one-year anniversary of January 25, the start of the political protests that toppled Hosni Mubarak's regime and ushered in a new and uncertain era of Egyptian politics. Steven Cook, author the superb book, The Struggle for Egypt, looks at where things stand after a tumultuous year in Egyptian life. Mubarak's cronies despair that their countrymen did not forget his accomplishments, the Army fights to preserve its privileges and authority, and the Muslim Brotherhood struggles to meet the demands of a public that expects better days ahead.
Poll Question of the Week. What to do about Iran's nuclear programs figures to be one of the top issues in the 2012 presidential campaign. So where does the American public look to be slightly more than nine months out from Election Day? According to a Pew Research Center Poll released this week, the percentage of Americans who view Iran as "the greatest danger" to the United States has more than doubled over the last year, jumping from 12 percent in 2011 to 28 percent today. (China comes in second at 22 percent, up two percentage points from last year.) As for how to respond to Iran's nuclear activities, Pew found that 54 percent thought that it was more important to "take a firm stand" while 39 percent said it was more important to "avoid military conflict." Don't read too much into the latter finding. First, Pew asked it only of the 42 percent of respondents who said they had heard a lot about recent tensions with Iran. The people who haven't been paying attention almost certainly have different views. Second, poll questions like these are extremely sensitive to how the question is worded. Pew would have gotten a different result had it asked respondents if they thought the United States should go to war with Iran.
Chart of the Week. Economists and journalists like to refer to Japan's woeful economic performance in the 1990s as the "lost decade." Have the past ten years been a lost decade for the United States? That's a reasonable conclusion to draw when you look at the growth—or to be more accurate, the lack of growth—in payroll jobs in the United States in recent years. In 2011, the U.S. economy generated 131.9 million jobs, that's not only below the peak number of 138 million jobs reached just before the 2008-2009 financial crisis, it's below the 132.5 million jobs that the economy generated in 2000. These numbers explain a good part of the dissatisfaction currently roiling American politics.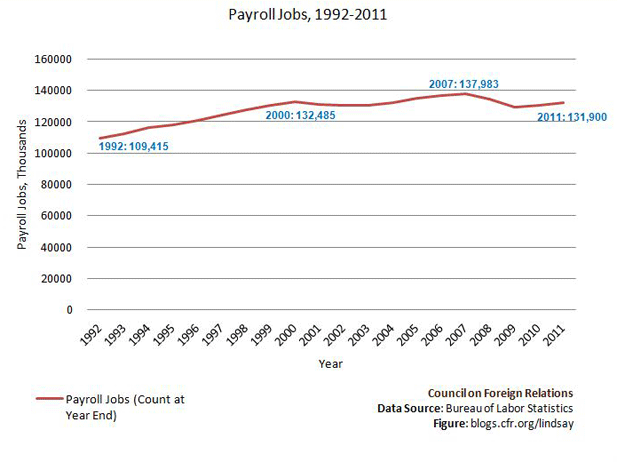 Too Good Not to Note. Elizabeth Economy assesses whether China, Hong Kong, and Taiwan will ever come to terms. Michael Levi looks at how not to argue that we're running out of oil. Elliott Abrams asks if Turkey is purchasing Hamas from Iran. Stewart Patrick dispels myths about American foreign aid. Julian Borger wonders if the European embargo on Iran oil means war. Josh Rogin recaps what Jake Sullivan, the director of Policy Planning at the State Department, had to say recently about the Obama administration's foreign policy priorities for 2012. Gideon Rachman thinks that the rise of China is really bad for America. R. Jeffrey Smith ponders whether defense budget cuts will leave America at risk. Shadi Hamid argues that we have a responsibility to protect Syria.
Perils of Prediction. "I want us to end this in South Carolina…Give it up for who I know is going to win South Carolina, the next president of the United States, Mitt Romney." Governor Nikki Haley of South Carolina, January 20, 2012. Well, not exactly. Romney finished more than a dozen percentage points behind the winner of last Saturday's GOP primary, Newt Gingrich. But the upside for Governor Haley is that Romney still has a good shot at winning the nomination and proving her prediction right that he will be the next president of the United States.
Quote to Ponder. "All I know is that I know nothing." Socrates.
A Reason to Smile.  Groundhog Day.