Funding Foreign Policy for National Security: Obama's Civilian Power Budget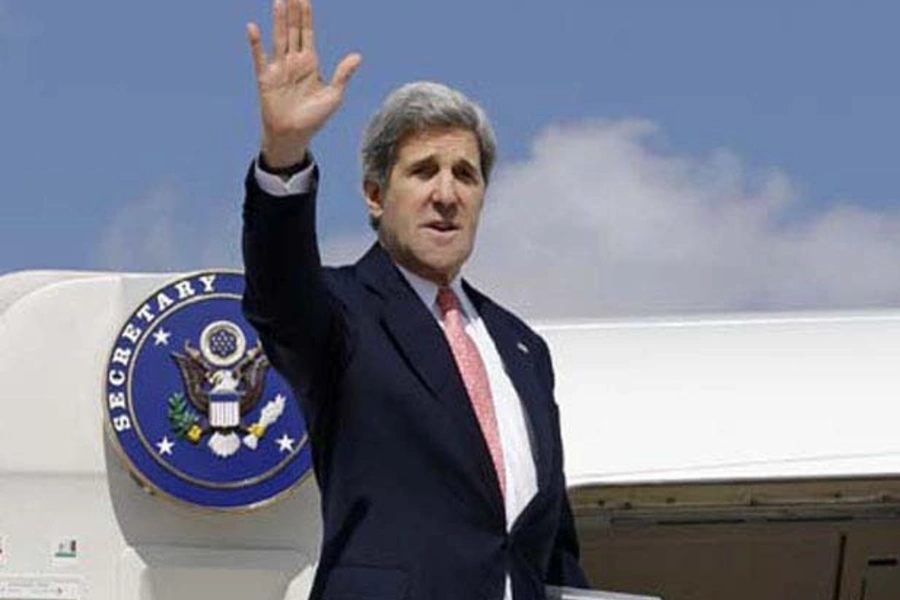 The Obama administration's $3.8 trillion budget request to Congress, released Wednesday, calls for $47.8 billion in discretionary funding for the Department of State and the U.S. Agency for International Development. That's quite a chunk of change to most Americans, but it represents little more than a penny for every dollar of proposed federal spending. It's also a bargain, given the range of critical tasks that U.S. diplomats and development professionals perform every day to advance U.S. national security, global influence, economic prosperity, and moral values.
The International Affairs (or "Function 150") account is always a hard sell on Capitol Hill—particularly compared to defense spending. When it comes to courting Congress, the Pentagon runs circles around the State Department and USAID. It's not simply that most legislators have military installations or defense contractors in their districts—although that is part of the story. Members also have few electoral incentives to invest in the civilian elements of U.S power. This is particularly true for foreign aid, which, as Ronald Reagan noted back in 1981, "suffers from a lack of domestic constituency, in large part because the results of the programs are not immediately visible and self-evident." Indeed, for all the recent talk of "soft" (or "smart") power, many congressmen still have difficulty connecting the work of State and USAID to tangible national security objectives. The International Affairs account is particularly vulnerable in lean times, as legislators seek to trim (alleged) budgetary "fat" at minimal political cost.
The Obama administration's foreign affairs budget tries to dispel those concerns. In his summary letter justifying the FY14 request, Secretary Kerry documents the innumerable ways that diplomats and development professionals advance the national interest. And repeating the theme of his February speech in Charlottesville, VA, Kerry drives the point home: "There is no longer anything foreign about foreign policy."
Faced with "the clash between a shrinking world and shrinking budgets," Kerry's challenge was to craft a budget that was both frugal and strategic. He hit the mark. The budget is trimmed to reflect fiscal and political realities, resulting in a 6 percent decline from actual 2012 spending. But it also holds the line on critical programs while shifting funds to evolving U.S. priorities.
A few highlights worth mentioning:
- Drawing Down in Frontline States: Despite the much-ballyhooed "pivot" to Asia, the administration has not abandoned Iraq, Afghanistan, and Pakistan. It plans to spend $6.8 billion in FY14 to promote good governance, development, and partnership in those countries. Still, this represents a significant decline from peak nation-building years, and includes a big cut in Overseas Contingency Operations (OCO) funding related to counterinsurgency and stability operations.
- Assisting Political Reform in the Middle East and North Africa: Recognizing the turbulence and vulnerability of recent political openings in the region, the administration expands bilateral U.S. economic and security sector support for countries like Egypt, Tunisia, and Yemen. It also includes $580 million for regional programs, notably the Middle East and North Africa Incentive Fund to encourage long-term economic and political reform.
- Ramping up U.S. Diplomacy and Assistance in Asia: Consistent with the U.S. strategic "rebalancing", the budget includes more than $1.2 billion designed to advance "security prosperity and human dignity across the Asia-Pacific," including through support for the Lower Mekong Initiative of sub-regional cooperation among the governments of Burma, Cambodia, Laos, Thailand and Vietnam. While a decent start, the relatively modest resources requested fall short of the grand objective of reorienting U.S. civilian power to Asia—and are hopefully only a down-payment on the new strategy of reassuring regional partners against the uncertainties of China's rapid rise.
- Reforming Dysfunctional U.S. Food Aid Policy: Among the budget's biggest innovations is a provision that would overhaul the $1.5 billion annual U.S. food aid program so that it meets the needs of the world's hungry rather than the interests of U.S. agribusiness. The administration would cut funding for the traditional U.S. food program (P.L 480), which mandates that U.S. food aid must be sourced in the United States and sold abroad for cash. This perverse system not only undercuts local agricultural markets but also prevents the United States from purchasing food commodities more cheaply elsewhere. The new arrangement, if approved by Congress—a big "if", given that twenty-one farm state Senators have already declared opposition—would grant U.S. diplomats leeway to purchase food in markets near crises. It would also create a highly flexible $75 million Emergency Food Assistance Contingency Fund to address unanticipated crises.
- Keeping America's Promises in Global Health: The FY14 budget continues the bipartisan tradition of U.S. investment in international health, calling for $8.3 billion to support the Obama administration's Global Health Initiative. The funding would maintain the $1.65 billion U.S. contribution to the cash-strapped Global Fund for AIDS, TB, and Malaria, fulfill the U.S. pledge to the Global Alliance for Vaccines and Immunizations, and increase U.S. investments in maternal and child health and family planning worldwide.
- Investing in Multilateral Organizations and UN Peacekeeping: In lean times, it helps to have partners to share the load. The budget includes $1.57 billion to meet the U.S. assessed (legally binding) contributions to forty-five different organizations, including UN agencies like the International Atomic Energy Agency and the International Civil Aviation Organization, regional bodies like the Organization of American States and NATO, and stand-alone institutions like the World Customs Union and the International Tropical Timber Organization. Importantly, the budget includes $2.1 billion for assessed U.S. contributions to international peacekeeping, which will support fourteen UN missions from Lebanon to South Sudan, as well as the AU mission in Somalia. And with every quarter it spends, the United States leverages a dollar of international effort. Finally, the budget requests $3.2 billion in multilateral assistance, including contributions to the World Bank, regional multilateral development banks, and a dozen other global bodies.
- Bolstering Security at U.S. Embassies and USAID Missions: Finally, the budget promises much more robust efforts to protect U.S. government civilian personnel, particularly those operating in high-threat posts. The brutal murder of U.S. Christopher Stevens, the U.S. ambassador to Libya, and the more recent slaying of Anne Smedinghoff, a young Foreign Service Officer in Afghanistan, underscore the risks to State Department and USAID employees and the inadequacy of current security measures. The administration appropriately calls for $4.1 billion to expand its ranks of Diplomatic Security officers, as well as construct more secure facilities abroad.
Secretary Kerry will have his hands full in winning congressional approval for his budget, which is a major improvement over competing resolutions passed in both the Senate and House. The former, calling for baseline spending of $45.6 billion, is at least in the ballpark. But the latter, would cut the budget back to $38.7 billion, a draconian 25 percent decrease from only four years ago. Here's hoping that Kerry's standing on Capitol Hill will pay off, and that enough Republicans share Senator Lindsay Graham's view that investing in foreign policy is a form of "national security insurance."