Gary Locke: America's Too Popular Ambassador to China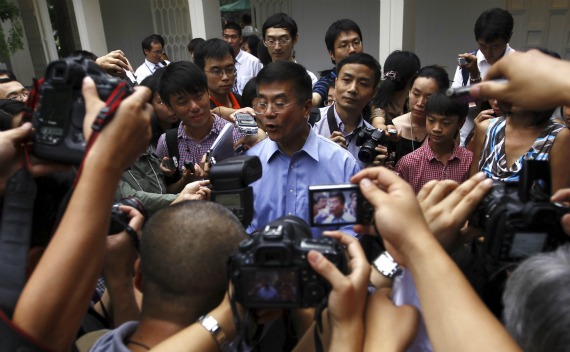 It scarcely seems possible, but apparently some Chinese commentators are put out that the U.S. ambassador has garnered so much favorable press in his first month on the job. In recent days, the Chinese media have published a number of commentaries criticizing not only the ambassador but also some of their fellow journalists, who they believe are paying too much attention to Ambassador Locke's activities. Stripped to its essence, the criticism of Ambassador Locke is that he is a nice guy, who is simply too good at representing U.S. values.  It would be laughable, if it didn't point to a real challenge in the Sino-American relationship.
The trouble began as soon as the ambassador was nominated. Anonymous postings on various Internet chat sites in China accused him of being a "fake foreign devil who cannot even speak Chinese" and a "guy who has forgotten his ancestors." Traitor was not an uncommon epithet.
Yet when the ambassador arrived, the tide appeared to turn. A series of candid photos of the ambassador with his family—carrying their own luggage, riding in a minivan, and flying economy class –elicited a tidal wave of positive media and popular attention. An Air China attendant reported: "Yesterday Ambassador Locke took our plane en route to Beijing. He refused to be on the VIP traveler list, turned down a seat in the first class, and passed up an arranged ride home. Sitting in the economy class, he was polite and low-key." This comment was reposted 25,000 times, with netizens frequently mentioning the need for Chinese officials to learn from the ambassador's behavior.
Now the ambassador appears to be caught in the midst of a political firestorm, albeit not one of his own making. A series of offensive commentaries have popped up over the past weeks accusing him of all forms of evil intent:  newscaster Rui Chenggang, after directing a rude question to the ambassador at the WEF in Dalian a few weeks ago, wrote that the ambassador is "promoting American values," and only talking about what is good about the United States. The Guangming Daily warned the Chinese people not to be "seduced by Gary Locke's façade"…after all, who is to say that it "isn't the intention of the U.S. to use a Chinese to control the Chinese and incite political chaos in China." And most recently, the Global Times has joined the fray, arguing that it is "unbelievable that Locke's casual stroll through hutongs with his family could win so much praise." Moreover, a "U.S. ambassador should devote himself to the relationship between China and the U.S. rather than play a role in Chinese media. A U.S. ambassador becoming a political star in China cannot be interpreted as U.S. respect for China."
Back in the day, these media commentaries would have been the end of the story. With the Internet, however, the Chinese people have the opportunity to talk back. And talk they have, with many continuing to praise the ambassador as a model for Chinese officials and some pointing out that such articles merely reveal a fear of America's values and institutions.  As the Guangming Daily article, itself, pointed out: "If the Chinese regime fails to take the initiative to consciously remove the virus in its bureaucracy…it can only watch Locke winning the hearts of the Chinese people."
The post of U.S. ambassador to China has long been filled by some of America's most talented diplomats and/or closest presidential confidantes. It is a sign of respect to China that this is the case.  If the Chinese government would rather the U.S. not continue this tradition, it should let Washington know. We have plenty of sub-par politicians, political hacks, and indicted officials we can send their way.