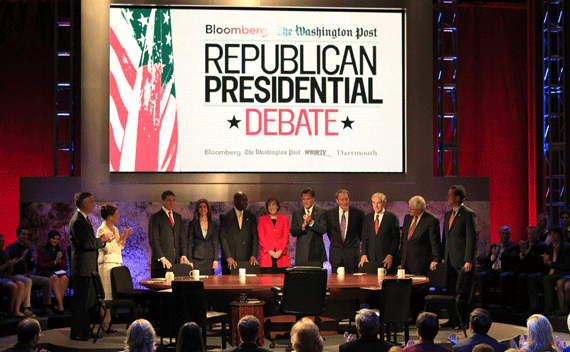 The GOP presidential candidates gather at the Sands Expo Convention Center in Las Vegas tonight at 8 PM EST for debate number eight. CNN is the host, so check your local cable listings for the exact channel. Jon Huntsman will be a no-show. He is boycotting the debate and holding a town meeting in New Hampshire instead to protest Nevada's decision to hold its caucus on January 14. The other seven debate regulars will be in Vegas tonight.
Tonight's debate format looks to be the standard grab-bag. Lots of domestic policy questions with fifteen-to-twenty minutes of foreign policy thrown in toward the end. If you are pining for a sustained discussion about foreign policy, however, don't despair. The American Enterprise Institute, Heritage Foundation, and CNN announced today that they will jointly host a Republican presidential candidate debate devoted solely to national security and foreign policy on Tuesday, November 15 at 8 PM. So mark your calendars now. And no, location and format have not yet been determined.
To help you prepare for the debate tonight, here is what the GOP candidates have been saying about foreign policy on the campaign trail in recent days as well as what is being said about them:
Michele Bachmann told a Phoenix crowd yesterday that the idea of a border fence with Mexico "is no laughing matter" and that as president she'd "complete the fence." She told people in Perry, Iowa much the same thing at what was billed a "Bachmann Takes It to Perry" event—double meaning deliberately intended. She responded to Obama's decision to send a hundred military advisers to Central Africa by recalling George Washington's warning to "be careful of unnecessary foreign entanglements."
Newt Gingrich lambasted Obama's Iran policy and his Central Africa decision in an appearance on CNN's State of the Union.
Mitt Romney wrote an op-ed for the Washington Post advocating hard-line trade policies on China. In an appearance at Microsoft, he accused Obama of failing to defend American intellectual property and commerce from Chinese indusry. He supplemented that attack in an online ad making the same point. Some conservative aren't happy with this tough talk on trade. The Washington Post's editors think that Romney's foreign policy views are "centrist but unimaginative."
Rick Perry promises to speak about foreign policy at length sometime soon. Meanwhile, the Washington Post examined what he has said as well as done on border enforcement. The Atlantic reviewed Perry's support for Israel and concluded that it has a lot to do with water. Back in the 1980s Perry broke with his then-fellow Democrats to vote against sanctioning Apartheid-era South Africa.
Buddy Roemer doesn't much like the free-trade agreements that Congress finally approved last week.
Herman Cain has also been talking about foreign policy. More on that in a follow-up post.