Emma Welch is a research associate in the Center for Preventive Action and the International Institutions and Global Governance program at the Council on Foreign Relations.
Given the news dominating the headlines this week (CIA sex scandals and an increasingly Orwellian surveillance apparatus), it is unsurprising that a report published by the UN Population Fund (UNFPA), The State of the World Population 2012, received little attention. And yet, underpinning the report is a paradigm shift in how the world body conceptualizes and articulates family planning: not as a privilege, but as a fundamental human right.
The report marks the first time that the UN explicitly described family planning—defined as the ability to plan for the number of children and timing of pregnancies and childbearing through the use of contraceptive methods, excluding abortion—as a universal human right, equal to those found in the Universal Declaration of Human Rights and the International Covenant on Civil and Political Rights. The report took one step further, declaring that the imposition of legal, financial, and cultural barriers to contraception and other family planning measures constitutes an infringement of women's rights.
Recent statistics show that an estimated 222 million women of reproductive age in developing countries have an unmet need for contraception. In many cases, there are strong cultural or societal norms that oppose the use of modern contraceptives, leading to uneven access to supplies and poor quality of health services. In other cases, the costs of modern contraceptives in developing countries are prohibitively high. As a result of these factors and more, women who want to avoid pregnancy but do not use a modern method account for 82 percent of unintended pregnancies in developing countries.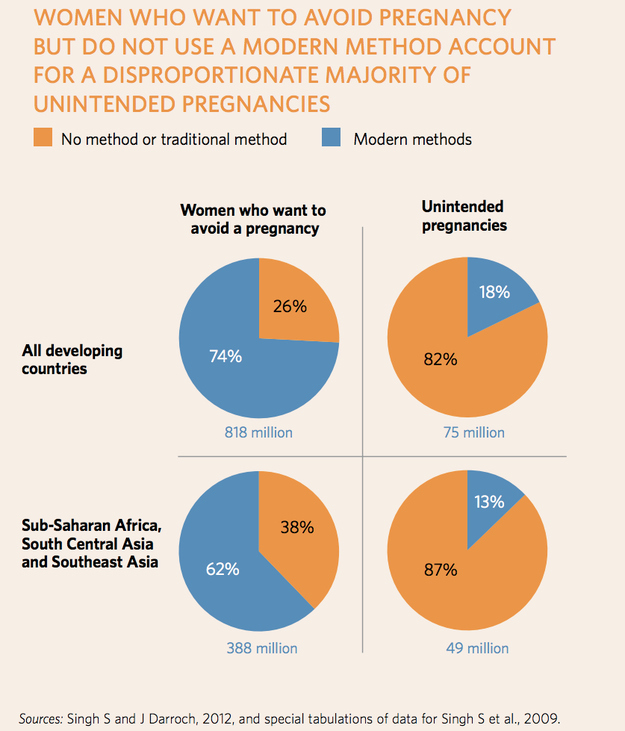 Family planning has innumerable direct and indirect benefits that could dramatically improve the lives of women and children in developing countries. Study after study has shown that increased investment in family planning could reduce maternal deaths by 35 percent, infant and child mortality by 10 to 20 percent, and abortion in developing countries by 70 percent. In addition, the informed and effective use of contraceptives would also help reduce mother-to-child transmission of HIV.
In Rwanda, for example, due to increased foreign assistance and government investment in family planning and health infrastructure, use of modern contraceptives among married women rose exponentially from 10 percent in 2005 to 45 percent in 2010. At the same time, the incidence of under-five mortality dramatically declined from 152 deaths per 1,000 live births in 2005 to 76 in 2010. (In comparison, the under-five mortality rate in the United States is 7.5 per 1,000 live births.) Although correlation is not causation, the successes in Rwanda demonstrate the reverberating impact of targeted investment in family planning.
Increasing access to modern contraceptive methods is also extremely cost-effective. By spending an additional $4.1 billion per year to universalize access to family planning measures, global costs for maternal and infant healthcare could fall by $5.7 billion annually by preventing unintended pregnancies and unsafe abortions. At the same time, family planning would reap tangible economic dividends in terms of opportunity and growth over the long term. Beyond health, studies also show that increased access to family planning services correlates with higher education levels and improves women's opportunities to enter the workforce.
Although the report primarily focuses on developing countries, family planning is not without controversy in the developed world, and particularly in the United States. The U.S. presidential election laid stark the differences between political parties (and, by extension, the electorate) over who should pay for contraception and the assured legal option of abortion for all women.
More broadly, even though the report is not legally binding, the reframing of family planning as a universal human right could have profound normative implications in the long term. However, the report finds that financial assistance for family planning has declined, an unfortunate casualty of the global economic downturn and shifting donor priorities. UNFPA director Babatunde Osotimehin called on world leaders to "close the funding gap" and "reinforce a rights-based approach to family planning." Given the health, developmental, and economic dividends of expanded and assured access to modern contraception, this decision should be a no brainer.