Guest Post: Jordan's Reform Calculations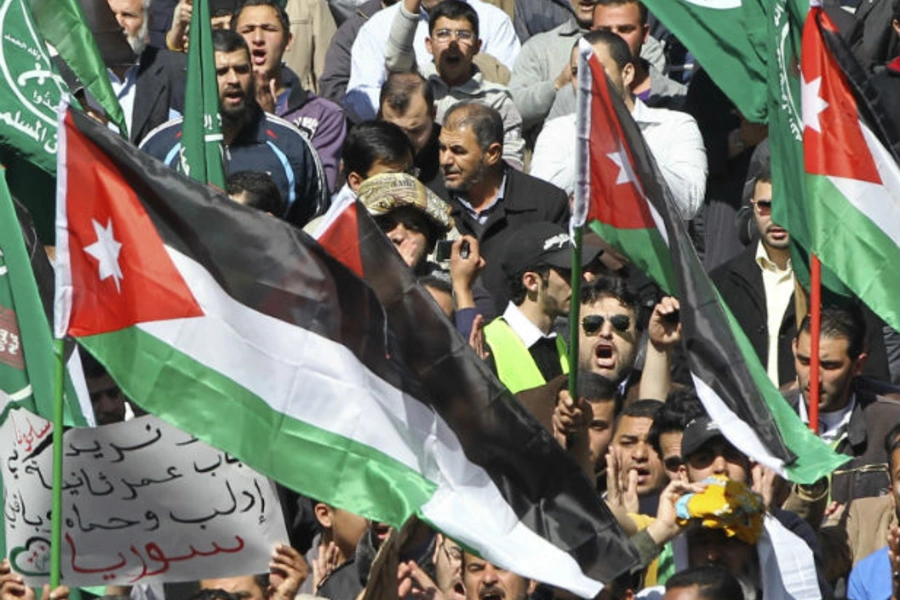 This post is written by Kelley Calkins, a research associate at the Council on Foreign Relations. Here she offers her assessment of the Jordanian leadership's calculations concerning domestic reform amidst the Arab uprisings. 
Protests last weekend that resulted in the arrest of twelve protesters in Jordan serve as a reminder that the Hashemite Kingdom continues to face domestic challenges inspired by the Arab uprisings. Indeed, since January 2011, Jordan has seen numerous protests and calls for economic and political reform. King Abdullah has responded to these demonstrations by promising political change and sacking two of his prime ministers. However, meaningful movement toward real reform has been minimal so far. Given the regional instability surrounding the Hashemite Kingdom during this period of great upheaval, it seems the Jordanian regime has calculated that too much reform is risky, dangerous, and perhaps unnecessary.
Assuredly, given its geopolitical locale--bordering Iraq, Syria, Saudi Arabia, and Israel--Jordan's neighborhood is anything but settled. As a result, the small kingdom is juggling a number of competing concerns. One major uncertainty looming over the Hashemite Kingdom is Syria's fate. Given Jordan's high rate of debt and unemployment, the influx of thousands of Syrian refugees--estimated currently as up to 80,000--poses no small burden. Further, many Jordanians worry that the Syrian conflict will deteriorate further into an all-out civil war that could embroil the entire region in sectarian conflict. Certainly, such worst case scenarios weigh heavily on King Abdullah's mind, especially given that violence has already spilled over Syria's borders on multiple occasions.
Moreover, even if Assad were to fall tomorrow, many are concerned about what a post-Assad Syria would look like. Assad's demise could well introduce further instability and possibly the rise of Islamists to power. Given that the Islamic Action Front, Jordan's political arm of the Muslim Brotherhood, is the best organized and most powerful political organization in Jordan today, it is not unreasonable for the Hashemite regime to worry that Islamists could emulate their ideological brethren in Tunisia and Egypt.
And if concerns about Syria and indeed Egypt were not enough, Jordan is also concerned about stalemated Israeli-Palestinian negotiations. Fearing a leadership void on this issue, Abdullah has moved to the forefront of efforts toward Israel-Palestinian peacemaking in recent months, encouraging the two parties back to the table. This is a welcome development, but it is unlikely to resolve the worrisome conflict to Jordan's west.
With these broader regional concerns in mind, King Abdullah most likely perceives the period going forward as a time for hunkering down. Despite his repeated calls for political reform, formation of committees, and reshuffling of cabinets, Abdullah likely fears that true reform right now will be perceived as a loosening of his grip that could restrict his ability to properly guide the kingdom.
Coupled with the perceived fear that loosening control on the kingdom will yield an inability to fend for Jordan's needs is a lack of international incentive to reform. Jordan's critical international supporters are either quiet, in the case of the United States, or exerting a conservative rather than revolutionary influence, in the case of the Gulf Cooperation Council (GCC). The GCC's call to include Jordan and Morocco in the gulf organization highlights its fear of instability or regime change in Jordan. As a club of monarchies, the GCC has an interest in protecting and supporting fellow Arab monarchies against the threat of popular unrest, especially in a country so geo-strategically central as Jordan. This accounts for both the invitation to join the GCC and Saudi Arabia's $2.5 billion support fund for Jordan created in December. Similarly, Jordan's king Abdullah is a crucially important ally to the United States, all the more so since Mubarak's ouster. As a neighbor to Israel and holder of a peace treaty with the Jewish state, Jordan is central to U.S. interests in the region. As such, the Obama administration is unlikely to exert much real pressure on King Abdullah, especially in light of all the other more pressing regional concerns.
No doubt further fueling Abdullah's reluctance to reform at a time of such regional instability is the diverse nature of the kingdom's opposition. Though Jordan has seen a number of protests and demonstrations since its first "Day of Anger" some fourteen months ago, its various opposition groups remain divided. As detailed in a recently released International Crisis Group report on Jordan, the historic divide between the generally rural-based and regime-supporting East Bankers and the Palestinian-Jordanians  helps preclude a unified oppositionist front from emerging. Disagreements and divisions among East Bankers and within the Islamic Action Front further contribute to opposition fragmentation. This lack of unity between these various components within the population has long served the regime, and it continues to do so. Thus, the king no doubt believes his limited reform efforts are working well enough.
Though the various component groups of the opposition are not united in their anger or their specific aims, the continued protests confirm that these groups are all simultaneously angry. As witnessed time and again throughout the region since the fateful self-immolation of a fruit vendor in Tunisia nearly a year and a half ago, to underestimate the power of popular discontent is to risk self-destruction. The Jordanian regime would be wise to bear this in mind. The cost of a failure to get in front of the protesters' demands and move forward with reform could be enormous.