Guest Post: Kate Collins on Five Hot Spots to Watch in Africa in 2012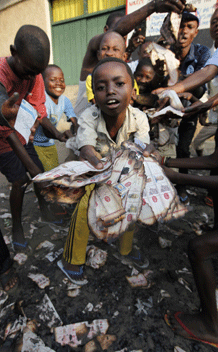 In recent months, the news out of sub-Saharan Africa has often been positive. The International Monetary Fund projects 5.8 percent growth for the region in 2012. That's not bad, especially when compared with a projected 1.3 percent average growth rate for advanced economies. The Economist followed up with a story arguing that Africa has "a real chance to follow in the footsteps of Asia." But the continent still confronts old demons of political violence and instability. I asked my assistant, Kate Collins, to identify what potential conflicts in Africa should be on our radar screens for 2012. Here is what she had to say:
Africa's economic prospects make it a good place today for optimists, but as Jim points out, a number of security headaches threaten to turn from bad to worse in 2012. Five potential hot spots stand out.
Will Congo Spiral into Civil War?
Since the Democratic Republic of Congo's second ever quasi-democratic vote on November 28, the country has been staring at the possibility of a return to civil war. The fighting that gripped Congo from 1998 through 2003 was the most deadly conflict since World War II, involving nine nations and twenty different armed groups.  Last month's election, held in the world's least-developed country, was marked by violence and fraud. According to the nation's election authorities, Joseph Kabila, president since 2001, won with a plurality of votes in a field crowded with eleven candidates. His most popular rival, Étienne Tshisekedi, promptly denounced the results, declaring himself president. Last week, Kabila was sworn in at a heavily guarded ceremony while riot police patrolled the capitol city. A few days later Tshisekedi held his own inauguration, during which government security forces reportedly killed eight of his supporters. The stand-off continues, and the situation in Kinshasa is tense. Kabila has the support of the nation's security forces and political elite, while Tshisekedi has an angry and large following in the streets of Kinshasa—a city of ten million. Tshisekedi has called on the security forces to abandon Kabila; so far, they show no signs of doing so. If Tshisekedi's supporters continue to riot without the support of any militias, we will see heavy protester casualties in Congo's urban centers. If, however, organized militias or even parts of the security apparatus abandon Kabila, Congo may be headed back into war.
What Next for Somalia?
Somalia bled anew this year with a devastating famine and fresh skirmishes between the al-Shabab, an al-Qaeda affiliated Islamist group fighting for control of Somalia, and the weak transitional government's African Union backers. This fall, Kenya used the repeated incursions into its territory by Somali fighters and bandits to justify invading its northern neighbor. Kenya wants to rout al-Shabab, which it considers a "clear and present danger," and to bring stability to a land that has been a failed state for more than twenty years. The Kenyan invasion weakened al-Shabab; it has been pushed pushed back from the Kenyan border and is resorting to guerrilla tactics. Somalia, however, does not look to be any closer to stability. Kenya's invasion promoted Ethiopia to reenter Somalia to assert its own interests, stirring memories of Ethiopia's failed 2006 invasion that ultimately left al-Shabab in power. So Somalia, a Muslim-majority country, now has not one but two Christian invaders. The fundamentalist sentiment that put al-Shabab in power in the first place is on the rise and other militant groups are filling gaps in the power structure. Even if al-Shabab is gone come 2013, it is unlikely that Somalia will be any closer to a peaceful and prosperous future.
What If Sudan Invades South Sudan?
The South Sudanese people rejoiced this summer when they formed an independent nation and seceded from Sudan after decades of brutal civil war. Despite the historic change and break with the African Union's traditional aversion to redrawing borders, the formal separation was largely peaceful. That said, numerous security issues remain unresolved and have the potential to reignite a broader conflict. Particular areas of contention are the status of oil-rich Abyei and the continued presence of pro-South Sudan forces in the Sudanese states of Blue Nile and South Kordofan. For the most part, the conflict over these regions has not gone beyond name calling between Juba and Khartoum.  However, in November, Sudan complained to the UN Security Council that South Sudan continues to support rebels inside Sudan, and South Sudanese President Salva Kiir accused Sudan of plotting an invasion. Should the conflict between the neighbors escalate into another war, what will the United States do?  The Bush administration played a crucial role in negotiating the peace agreement that led to South Sudan's independence, and some worry that the Obama administration has not been sufficiently engaged in the peace process.
Will Islamist Violence in Nigeria Spread?
Though Nigeria made it through a harrowing political transition after the death of President Umaru Yar'Adua in 2010 and a relatively fair presidential election in 2011, its domestic turmoil is far from over. Nigeria, the most populous nation in Africa, has an ugly history of sectarian violence, and a third of its population is both young and underemployed. Boko Haram made international headlines last summer with its bombing of the UN headquarters in Abuja. Over the Christmas holiday, Boko Haram launched another high-profile attack, killing thirty-two people in bombings of churches. There are signs that the violence stoked by Boko Haram is devolving into all-out sectarian conflict. Just yesterday, a madrasa in southern Nigeria was bombed. CFR's John Campbell observes that Boko Haram may be increasingly identifying Christianity with the national government, and U.S. guarantees of assistance to Abuja put both nations at risk of attacks. To stay on top of this story, follow John's blog "Africa in Transition," where he is sure to continue covering Nigeria's complex politics.
Will Ugandan and U.S. Forces Bring Down Kony?
President Obama notified Congress in October that he had sent about one hundred armed military advisers to central Africa to help the Ugandan Army capture or kill Joseph Kony, the leader of the Lord's Resistance Army (LRA). Kony is wanted by The Hague on numerous war crimes and is blamed for the deaths of more than 30,000 people. U.S. troops are primarily providing logistical support out of Uganda, but they have also set up a frontline base in the Central African Republic. Kony's foes face a tough battle. Though the LRA has been reduced to about 300 fighters, they are hidden deep within central Africa's jungles, which lack even the most basic infrastructure. The fight has now focused in on a 500 km area in the Central African Republic that has not a single road. Previous Ugandan efforts to root out Kony with American help have backfired in the bloodiest of ways.  Despite the risks and challenges, U.S. troops are likely to remain in the region until Kony is gone. Hopefully 2012 will bring good news for the people of central Africa who have lived under the menace of the LRA for more than twenty years.