Guest Post: The New START Sausage Mill
December 22, 2010
Blog Post

Blog posts represent the views of CFR fellows and staff and not those of CFR, which takes no institutional positions.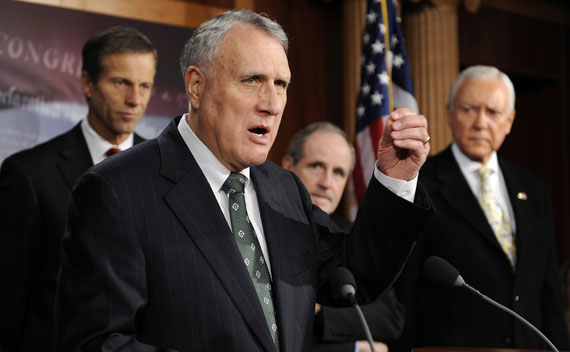 I asked my colleague, Chris Tuttle, a Capitol Hill veteran, for his quick reaction to the Senate's approval of the New START Treaty. Here are his thoughts:
In the past week, thanks to the sluggish pre-holiday news cycle, we've all been treated to a exhaustive blow-by-blow account of Senate Democrats' lame-duck endeavor to get the sixty-seven votes needed to ratify the New START treaty between the United States and Russia.
Every now and then, the stars align and we get this kind of front-row, Jurgis Rudkus's-eye view of the United States' national legislature at work. For those of who have toiled in the fields of the House and Senate, these moments are reminders of day-to-day Capitol Hill life; for casual Congress-watchers, they offer an instructive study of how things get done in Washington.
Despite coverage and commentary to the contrary, this episode played out in a way that wasn't necessarily all that shocking – a number of consistent, informal "rules" governing congressional action were on display, among them:
Never underestimate the power of a single member of Congress. While it typically takes a good deal of effort and consensus-building to get something done in Congress, stopping action is a much lighter lift. Jon Kyl proved this here, and while treaty proponents worked to gain his support, when they finally realized they weren't going to get his backing, their anti-Kyl rhetoric turned pretty shrill. Accusing him of cynically opposing the treaty for dishonorable reasons certainly didn't weaken his resolve, and probably drew out the process further by turning him from a treaty opponent to an even more impassioned anti-treaty proselytizer.

Compromise is what makes the machine run. Treaty ratification is particularly difficult because it largely disallows the use of Congress' most useful utensil: compromise. Because changes to the body of a treaty typically require new trips to the negotiating table, it becomes a fairly simple up-or-down exercise, and members are left with the ability to revise only the marginally significant resolution of ratification. Without that tool at their disposal, finding common ground becomes that much harder.

Expect most members to play coy until forced to take a stand. If Harry Reid had forced this vote in November the outcome would likely have been the same. If nothing else, most senators had concerns about the current lack of a treaty-prescribed verification regime. And all senators knew that if ratification was an uphill slog this year, it would be virtually impossible in the 112th Congress. Some Republicans feared being portrayed as "defectors," but moderates were even more afraid of the policy outcome that would result from the treaty going down to defeat. For leadership in either party, this shows once again that, if the vote looks close, sometimes it's best to take the risk, go for broke and force members to take a stand. More often than not on issues like this, which are not purely partisan, you'll win.
All this is not to say that what happened was predictable. It wasn't. But based on the guidelines above, it wasn't all that surprising either. Some who have watched this process play out will no doubt point to the whole affair as evidence of a "broken" Congress. It's not. It's just how the sausage gets made.
(Photo: Jonathan Ernst / courtesy Reuters)