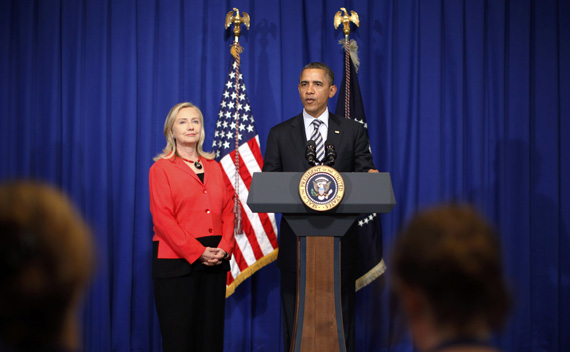 In what is surely the biggest news in U.S.-Myanmar relations in fifty years, Secretary of State Hillary Clinton has announced that she will be traveling to Myanmar next month. On the same day, Aung San Suu Kyi announced she will be re-entering politics, setting the stage for her and her party, the National League for Democracy, to contest the next elections, which are believed to be coming in 2015. As the New York Times reported, "The twin events underscored the remarkable and sudden pace of change in Myanmar, which has stunned observers inside and outside the country."
Clinton's trip, though it caps off a year of serious reforms in Myanmar, is still something of a gamble. The new president, Thein Sein, does indeed seem to be a reformer, and possibly Myanmar's de Klerk or Gorbachev. He has presided over an opening of the media environment, privatization of many companies,  a relaxation on political parties, a new dialogue with Suu Kyi, the freeing of significant numbers of Burma's thousands of political prisoners,and a push to convince exiles who have fled the country to return. Still, many doubts remain about how much power Thein Sein himself wields, and whether the generals who formally retired after the elections last November will allow reform to continue.
In a piece last week for The New Republic, I outlined these challenges.
Indeed, it remains unclear whether the former senior military leadership, which has placed hard-liners throughout the top levels of the government, will allow reform to be consolidated if it costs them the wealth that they have (illicitly) gained over time. They may also achieve certain objectives -- a new strategic relationship with the U.S. in order to balance their dependence on China; hosting the 2014 ASEAN Summit, greater aid and investment from the West -- and then turn back the reforms. This has happened before in the mid-1990s and again in the early 2000s, where periods of détente were followed by periods of crackdown.
Still, there's no doubt the level of optimism now is even higher than at those times. Thein Sein seems to have more power than previous reformers in the government, and Suu Kyi is now fully on board – and since she remains the most popular politician in Myanmar, her influence still matters enormously.
On Monday we'll address what role Hillary Clinton can play on her trip.