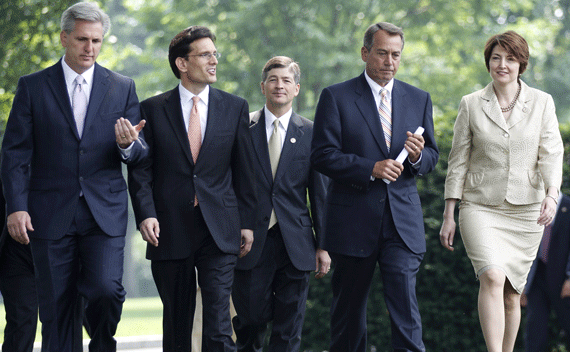 House Republican leaders have scrapped the concurrent resolution I discussed yesterday that would have directed President Obama "to remove United States Armed Forces from hostilities with respect to Libya." In its place, they are offering a bill to cut off all funds for the Libyan mission except for certain specified support operations. Unlike the concurrent resolution, this legislation would be binding. The House may vote on it, as well as another resolution that would authorize the Libyan intervention, as soon as tomorrow.
(Jack Goldsmith over on Lawfareblog.com notes that the new bill also clears up a few ambiguities in the language of the original concurrent resolution.)
Speaker Boehner says don't expect the House to vote to authorize the Libyan mission:
I don't think that's where the House is. The fact is, the president has not made his case to the members of Congress.
Whether the House will go in the other direction and vote to cut off funding is debatable. Much will depend on House Democrats. They may dislike the Libyan operation or bridle over the White House's assertion of unilateral presidential war-making powers. But are they prepared to join with Republicans in giving the president a political black eye?
House passage of a funding cut-off, of course, doesn't end things. A true executive-legislative showdown on war powers would come only if the Senate passed an equivalent bill. That isn't likely to happen any time soon, if ever. Senate Majority Leader Harry Reid supports the White House on Libya, and he controls the Senate's legislative schedule.