The latest UN Panel of Experts report reveals that North Korean businesses connected with the illicit arms trade are most effective when they hide their North Korean colors and blend in to the international trading environment as nondescript entities. Their North Korean origins may be concealed by a web of false fronts, dizzying name changes, and layered ownership structures that distance them from their North Korean origins. In other cases, some North Korean companies may continue to operate openly despite having been sanctioned by the UN. Without sufficient due diligence, unwitting companies could be doing business with North Korean firms in violation of UN sanctions on North Korean nuclear, missile, and conventional arms traders.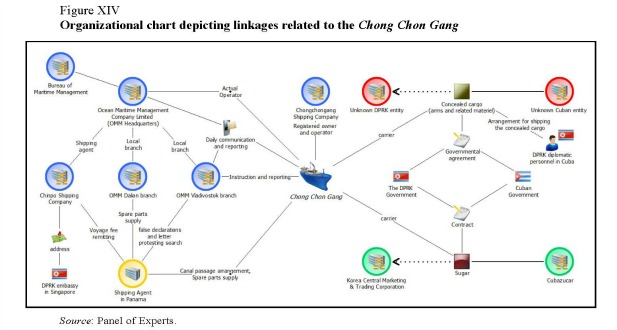 I've previously written about the case of the Chong Chon Gang, a North Korean vessel illegally transporting weapons systems from Cuba in its hold under thousands of bags of sugar. Behind the mission of the ship itself, UN investigators found that the ship was controlled by a company named Ocean Maritime Management (OMM) through its Vladivostok office. Permissions to pass through Panama were secured by OMM's Dalian branch, and payment for the ships goods was executed by the Chinpo Shipping Company, which happens to be co-located with the DPRK Embassy in Singapore. The ship is directly owned and registered by North Korea's Chongchongang Shipping Company under the authorization of the DPRK's Bureau of Maritime Management, even though it is operated by OMM.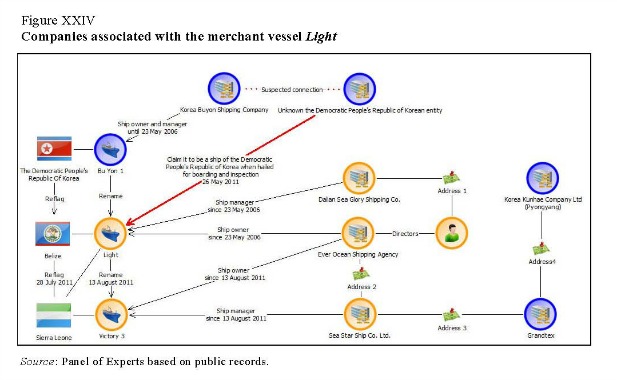 The UN Panel of Experts report reveals that most North Korean vessels are owned by a web of small companies rather than the DPRK government in a structure that has "the advantage of compartmentalizing the potential adverse impact of financial asset seizure/freezing." For instance, the former merchant vessel Light was interdicted in late May 2011, but there was nothing in the vessels' records to show that it was controlled by North Korea at the time of the interdiction. The previous name of the Light was Bu Yon 1 and it was owned by the Korea Buyon Shipping Company from 2004 to 2006, when its ownership was transferred to the Ever Ocean Shipping Agency, management was transferred from Buyon Shipping Company to Dalian Sea Glory Shipping Company, and the vessel was reflagged to Belize.
Following its exposure as a vessel controlled by North Korea, the Light was reflagged from Belize to Sierra Leone on July 28, 2011, and it was renamed the Victory 3 a few weeks later when its management was transferred to the Sea Star Ship Company Limited, whose founders operate from the same address as the Dalian Sea Glory Shipping Agency. Using these tactics, North Korean–controlled ships work hard to sail under the radar screen without the taint of operating at the bidding of North Korean authorities.
There is also a ban on sale of luxury goods to North Korea that the panel of experts monitors and investigates. This has led to panel inquiries regarding a yacht shown in North Korea provided by the British company Princess Yachts, and into ENFI Engineering Corporation ski lifts, Areco snow blowers, and BRP snowmobiles shown in photos from the North Korean leadership's latest vanity project, a ski resort at Masikryong in the eastern part of North Korea. And even Dennis Rodman may have violated the luxury goods ban when he brought his liquor and other expensive gifts to Kim Jong-un to celebrate his birthday.
Finally, there are the DPRK companies already on the sanctions list that are still out there trying to do international business in various forms. The Ryonha Machinery Joint Venture Corporation was placed on the UN sanctions list in January 2013, but attempted to participate in a trade fair in Dandong held the following October. The Green Pine Associated Corporation was placed on the UN sanctions list in May of 2012, but is suspected of having continued to provide "military and technical support" to Eritrean partners.
North Korea used a number of items that fall below the threshold of banned items as components in its December 2012 Unha rocket/satellite launch, and recent media reports reveal that North Korea incorporated Japanese cameras and other off-the-shelf components in drones it sent south for low-level reconnaissance against possible intelligence and military targets, including South Korea's presidential compound. These reports reveal inherent limitations on the ability of sanctions alone to halt North Korean weapons development efforts.